Magic Tip #5 is last but a goodie! This tip demonstrates using different machine feet with freezer paper piecing. Which foot will you choose?
So far, we have covered so much in the first four tips and more:
My big hope is that you try this technique because it changes everything! Even if it's a small step, keep taking those steps and you WILL become a pro!
Choosing the Best Sewing Machine Foot for Freezer Paper Piecing
I thought there was only one perfect foot for freezer paper piecing and…I was already using it.
But I kept hearing my members suggest different feet to try. And then, when I was teaching at the Calico Cutters guild in Pennsylvania, I tried out a different foot. A big change-a-roo.
If you're wondering which foot to use, watch this quick 7-minute video to hear the answer.
In the video, I demonstrate three different sewing machine feet. I start with a regular standard foot and work my way up to a walking foot and finally a stitch in the ditch foot. I explain the pros and cons of each foot and provides tips on when to use which foot. Plus, you'll see the link to my free modern triangle class using these methods.
Watch for the sewing close-ups using freezer paper with each foot. You'll see exactly what it looks like when your machine foot is in action.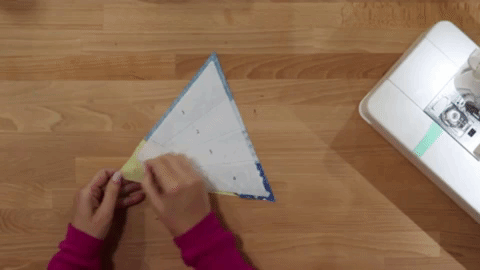 Next Step? Free "Modern Triangle" Class
Your next step, now that you've been introduced to FPP methods and 5 magic tips, is making modern triangles. You can get started inside our free class, we're I teach you how to make "Block 47, AKA the Scrappy Whirligig".
And you'll get your first magical "ta da" moment!
You can get started right now or whenever the time is right.
Let's go! You can do this!
And by the way, watch the class anytime when you're ready (but now is a great time!). Save the link to your Favorites or desktop.
xo Rebecca
Read more about Freezer Paper Piecing on these helpful blog posts: