Today, I have a new recent finish to share with you! And along with it, I'll be sharing how you can get one of our free quilt patterns.
Ta Da!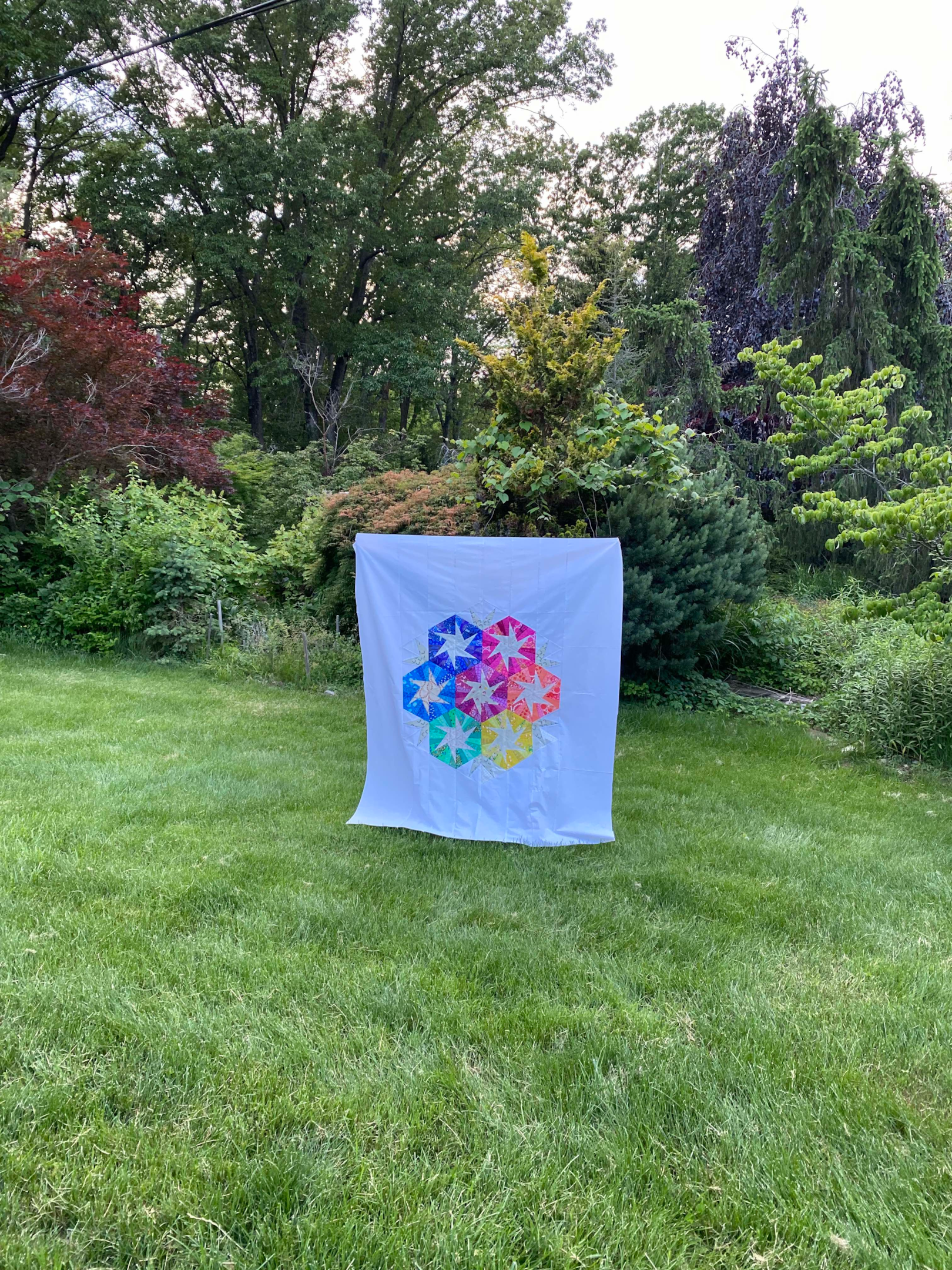 Introducing my "Scrappy Whirligig" quilt top!
It feels so good to finish a quilt!
On this page, I'll share the quilt pattern tutorial and how you can get this modern, "Scrappy Whirligig", triangle template and foundation as a free quilt pattern download. I'll also be sharing quilts and projects from the quilting community. You'll leave full of inspiration and ideas for this free quilt pattern.
But first… I'm sharing one of my free quilt patterns!
Scrappy Whirligig Pattern & Class (free quilt patterns)
What's the best part of shopping at Costco? The free samples, obviously!
So, before going any further, I wanted to let you know we offer a free sample, just like Costco. So you can try out one of our free quilt patterns, see if you like the process and the way I teach.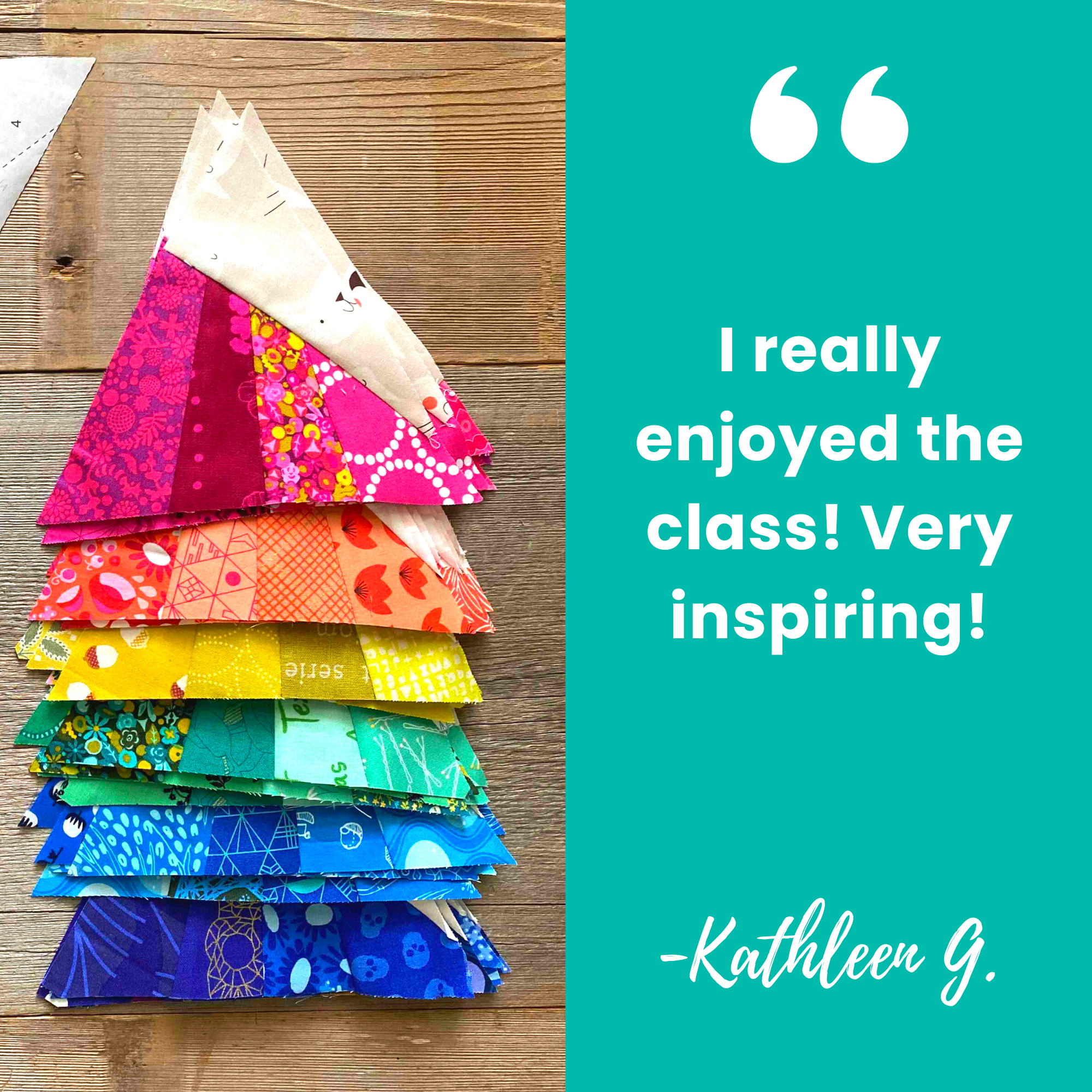 To get the pattern sign up for our free Scrappy Whirligig Class. You'll get one of our free patterns plus a step-by-step class on how to make this the Modern Triangle #47.
Visit this page to register for class and get one of my free quilt patterns.
My Design Inspiration
This quilt pattern got its inspiration from the Modern Triangle Expansion Pack, a series of triangle patterns and quilt patterns I designed after the publication of my book, Modern Triangle Quilts.
I just can't stop creating these quilt patterns! They're so fun and gorgeous!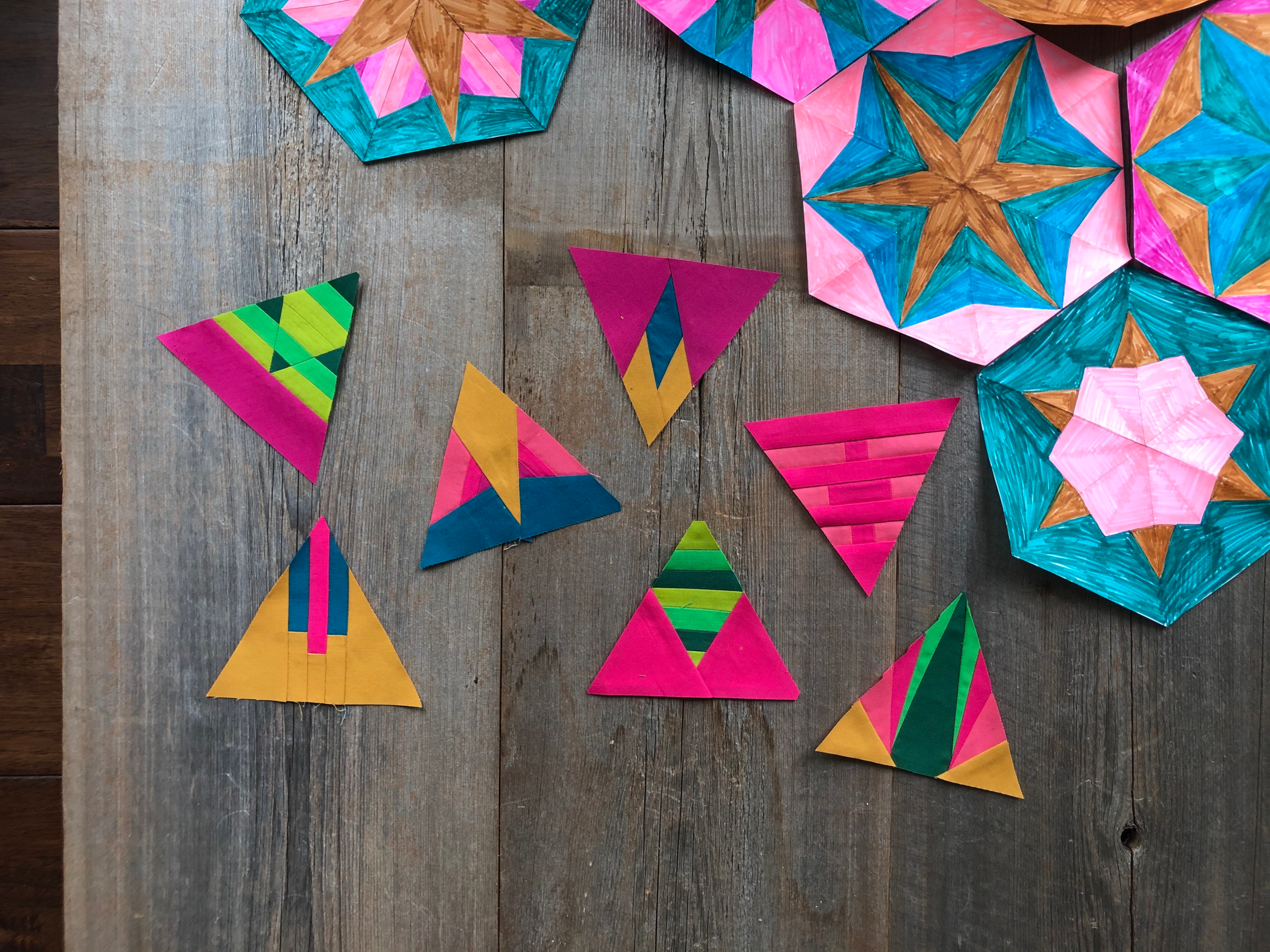 Here's a photo of some the other triangle quilting patterns.
My Rainbow Scrappy Whirligig Finish
There is nothing like a scrappy, rainbow quilt. The color is delicious; the prints, adorable; the results, amazing!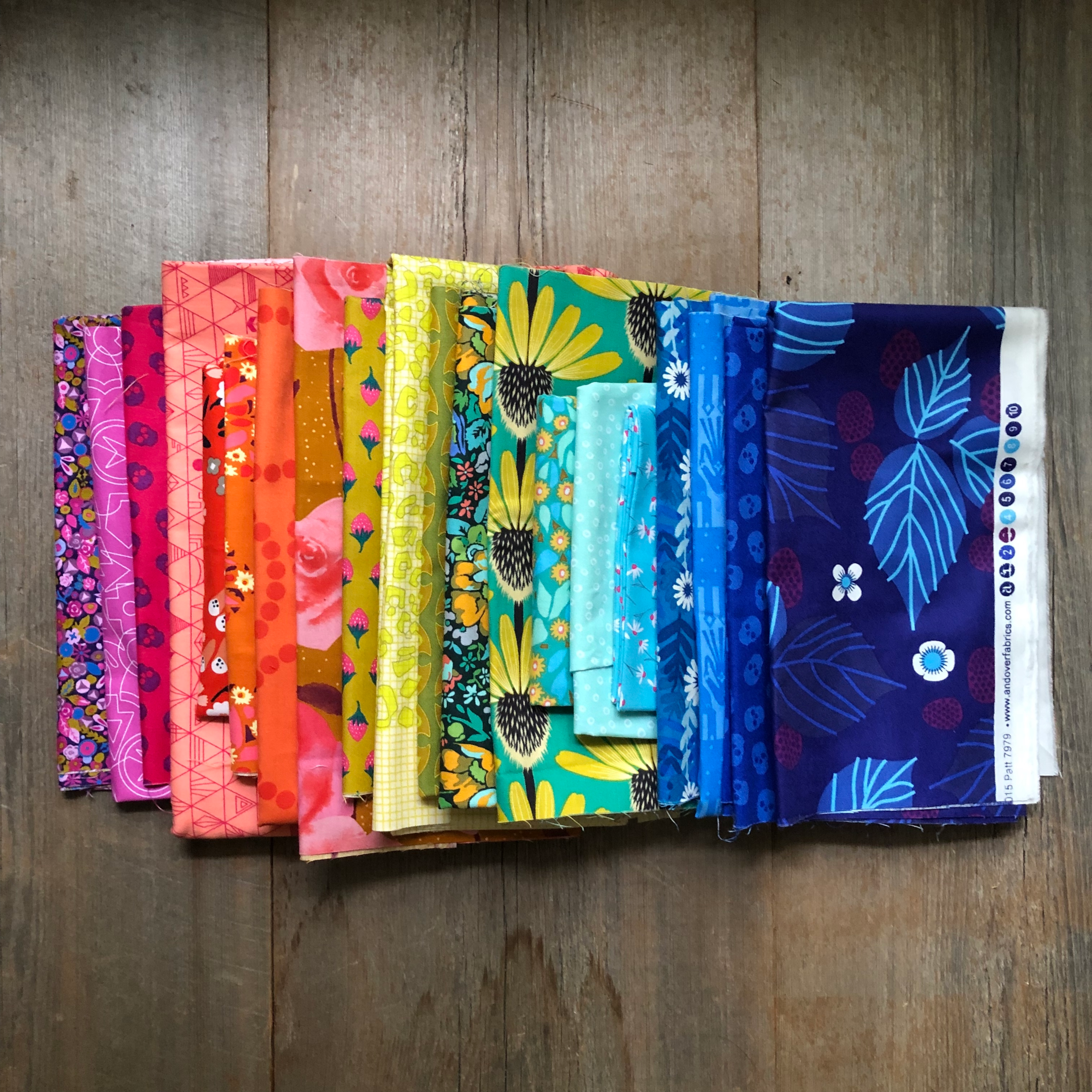 I chose seven colors picking from my favorite fabric collections. I basically selected my favorite colors and then shopped my fabric collection (fancy talk for stash!) for my favorite quilting fabric. Of course, I had to include some of my own fabric collection I designed. pinch me moment!
This quilt pattern isn't ideal for precut fabrics like charm packs or jelly roll strips, but a clever quilter could find a way. You'd have to figure out a way to fit the fabric pieces on the foundation. Fat quarters or even fabric pieces larger than a charm square would definitely work. And of course, larger fabric squares would also work. A jelly roll would be tricky though!
Quilt Pattern Tutorial
Now, I'll share the free quilt pattern tutorial below, with step by step instructions.
Step 1: Make the Triangle Blocks
For each color grouping, make six blocks to form a hexagon.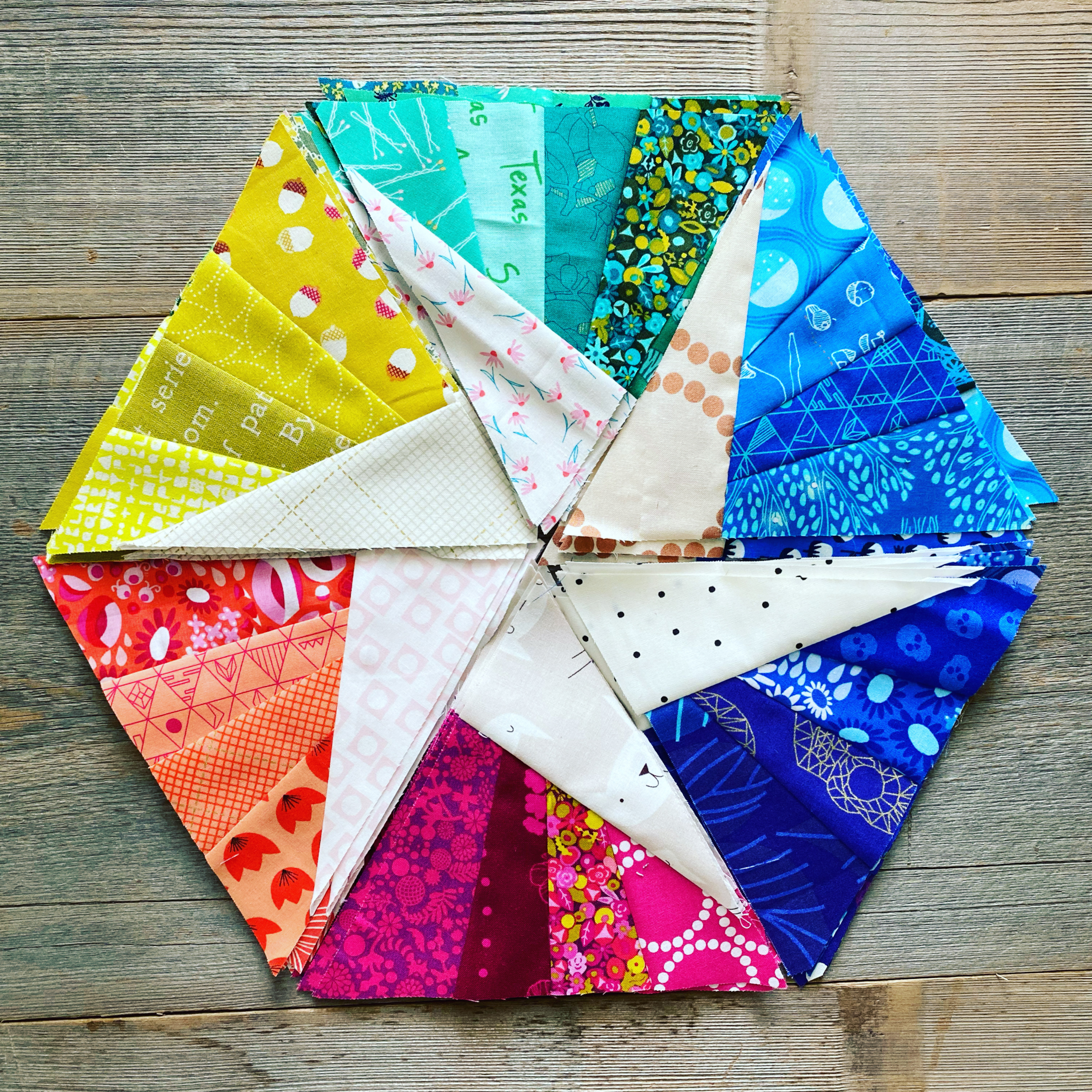 I only used two freezer paper templates! How cool is that? (I show you exactly how to freezer paper piece in the free Scrappy Whirligig Class!)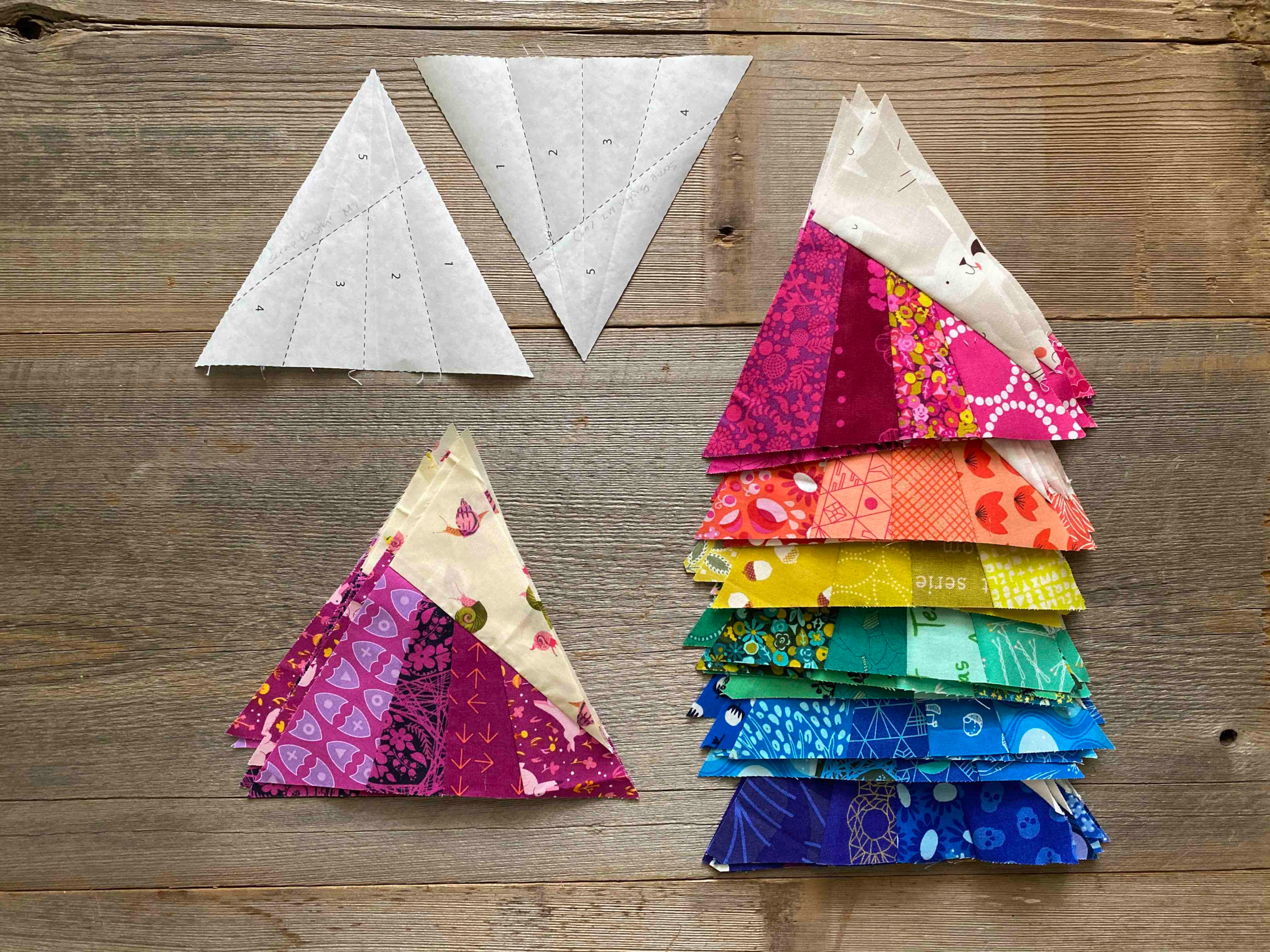 Skip sewing them together into hexagons!
Note how the triangles are NOT sewn together? There's a certain way to sew them together without Y-Seams. I mean, we can… but why?
Step 2: Arrange your Design
Once you start getting some blocks made, you'll want to start playing with a design, if you don't already have one in mind.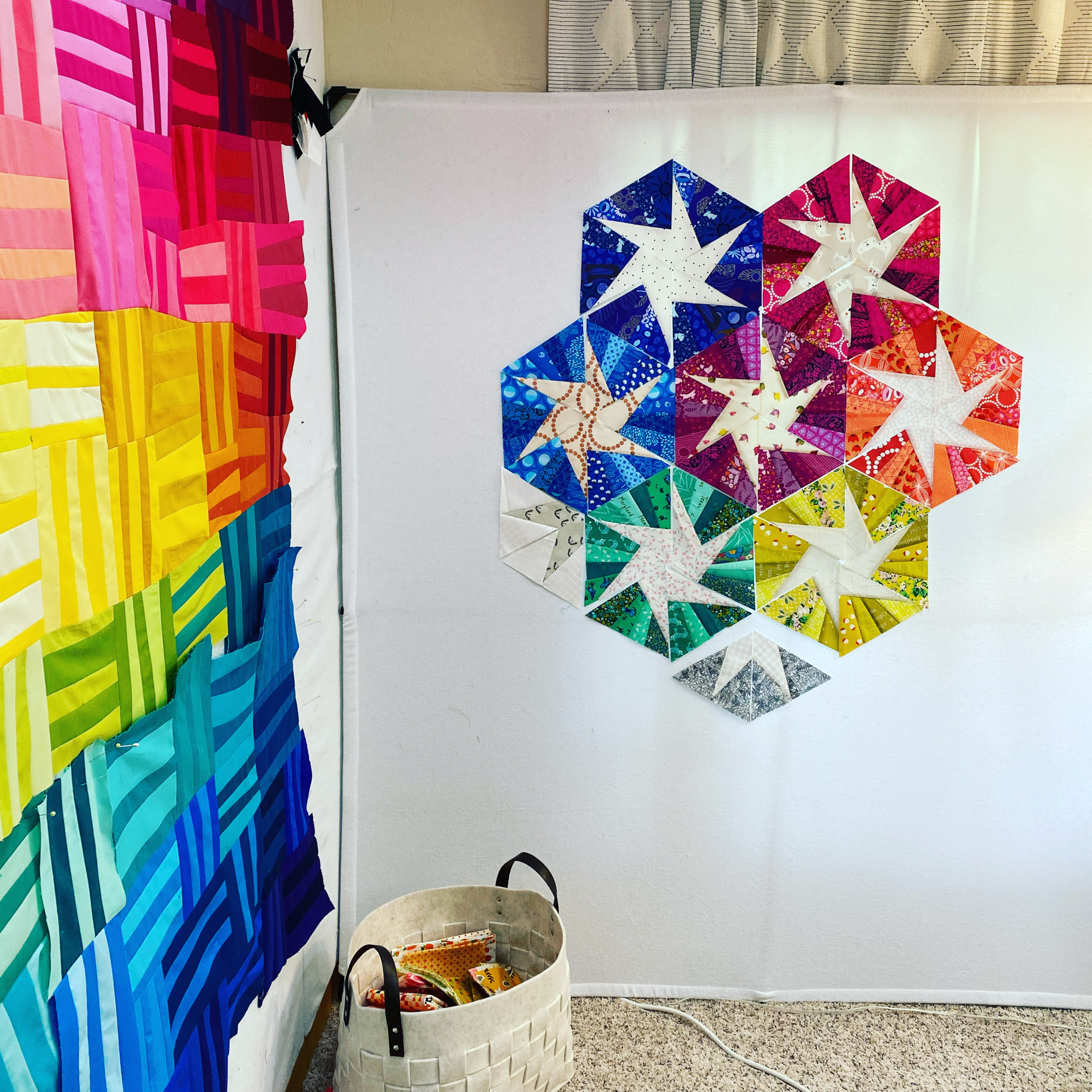 For more inspiration check out the gallery of quilts below.
Step 3: Skip Y-Seam Assembly
(New quilters, here's a huge tip!)
I get this question ALL the time with triangle quilts, especially when they form hexagon designs like this quilt pattern.
You don't have to sew with Y-Seams. That's hard. And I don't like to do hard things. Ha! So, pay attention to Step 4…
Avoiding Y-Seams makes this quilt an easy quilt pattern.
Step 4: Assemble
Once your quilt design is finalized, it's time to start assembly.
The secret is to sew the triangles into rows and then sew the rows together.
Here's what one row looks like.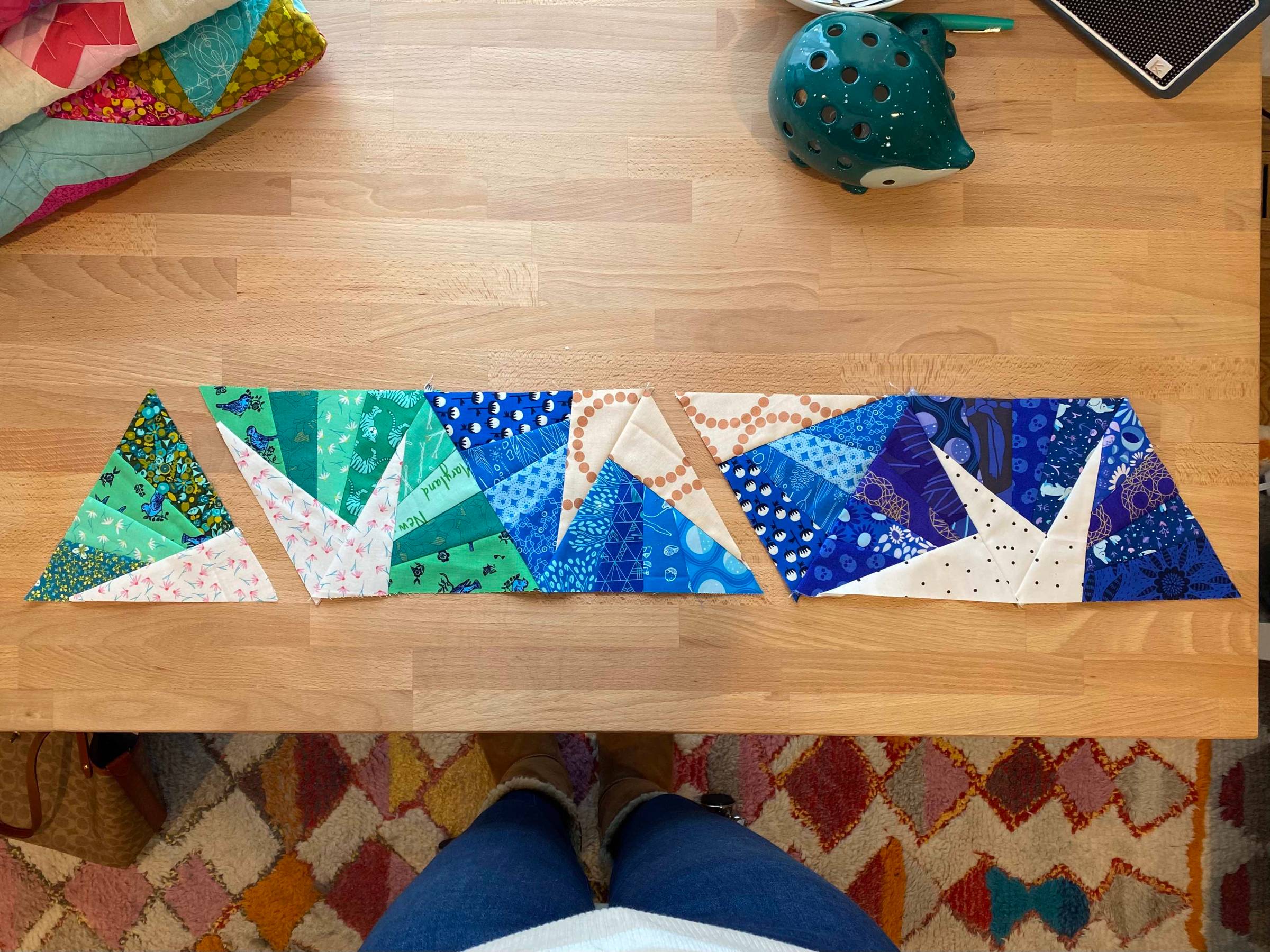 Whenever you sew triangle quilt rows together, first you'll sew your triangles into pairs and then sew the pairs into rows.
Below you can see my rows all sewn together with the background fabric.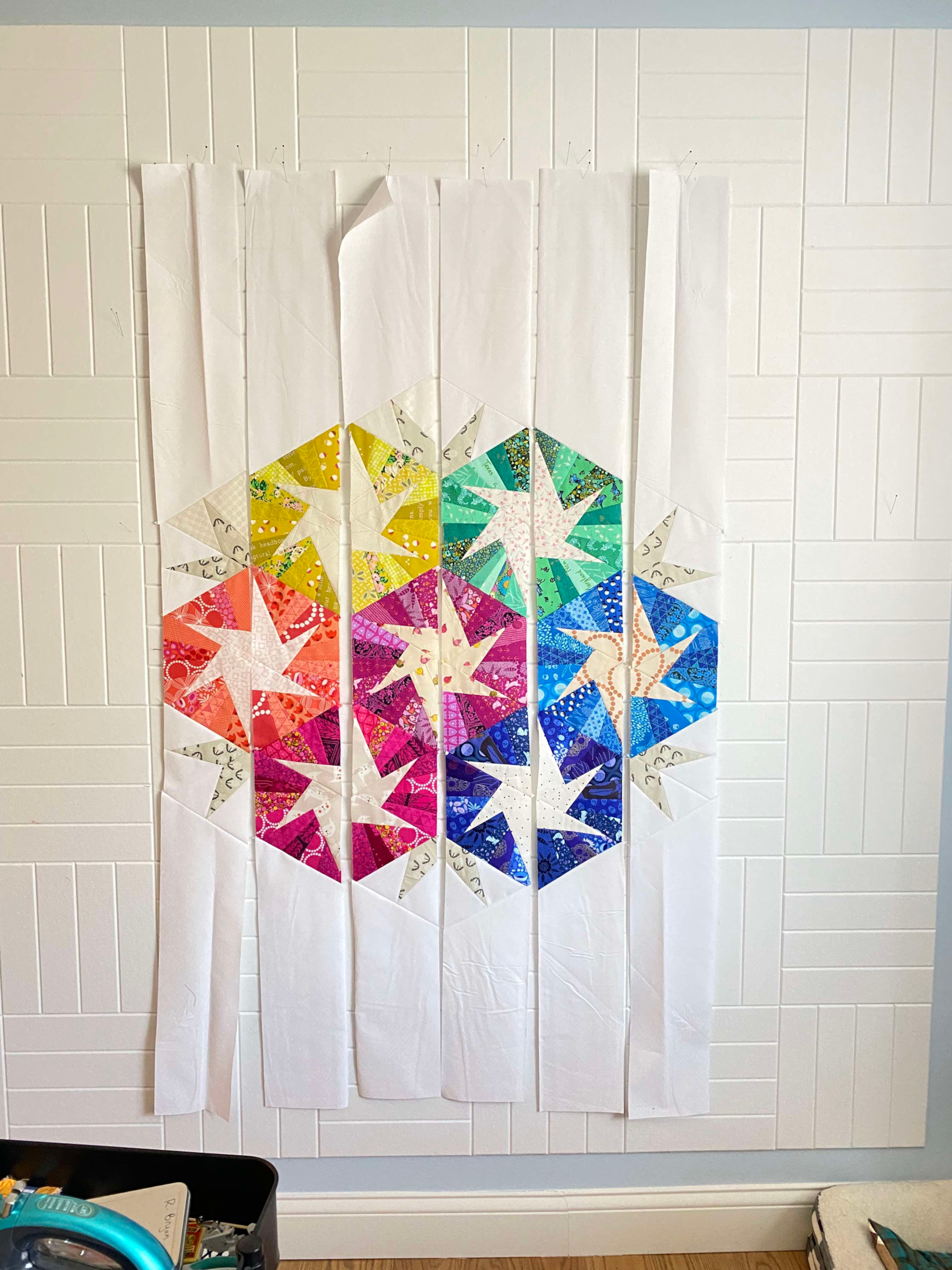 Then you sew the rows together. Voila! No Y-Seams! Next I added my background fabric to each side.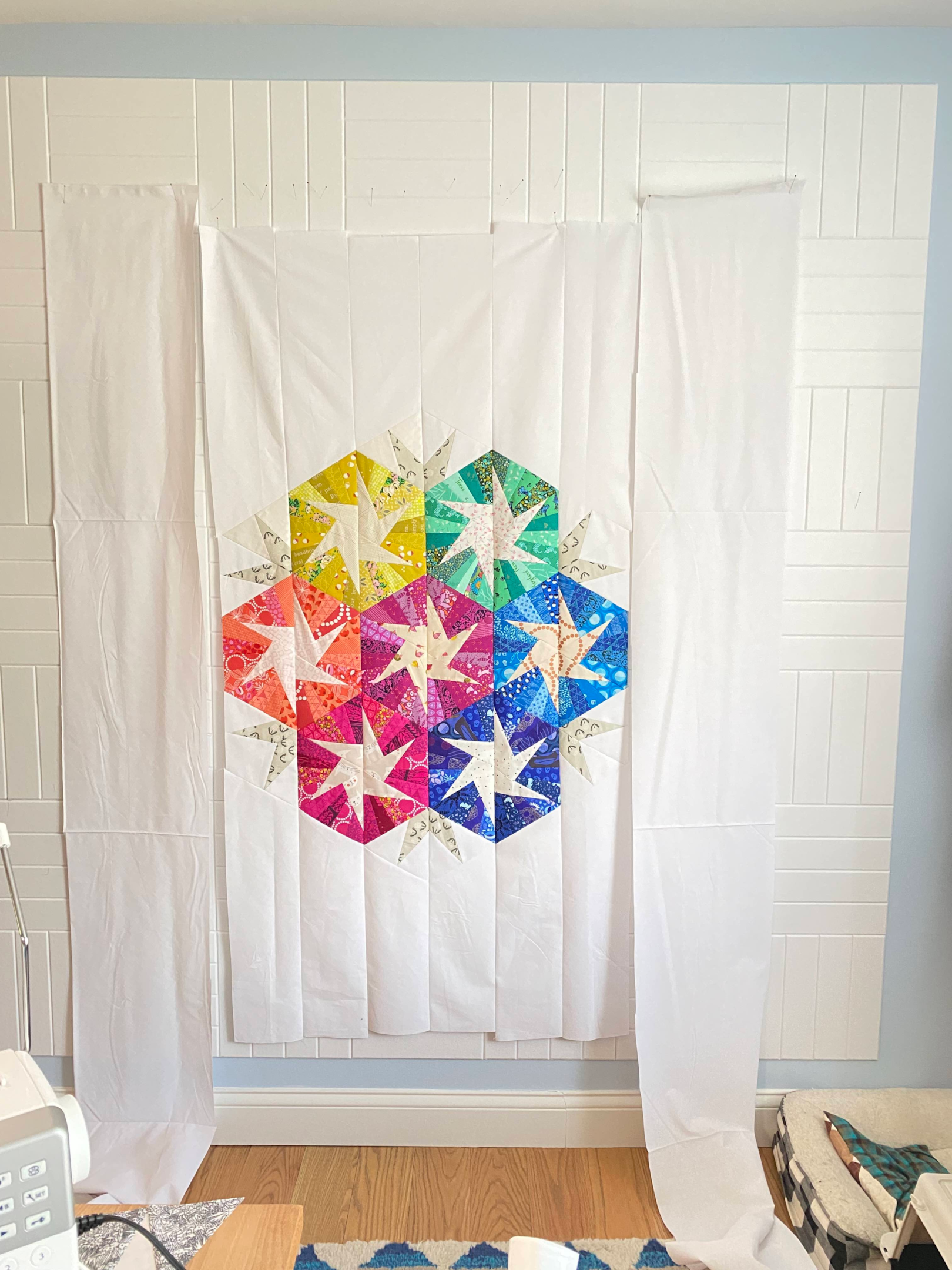 And ta da! All sewn with the white background fabric!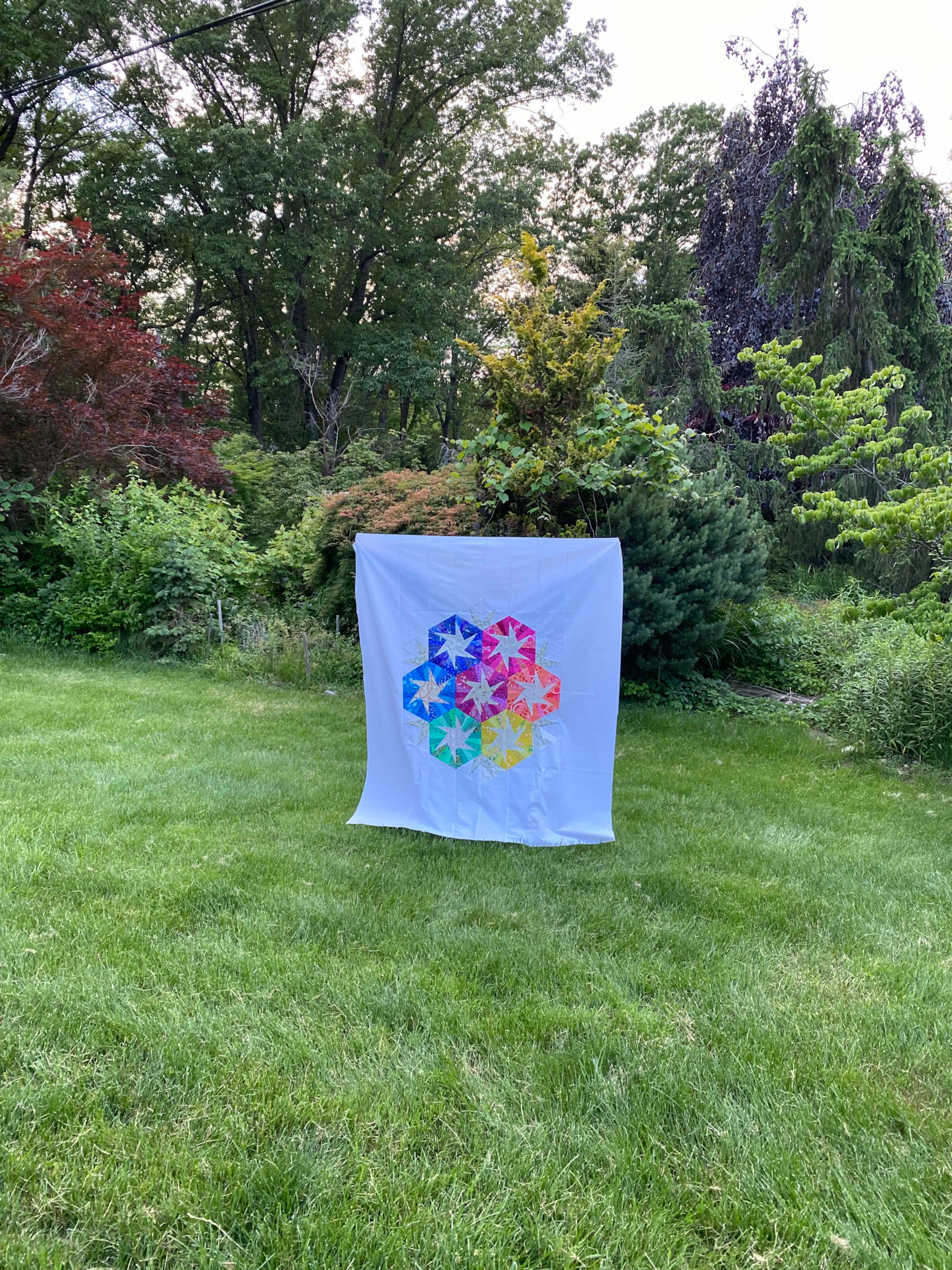 My quilt's finished size is around 68" x 72", but you can stitch a baby quilt or table runners or a smaller trivet.
Next Steps and Related Links
I'll be finishing my quilt by making my quilt sandwich, quilting, squaring up the quilt, and completing my quilt with my favorite machine binding technique. The background fabric is so white, I'll use a scrappy binding. Visit this page for 25 Creative Binding Ideas.
Then, I hope to take a pretty picture following the tips shared here.
Inspiration from the Community using One of our free quilt patterns
Now, I want to share just a few quilts quilters from the community created from just one of my free quilt patterns.
You can see the finished size varies, from baby quilt to table runners and more! Hopefully, these shares serve as inspiration to you!
Linda started by making one block. Love the fabric!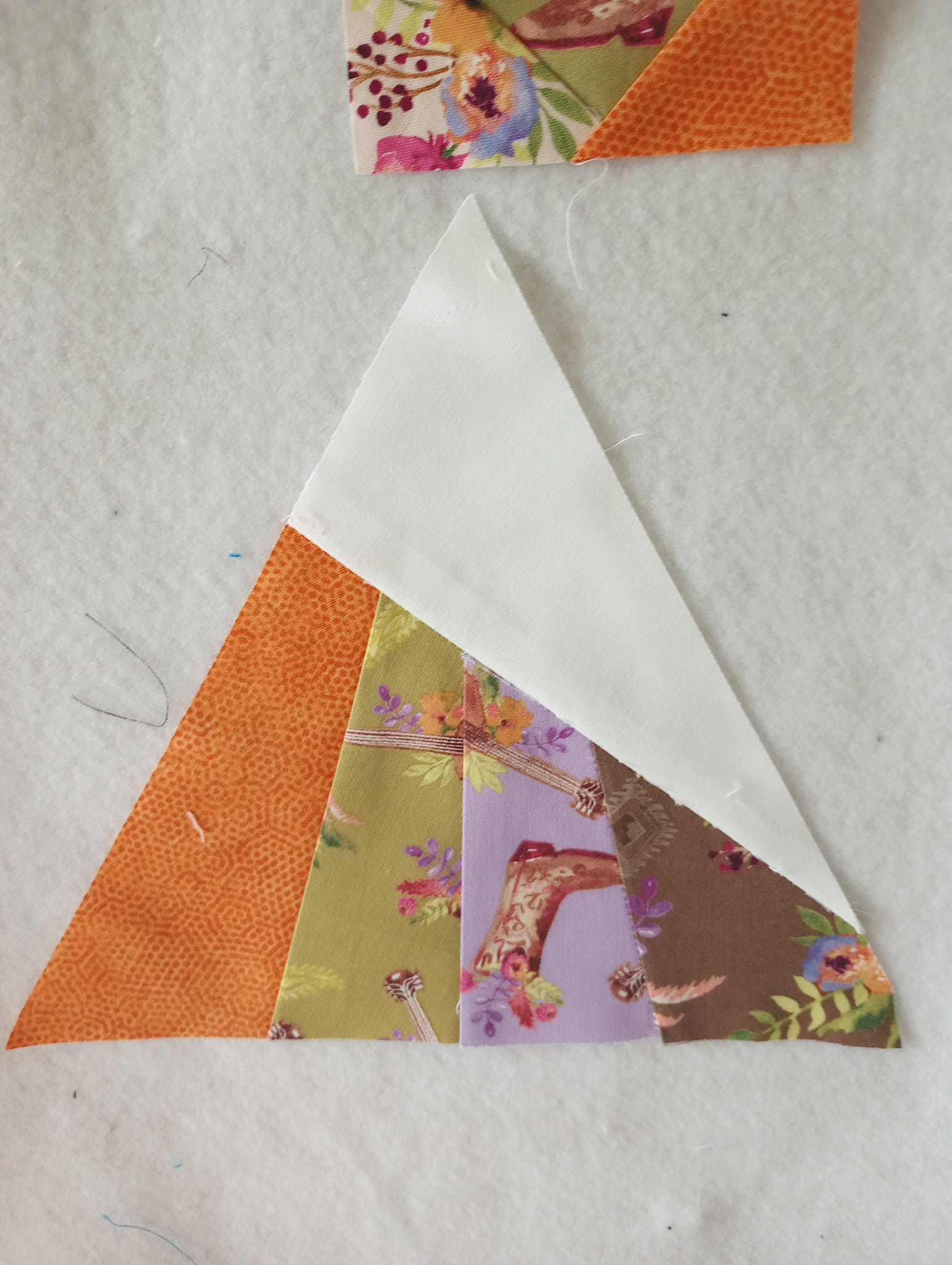 By simply making a hexagon trivet, like Christine C. below, you can use this free quilt pattern as a great beginner project; it's great for all skill levels.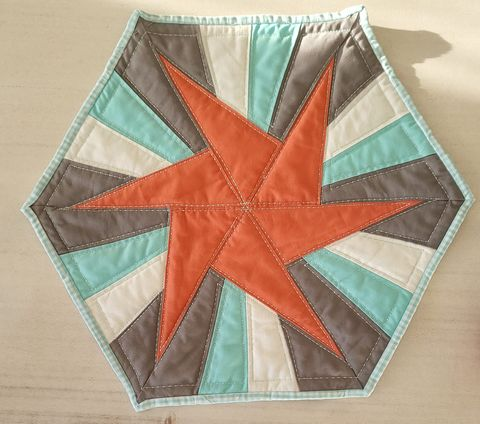 Paula R shared how she's using her design wall to create her quilt.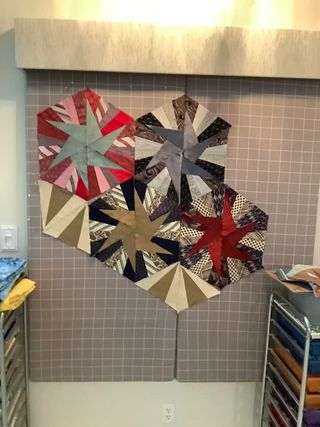 Bernadette D. made a table runner from just one of our free patterns. She shared, "My attempt at making a quilt with this block. Now my favourite way of FPP".
Janine V's quilt top showcases her beautiful assortment of fabric. Great picture!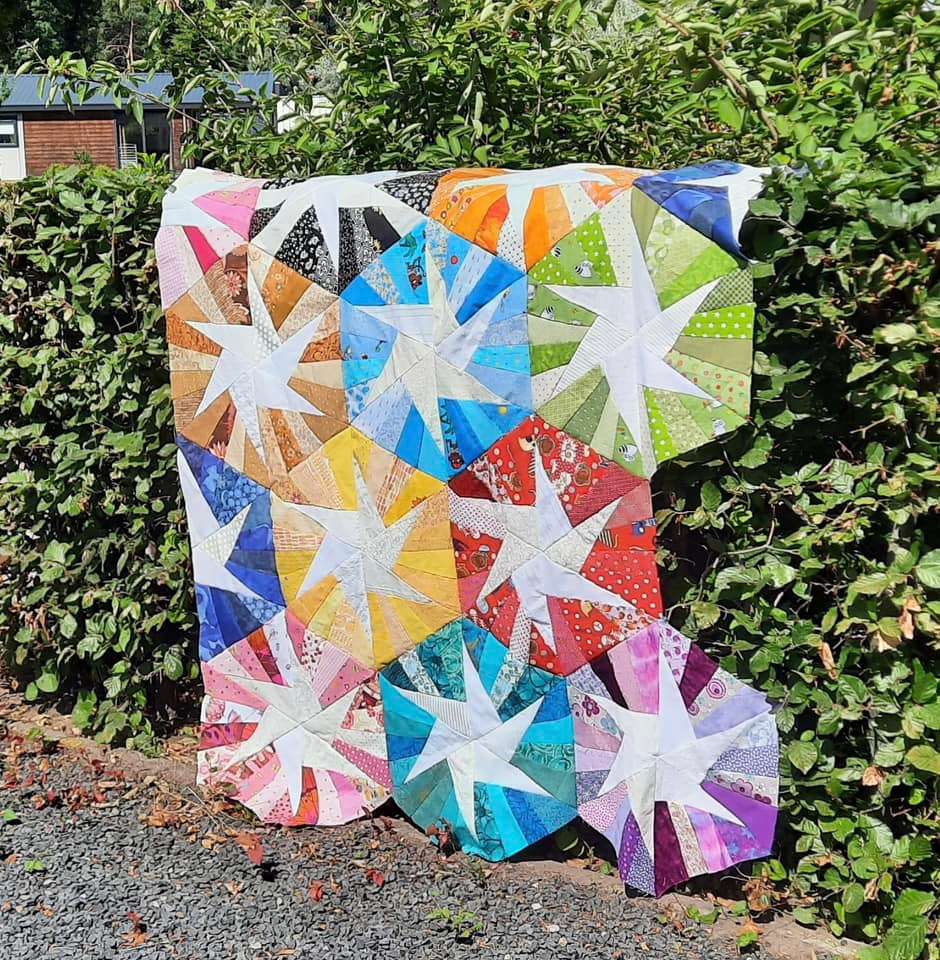 Here's Debby's quilt on the quilting frame. If you look closely you can see the colorful quilting pattern she chose. Beautiful!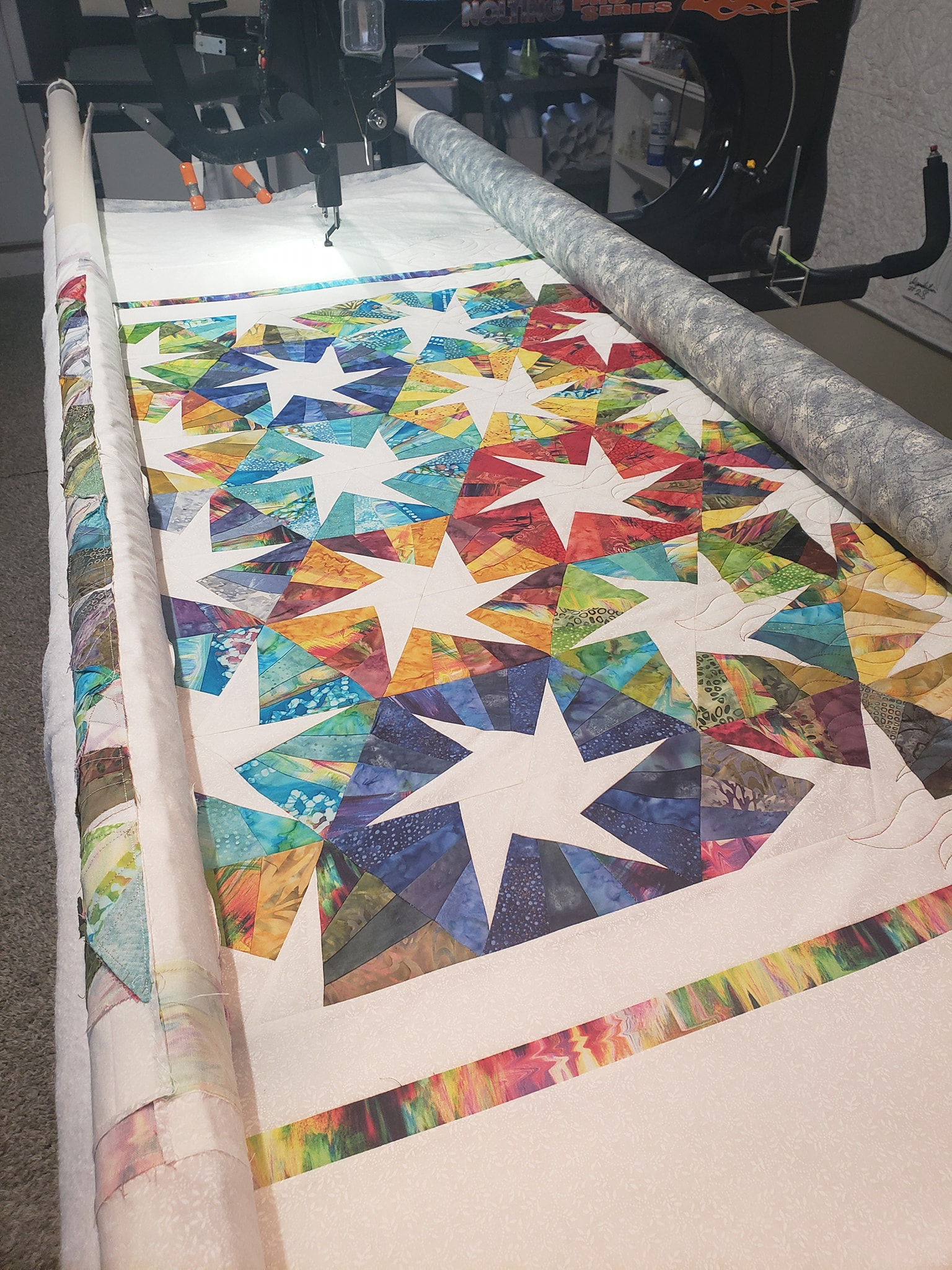 Kerry choose a range of blue fabric and added a border.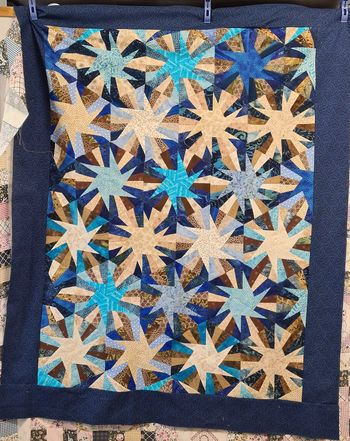 See how Carla C used one of our free quilt patterns. I've never seen the block turned on it's side!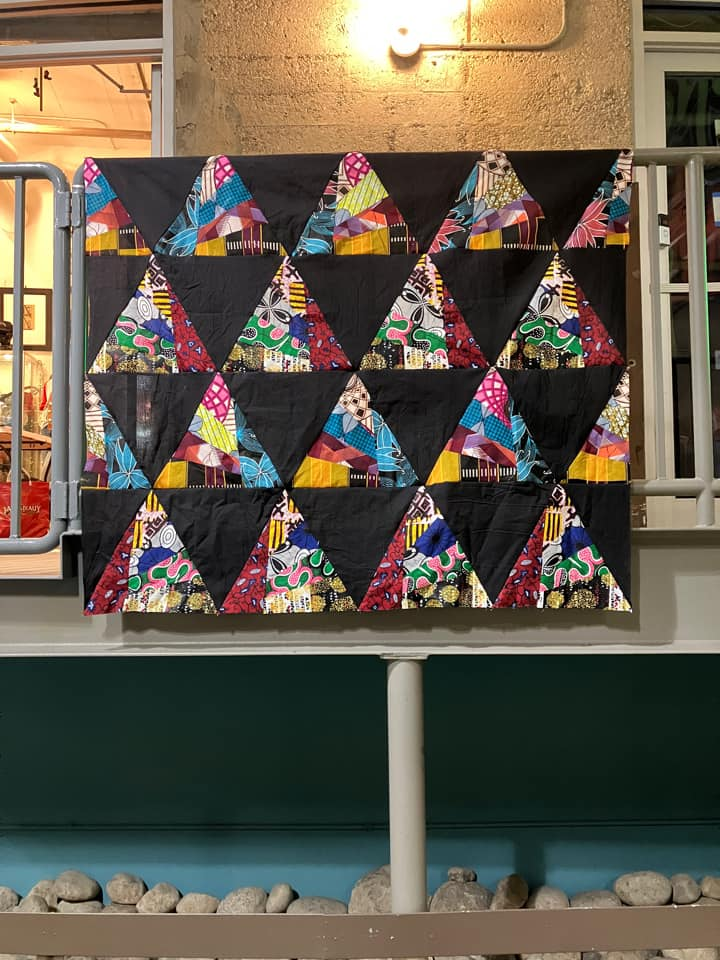 Barbara J's creativity ran wild with one of our free patterns. Check out those hearts! Her granddaughter helped!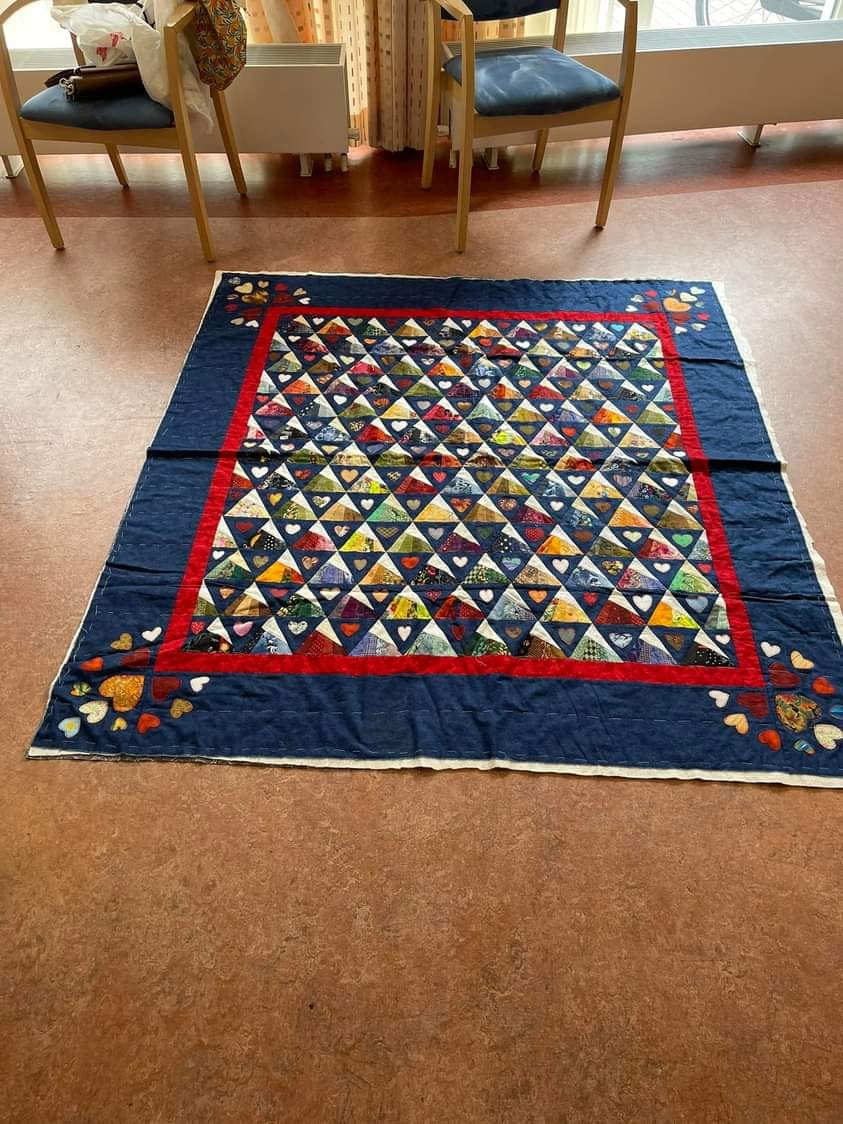 Lots of ways to just one of our free quilt patterns to make quilts in range of finished sizes and fabric.
And checkout how Kathy B put her Scrappy Whirligigs in their own square. Fun!
And Elfreide used varying purple fabric to create this sparkling square stunner!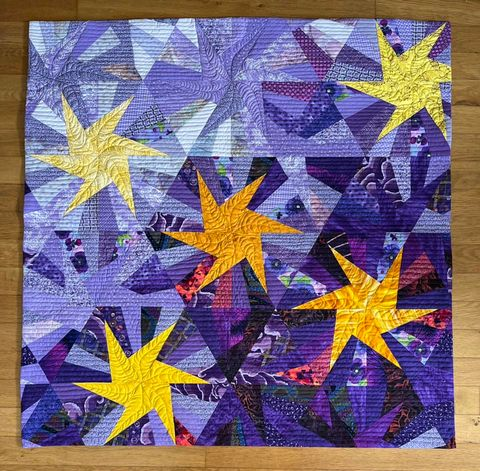 Wow, beautiful projects and quilts! What inspiration! There's so many ways to use this tutorial. The Scrappy Whirligig pattern is a great quilt pattern to get creative for all skill levels, even for a beginner. Don't be afraid to let your favorite fabrics and scraps shine!
What is the Make Modern Triangles Quilt Club?
The "Scrappy Whirligig" is just one of our quilting patterns insider the Make Modern Triangles Quilt Club. Dazzling Designs, Fabulous video tutorials, and Community, our club has everything you need! We also have quilt patterns with half square triangles.
Get started by trying one of our free quilt patterns, the "Scrappy Whirligig" by registering right here.
How does it work?
Each year, we publish a new quilt pattern as a "Block of the Month". Each month we make a batch of modern triangles.
Then at the end, we assemble all our triangles into our finished quilts. And there's no Y-Seams, promise!
Your First Step? Choose your project
You first step is choosing one of the quilt patterns. You can choose from six beautiful quilting patterns: the Rainbow Triangles pattern, the Stargazer pattern, the Solstice pattern, the Wildflower pattern, the Sparkler pattern, or the Cosmos pattern. We even have a beginner project, the Magic Mini quilt pattern.
Each quilting pattern comes detailed instructions with step by step instructions, complete with video tutorials, and instructor support. Even a beginning quilter can make these beautiful quilting patterns. Don't let your skill level hold you back from stitching a wonderful quilt.
Most members shop their fabric collections (stash busters!). This is a great project for using your own fabrics.
There's also a handful of beautiful holiday quilts you can make!
Try our Free Online Quilting Class: the "Scrappy Whirligig" Class
Get started today by stitching one of our free patterns by taking our free online quilting class: the "Scrappy Whirligig". I'll walk you through how to make Modern Triangle #47 and you can see how you like the block and see if you like my teaching style. Plus you'll get the "Scrappy Whirligig" pattern and I'll share helpful tips.
You can shop your scraps and get a quick quilting finish today!
Thousands of quilters have viewed and cherished our workshops. Register today to start sewing!
Get started by trying one of our free quilt patterns, the "Scrappy Whirligig", by registering on this page.