Quilt binding ideas are flowing! Binding a quilt with a creative spin is easy and fun with stunning results. Unexpected binding techniques and fabrics are often the detail that takes your quilt from done to ta-da!
Today, I'm sharing machine binding ideas, techniques and fabrics for modern quilts. And I'd love to hear in the comments your ideas for your own quilts!
If you're tempted by the Goddess of Done to bust out a plain binding instead of one with sizzle, read on for inspiration.
Personally, I prefer to machine bind when binding a quilt – a sewing machine and machine stitch are always faster and neater than my hands!
Many of these ideas could be done on your own quilt with hand binding. Either way, you've done something beautiful with fabric! And you'll probably invent new techniques, too.
Creative Nudge: Think Outside the Rectangle
Do you match the binding and thread to the backing fabric and call it good (which it surely is!) like many quilters, including me? (so, so often, who's counting).
Whether hand stitched or machine sewn, stitching binding strips can feel like a chore. A hurry-up-and-get-it-done business to bind a quilt. Yuck.
Mentally, I'm already done with a quilt sandwich after quilting it. I call it a finished-not-quite-finished quilt. Let me be clear: this is an FNQFQ, not a UFO!
When I've made quilts with unique bindings, I had tons of fun because it was different and a little challenging. The binding made me think outside the rectangle – hehe – to figure it out.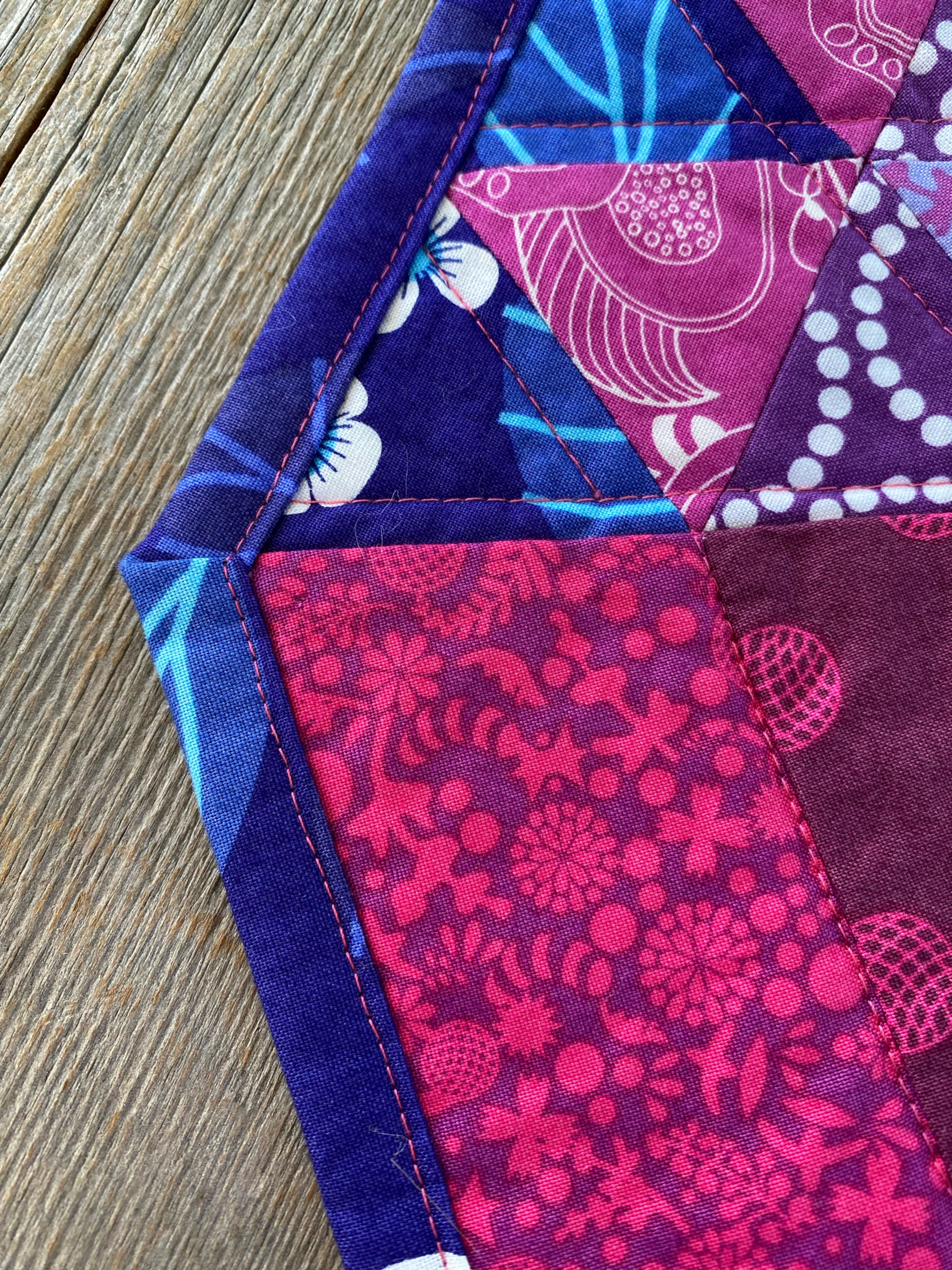 That's one of the reasons I quilt – problem-solving (10%). The other reason is relaxation (90%). Ha!
Binding is a flexible design element for quilters to play with line, color, shape and texture. With straight of grain or bias binding strips, quilters can add loads of panache and sizzle to quilts.
Approach your binding with more creativity and it will feel less like a quilty chore. I promise.
C'mon, step outside the rectangle with me!
Below you'll see 25+ fun ideas for small to large quilts.
Creative Quilt Binding Ideas
COLOR
Color is an appealing part of quilting projects. Many sensational quilt binding methods happen by playing with color. This includes creating scrappy bindings, pieced bindings, joined strips and using color harmonies.
Create color harmonies at the quilt edge with color schemes like analogous, triadic and complementary.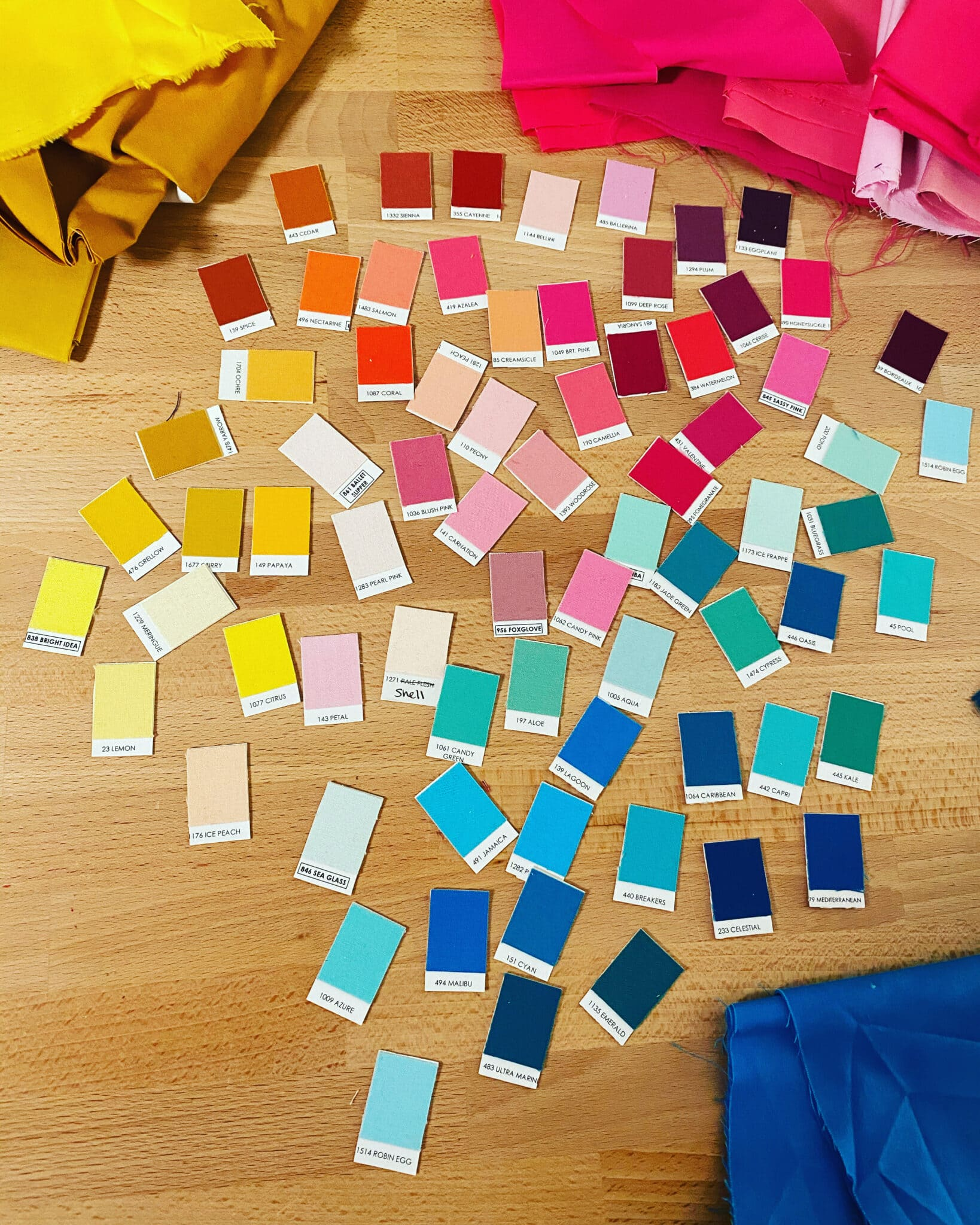 Value – try a different value for the binding color – dark versus light – than the colors in your quilt.
Use a quilt design coloring page and draw a binding around the illustration to audition binding colors. Get out the coloring pencils!
Use a fabric color NOT included in the blocks.
Extend the blocks onto the quilt binding by matching fabrics where they meet up. My Throne Room extends the pieced blocks See my Throne Room quilt below.
Use a white, black or neutral binding with bold modern designs.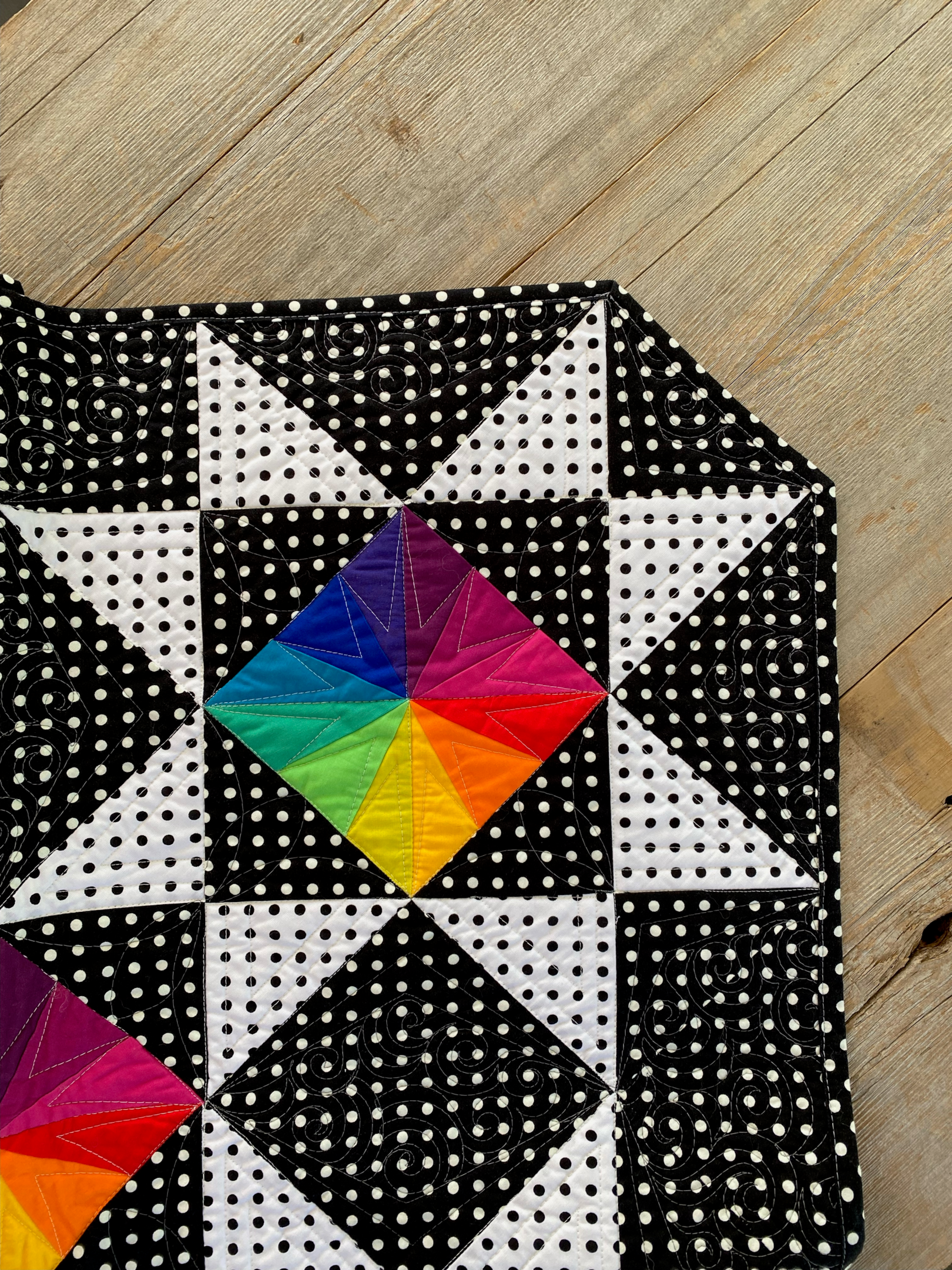 DIMENSIONAL BINDING
Folded fabrics make an exciting binding edge – face a quilt with prairie points sewn into the seam. They'll pop out from the seams when you turn it right side out.
Folded fabrics are little scrappy binding jewels, too. You can make very small prairie points! Or sew the prairie points toward the center of the quilt with their edges under the binding.
Add a flange or piping underneath the binding to show a burst of color.
Add a wider binding strip if your quilt allows enough room at the binding edges.
A themed quilt is full of possibilities, especially for kids. The binding fabric can be shiny, super soft or a fun texture.
THREAD
Sew colorful machine embroidery stitches over a neutral binding. What is the best decorative stitch for quilt binding? Maybe all of them! They are programmed into your machine and give your quilted projects uniform and pretty stitches.
Try different weight threads with machine stitches – a thicker 30# or topstitch threads are more visible on the binding.
Crochet was the perfect complement for the mini tree skirt below.
When I have time, I enjoy hand stitching with my current Netflix binge watch.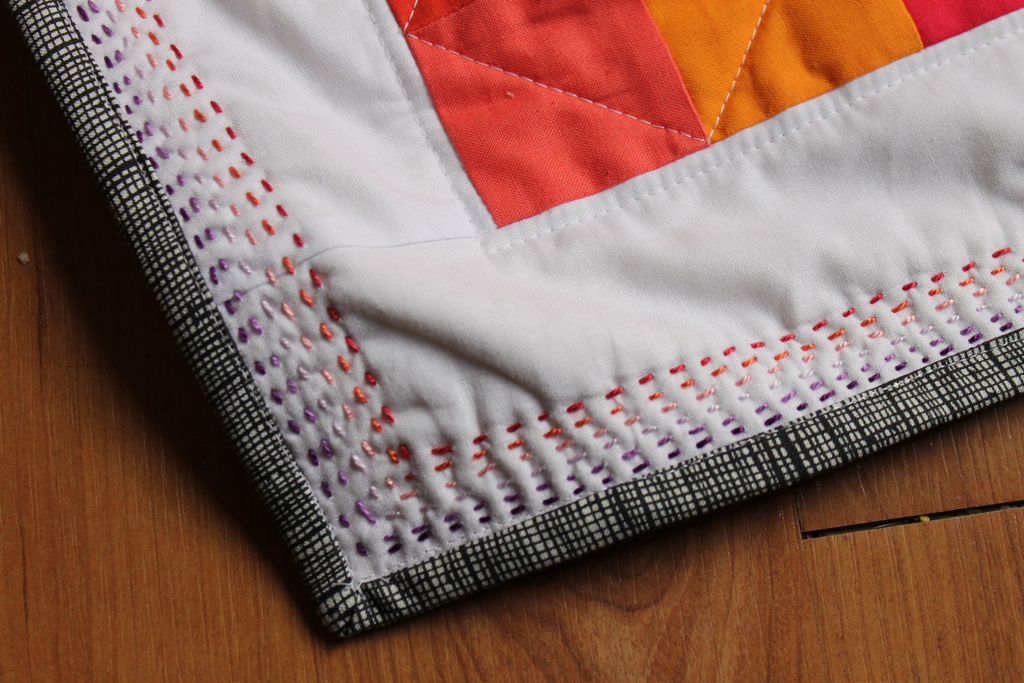 Metallic thread adds pizzazz and is available in many colors. Use a specialty metallic thread machine needle on your sewing machine for smoother stitching.
FABRICS
No-fray fabrics are versatile for quilt bindings. I made an entire quilt out of selvedges. Yep. Even the binding!
Fleece, felted wool, vinyl and cork work so well for extra interest and texture. Vinyl and cork come in softer versions which make durable edges for kids' quilts. Cork comes in so many colors -matching it to quilting cotton is a snap-o-luh.
Coated fabrics like metallic cotton and denim, and waxed canvas are also super durable for quilted projects like pillows and picnic blankets.
And there's more: sturdy lace, grosgrain ribbon and woven trims with finished edges are ready for binding – no cutting and pressing.
TECHNIQUES
Let's riff through some easy techniques that take your quilt from done to ta-da!
PIECED BINDING
Fancy and versatile, pieced binding can be made from the same strip sets used to create the quilt blocks. Yup. So plan on making extra sets instead of piecing one scrap of fabric to another…unless that's your thing.
I like that pieced binding from strip sets creates harmony (a tried-and-true principle of design) from edge to edge. Bonus: I don't have to choose only ONE color from all the pretty rainbow colors in the quilt!
Fabric selvedges
Raid your fabric selvedges stash to create a pieced binding. I like how it makes one long continuous strip without wasting ANY fabric!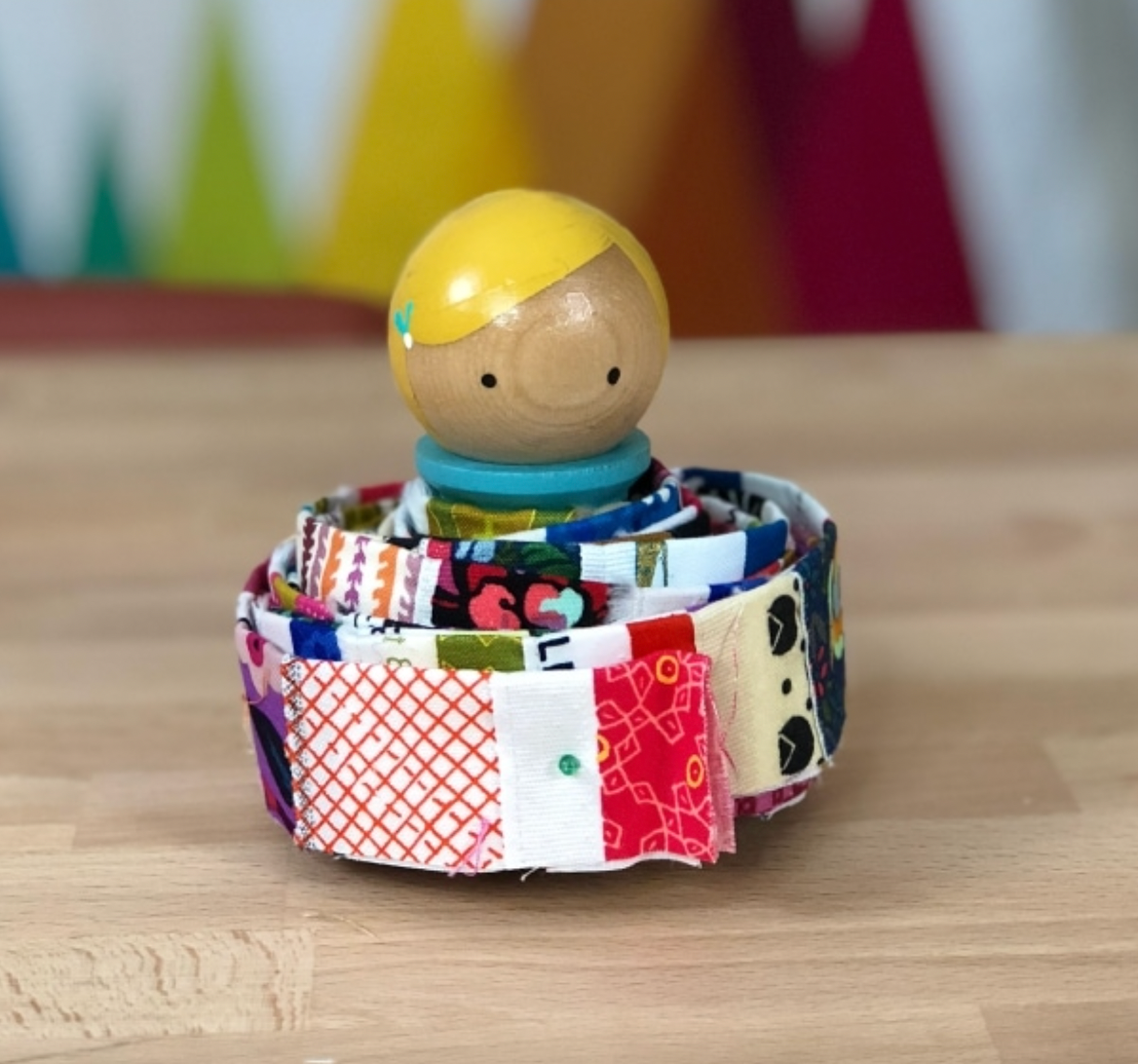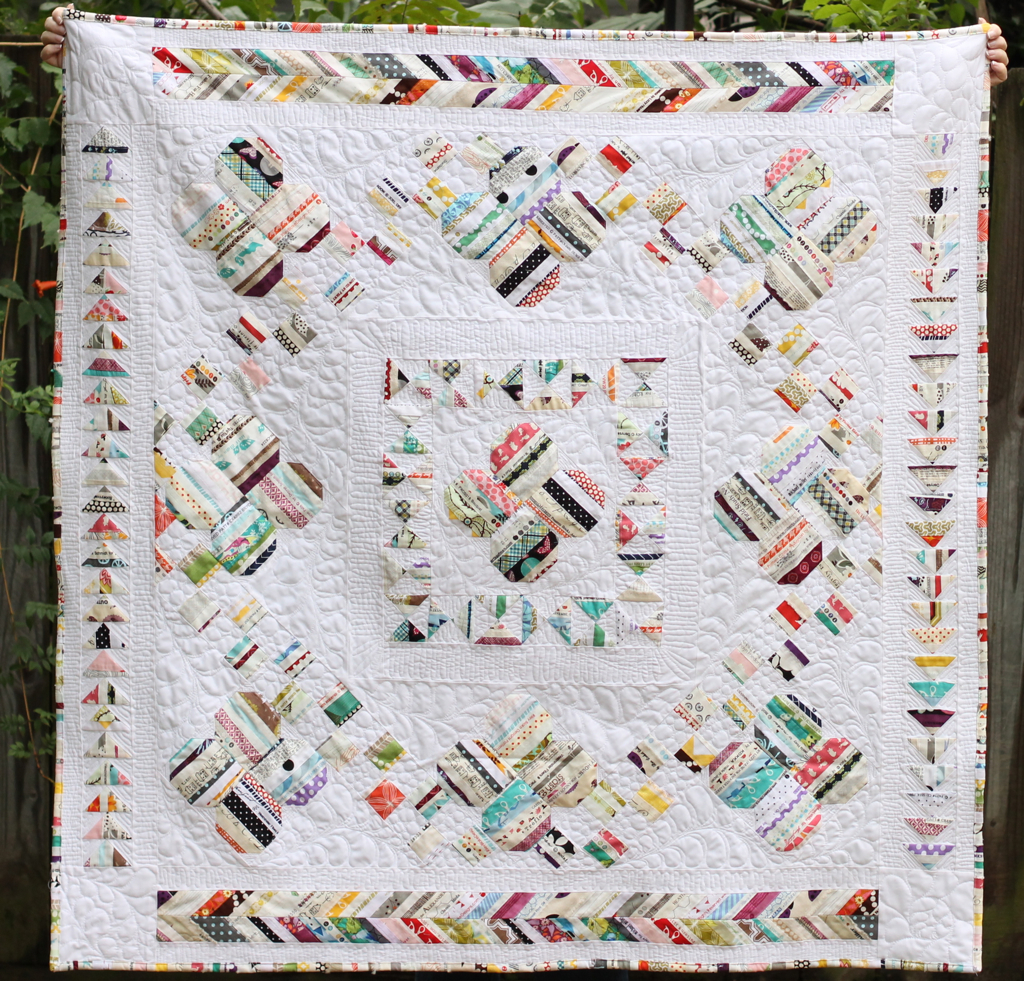 Use wider pieces of fabric selvedges to wrap the edge. Sew the selvedge right sides together on the back and fold over to the front. Machine stitch your no-fray selvedge edge with a straight stitch. I love the look!
Double rows of binding add extra texture and double takes!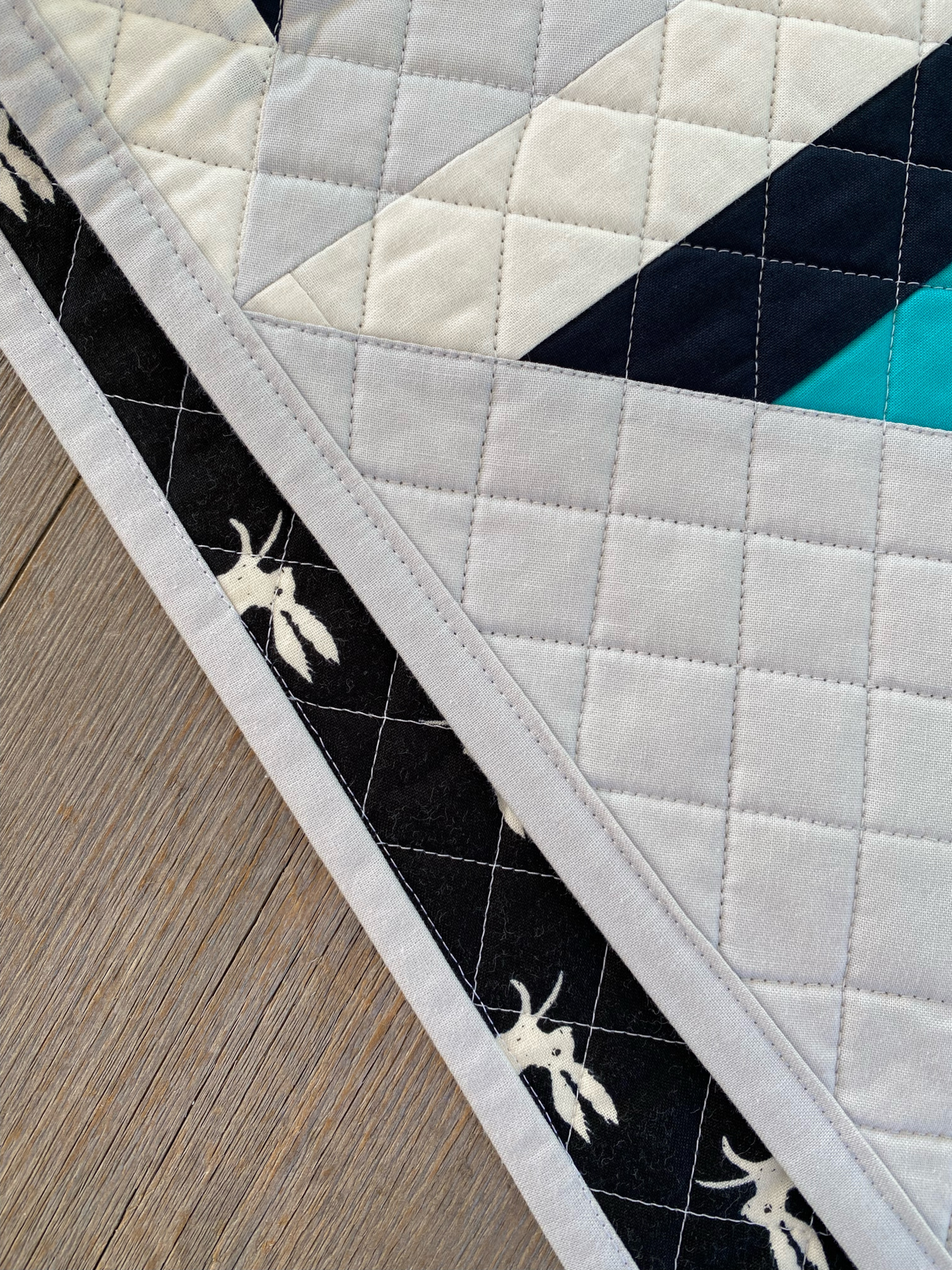 Use a facing instead of binding – AKA an invisible binding. See how my Improv Black and White Curves quilt "floats" in space without a binding? Cool.
Designs with hexagons, triangles and on-point blocks: I've made several quilts with unique binding techniques for shaped quilts to highlight the edges. And yes, you CAN leave out the setting triangles and bind away!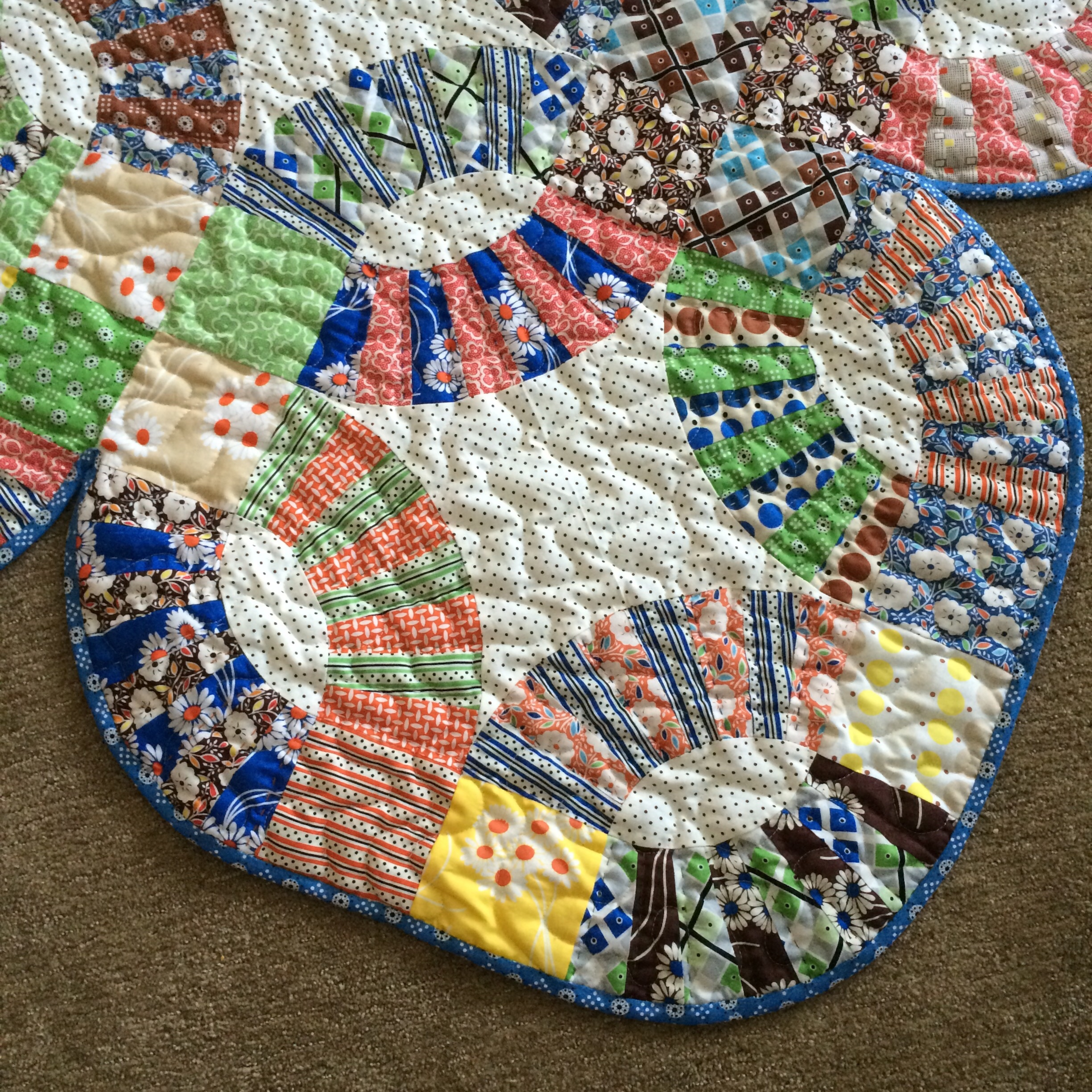 Curved edges are uncommon; IMHO there aren't enough quilts designed with curved edges. Think of the binding possibilities to show off the quilt patterns!
Striped fabrics are a fabric AND a technique to my thinking: Cut the stripes in a diagonal or perpendicular direction. Or splice striped fabric with solids in a pieced binding. The binding on my Star Bright quilt added electricity to the overall design. Love, love strippy stripes!
Quilt Sandwich Prep
BIAS BINDING VERSUS STRAIGHT GRAIN BINDING
Some quilters prefer a binding cut width of fabric (WOF) so they have an almost bias-like stretch. The stretch hugs the edge nicely, but it could also ripple and twist.
And then there's the wonky-edged improv quilt that has to have a bias binding. Straight of grain binding will protest and refuse to lay flat.
Others quilters endorse straight of grain binding strips for super straight edges on quilts. Ima straight of grain binding quilter because it lays flat and smooth without buckling.
MY FAVE QUILT BINDING FINISHES
RAINBOW STREAK
When I designed the Rainbow Streak quilt, I made the binding out of the strip-pieced sections that I used to make the blocks.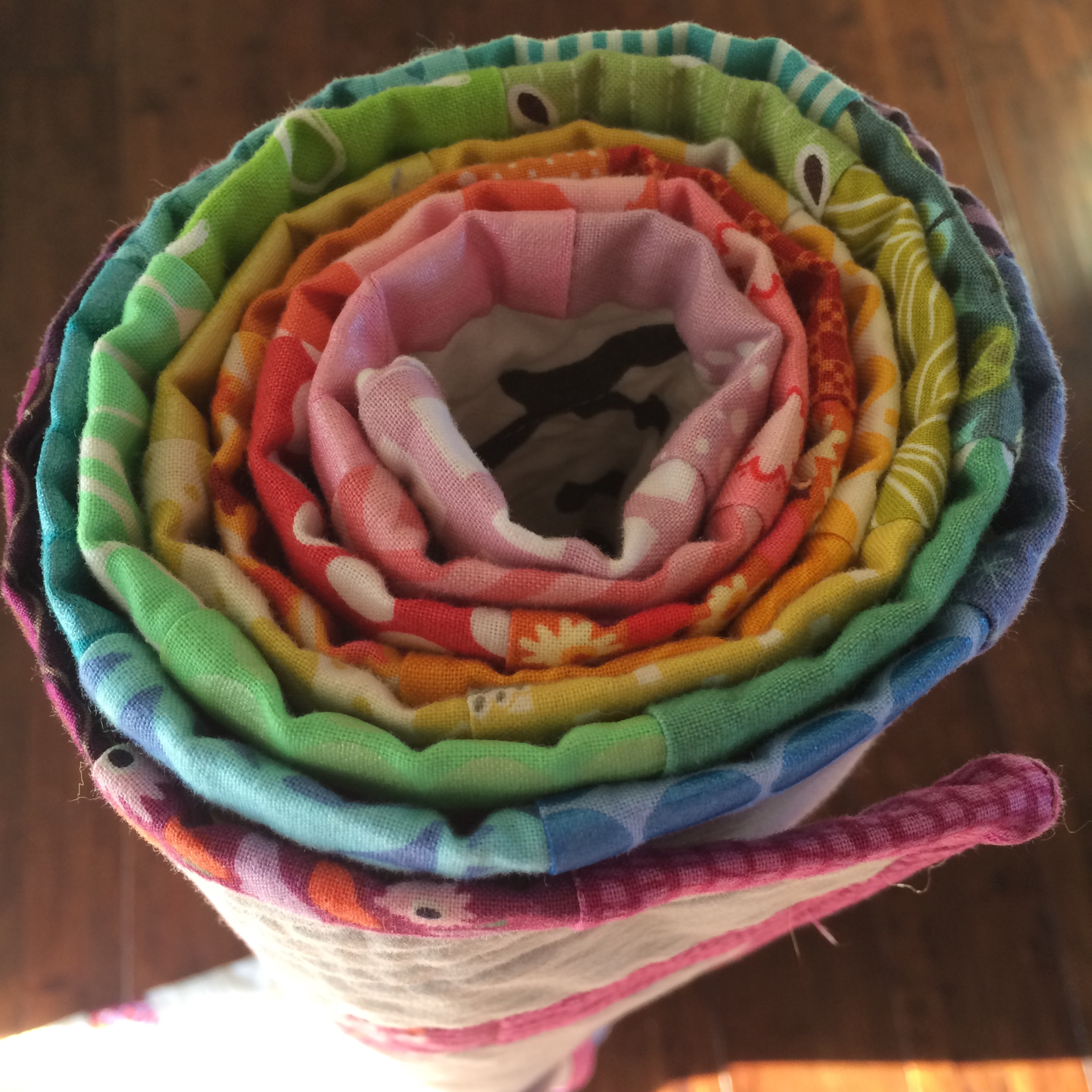 I matched the binding colors with fabrics that touched the edges, creating a shimmery effect.
Black and White Improv Curves
I'd wanted to make a black and white improv quilt for about forever and then I did! Binding it with a facing gives the quilt a major modern aesthetic.
This method is taken from the "hanging modern art" playbook: go frameless.
Throne Room QUILT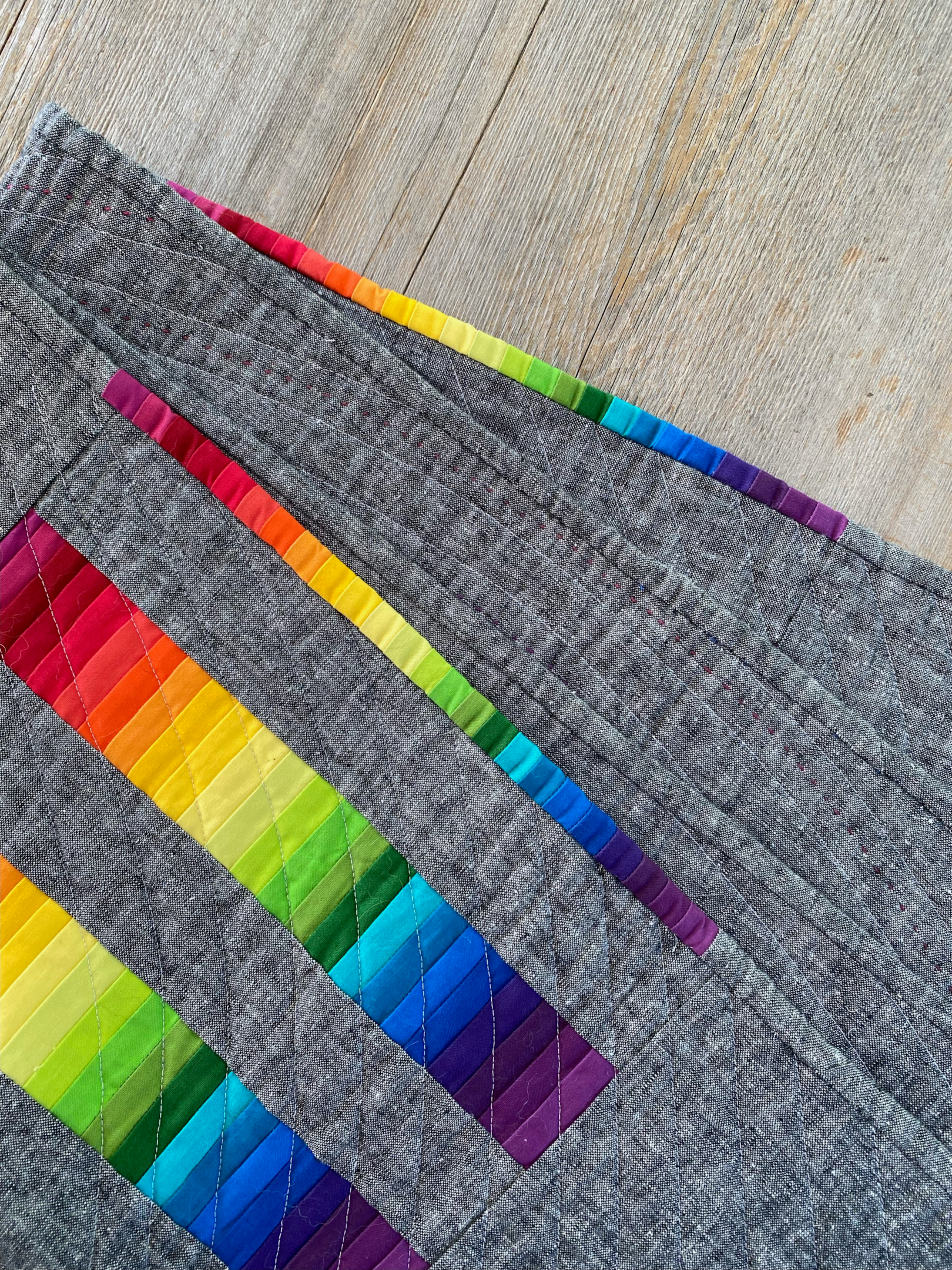 The binding was cut from the same strip pieced section I used for the blocks. I continued the rainbow block over the edge to represent the "infinite".
Hexy Plus Quilt
When I initially started making my Hexy Plus blocks, (pattern here) I just made and made and made them. Then I realized I had made too many to make a throw quilt! I didn't want to make a large quilt, even a twin size, which seemed so large at that moment!
Final decision: I made a baby quilt.
The inverted corner is just a mitered corner with a teensy bit wider angle and so simple to do: just nudge the angles together until they lay flat. After you navigate a few, congratulate yourself and SNAP you're a bonafide multi-angle mitering pro.
QUILT BINDING TAKE AWAYS
TIME
Creative quilt bindings takes math and imagination, and…a little more time.
You'll need more time to learn something new, adapt a technique or make your own how-to.
Don't put yourself in a bind (hehe). Start with the end in mind – even if loosely imagined – so you'll have enough fabric for the binding.
Better to have a leeeetle more than you need than NOT ENOUGH. shriek.
Planning is THE boss.
BREAK Some RULES
Unique quilt bindings create concern among the quilt police. (They're eager to write citations). Can a quilter legally do that and still call it a quilt?
YES!
If you wanna break some quilty laws, there are many accomplices: all kinds of fabric and techniques!
I hope you'll try a few ideas to add some razzle dazzle to your quilting projects.
What are your favorite ways to bind a quilt? Leave a comment below. Thanks!
MORE RESOURCES FOR QUILT BINDING