Hey there! Have you ever tried sewing curves? What about improv curves? Lately I've been stitching a lot of improvisational curved lines and I wanted to share the love by showing a tutorial for how to sew improv curves.
Over the past year (I can't believe I've been working on this since February!) I've been doing a bunch of improv sewing, including sewing improv curves.
Improv Quilt Finishes
Let me show you a few examples of recent quilts I've made using improvisational curved piecing.
This is a black and white improvisational quilt I made and finished a while ago. I actually finished it before we left Holland.
I mean to stretch it on stretcher bars and hang it in my living room, but I messed up the binding/facing. So I have to fix it. And so its lingered. I really should fix it!
This is Sunshine. If you follow me on Instagram, you'll have seen me working on this one over the past months. Sunshine, is a bit different. She's two quilts in one – half traditional piecing and half improvisational piecing. There is a lot of improv curves in this one!
Though she's a bit of an oddball, I love this quilt so much! It all started when I wanted to work with yellow. As I made the stars sets on yellow, it began to look really happy, but I personally didn't feel happy.
Nothing was or is wrong per se, but I most days I just feel like a mess with a smile on. So Sunshine is my self portrait in a sense.
And the two quilt halves came together by sewing a big improv curve. Here's what it looked like before sewing.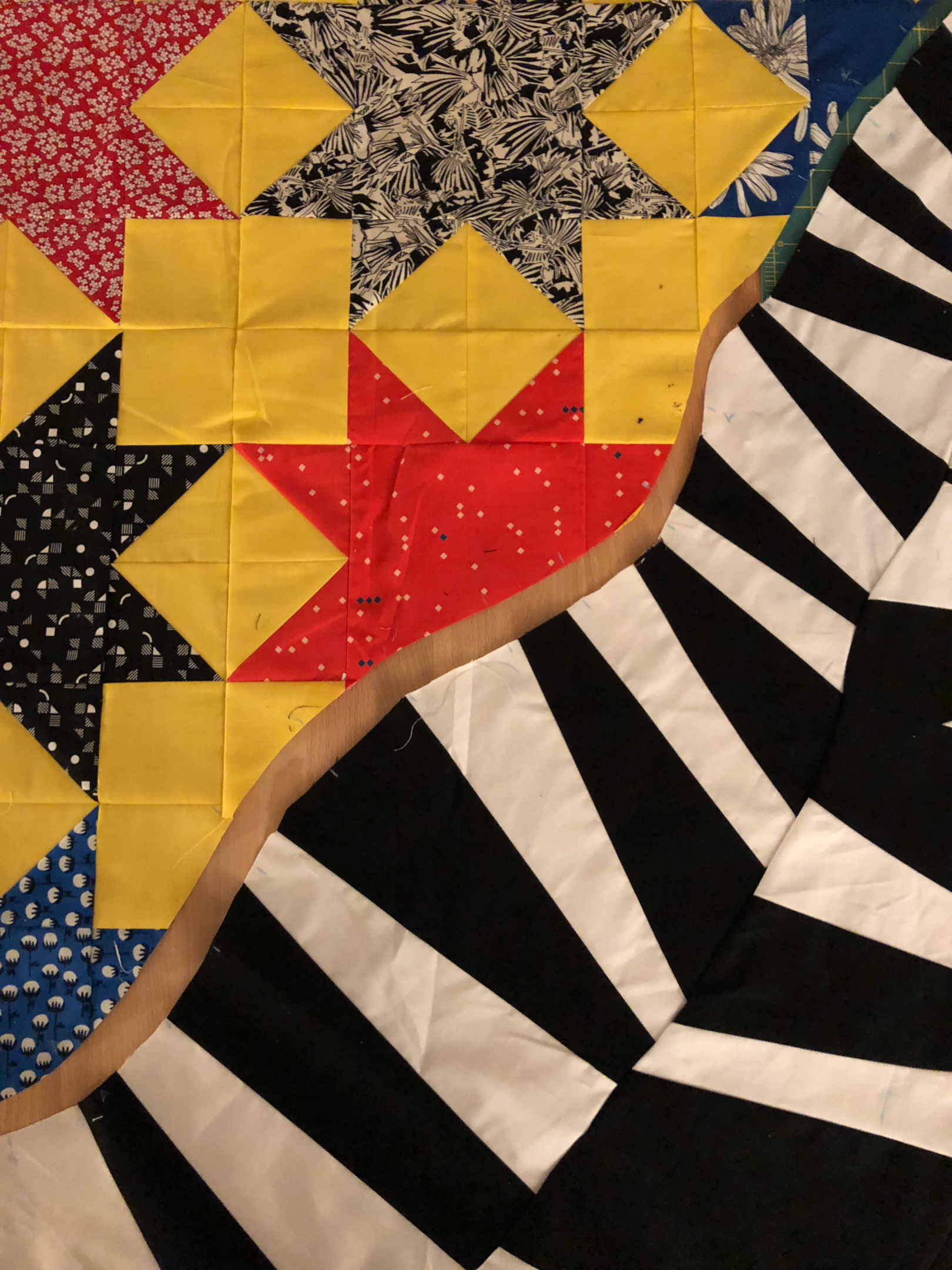 And here's the finished and quilted result!
Here's a close up. Look at that curve! So fun! And it's so so easy!
how to sew improv curves Tutorial
In my latest video tutorial, you'll learn how I sew my improv curves. This technique is the one I used to sew my improv curves in the two quilts above.
In the video, you'll glimpse these projects, how I cut my improv curves, how I might pin the pieces together (it's just for show, I'm a pinner sinner!), how I sew the improv curves, how I press the improv curves, and how I would sew the pieces together sans pins (be careful on this part!).
Bear (bare?) with me on this video. My videography skills have much improved since I shot this video six months ago. (It's so funny how time flies!) You may notice my hand is in the way of "the money" shot for the sewing machine segments.
Please know management has received your complaints and is working to improve the situation. Ha!
In all seriousness, in spite of my shortcomings (I think I've mentioned being a mess with a smile on? Ha!) I want to share what I know about how to create improv curves so that you can take the lesson and do you own thing.
So, even with my big ole' hand in the way, I hope you can find this video tutorial helpful!
Here's the detailed technique video! Enjoy!
Here's the video! Enjoy!
Blog Tutorial – how to sew improv curves
Now, the video tutorial is great. But sometimes I prefer some images of key moments for a new technique. So below you'll see just that!
Step 1 – Stack and Cut
Stack your fabric one on top of each other on your cutting mat. Right sides up for both pieces if you're using prints.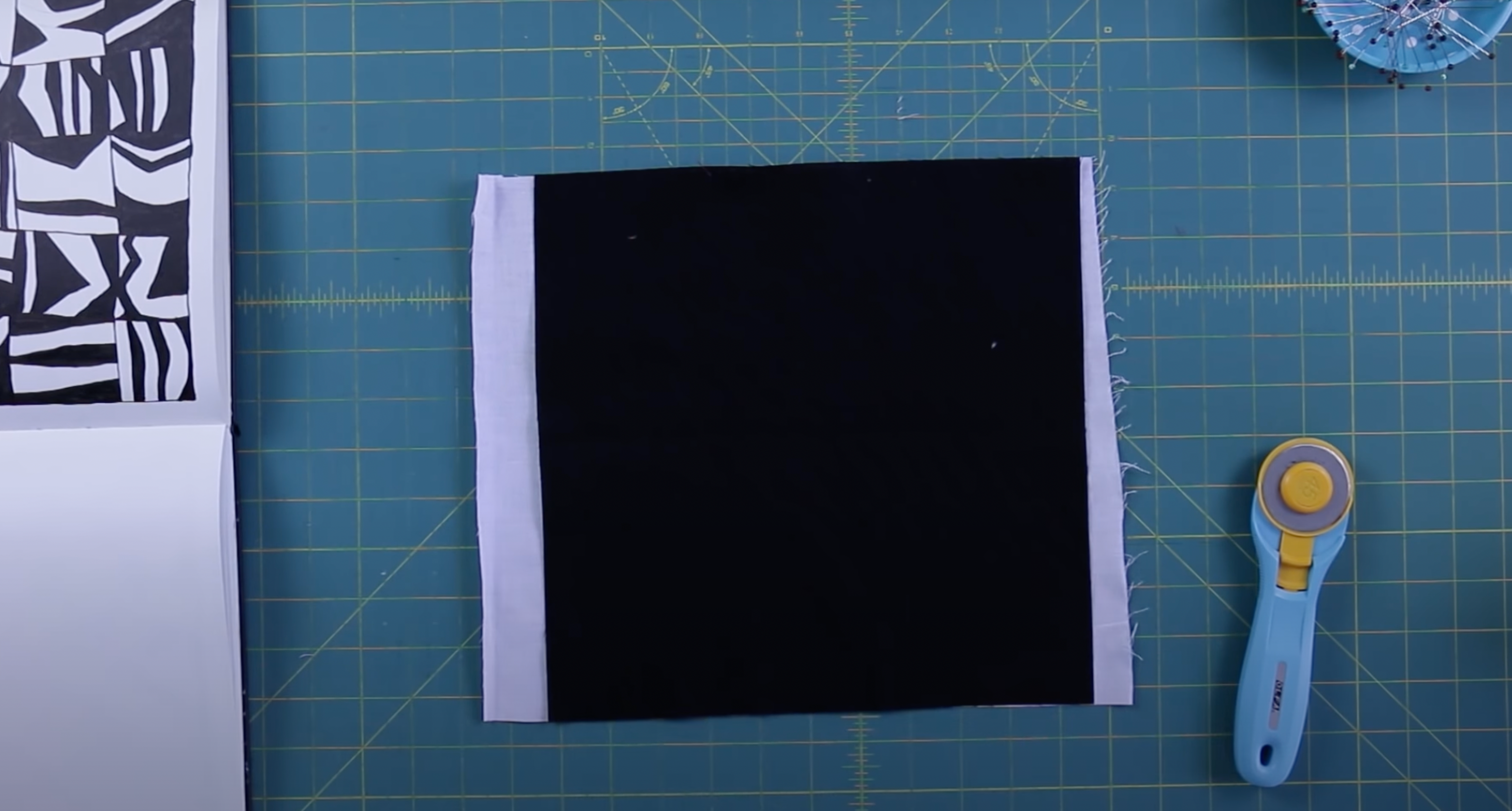 As I note in my video, my fabric pieces are large because I'll be working through making the Black and White block using all of each piece of fabric.
Then, you'll be using your rotary cutter to cut your curved line. If you've never cut without an acrylic ruler, you are going to be shocked at how straight you actually cut! It takes a bit of practice and a bit of conscious intention to not cut straight!
Before cutting, I find it helpful to do a rough draft cutting motion. You can see exactly what I mean in the video above.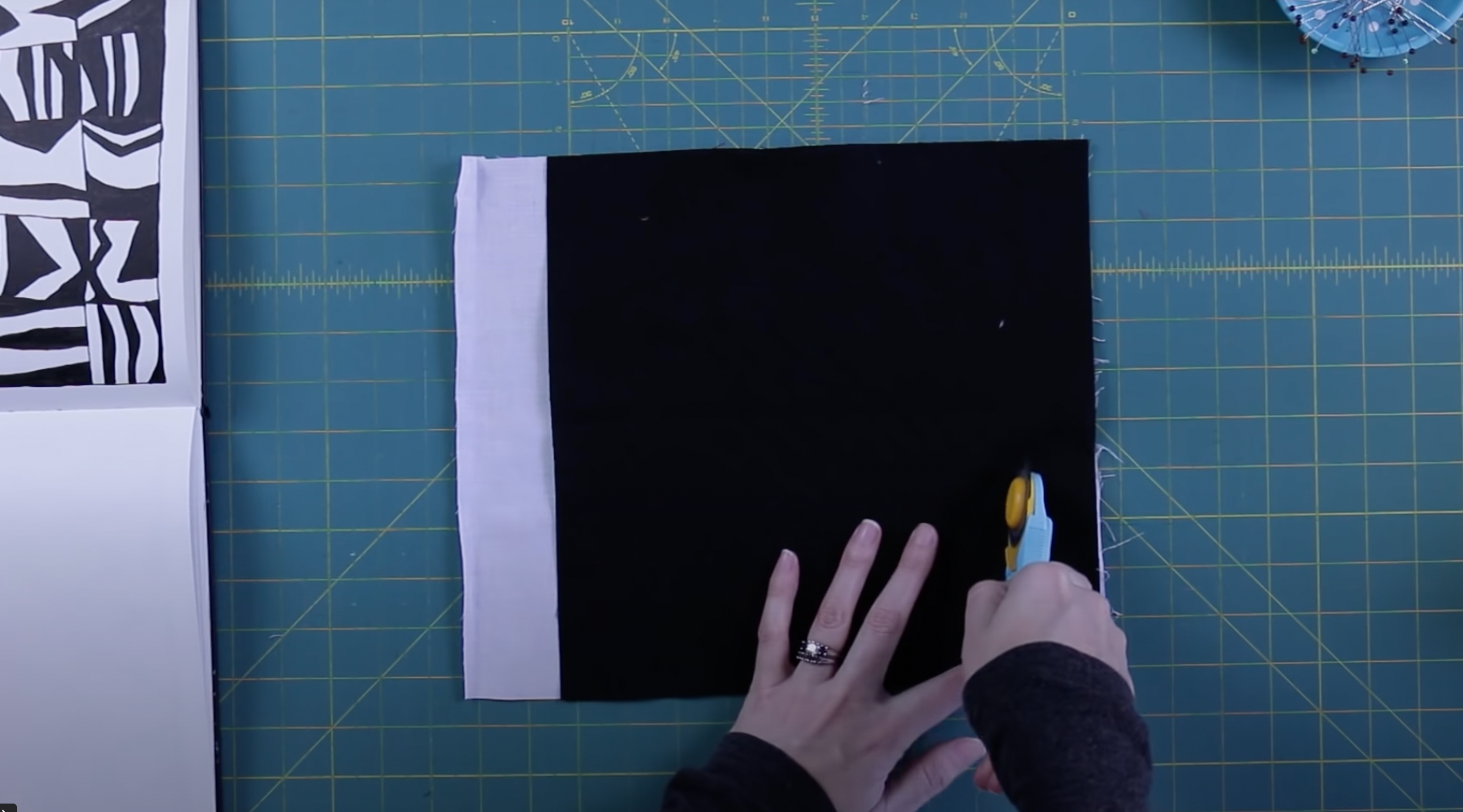 Then, remove the excess fabric. For me, I removed the black fabric that was on the top to the left of my cut, and then I'll remove the white fabric under the black fabric piece to the right of the cut.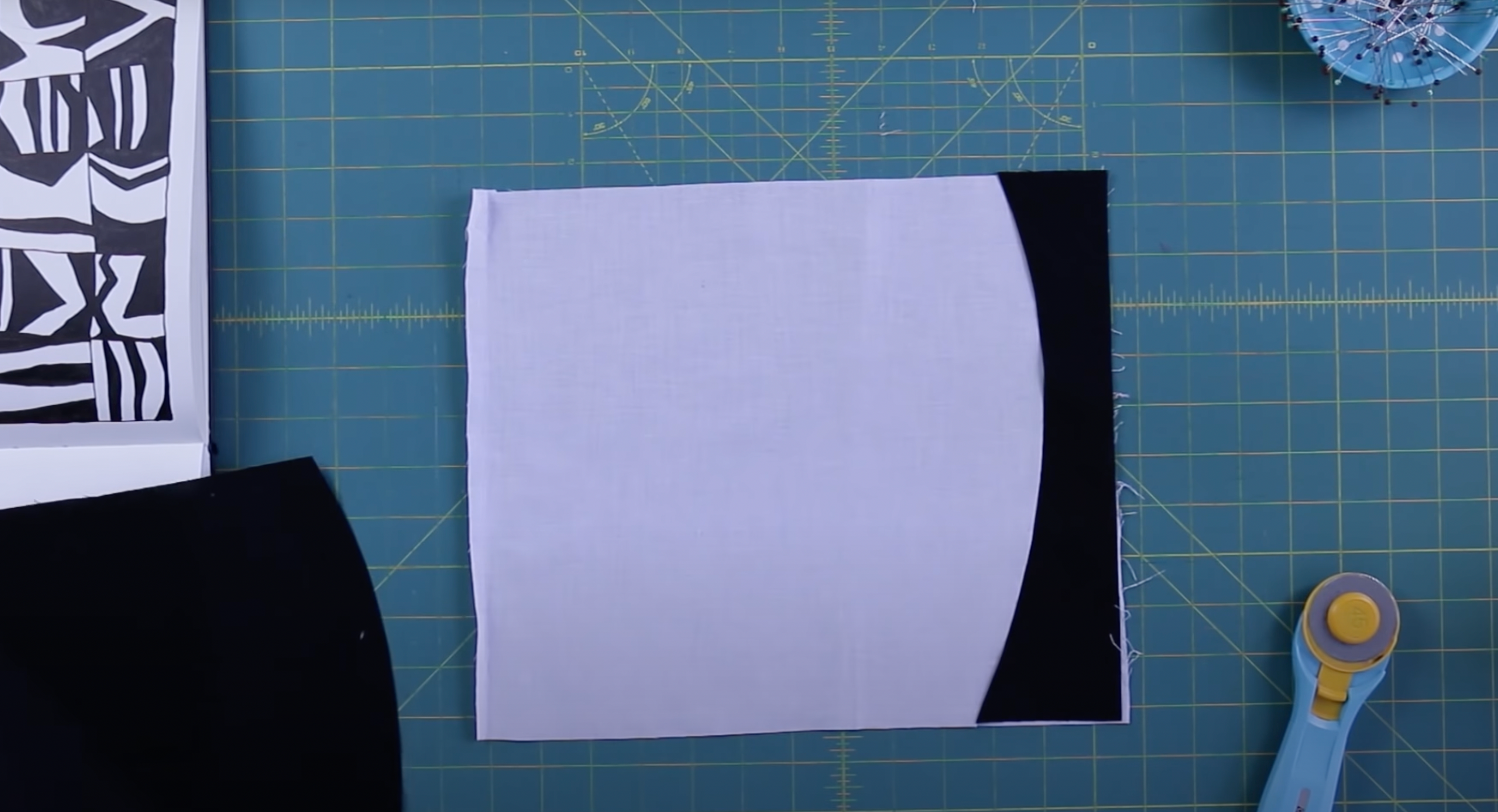 Now, here's the first line I'll be stitching. And remember, when you put these through the sewing machine, you're going to lose about half an inch from the seam allowance.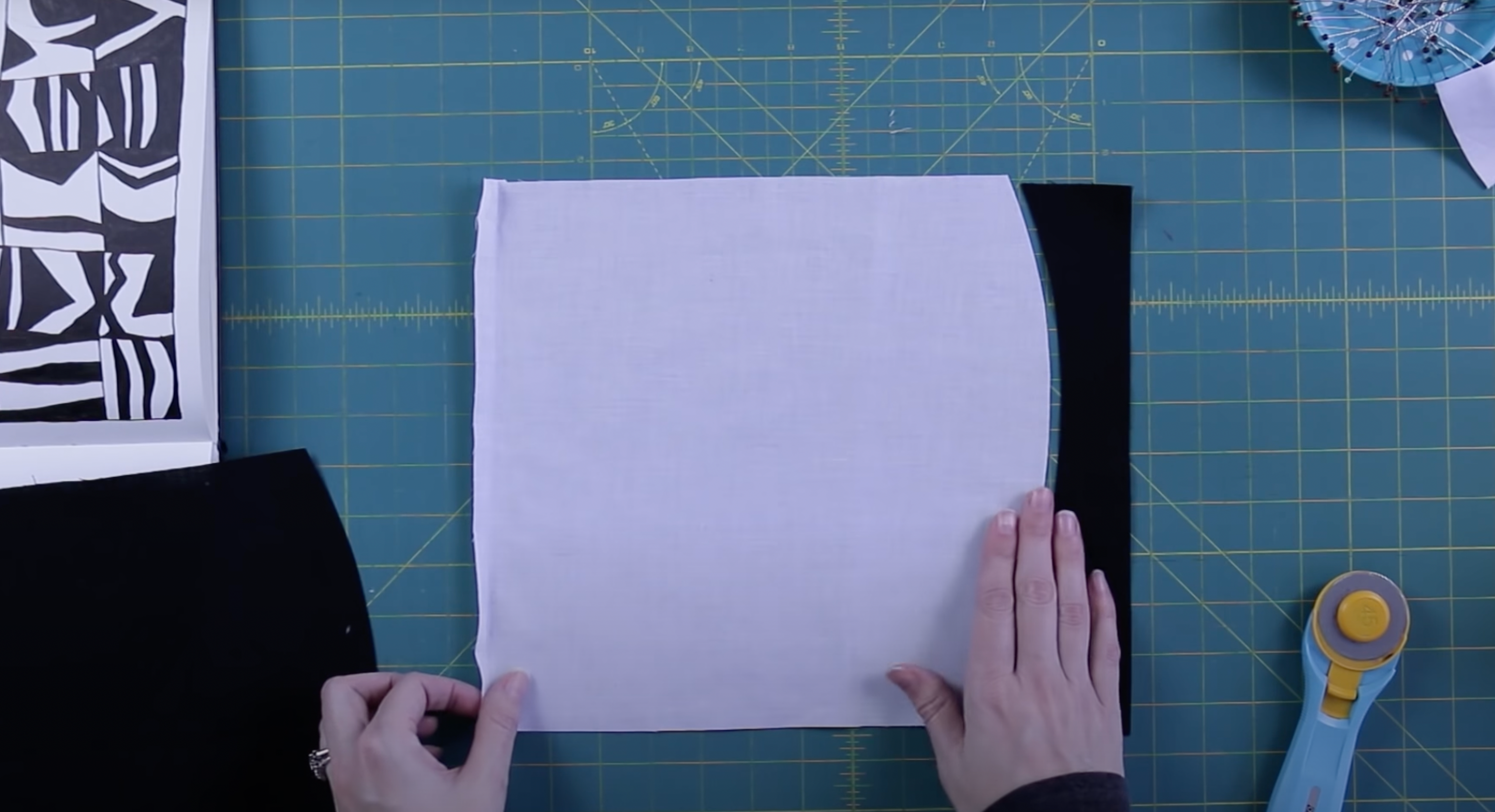 For my demonstration, I went ahead and cut for all of my block using my rotary cutter and my mat.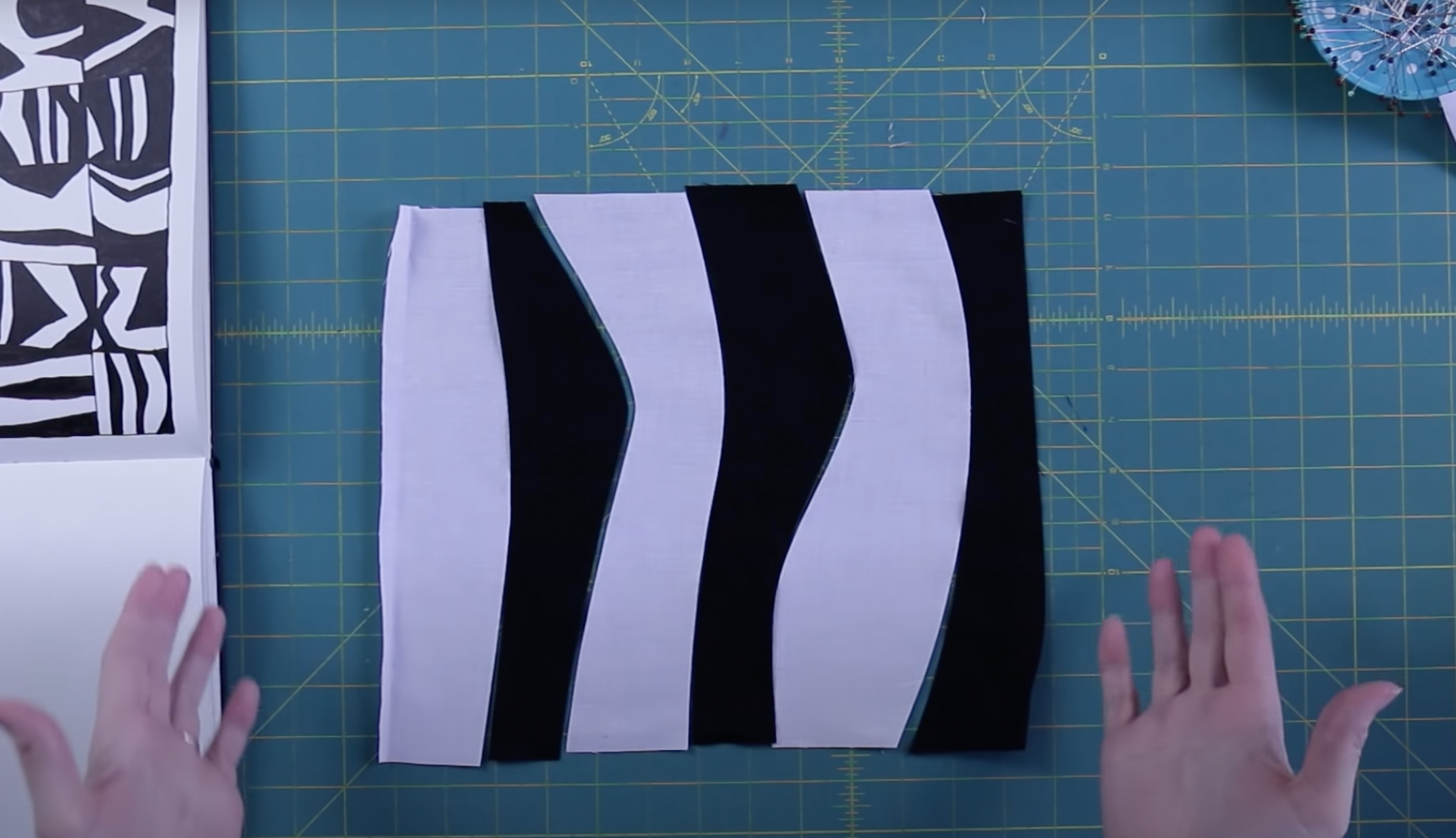 Step 2 – Pinning and Sewing
A lot of the time, I won't pin, but that takes practice. So I'll show you how to pin these curvy fabric pieces together.
Tip: For stitching a curved line, you're supposed to keep the convex piece on the bottom and the concave piece goes on the top. As I'm showing in the photo below. The piece on the right, will go on the top, because it's concave.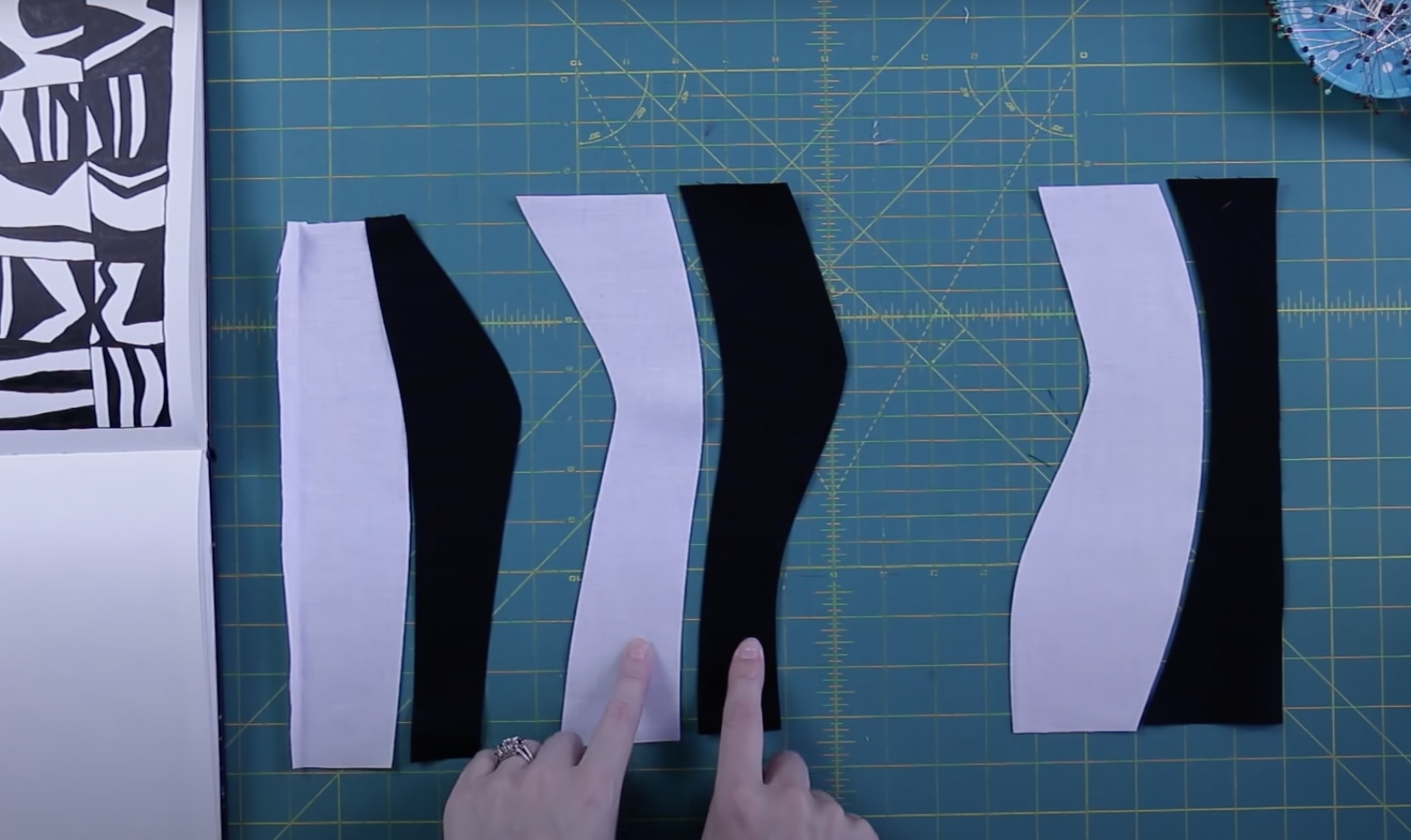 Put your pieces right sides together.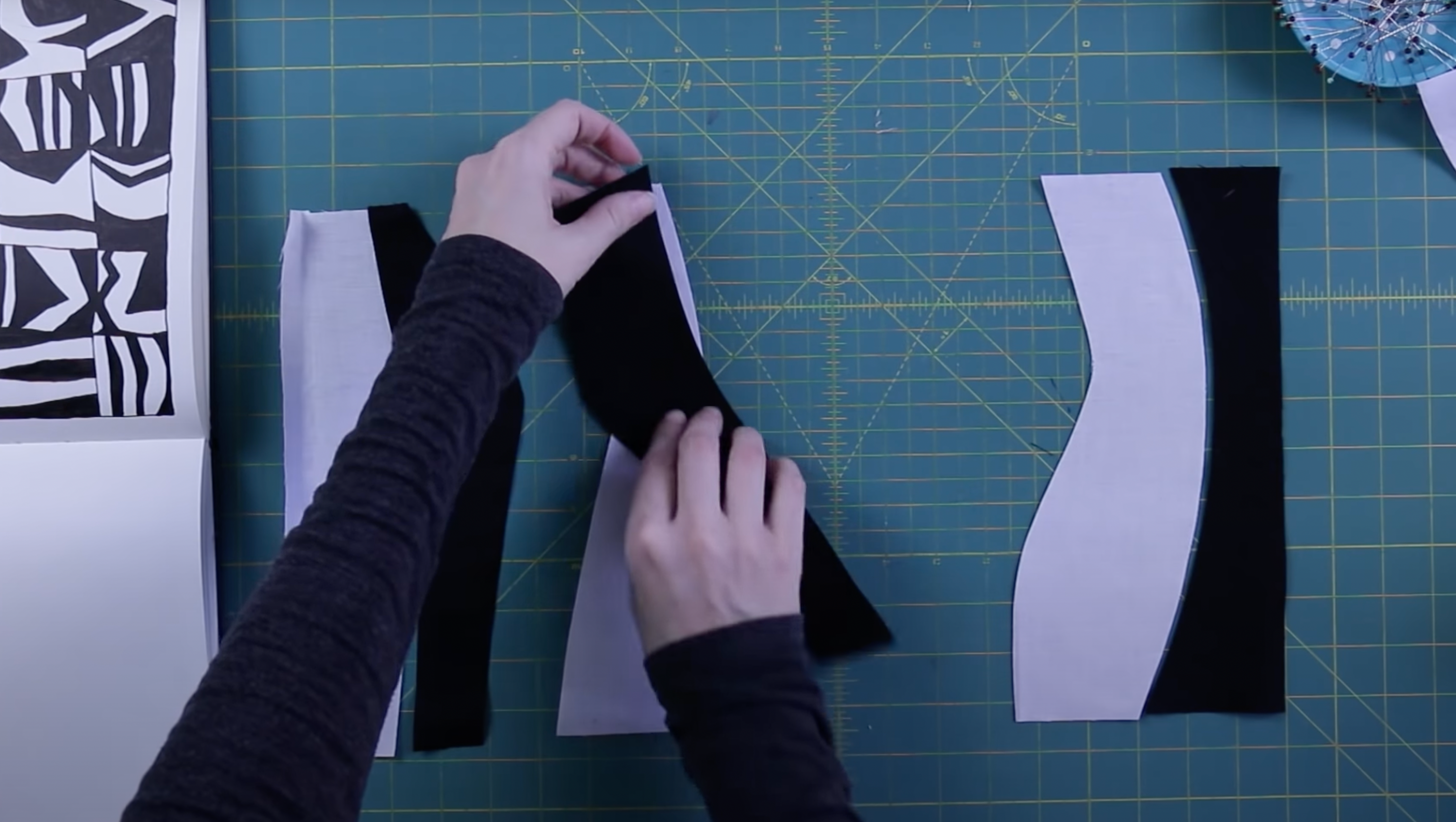 Whenever I'm using pieces that don't quite fit together, I always look for where the quarter inch seam line is going to go so I'm looking for this divot right where my fingertips are in the picture.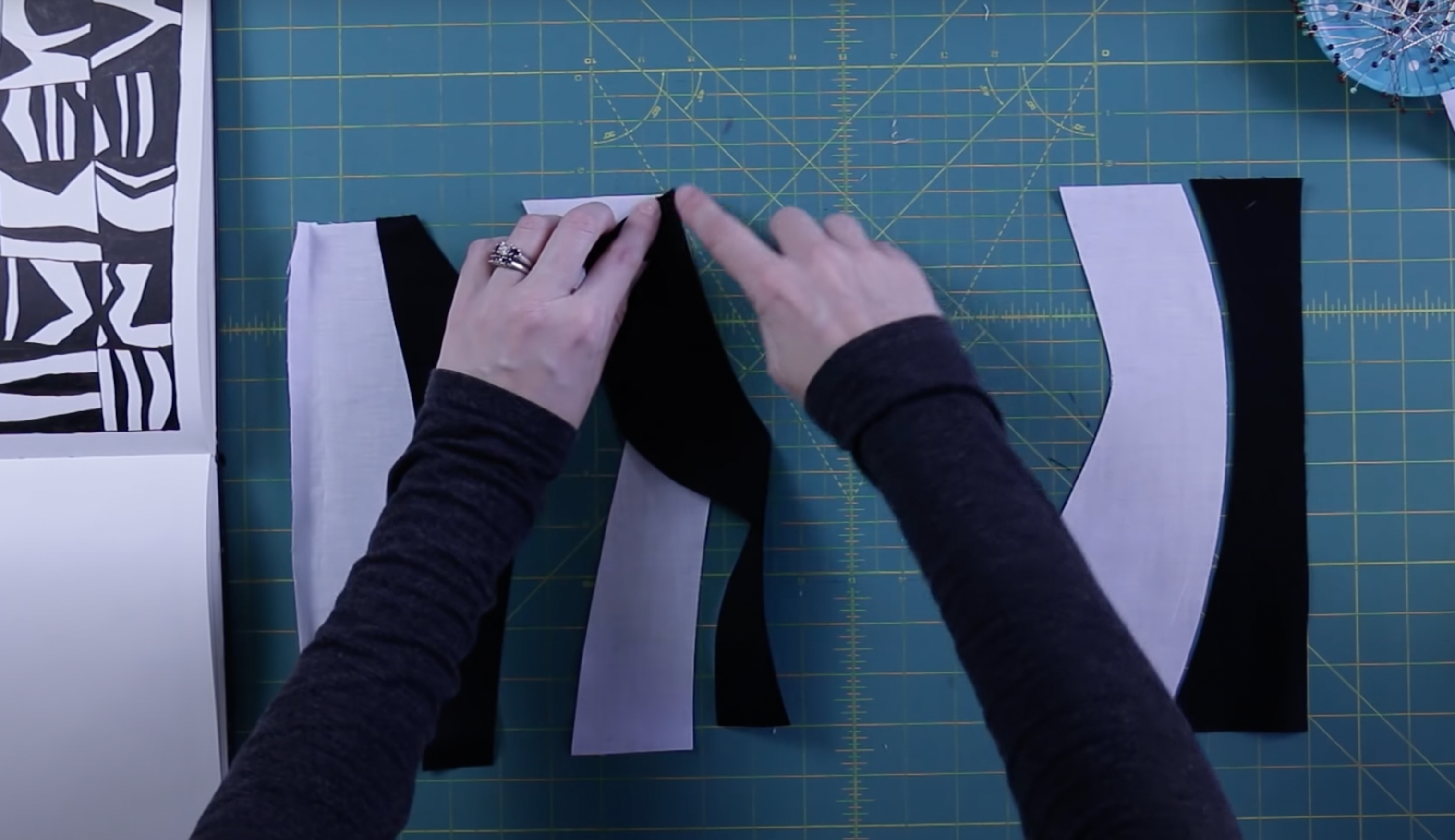 Start pinning the beginning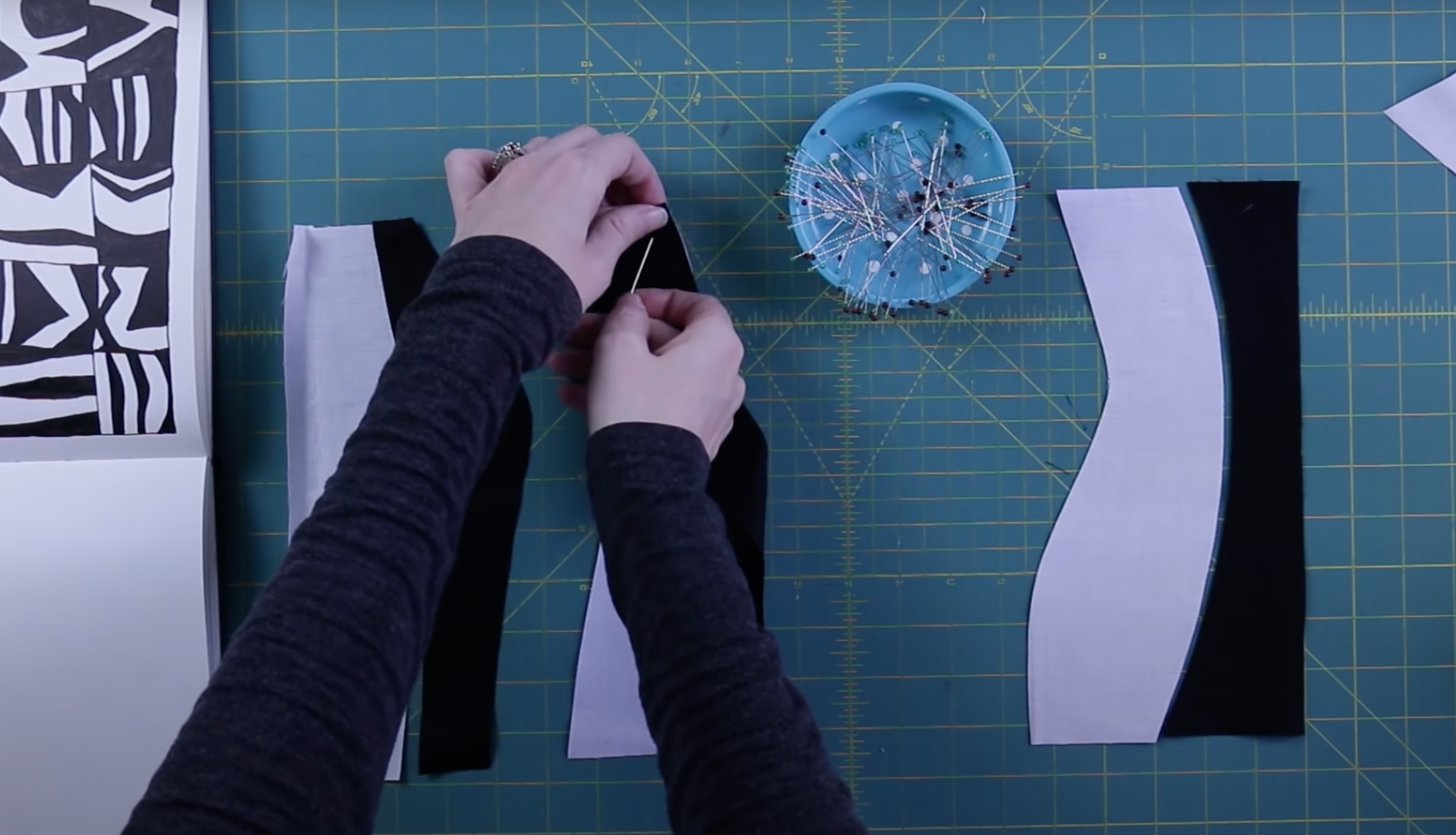 And continue pinning throughout. As you go take care to coax away any potential puckers. You may need to add more pins to some areas where the curve is more extreme.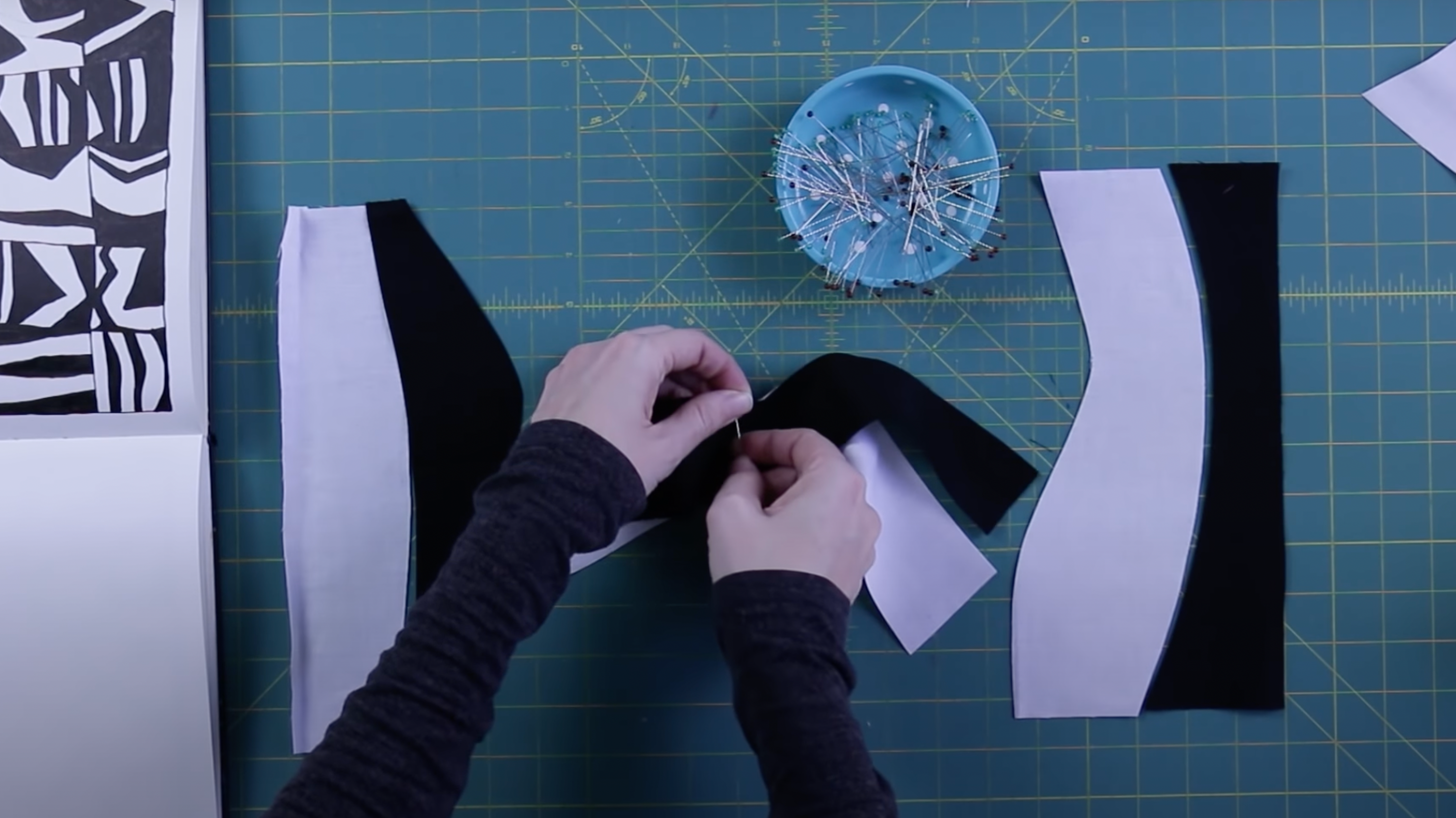 Once you have everything pinned, you can machine stitch with a regular quarter inch seam allowance (it need not be scant!).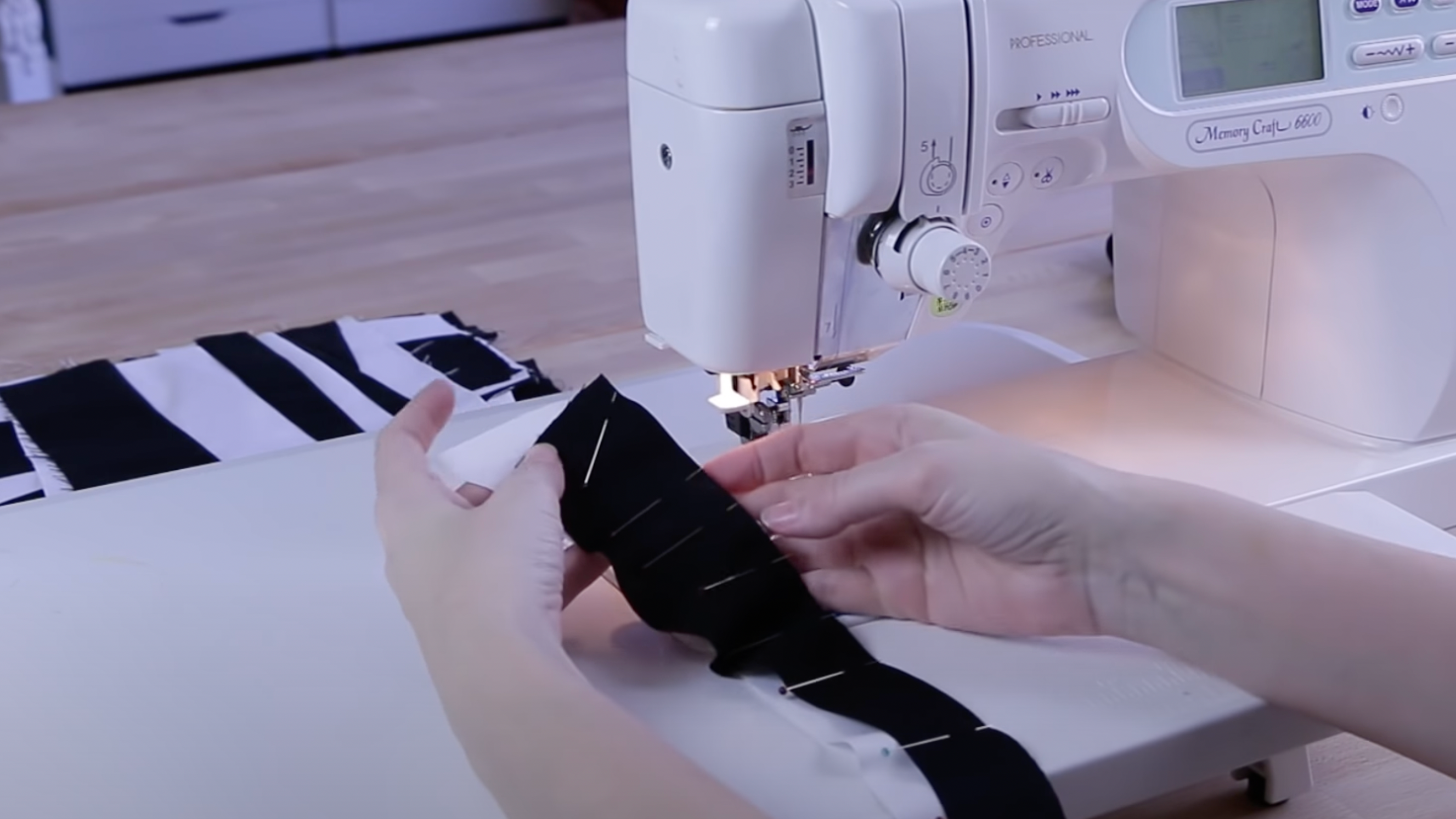 Go slow and watch for any puckers. If and when you feel a pucker, slow down or stop and fix it before proceeding.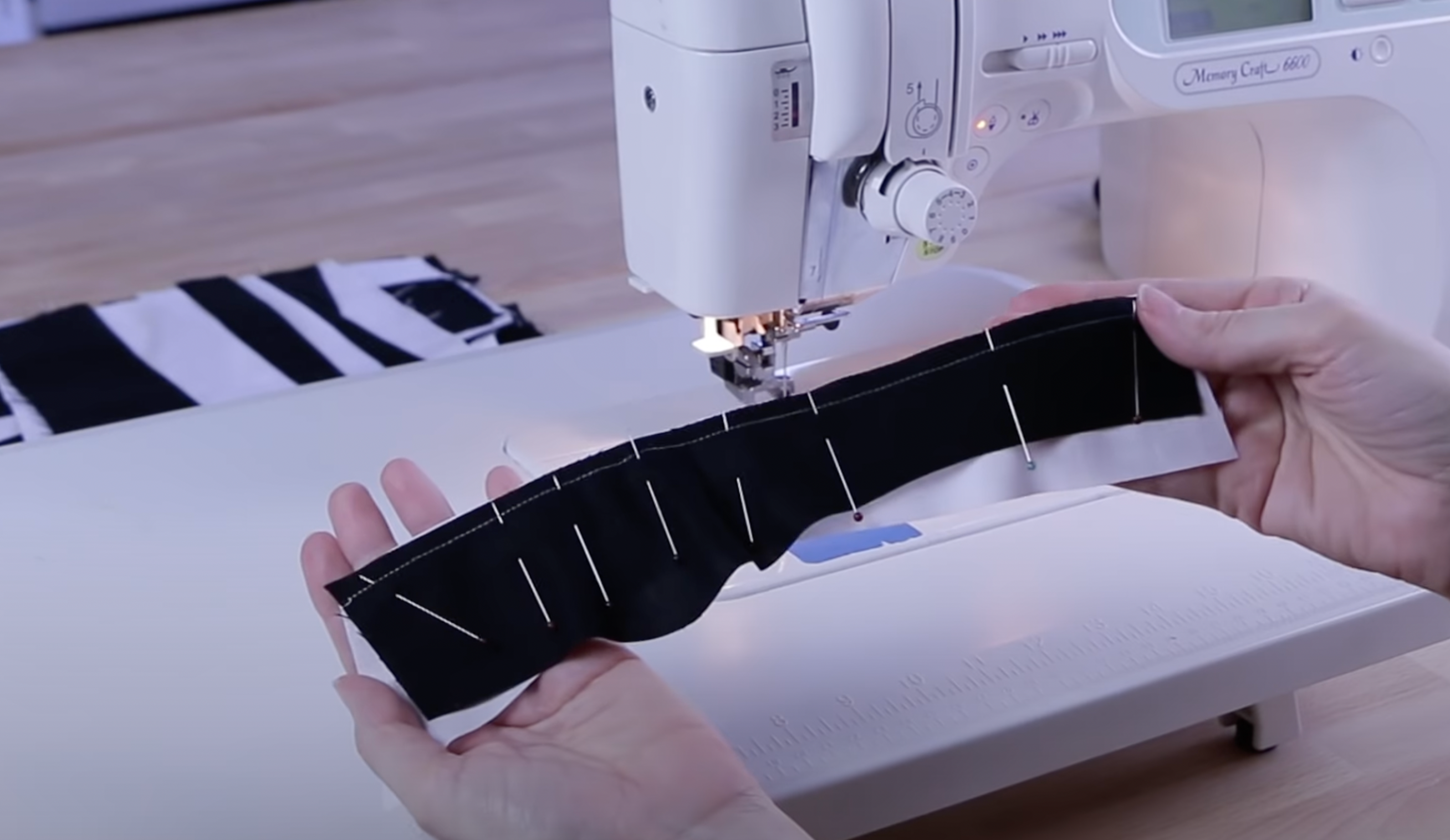 Step 3 – Press
Lastly, you'll press your sewn seams. For my project, I needed to press the seams toward the dark side. But your sewing projects may differ.
To begin, I placed my unit on the pressing surface right side up.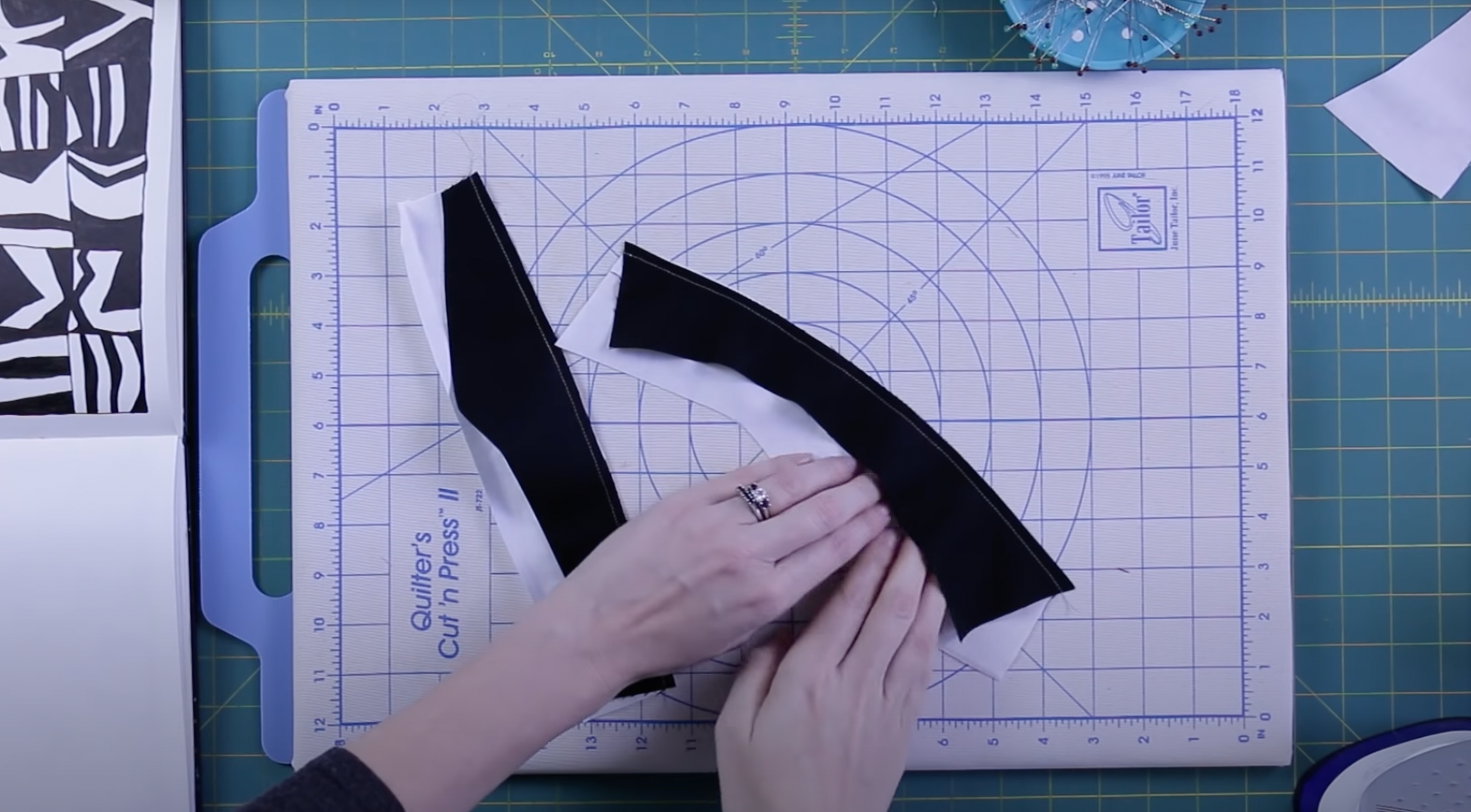 Then I began finger pressing the seam toward the dark side.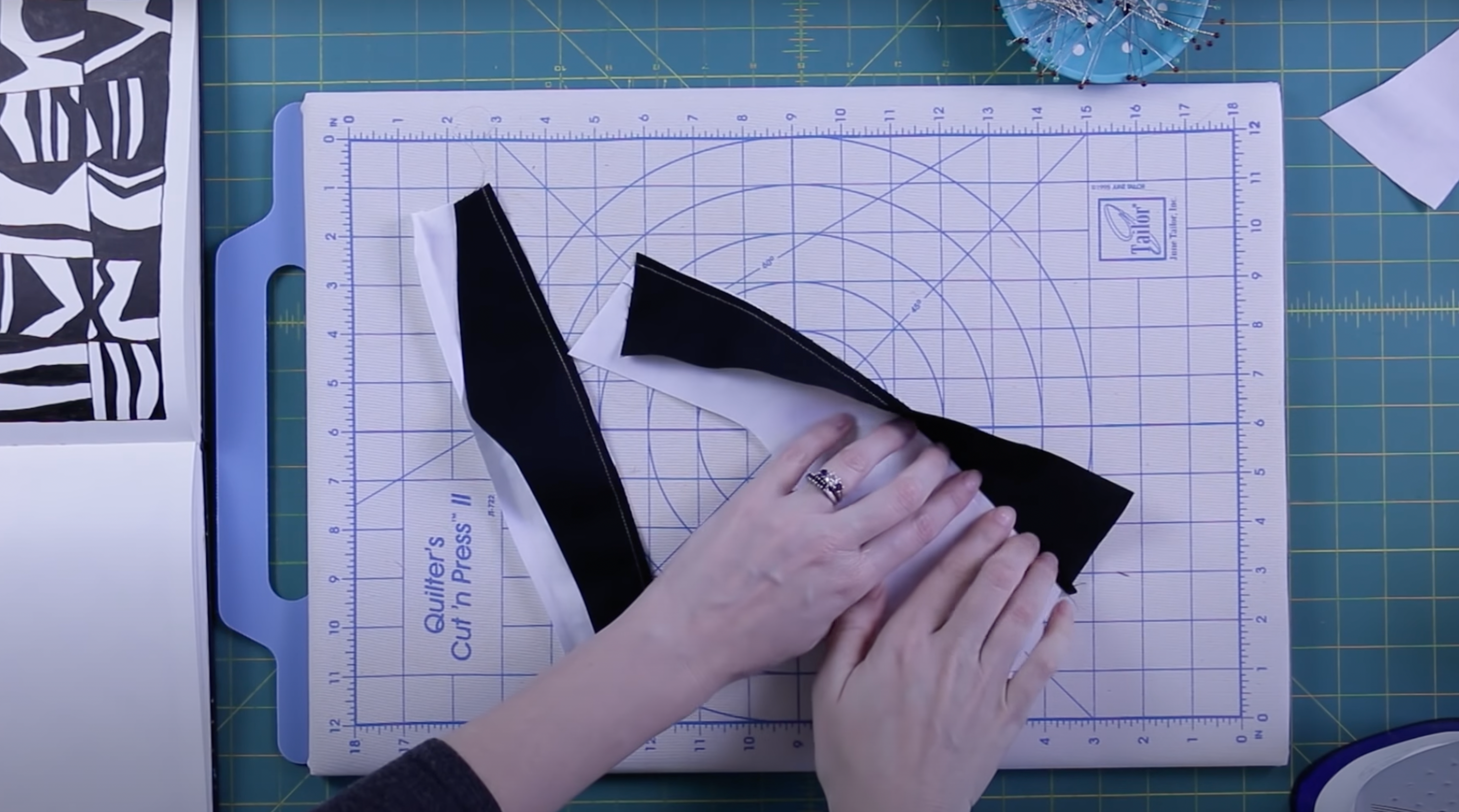 Finally, I came through with my iron and pressed.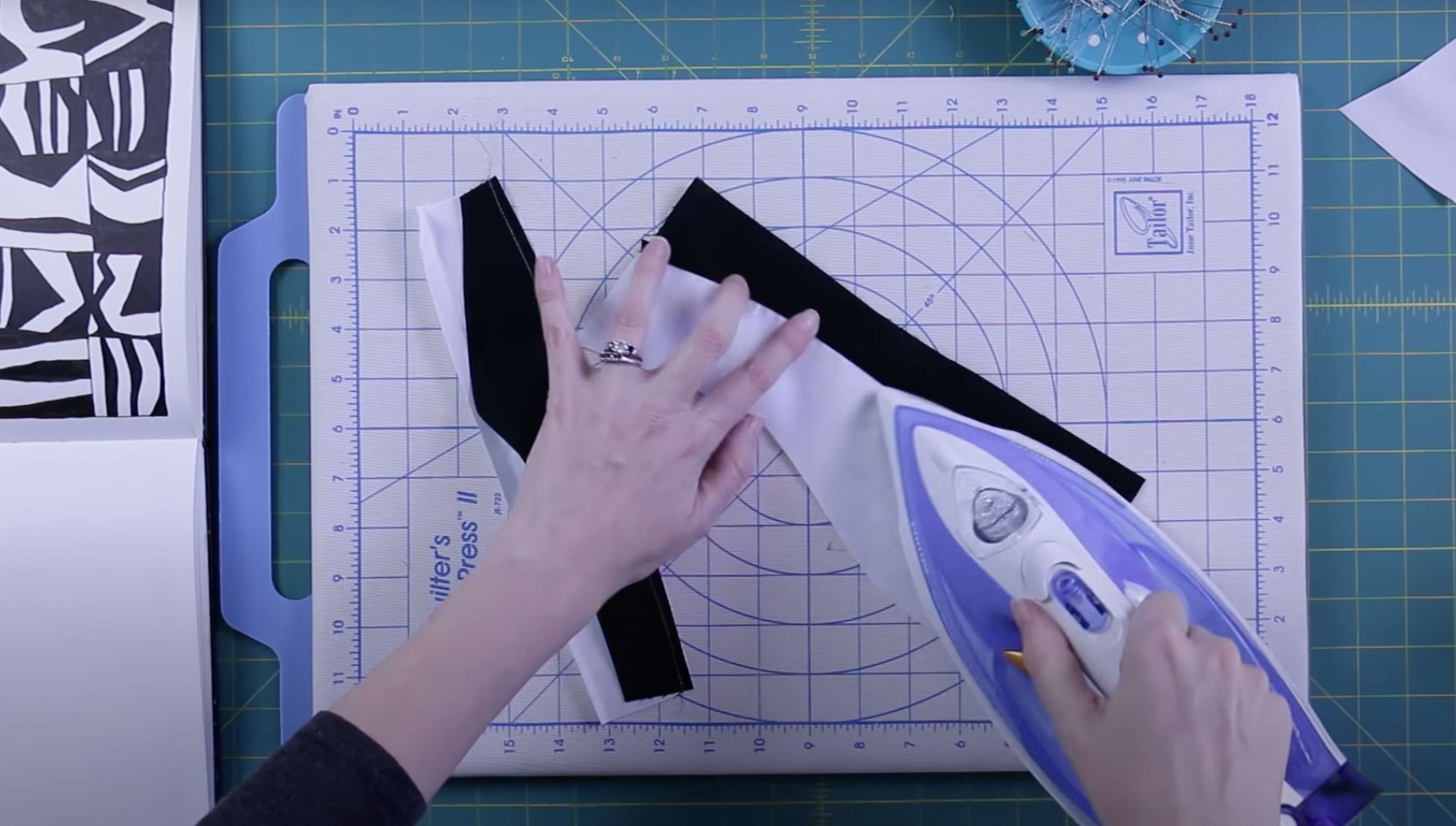 Tip: normally, you want to press your curved pieces, but with improv you can iron and make it wonkier!
And that's my general technique for curved piecing.
Tutorial Takeaways & Tips:
This technique is kinda like trying sushi or oysters or shrimp, it's kinda scary and icky.
Sure, improv curve piecing can be intimidating, but once you know the trick, it is so easy. You'll wonder why you didn't try it sooner.
When stitching avoid going over any puckers – easier said than done right? But when you feel a pucker, slow down or stop and fix it before proceeding.
Pinning the curves is the safest way to sew those curves. Remember, your fingers are not pins!
If you are a pinner sinner like me, just be careful when you are sewing. Take care of your fingers and either invest in a stiletto, or order take out Chinese tonight and save a chopstick for your improv curve stitching, or fight a porcupine to get a quill or two. Your choice but seriously, be careful.
Have fun with it! Let the process of improv sewing impact your work and the appearance of your fabric and blocks.
Recommended Products
Recommended Improv Links
What do you think, do you like the idea of trying curved piecing? It's a fun technique, a great skill to know, and even a beginner could do it! But, not all improv quilts have curves. (Sure, now she tells me! Ha!)
If you want to see more of my improvised quilts then check out Rainbow Remix, Wavelength, and the Mini Wavelength. Or if you're completely new to improv, you may want to start with our introduction post.