This big quilt block tutorial is for the beginner quilter who love modern quilting or quilters looking for a fun and fast quilt… I couldn't not share the tutorial with ya'll! It's a great quilt for a beginner or any quilter who is looking for an easy quilt pattern to finish in a day.
By simply pairing a beautiful gradient of solid fabrics with a big quilt block, you'll come away with a beautiful modern quilt.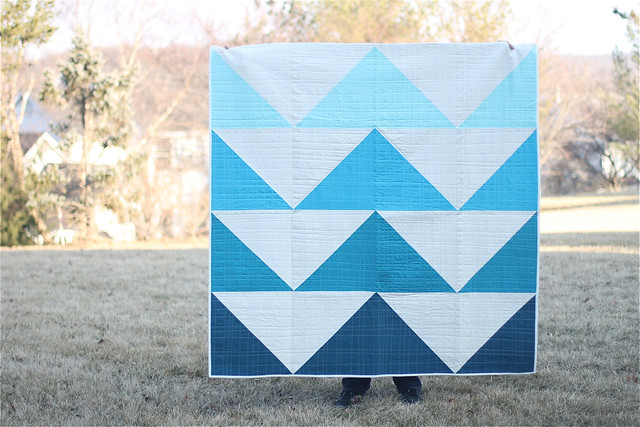 What Makes a Quilt Pattern Beginner-Friendly?
Quilt patterns that are suitable for beginners should use easy shapes, be easy to assembly and contain detailed instructions. Many beginner quilts use simple shapes such as rectangles or squares. Squares are easily cut and sewn because they do not have curves or biases.
This big block quilt pattern is made using Half Square Triangles (HSTs) Blocks. HST Blocks are a staple of quilt design and make for a simple but impactful tool to create tons of classic quilt block. Compared to a plain ole' square, the HST Block is a more versatile, beginner friendly block, that will give your plain ole' square designs a modern, sophisticated boost!
In conclusion, big quilt blocks make for a great quilt project. Plus, you can get a quick finish fast!
What Is A Big Block Quilt?
Put simply, a big block quilt is a quilt made of big blocks! You can take any classic quilt block and blow it up so that the entire quilt is one big quilt top.
Not only does this singular design element make for a beautiful quilt, it's really easy and quick! You'll feel like a total genius!
How Do You Make A Large Block Quilt?
Before we get to the big quilt block tutorial, I want to give you the overview of how this easy large block quilt comes together.
In this pattern the HST Blocks are sewn into pairs to make a "Flying Geese" block.
Each completed unit will measure 16 1/2 x 32 1/2 inches. You'll make 8 large flying geese blocks for the throw sized, 64 inch quilt. Once you make all your quilt blocks, you'll sew them together to finish your quilt. Easy Peasy Lemon Squeezy!
You could easily adapt this tutorial to make a baby quilt, twin quilt, or maybe a queen or King quilt! At the end of the free tutorial, I'll show you how many blocks you can use for different sizes of quilts. Plus, I'll share the fabric requirements for each of these different sizes.
Fabric Requirements for the Big Geese Quilt
Before getting started, you'll need some pretty fabric! For this easy modern quilt pattern, I recommend choosing solid fabrics in a color gradient. For example, I chose my solid fabric in a range of blue greens (always a people pleaser!).
Color Tip: If you don't know what color to start, try choosing the backing fabric first. Then you can choose your color gradient based on your backing. I fell in love with this backing fabric, "Constellation" designed by Lizzie House.
You'll also need fabric for your white background. I chose an off white. I didn't want to use a bright white because I felt that an icy white would be too harsh with my blue gradients.
big quilt block tutorial – Throw Size (64" x 64") Materials:
1/2 yard of Light Blue
1/2 yard of Medium Blue
1/2 yard of Medium Dark Blue
1/2 yard of Dark Blue
2 yards of White.
By the way, for this big quilt block tutorial I used 1/2 yard of Kona Azure, 1/2 yard of Kona Lagoon, 1/2 yard of Kona Oasis, and 1/2 yard of Kona Celestial and 2 yards of white.
And if you want to make a smaller or larger quilt, you'll find additional fabric requirements below the main tutorial, including a baby quilt.
Free Big Quilt Block Tutorial
Alright, now let's get to the big quilt block tutorial!
CUT YOUR SQUARES
First for each giant Flying Geese block cut one 17-inch square from the background fabric and the geese fabric. For the throw quilt, you'll make two units from each color, so you'll cut 2 squares from each of the 4 colors and 8 squares from the white fabric.



MAKE HSTs
Next make your Half Square Triangles (HSTs). On the wrong side of each of the background squares, draw a diagonal line with a fabric-marking pen. Then pair the background and geese squares right sides together. Next, sew along either side of the diagonal line using a 1/4" seam allowance. Then cut along the marked diagonal line. Press seams toward the darker fabric. Each pair of squares will yield 2 HSTs. Trim the HSTs to 16 1/2".
For the throw quilt, you'll make sixteen HST blocks – four in each color.
MAKE FLYING GEESE BLOCKS
Then, sew the HSTs together to create the Flying Geese blocks. Press seams open.
For the throw quilt, you'll make 8 units – 2 in each color.
ASSEMBLE QUILT TOP
Finally, it's time to assemble the big block quilt top. Lay out your Giant Flying Geese blocks. Here's how mine looked once I got all my units finished. (Nothing like a new house with empty rooms to layout your quilt projects, eh?)
You can assemble the quilt top as shown below by sewing the geese together in horizontal rows (press seams in alternating directions). Or you can choose to sew them together in columns (press seams up in the right column and press seams down in the left column). Once the top is pieced, press seams open or to the side.
And that's that!
—
More Big Geese Quilt Sizes
Though I made a throw sized big block quilt, you can totally make this big block quilt pattern in multiple sizes. It's simply a matter of making more (or fewer!) HSTs.
Below we'll take a quick look at the digital mockups of the other sizes in 2 colors. At the end of this section, you'll find a handy table of materials you'll need based on the size you'd like to make.
First, for the baby quilt, you'll make 6 HST blocks and 3 Flying Geese Blocks. The baby quilt will finish at 32" x 48". In the mockup, I show how you could add 2 1/2" strips to make the quilt a little wider. You could also do this with the other sizes to beef them up.
Second, if you're making the twin size, you'd make 20 HST blocks and then 10 Flying Geese Blocks. The Twin Quilt will finish at 64" x 80". But you could make it a bit wider or longer by adding a border. Here's what the twin would look like:
And finally if you want to make a possible Queen/King version, you'd make 30 HST blocks and 15 Flying Geese Blocks. The Queen/King would finish at 80" x 96", which is kind of small to be a Queen or King, so you may want to add strips or a border to this size.
Fabric Requirements for Additional Sizes
To sum up these size options, in the table below, I share the fabric requirements for this big block quilt in different sizes. You'll also see the number of HSTs and Flying Geese needed for each size.
Also, in the column on the very right I also provided yardage requirements should you want to make a two-color quilt; for example if you wanted to make a twin sized quilt using just white and blue, you would need to get 2 1/2 yards of white fabric and 2 1/2 yards of blue fabric. I hope that's all clear.
Helpful Quilting Tutorials and Tools
The Big Geese Quilt Pattern is one of the very best modern quilt patterns for beginners or everyday quilt makers looking for a fast finish. If you're new to quilting, you'll find a couple of my fabric notions I rely upon.
To finish my big block quilt, I chose a simple staggered cross hatch quilting. Naturally, I love it because it's an easy, modern straight line quilting design I can do on my domestic sewing machine.
Finally, for my binding I choose the white background fabric for my binding. I used my favorite method of binding (linked below!).
As you complete your project, you might find some of these quilting tutorials helpful:
Design Ideas for Big Block Quilt Patterns
In this section you'll see some different design and color ideas for this big block quilt pattern. The sky is the limit! These are just ideas.
One idea is to play with the color of the "geese". In my big block quilt pattern, my "Flying Geese" are white, but you could play around with having the geese be blue (or whatever color you chose!).
If you do it this way, I'd have my binding be the dark blue!
Another idea is to play with the direction. You could also have your geese going in alternating directions. Here's that concept mocked up in the throw size, but I think it'd be really cool in the Queen/King size!
And lastly, for you print lovers out there… this pattern could be really cool in prints! Especially those large scale prints! Just because I love solids doesn't mean you can't try this quilt tutorial in prints.
big quilt block tutorial Wrap Up and Next Steps
In closing, I hope you enjoyed this free big quilt block tutorial. Though this is a great first quilt, it's one of my "go to" patterns if I need an easy quilt pattern. I think you can see it's a quick quilt!
Going forward, it's my wish for you to see how much potential there is within this one design.
Here's a picture of what this quilt might look like if the geese were made using "Modern Triangles". It's just an idea I'm playing with right now. But if you're curious, I would need two 8" Modern Right Triangles for each HST block.
If you're interested, you can learn more about Modern Triangles by signing up for my free "Scrappy Whirligig" Class right here.
But, please consider this tutorial my invitation to you to take this idea and let your creativity run wild!