Freezer Paper Piecing Magic Tip #3 is about prepping for a smooth and relaxing sewing session. My tip is so tried-and-true and easy to apply to your sewing practice.
Today, I will walk you through the steps I take to set up for a relaxing sewing session. Also, I'll tell you how I take advantage of my caffeine intake (ha!) and the best times to do FPP tasks.
Surely, it'll take a little time and practice until your fully comfortable and relaxed with the freezer paper piecing method. Just a little, I promise.
So keep going. You've got this!
Getting Ready for Freezer paper piecing MAGIC
Before I start, just a leetle bit of housekeeping to catch you up.
If you have downloaded the free guide and pattern, scroll down to FREEZER PAPER PIECING IN STEPS for Tip #3.
First-time freezer paper pieces, these free downloads below are for YOU!
Download the free instructions – "The Complete Guide to Freezer Paper Piecing".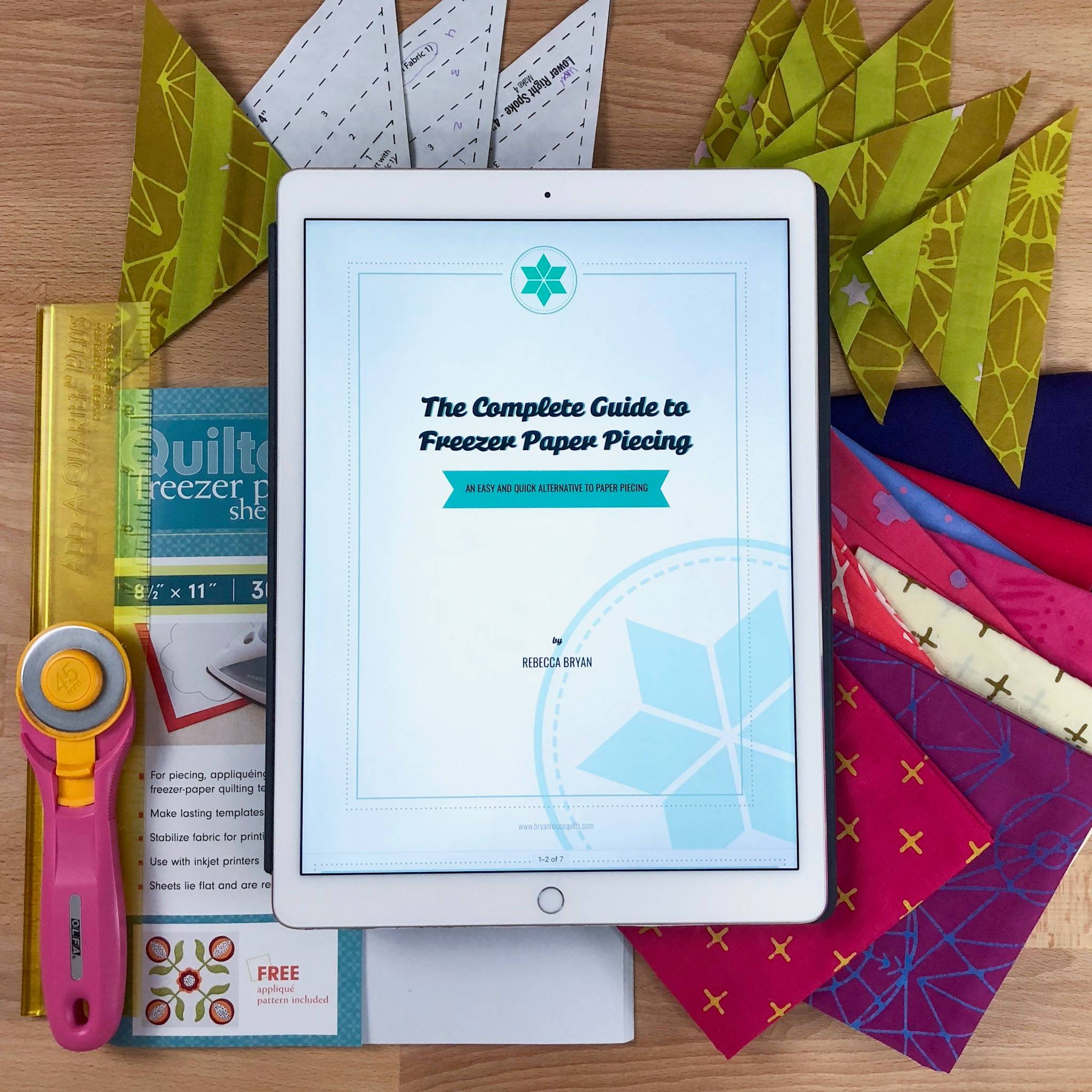 Second, let go of your sewing stress. Scrappy Whirligig is a free freezer paper-friendly block who saves your day. Get acquainted with my cute heroine of a block…
MEET SCRAPPY WHIRLIGIG, MY FREEZER PAPER PIECING MAGIC BLOCK
Scrappy Whirligig has welcomed many new freezer paper piecers into the fold. Hehe. She makes it super easy to get comfortable with the techniques.
Scrappy Whirligig is the perfect FPP beginner's block. She's pretty, popular with quilters and uses up scraps. A quilter's trifecta!
Are you ready to try freezer paper piecing magic?
And by the way, watch the class anytime when you're ready (but now is a great time!). Save the link to your Favorites or desktop.
Freezer Paper Piecing in Steps
With anything new there is an adjustment period where you're still working out the kinks, feeling comfortable and organizing the work flow.
I want to help you get settled in faster! Here's where I walk you through the steps I take to make my sewing session relaxing, productive and (mostly) stress-free. Honestly, it's a "sewing is my therapy" session.
7 Steps to a Relaxing Sewing Session
Now that you've seen the technique, read the "Complete Guide to Freezer Paper Piecing", watched the tutorials – and maybe even tried the technique for yourself – it's time to add ease into your FPP sew time.
Again I say, you might not be through the new-to-me awkward feeling, but keep going and you'll be a pro in no time at this FPP thing and ENJOY it.
Now, I'm not a mental health professional nor am I recommending sewing as a cure to any serious mental health challenge by any means. I can speak only speak from my experience – I've found ways to make quilting an enjoyable, stress detox.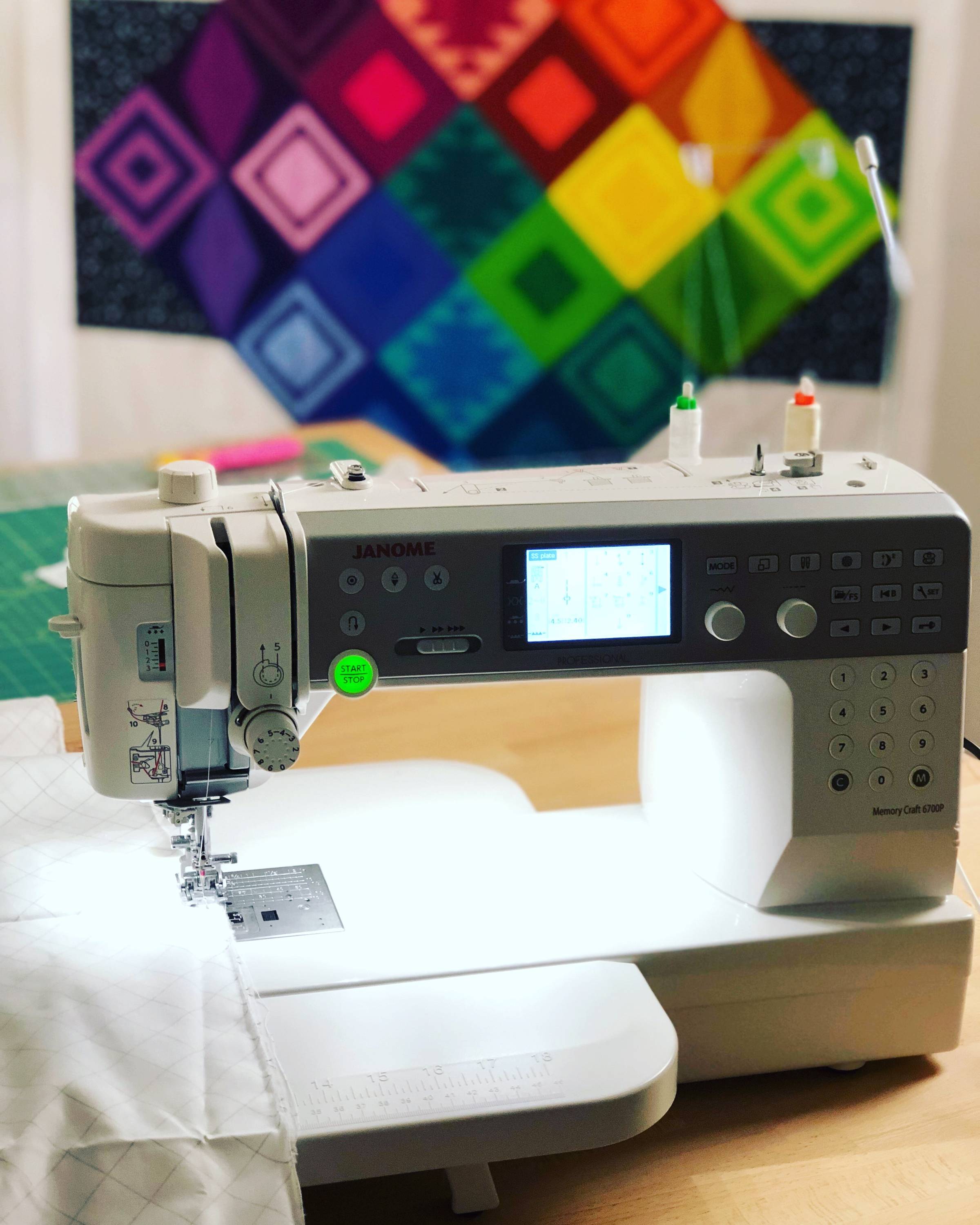 Sewing as Therapy
I first came to really rely on my sewing sessions for stress relief when we moved to the Netherlands from St. Louis in 2017 (and then back to Houston in 2018 and then back to St. Louis in 2019! That's 3 moves in 22 months, if you're counting!). Don't get me wrong, moving internationally was an amazing experience and opportunity.
But I'd be lying if I didn't tell you about the stress that accompanied those wonderful experiences.
In between the good stuff there was stressful stuff – like setting up with the government, getting the kids in school and learning how to move as a family of 6 on bikes in a city naturally accustomed to commuting by bicycle. Oh, and taking four kids to the tiny neighborhood market to stock up the spice cabinet but then relying on Google translate to figure out which spices I wanted while my American kids were being American! Ah, all wonderful, ha!
SETTING UP DAILY SEWING TASKS
My mental load maxed out quickly with these experiences. By the time the kids were in bed, all I wanted to do was escape into a low-level sewing project. The simple act of making a quilt block on autopilot centered me. Daily tensions evaporated as the seams got sewn.
What I found most helpful was to set up for my sewing session as I went about my daily tasks. The secret for me is to finish up all the tasks requiring deep thought (e.g. color choosing and quilt math) before dinner. After the kids were tucked in, I was quickly tucked in with a glass of chilled white, some Tony's Chocolonely and some beautiful fabric. Ahhhhh…I love my sewing sessions!
Below, I've broken down my set up process into 7 basic steps.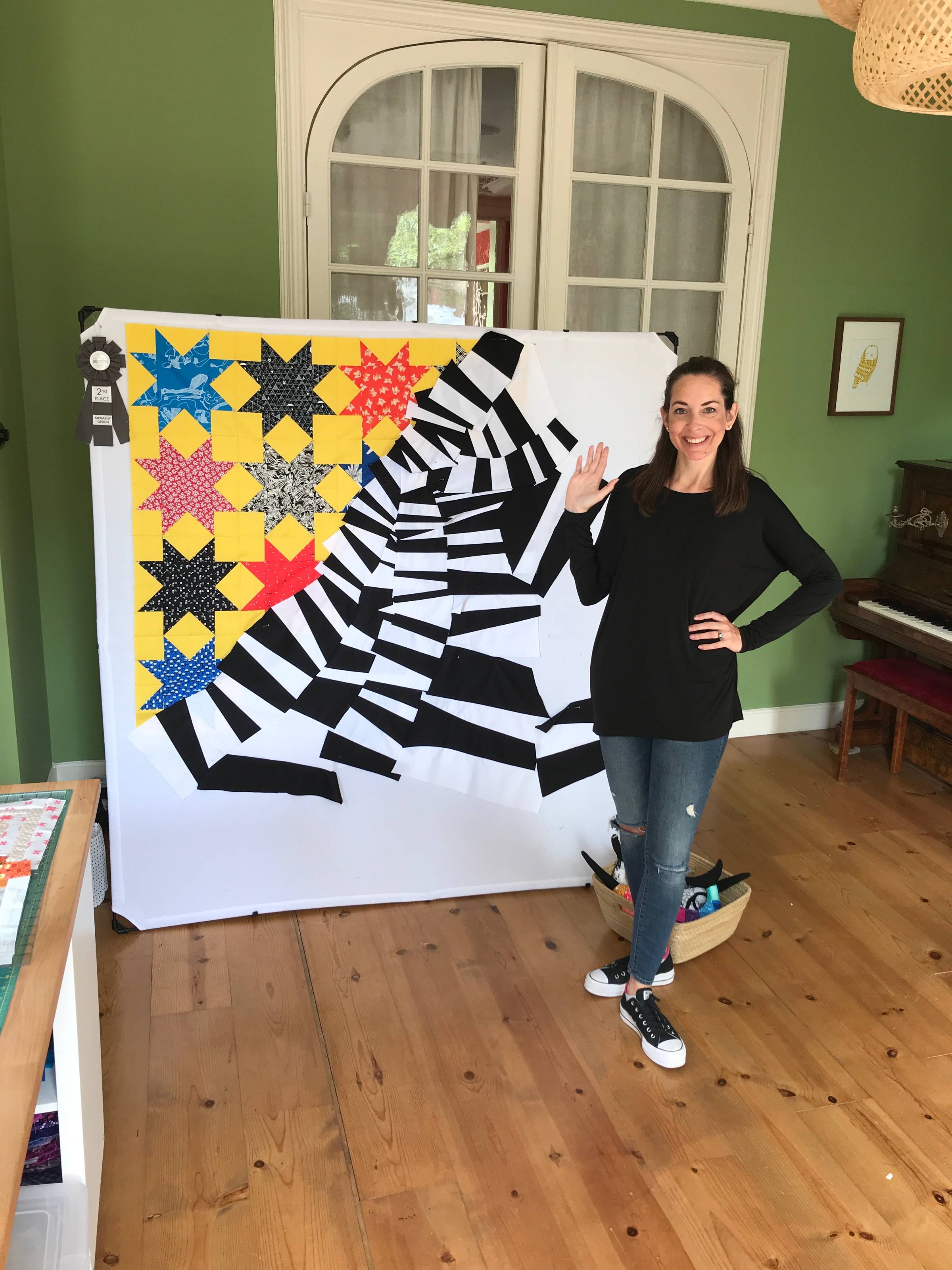 7 Steps to an Enjoyable Sewing Session
Whether it's for freezer paper piecing or regular piecing, here's how I set myself up for an enjoyable sewing session:
Prep the pattern – I do quilt math while my brain is still caffeinated. Ha!
Pull colors/fabrics – I choose colors during daylight hours and my brain is still caffeinated. Double ha!
Prep the foundations or templates – If the pattern calls for foundations or templates, it's best to have these prepped and ready. Otherwise I'll just sit on the couch in the evening. Sad fact.
Cutting – Again with the counting and quilt math… it has to happen during the day.
Workspace set up – I do this while the kids play or watch an episode of TV. When I see my pressing, sewing and cutting stations ready, my sewjo starts to percolate.
Charge iPad, chill wine, make snacks – Home stretch! Let's get the devices charged and the snacks ready.
Set it and forget it – Go enjoy family time, walk the dog, or finish the last work task that needs your attention. It's almost play time!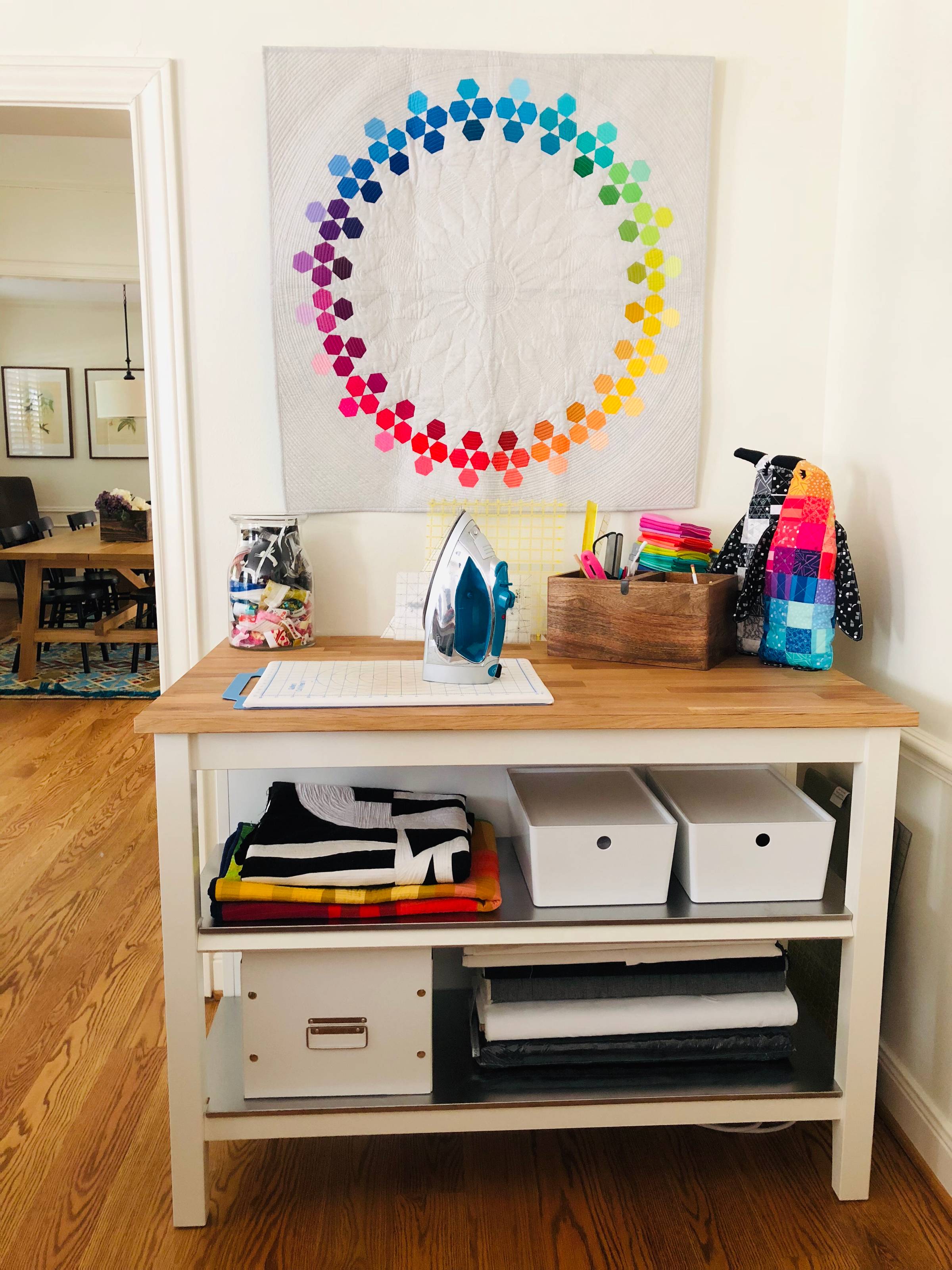 WHEN SHOULD YOU PREP?
It matters when you prep. Getting the quilt math, colors and cuts right makes your sewing session more relaxing.
Are you a daytime, nocturnal or weekend warrior quilter? It matters when math, creativity and cutting are required!
Daytime quilters: You're at your best earlier in the day, caffeinated or not. Cheerful and efficient, steps 1 and 2 are like a morning swim in a cold lake – tackling math and selecting fabric is what you wake up for! The same goes for Steps 3 and 4 – more quilt math and cutting – so before lunch is best for you. The remaining tasks could be done on autopilot, also known as the "afternoon sleepies" to morning's early birdies.
Nocturnal quilters: Once you're fully awake, and we know how long that takes, incorporate all 7 steps into your day. I use the term "day" loosely here. Seriously, it's your day and it starts when you say so. You're hitting full throttle by early afternoon, plowing through those steps. Do Steps 1 – 4 during afternoons and you're thankful when 11:00 pm rolls around with your second wind.
Weekend warrior quilters: Katie, bar the door and throw away the key! Capital Q quilting is gonna get done this weekend. From the dog to the kids, they know to get outta your way. What works best for you is day-by-day progress. Do Steps 1 and 2 on Monday, Step 3 on Tuesday, Step 4 on Wednesday, Step 5 on Thursday, Steps 5-6 on Friday. Maaaybe prep something other than wine if you're going for an all-weekend sewing rager. But you do you.
Freezer paper piecing beginner's caveat
I use this setup for all my sewing sessions – regular piecing and freezer paper piecing. If you're new to freezer paper piecing, you might not find it to be an enjoyable, mentally-detoxing event right from the start. It will likely take you a few tries to get the hang of it. That's completely normal and expected. I want to be clear here: Expect a few false starts and awkward feelings. Keep the  "Complete Guide to Freezer Paper Piecing"  nearby until you feel comfortable.
Get yourself set up and go!
Rebecca
P.S. Ready to give Freezer Paper Magic a try?
Here's where you can get started: