Freezer paper piecing magic tip #2 is about getting your foundation onto the freezer paper. Get your freezer paper piecing know-how here!
Today, let's talk about how to get the foundation onto to the freezer paper. And yes, freezer paper can be used to piece any foundation pattern (ima say it 3 times!). Yes, ANY!
Before I start, just a leetle bit of housekeeping to catch you up.
First, if you haven't already, download the free instructions – "The Complete Guide to Freezer Paper Piecing".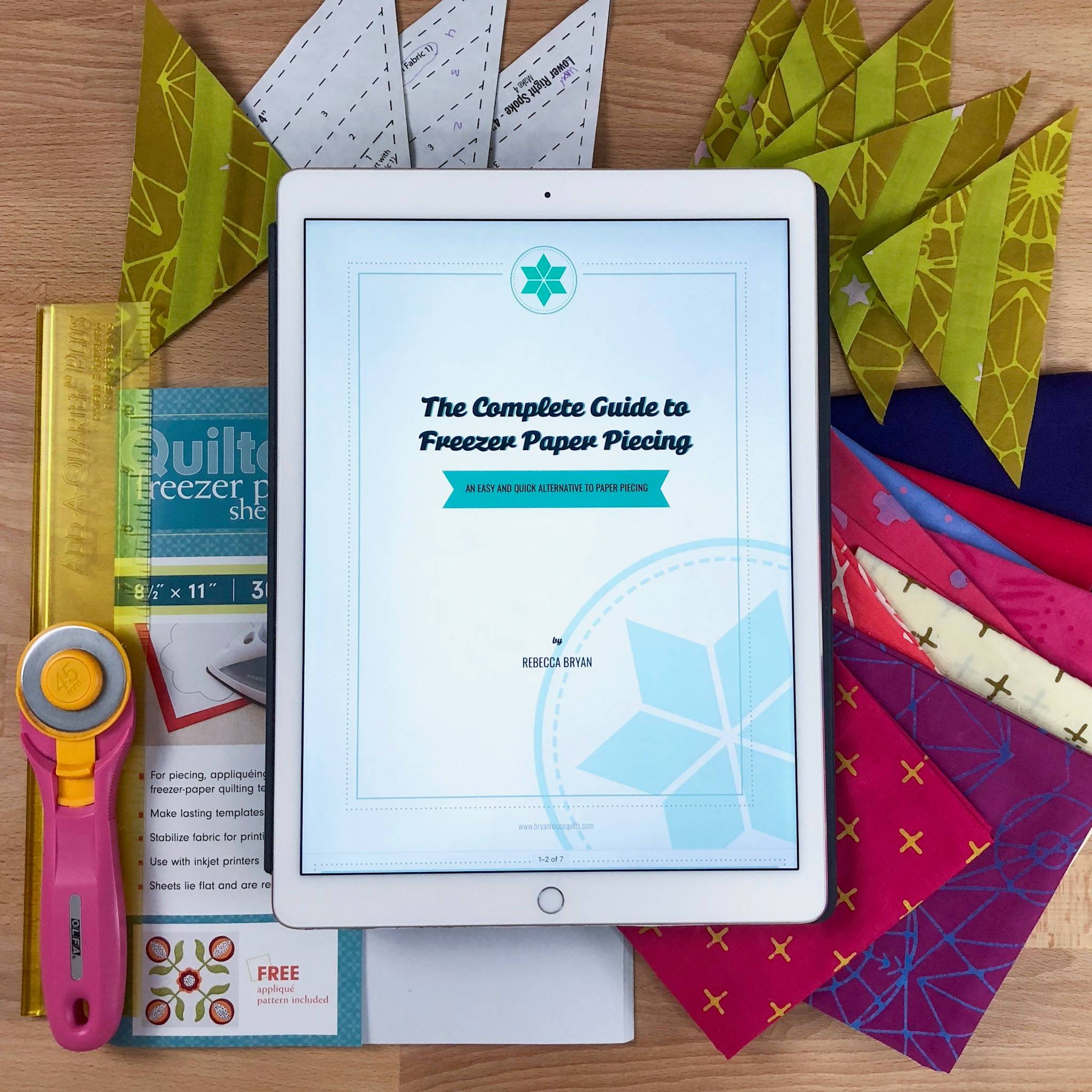 Second, let go of your stress. Scrappy Whirligig is a free freezer paper-friendly block who saves your day. Get acquainted with my cute heroine of a block…
MEET SCRAPPY WHIRLIGIG, MY Freezer paper PIECING magic BLOCK
Scrappy Whirligig has welcomed many new freezer paper pieces into the fold. hehe. She makes it super easy to get comfortable with the techniques.
Scrappy Whirligig is the perfect FPP beginner's block. She's pretty, popular with quilters and uses up scraps. A quilter's trifecta!
Are you ready to try freezer paper magic?
And by the way, watch the class anytime when you're ready (but now is a great time!). Save the link to your Favorites or desktop.
Getting Your Pattern Onto Freezer Paper
Tip #1 covered notions you'll need to get great results. And now that you've got the basic notions, your next question might be…how do I get the foundation on to the freezer paper?
In this five-minute video, I'll demonstrate two ways to transfer a quilt pattern (foundation) onto freezer paper. These two options include drawing the pattern onto a roll of freezer paper or printing it from a digital copy onto a Printable Freezer Paper sheet.
After the foundation is on the freezer paper, I'll explain how to add seam allowances, if desired. Then you're ready to cut out the foundation and start piecing.
It's basically a "connect the dots" game for quilters!
See? Use any foundation pattern with this technique without the ripping and sore fingers. ANY! (told ya I'd say it three times! ANY! lol!)
Pretty cool right?
Woot woot!
Rebecca
P.S. Ready to give Freezer Paper Magic a try?
Here's where you can get started:
Read more about Freezer Paper Piecing on these helpful blog posts: