Freezer paper piecing magic starts today with Tip #1. Welcome to the wonderful world of "No more ripping papers!"
Now your first step is to get the guide, The Complete Guide to Freezer Paper Piecing. (You do have the guide right?) Once you've got the guide – so think of my tips as a dusting of magic to help you along your way.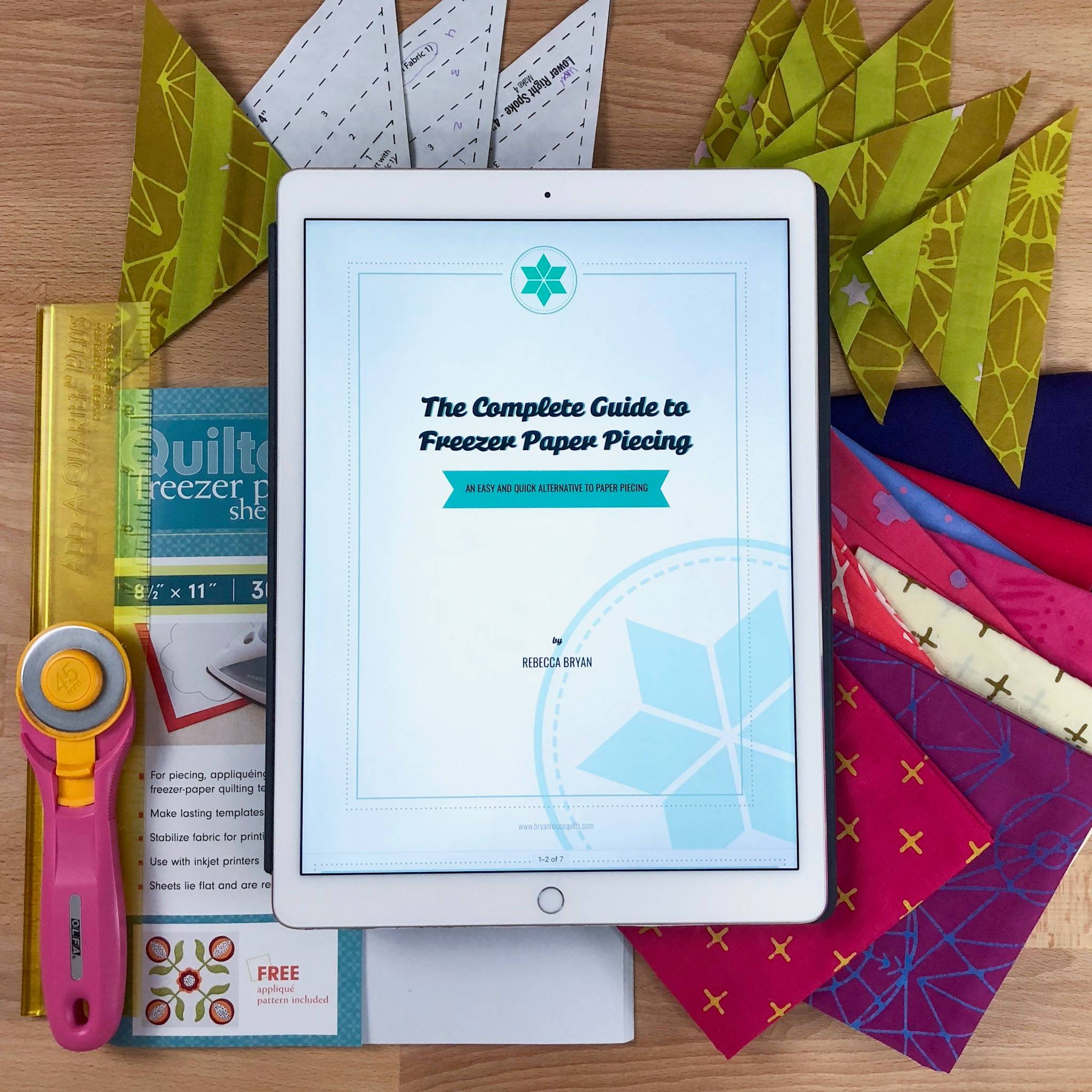 Next, with any new technique, you can expect an adjustment period while you're working out the kinks and getting comfortable. And that's why my daily tips will help.
So before long you'll holler "Did I do that?!" YES, YOU DID! And you'll never stop!
MY Freezer paper PIECING-Friendly BLOCK
Ready to give freezer paper magic a try? Here's where you can get started for free:
And by the way, you can watch the class anytime when you're ready (but now is a great time!). Save the link to your Favorites or desktop.
Scrappy Whirligig is the perfect FPP beginner's block. She's pretty, popular with quilters and uses scraps. A quilter's trifecta!
Next, read about the essential notions required for FPP (freezer paper piecing) – I call it the FPP Starter Kit. And I already know what your first question is…
What kind of freezer paper should I use?
TIP #1: GET Your supplies ready
Let's start with the basic question… what kind of freezer paper should I use? And what other notions might you need? In this quick five-minute video, I'll walk you through the essential notions to have on hand.
Or read all about it below the video.
Freezer Paper Piecing Starter Kit
When I first started quilt making for serious, I liked to pride myself on being fairly light in the notions department. Instead of purchasing acrylic templates, I cut out my own from cereal boxes.
You could even say I'm a luddite when faced with trying new things. But when I finally try the new thing, I usually kick myself for not trying it earlier. ARGH.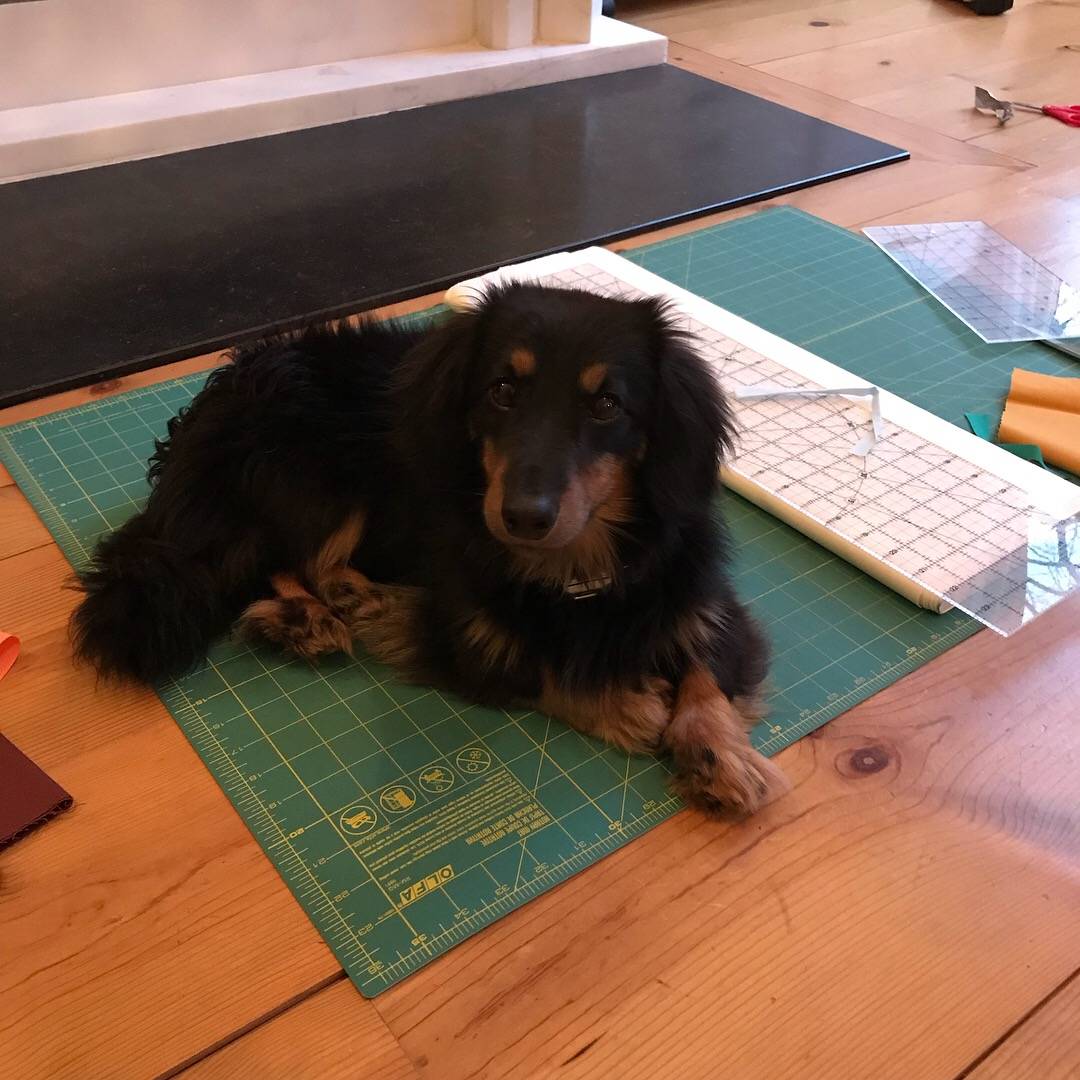 When I first experimented with freezer paper piecing, I started off with the basics in my Starter Kit below. As I delved deeper into FPP magic, I invested in extra fun stuff found in the Freezer Paper Piecing Pro Kit list (farther down).
So whether you're notion averse or the Notion Queen, I have resource lists for you.
First, the basics: Freezer Piecing Starter Kit. You might already have these on hand, lucky you!
Freezer paper (kind of a big deal here!)
Cutting mat
A 6" x 12" acrylic ruler
Rotary cutter
And if you get really really really into freezer paper piecing, like me, cough, ahem, you might want to start investing in the extra fun stuff in the Pro Kit.
Freezer Paper Piecing Pro Kit
Now you've fallen hard for Freezer Paper Piecing so you might invest in some additional gadgets:
Printable freezer Paper – Save time by directly printing or copying your foundation on to printable freezer paper. All of my patterns are formatted to print directly onto printable freezer paper.
Hera bone marker – I like using this tool for scoring and folding my foundations.
Portable ironing Mat – I set up a portable ironing mat right next to my sewing machine to batch my foundations and save time.
Mini iron – To use in foundations with itty bitty angles. I just myself invested in one of these.
Walking foot for your sewing machine – It isn't absolutely necessary, but if your machine has a walking foot option you'll find piecing goes more smoothly.
Add a quarter ruler – This is such a cool investment. There's a ridge that indicates the 1/4" seam allowance and helps with trimming seam allowances to quarter inch. The quarter inch ruler also helps with trimming extra fabric from the finished piece.
Rotating cutting mat – I love my rotating cutting mat so much because constantly repositioning fabric won't happen in my studio! Efficiency rules here.
What'd ya think? Did I miss anything? Do you have a special tool you rave about? Any notion queens out there have a recommendation to share?
Yours in freezer paper piecing,
Rebecca
P.S. When you have your supplies ready, get started with Scrappy Whirligig, a free pattern and video tutorial where I walk you through the freezer paper piecing techniques step-by-step using one of my favorite modern triangle patterns. Click here to get the free class and pattern.