Types of batting for quilted projects range from warm and cushy to thin and sturdy. And those aren't the only features. Learn about 9 factors that help you choose the right types of batting for your quilted projects.
The types of batting change how a quilt looks and feels. Taking time to choose the right batting ends with a satisfied you and a great blend between function and looks.
This post is the first of a six-part series on finishing a quilt by machine. In this post I'll walk you through the types of batting and choosing the right types of batting for quilted projects. If you're new to quilting and the whole batting thing, you're in the right place.
Batting isn't a one-kind-fits-all-purposes product. Buying quilt batting is so much easier when you know what you want and why. There are so many brands and combinations of features to choose from.
Welcome to the not-so-glamorous part of quilting: making the quilt sandwich. In today's post, we are peeking inside the quilt sandwich at the quilt batting, you know, the part you never see.
What's Inside the Sandwich?
The sandwich has three parts: front quilt top, a middle batting layer and a back fabric layer. Making the sandwich involves measuring, cutting and basting the layers together.
The quilt front is the pretty part and the batting provides warmth and structure to the quilt, while the backing holds it in place when joined by stitching and binding. The fabric usually matches the quilt top and quilters often use leftover blocks pieced together.
The batting is a workhorse. Batting makes a quilt warmer or cooler, thick or thin, and changes how the stitching looks on the quilt top and backing. For example, a thick batting shows more depth and detail than a thinner one.
The backing gives your quilt a finished appearance and protects the batting from wear and tear. And if your quilt is meant for a lap or bed, the backing fabric should be smooth, soft, warm and comfortable.
Types of Batting For quilted Projects
The first step is choosing your batting based on how the quilt will be stitched and used.
Wool batting goes into my cozy quilts at home – they are squishy and super warm. I leave lots of poufy areas without dense stitching to add to the overall squishiness. My kids fight over the squishiest quilts in the house. Smile.
Answer 9 questions to help you hone in on what you want:
What kind of project are you making: Quilt, home decor, accessories or garments?
How much stitching detail do you want?
Dense or minimal stitching?
Warm or cool?
Does it need to drape over a bed or be more sturdy?
Durability: Does it hold up to repeated washings?
How light or heavy?
Want crinkle and puckers for a homespun look?
Hand or machine stitched?
High Loft, Mid Loft and Low Loft Batting
You basically have three loft choices – low loft, mid loft and high loft – which makes choosing loft the easier task!
Low loft batting is great for placemats and table runners as well as baby quilt, lap quilt, wall hangings and quilted garments. They are available in different densities or weights, too, measured in ounces or grams.
You will see the stitching but the areas in between stitches won't be raised and defined. Low loft batting is less than a quarter-inch thick and comes as thin as 1/16-inch. Thin, flat, no fluff.
If you've splurged on some pretty thread, show it off with low loft batting.
Several low loft battings are fusible on one side like Pellon's 987F Fusible Fleece. It's a popular choice for soft home decor items and art quilts.
Mid-loft batting is between ¼ to ½-inch thick (the option when you can't make up your mind?!)
High-loft batting is usually ½ inch up to 1 inch thick. High-loft batting wins the prize for warmth, comfort and stitching definition in high relief.
Bed quilts with high loft batting look pretty and polished with an interesting quilting design. I go for maximum squishiness, which is a state of cuddly, tactile goodness!
STITCHING with low, mid and high loft battings
Low loft is the easiest to use for quilting on my home sewing machine. Since it's low on bulk, the quilt sandwich slides easily under the needle.
On the other hand, high loft battings are challenging for several reasons – more bulk and weight become issues if you're quilting on a domestic machine.
HIGH LOFT BATTING – BULK AND WEIGHT
Bulk: A large quilt is bulkier no matter how lightweight the batting is. Rolling and clamping the quilt while you're stitching is a great way to tame bulk. It can also feel like a wrestling match.
Weight or Battle of the Batting: The batting may be lightweight but when combined with two layers of quilting cotton, gravity gets it way and pulls the quilt down. Then you pull up, then gravity pulls it down and so on. Battle of the Batting.
HIGH LOFT BATTING – THREAD and Needle Basics
Shredding: High loft batting has an earned reputation for shredding thread while it moves through the batting and cotton layers. This makes me shriek. Rayon and cotton threads (non-mercerized) will shred more than polyester machine embroidery thread. Go for strong thread. Superior Threads has an awesome thread chart on their site – match what you want the thread to do with a specific kind of thread.
Domestic machine adjustments: Lower the floating foot (free motion quilting foot) as far down as it will go to keep it closer to the fabric between stitches. This reduces friction on the thread and is easier to stitch than push through like a snow plow!
To avoid some of these issues, I use a walking foot for everything. It keeps the layers from shifting and sews nice even stitches.
Needle: Change your needle to a Teflon needle or try a size 90/14 or 100/16 topstitch needle (stronger and can handle more tugging due to the large groove on the backside). Some quilters swear by a smaller 80/12 micro sharp needle. Bottom line: You'll need to experiment with needle types to find which needle plays nice with high loft batting and your machine.
I'm not saying don't use high loft batting but know what you're getting into. TIP: Get lots of sleep beforehand for well-rested patience!
At the Intersection of Loft and Fiber Content
You have more to consider when choosing the batting's fiber content. Besides LOTS of choices, there are different uses and effects with each kind. The fiber content makes a real difference in what the quilt looks like after quilting and washing, and how breathable or warm it is.
100% COTTON QUILT BATTING
Many quilters prefer to use all natural cotton fiber in their quilts. The benefits of cotton batting are breathability, nice drape, and added weight in a bed quilt.
Cotton batting is made several ways, including needle punched onto scrim. Scrim is a lightweight stabilizer placed underneath the batting and needle punched together. Needle punching forces the fibers to tangle and bond together.
Needle punched cotton batting with scrim is very stable – the perfect choice for a quilt that is loved and tugged. Polyester fibers will work their way through the top (called bearding) and backing while cotton is fine staying inside, thank you.
Not all cotton batting has been needle punched onto scrim so check the packaging.
Cotton batting doesn't move or bunch up – the maximum stitching distance is 8 inches. When quilting needs to get done quickly, go for the cotton batting with scrim.
Unquilted areas won't puff up much but it does show off your stitching design and thread.
The best part of 100% cotton or 80/20 cotton poly battings are the CRINKLE!
80/20 COTTON/POLY BLEND BATTING
A cotton poly blend batting is a percent ratio of 80 cotton and 20 polyester. Shrinkage is from 2 percent to 5 percent depending on the brand and water temperature. Washing in cold water reduces the crinkle factor; washing in hot washer gives you the puckers you desire!
When it comes to pros and cons, 80/20 batting doesn't have any cons. The blend is very popular because the cotton stabilizes the batting while the polyester provides some loft. The blend is often needle punched on scrim (scrim is your friend) which helps prevent wavy quilt edges. Ew, wavy edges. Last, 100% cotton batting is heavier and the 80 cotton and 20 polyester blend is a bit lighter.
100% POLYESTER QUILT BATTING
Polyester batting is lightweight, warm, durable and quilting can be spaced up to 12 inches apart – be sure to check the packaging for recommendations. That's a stitching time saver. And no pre-washing is needed – another time saver.
Polyester battings are perfect for bed quilts because they hold in the heat and don't shrink when washed. The cotton top and backing will shrink though, which produces slight puckers and crinkle.
Polyester batting dries quickly after washing so no worries about mold and mildew.
What do we love, no-fold-line purists? NO FOLD LINES ON OUR QUILTS! Good ol' polyester batting bounces right back at you.
100% Wool Quilt Batting
Wool quilt batting is warm and cozy. Some brands like Quilter's Dream, don't require pre-washing. Time saver!
Wool batting gets high marks from quilters who use free motion stitching; the wool fills in the unstitched areas and shows the stitching detail while adding dimension. You really can't go wrong with wool batting unless you live in the tropics! It just looks sooooo good.
Wool batting has a soft drape and it's crease resistant. While I love crinkly quilts, I don't like permanent lines from folding. Not on a boat, on a goat or in a mote. Never on MY quilts.
Wool is my personal favorite because wool provides the maximum warmth, poofy-ness and squishy-ness, which is a state of cuddly, tactile goodness!
SILK AND BAMBOO BATTING
Try silk and bamboo battings for an incredibly soft and lightweight quilt – perfect for a baby quilt or quilted coat.
Quilted garments are drape beautifully with bamboo batting even when they are densely stitched.
Quilters who like to use a thread painting technique choose bamboo batting (sometimes layered to add bulk) because it doesn't shred thread like polyester batting.
Bamboo batting is usually blended with cotton, or silk or silk and wool. Like many other battings, bamboo is made in a variety of finishes, like needle punched and bonded.
Quilters Dream Bamboo is made from cotton, Tencel, and silk. Click on the image to learn more about this popular batting.
Fusible Fleece Batting
Double-sided fusible batting is a game changer for quilts, home decor, art quilts and accessories. Both sides are fusible which means no pins, no spray, no stitching! quilting. Check out my post on How to Sandwich a Quilt in the Fusing Layers section – all the details on how to use fusible fleece batting for your next quilt and products.
How to Choose Quilt Batting: Brands
I wish I'd known more about batting types when I first started quilting so I listed the companies below that make and sell batting. A little batting self-education pays you back in beautiful quilts! The manufacturers fully explain the products on their sites, which is quilt-nerdville, but that's me.
Price is one thing you won't see on their sites, unless they sell directly to the consumer. Your budget will influence which brand and type you purchase. Generally, polyester batting is the most economical while wool, silk and bamboo battings are more expensive. Prices are easy to find online if you search for the type batting, ie. 80/20 needle punched cotton batting.
Pressed for time to hunt down the perfect batting?
American Quilt Society (AQS) offers has a super helpful chart on types of batting offered by brands and fiber content. Four pages of products categories in an easy format so bookmark this baby. Batting Comparison Chart – APQS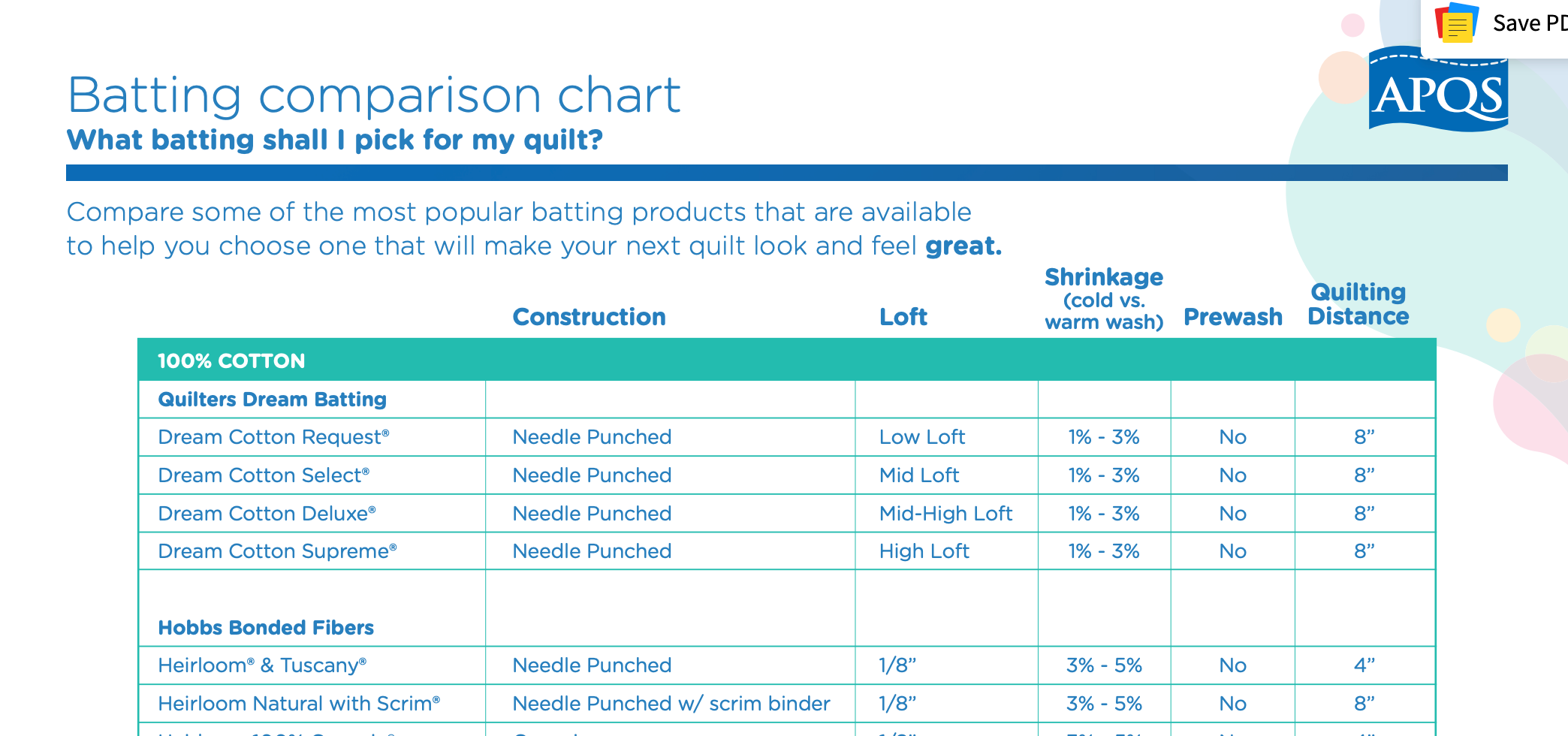 Each major quilt batting brand has information about how to use and launder their products.
For example, Hobbs batting has four lines: Standard, Premium, Thermal and Poly-down. The site includes how to launder each type of batting. Check out their products here.
Quilter's Dream has so many types of batting, each detailed on their site.
The Warm Company offers many companies and is available through many retailers and quilt shops. Check out their main product listings here.
Batting sizes
How much batting do you need?
You can buy batting pre-packaged in various sizes: lap, throw, crib, twin, full, queen, king and XL king. Or buy yardage off a roll. Or buy a gigantic roll.
Whew! That's a lot of information and here when you need it. My best recommendation is to try out batting types with a small piece off a roll or with a crib size piece. Some manufacturers will send you samples.
Assemble some mini quilt sandwiches with sample battings and stitch away. I know, this is more work – but so worth it because you won't guess about batting again.
Sandwich up your mini sample battings and start stitching. If you have problems, try a different needle or presser foot before deciding its toast. The batting is a "big piece" – hehe – of your quilting success and your experience will reward you.
MAKE A MODERN TRIANGLE IN MY FREE "Outshine" CLASS
Don't miss my free tutorial and pattern featuring a versatile modern triangle block called Outshine. Make your first block and turn a bunch into a colorful stars quilt.
Click here to take the free triangle class.
MORE COLOR RESOURCES FOR QUILTERS