Star quilt patterns are my very favorite to design. I love stars!
When I put this showcase post together, I realized how many of my own quilt makes are star quilts made with modern triangles. I then realized how often times I've used a traditional quilt block to make a modern quilt.
First, our ancestors get some glory today with their beloved traditional star quilt blocks.
Second, I'll show you how to use modern triangles for your own star quilt patterns. Which is like getting free star quilt patterns for life!
Also, be sure to tap on the links for free quilt patterns and a free class. – slow clapping –
Wanna see A LOT of star quilt blocks, quilts and quilt patterns?!
Star Quilt Pattern Building Blocks
Star quilt blocks are the building blocks of many classic and modern quilt patterns.
Classic, modern or a mix, star blocks are a design workhorse.
Welcome to my Star Quilt Patterns Showcase!
I'll show you how the classic star block shows up in my modern quilt pattern designs. You just might want to make a star quilt pattern of your own.
Star quilt patterns can contain only one larger-version block (easy fabric requirements!) and up to dozens. I like how I can take one block, enlarge it and call it a quilt! (see my Monstar quilt below)
Classic Star Quilt Block Patterns
The star quilt pattern contains one of the fundamental blocks in many patchwork quilts. These are often used traditional star quilt pattern blocks: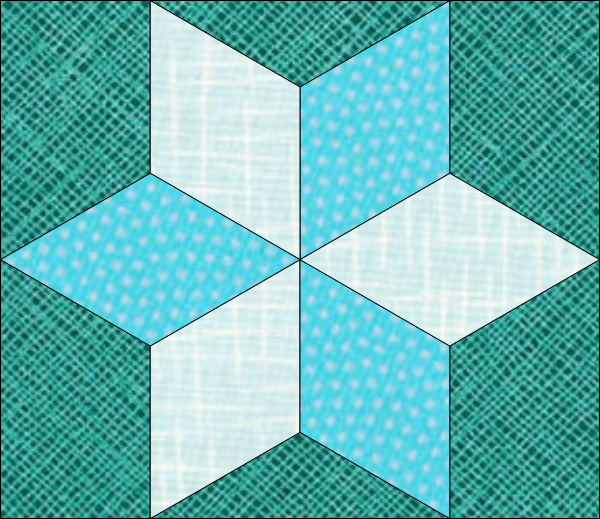 A classic star quilt block, Morning Star, was used by Lakota Indians in North America for ceremonial garments and coverings.
Actually, I need to go back farther.
More than 3000 years ago when Egyptian kings wore star blocks sewn into their garments – they symbolized a chosen person.
The original STAR POWER!
Every continent throughout history claims a block as their own creation, especially star blocks. When the blocks are the same, they often have different names. Or two different blocks share the same name. How to explain this? Quilters like to share!
Lemoyne Star quilt block pattern
Lemoyne Star is made with diamond shapes with radial (circular) symmetry. The rows circle around the center star design.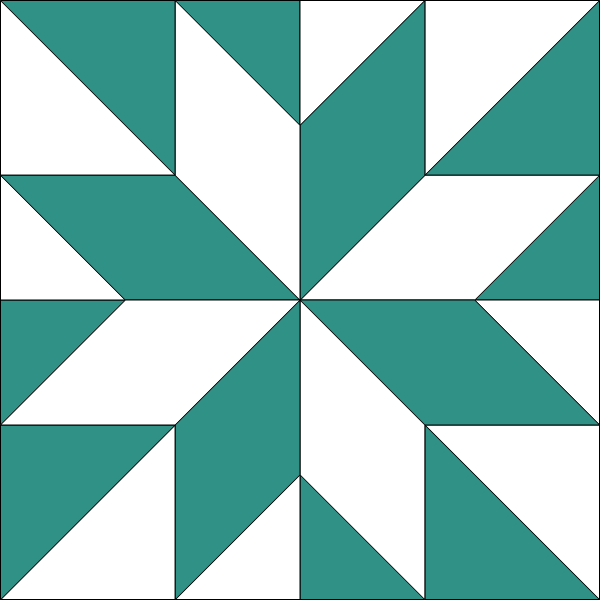 Ohio or Amish Star quilt block patterns
The Ohio or Amish Star block is made with quarter square triangle units. A popular stars quilt, Ohio Star is an easy, incredibly versatile block when you play with color and value.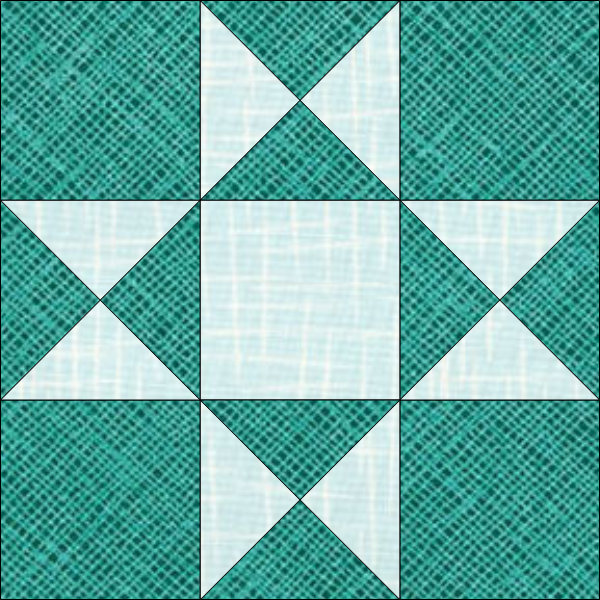 Sawtooth Star quilt block pattern
Sawtooth Star is made with flying geese units. A popular stars quilt, Sawtooth Star is an easy, incredibly versatile block when you swap the dark and light blocks. Beginners: Make lots of Sawtooth Stars in rainbow colors for an easy pattern.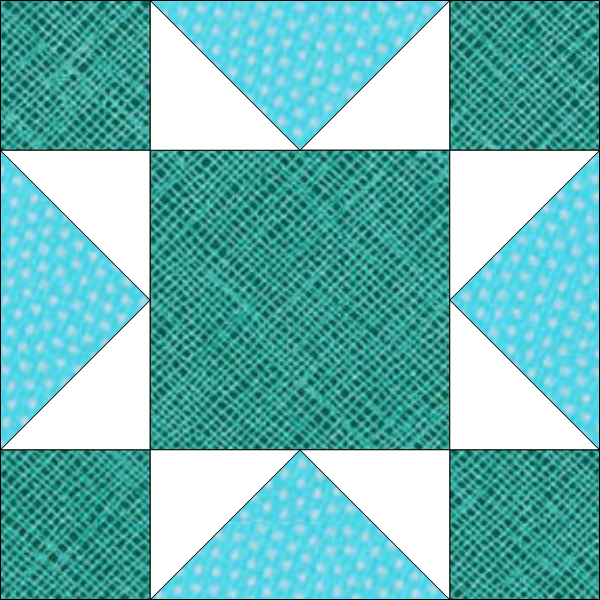 Another version of the Sawtooth Star is a reverse Sawtooth, also known as the Variable star.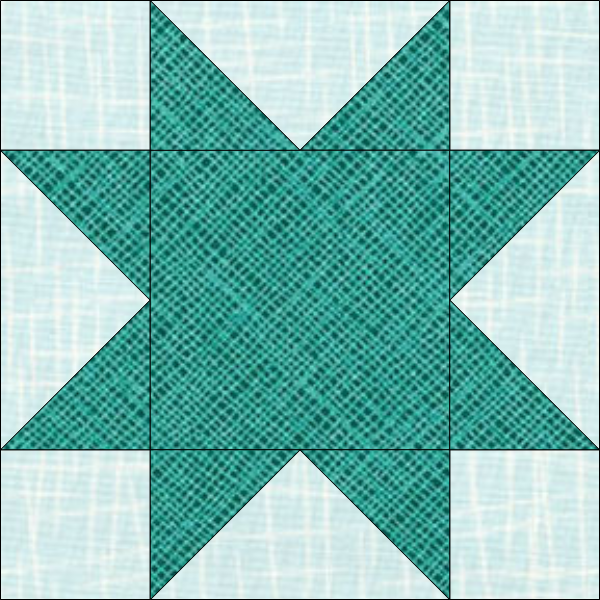 CARPENTER STAR QUILT BLOCK PATTERN
Next, the Carpenter is also similar to the Sawtooth – it's made with half square triangles or sometimes flying geese units.
8-POINTED STAR – On Point Center
Try an 8-point block pattern that uses only half-square triangles (HSTs). Step on up, confident beginner, to make a stunning quilt!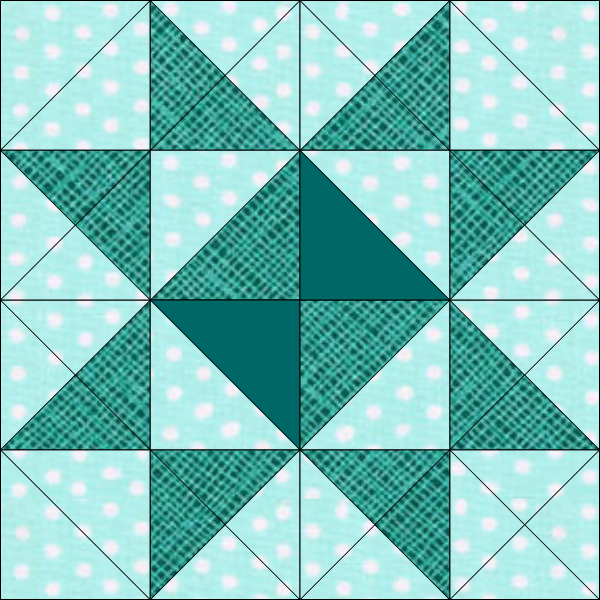 Ribbon Star quilt block pattern
The Ribbon Star is also made with HSTs as well as the Friendship Star below. This block pattern offers a perfect fussy cut square in the center.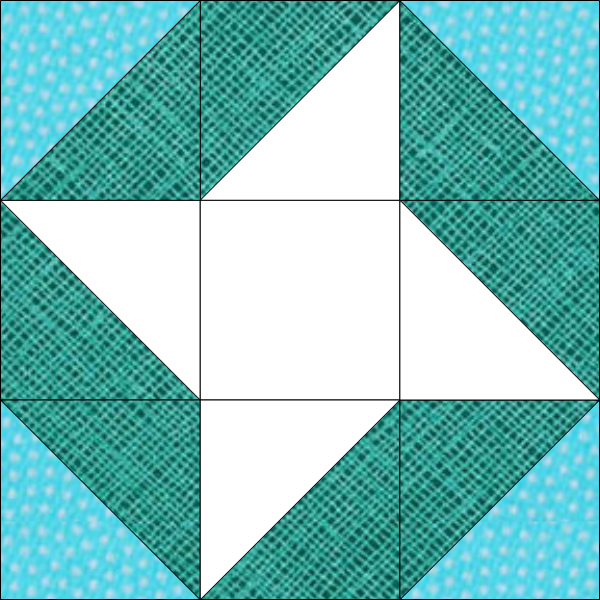 Ribbon star
Friendship star quilt block patterns
No better star than the Friendship Star for a fun block swap – scraps, friends and HSTs!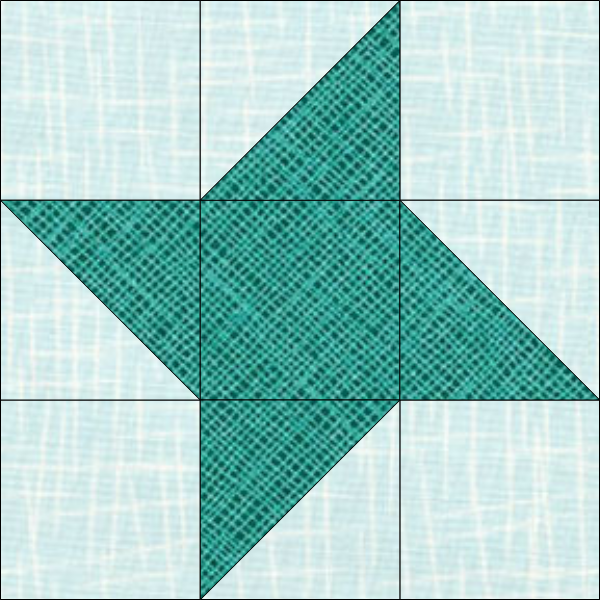 Lone Star quilt pattern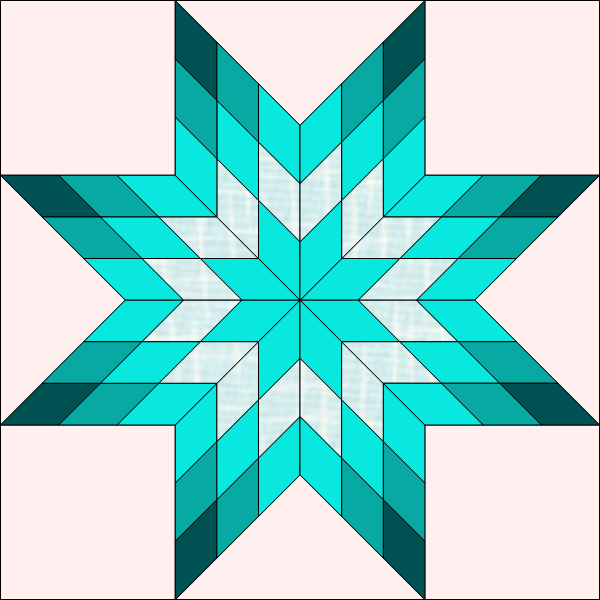 The Lone Star quilt is an 8-pointed star quilt. The pieces for a Lone Star are almost always diamond-shaped, and sometimes wedges or parallelegrams.
I call this quilt fat quarter friendly because of the cascading rows star design – a fabric collection will shine with matching fabrics, patterns and different values.
Oh my stars! There are so many pieces of fabric to keep organized for a Lone Star quilt. And if you want a quilt pattern with fewer seams, this isn't it!
Star Design Quilt Blocks = Superstar Powers
They are known as:
Versatile – make it modern or traditional
Oh-so-beginner friendly
Challenging designs for intermediate and advanced quilters.
Dynamic with diagonal lines for overall star quilt patterns
Shapes for Making a Star Quilt Block
All kinds of shapes in all sizes make up star quilt patterns.
Star quilt blocks made with half-square triangles (HST)
No surprise here! A simple way to create star blocks for a quilt is using Half Square Triangles (HSTs). HSTs are a standard block in traditional quilting and modern quilting. Once you make a few squares, it's fairly easy to put the quilt together in rows.
Also no surprise, I love solid fabric. My fabric selection process for Blue Star was based on creating color harmonies with a gradient scheme. I love how the blues move from fabric to fabric.
Star quilt blocks made with quarter-square triangles (QST)
Another easy way to make a star quilt block is using quarter-square triangles. This is Lucy in the Sky from my Modern Rainbow book. I made the QSTs with modern triangles.
Missouri Star Quilt Block (Free tutorial)
I like Jenny Doan's tutorial on making HSTs and QSTs for an easy large Carpenter star block. She uses a layer cake and it sews easily together in rows.
Star quilt blocks made with diamonds and wedges
The Lone Star quilt pattern is a stunning star quilt pattern made with diamonds and wedges.
See Plains and Pine for amazing star quilt patterns, including bunches of Lone Star quilts made with diamonds and wedges. Spectacular!
Other Techniques for Making a Star Quilt Pattern
English Paper Piecing (EPP)
Speaking of diamonds, check out this quilt! If you love hand piecing, why not make a star quilt with this method? Keep it a mini quilt, table topper or lap quilt if hand sewing is not your thing.
Noelle's star quilt, which I made on bedrest while expecting – is entirely hand sewn and quilted (except for the binding).
Modern Star Quilt Patterns
Explore using stars – the perfect design element for modern quilts – because they are incredibly versatile and have dynamic diagonal lines. The color play options are endless.
Designing a Modern Triangle Star Quilt Pattern
My favorite thing to do with modern triangles is to build shapes for star quilts.
FiRST, What are "modern" triangles?
Modern triangles are pieced triangle blocks in bold, geometric designs. They are used to create modern quilt designs from my book, Modern Triangle Quilts (Stash Books, 2017). I've made many a star quilt pattern using my mod T's!
Let's see how this works…
Spin a Star
Meet Starfall! When modern triangles are tessellated, stars appear! This one-block star quilt pattern uses color gradients, values changes and modern triangles to create the overall design.
Starfall repeats one block that appears to spin. I did this by nesting the modern triangles so that secondary stars shine, too. Can you tell I used a square grid layout with HSTs?
One large star quilt patternS
Just one big ol' star. My Blue Star is from Jeni Baker's quilt and tutorial Giant Vintage Star. Download the free pattern here from her blog In Color Order.
Here's the modern triangle version with HSTs. My Bright pattern started with the classic 8-pointed star block.
Quilting the quilt: I used simple lines to echo each triangle's design and straight lines in the white background. Straight quilting lines are an easy, elegant finish and highlight the design.
This blue beauty is the Magic Mini quilt – you can learn to make one in my updated Freezer Paper Piecing Workshop. Learn the FPP method and make a super cute mini quilt.
These quilts may look difficult, but it's just triangles! No y-Seams, no set-in seams and simple to piece. Here's a quick visual tutorial about how easily they sew together.
First, I make the modern triangles by piecing smaller pieces together with my Freezer Paper Piecing method.
Then, you sew the triangles into HST blocks (below).
Next, piece the blocks together into rows.
And finish up by sewing the rows together.
And "ta da"! A beautiful modern triangle quilt with a star quilt pattern.
Design your own modern triangle star quilt pattern
Stargazer Quilt: Kaleidoscope and Radial Symmetry Designs
Modern triangles are like the tumblers in a kaleidoscope. Make a small change or rotate blocks – whole designs morph into surprising patterns.
Once I've made the modern triangles, I build more complex-looking stars by layering the modern triangles in a radial symmetric design around a center point.
Can you see the half square triangles?
Equilateral 60-degree Designs
Equilateral (60-degree) triangles create amazing star quilt patterns. The Wildflower BOM quilt is an example of uniting the design with a star pattern while smaller designs add interest to each section. They look like flower bouquets and stars!
Snowflake Effect with Stars
Solstice BOM quilt pattern was made with modern triangles and designed to look like a star. But it also looks like a snowflake!
Built with modern triangles, no y-seams or inset seams!
Rainbow Star Quilt Patterns
When I wrote my book on rainbow quilts (Modern Rainbow Quilts, 2015) the star featured prominently in my designs. Naturally!
Monstar
Monstar is based on a traditional star block. Yup, the Morning Star! What's more fun than a giant rainbow star from rainbow fabric?
Lucy in the Sky Quilt
"Lucy in the Sky" quilt features black and white stars made with quarter square triangles (QSTs).
Meet Icarus
I designed Icarus to be a bit wonky – after all, he melted when he flew too close to the sun. See those singed points?
Rainbow Jacks Pillow Cover
Scrappy Star Quilt Patterns
Who doesn't love a good scrappy quilt? Scrappy stars are perfect for scrap stash busting.
Monstar Version 2
In my "little" Monstars, instead of rainbows, I played with color placement in the layers of the stars.
Icarus Version 2
Icarus Version 2 quilt is fat quarter friendly. Instead of selecting rainbow fabrics, I used a fat quarter bundle for scrappy (but not really scrappy) looking stars.
Feathered Star Quilt
Creating a gradient – where the colors are pieced from darks to lights – made Feathered Star pop and glow. Gradients are a guaranteed cool color palette for stars because they create movement.
Star White, Star Bright quilt
I chose three colors and shopped my stash for the rest for a scrappy star quilt. BTW, my mom and I ripped A LOT paper off the back! No more sore fingers because I use the Freezer Paper Piecing Method now.
Jacks Quilt
For Jacks, I did a mashup with stars and nine-patch checkerboard squares. See where the stars overlap in the secondary pattern?
Jacks quilt by Rebecca Bryan
Cakewalk Quilt
I loved playing with this design – I nested the stars up against each other so that each is a part of the adjacent stars. Cakewalk looks like a sampler quilt, except I only sampled fabrics. All the same block.
Go wild! Design Your Own Star Blocks and Star Quilt Patterns
Star quilts make great starting points for trying your hand at design. These classic quilt blocks leave plenty of room to put spin it your way.
Star blocks endure because they are widely used and beloved. Like the stars, infinite versions to discover! So flex those design muscles starting with a star block.
Beginners, you can do this!
Try these modern tips to design outside the lines!outside the lines.
Use the "rule of thirds" to achieve balance
Modern quilt designers use asymmetry with a simple design trick – the Rule of Thirds.
Place the focal along the left or right vertical horizontal third – or lower or upper horizontal third.
This trick leaves the other two thirds open with less emphasis. In other words, the focal point is offset from the center and balanced by the emptier two-thirds portion.
Tribute Star quilt
This pattern uses the traditional Carpenter star block made modern with the rule of thirds. I put the star in the bottom right third.
Freebie alert! You can get this pattern, written by me, over on Denyse Schmidt's website (pinch me moment, thanks Denyse!) Download here.
Background stars
The star doesn't have to be the "star" of the show, it can be a supporting character in the background.
Hexy Plus Quilt
Can you see three stars in the dark background fabric? At first glance, you see a plus sign quilt. Or is it just a plus sign quilt? Hmmm.
Push the boundaries
Sunshine Quilt
The star is a classic block and easily recognizable so you really can explore crazy ideas and still end up with a cool result. Here are some of my wildest design ideas where I use stars.
"Outlandish. She's gone completely nuts" they said. Go ahead anyway – mash two types of quilts together.
Rainbow Remix Star Idea
Again, because the star is widely recognized, I tricked it out in new ways by "smudging the lines" in Rainbow Remix.
I wanted to see what Rainbow Remix quilt looked like cut into half square triangles and then put back together as a star. This might be a quilt someday.
My Star Quilts Design Bucket List
While I've made quite a few star quilts, there's always room to explore. No convincing needed!
I'd love to make another star quilt, especially a stars quilt pattern featuring a Lone Star.
I'll simplify my take on the Lone Star block with modern triangle jazz!
Use modern triangles to create 8-pointed Lone Star quilts. The smaller pieces could create direction in the points.
Use different triangle block sizes for a modern riff on a classic quilt block.
No y-seams. None. I piece all my modern triangle quilts in rows – you'd never guess looking at them.
Color blocking with bold, vibrant colors. Use color blocking in my rainbow quilts and the results are eye-popping.
I love the star quilt designs from Plains & Pines. Lindlee Smith takes a stars quilt pattern and turns it into her wild designs. Download two free star quilt patterns here.
Which star quilt will you make?
Whether it's traditional or modern, paper pieced, or improv, there's a star quilt pattern for you.
Free Star Quilt Patterns
Get some star-struck inspiration! Download the free star quilt patterns throughout the post. Surely, one of them is itchin' for your stitchin'!
Try a Modern Triangle in MY "Scrappy Whirligig" class
Don't miss my free tutorial and pattern featuring an incredibly versatile modern triangle block called Scrappy Whirligig. Make your first modern triangle block and turn it into a colorful stars quilt.
Beginner quilters, too! This is a great project to gain quilting experience.
If you haven't yet, you can take our free triangle class right here.
More Quilting Tutorials and Resources