It's time! Time to share my Pickle Dish top here.
It was tough to photograph this quilt to showcase the colors properly. The photo below with the matching legos, courtesy of my babies, best shows the colors. First I tried to hang up the quilt top on my wall and fence, only to have it flop over (sassily if you ask me ((how can you flop with sass?)). So I had to find a flat floor surface, which meant moving furniture and sweeping. If I were smart, I would have prepared the back so I could baste my quilt sandwich.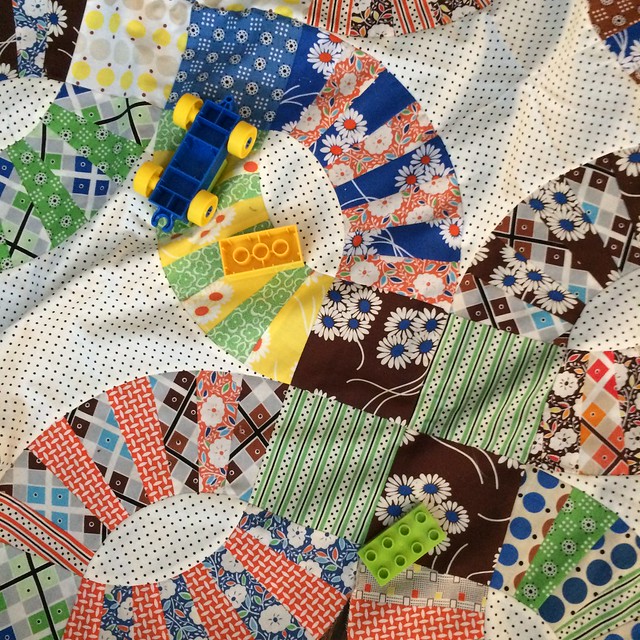 My favorite antique quilts possess agreeable and contentious pairings. So I in turn paired my favorites together but also paired clashing fabrics. The clashes really help me see my favorites. The fabric is of course Katie Jump Rope, by Denyse Schmidt, an older line you might be able to find on Etsy or various destashes on instagram. The background is a brown on cream pin dot, available here.
Some of my favorite quilts have that "make do" aspect. Like maybe the maker ran out of a certain fabric so made do with what they had. When I started this quilt, I only had a certain amount of Katie Jump Rope fabric (I um, have more now!). As I made the arcs, I purposefully made "make do blocks" but as I ran out of my precious Katie Jump Rope, I actually had to "make do" with the fabric I had left. Too fun! I recommend not buying enough fabric and see what happens.
I also wanted floppy and round edges and corners. Looks like I'll need bias strip binding! The binding will be that blue bandana print (eep! my favorite!).
One of my goals was to have a completely pieced quilt top. I didn't want to applique and I didn't want any seams in my background pieces. Happily I achieved my pieced top. Look for a post next week that will discuss my tips and resources for making a pickle dish quilt.
This quilt was so fun to make. It was challenging but it's large block size (24" square) made it manageable. I think I'd like to make another! As is usual, I found inspiration for another version before finishing this one. So,  first to finish this one.
I'm thinking about hand quilting it, but what color thread do you think? I was thinking cream, brown, or blue. Cream would probably be the safest. What are your thoughts? The binding will be the blue bandana print (eep! my favorite!).
For more creative edges and borders and bindings, check out our 25 Creative Ways to Bind your Quilt post.
Thanks for stopping by!