Awkward confession: I dislike (hate) making half square triangles.
Why? Because I really, really hate trimming.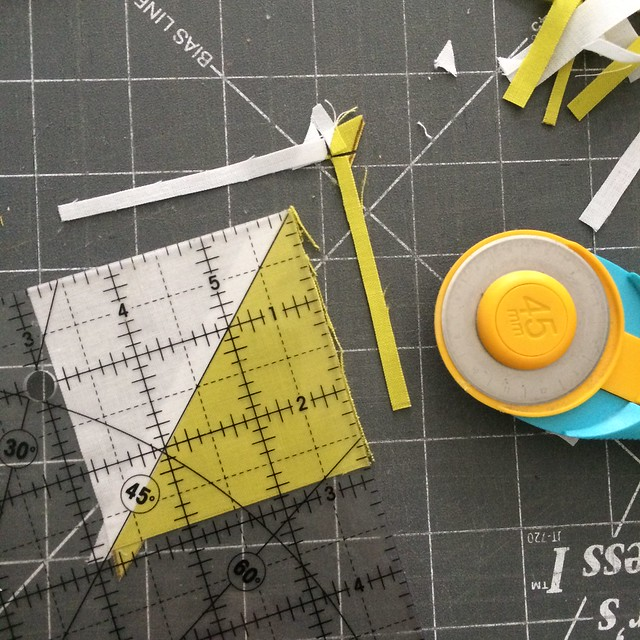 SO MUCH TRIMMING: trimming to size, trimming ears, and trimming more if they aren't quite square.
In spite of trimming fits, I make my share of half square triangles for good reason.
They create amazing modern half square triangle quilts!
What is a half square triangle?
A traditional half square triangle block – or HST– is a square with two right triangles inside it. Squares are the building blocks of most quilt designs and HST quilt patterns.
The half square triangle in my Blue Star quilt is shown outlined in pink. The dotted line is the center seam. Two HST blocks are sewn together to create patterns with color and direction for an entire half square triangle quilt.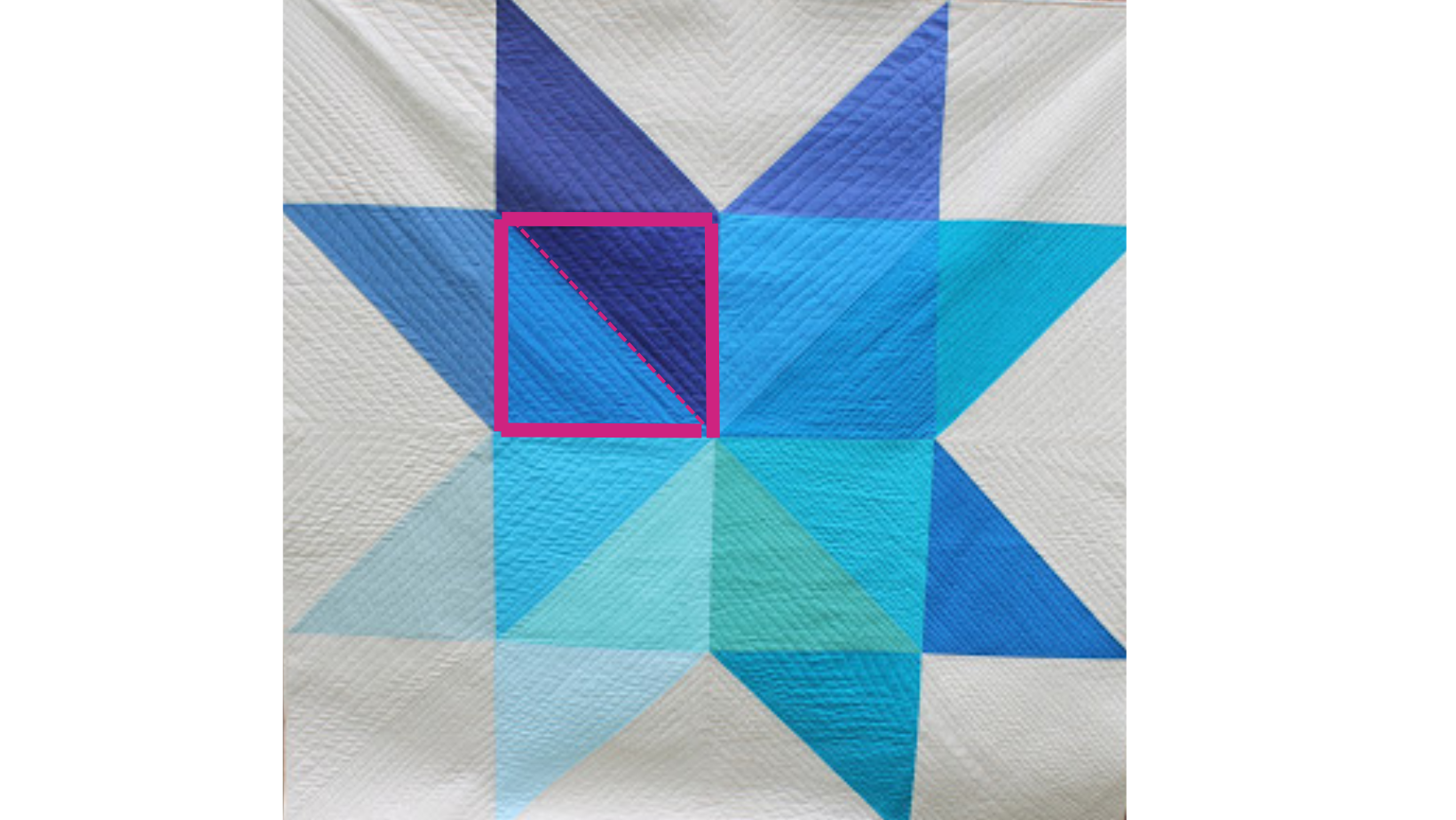 Half square triangles can be any size really – look at this monster big block Big Geese quilt! Only 16 square blocks on the final top! Just 25 seams!
I kept the quilting simple to echo the minimal layout and big blocks.
Big Geese is an HST pattern. It's the faster layout for making flying geese blocks – using two pieces of fabric versus three.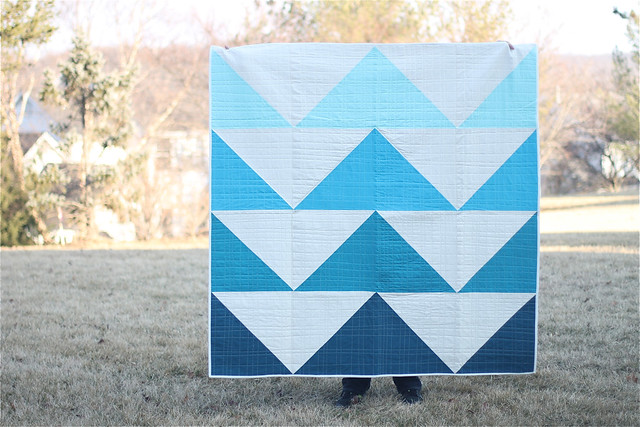 You could say that Big Geese is a traditional-made-modern half square triangle quilt.
MODERN AND AMAZING HALF SQUARE TRIANGLES
Around here we love using half square triangle blocks as the backbone for modern triangles – they are a main design element. And they've been included in almost every modern triangle quilt pattern I've designed.
Modern half square triangles are pieced triangles that form mesmerizing, bold quilt patterns. Using different triangles – like Isosceles or right triangles – create entirely different blocks. My book Modern Triangle Quilts (Stash Books, 2017) explores all kinds of modern triangles.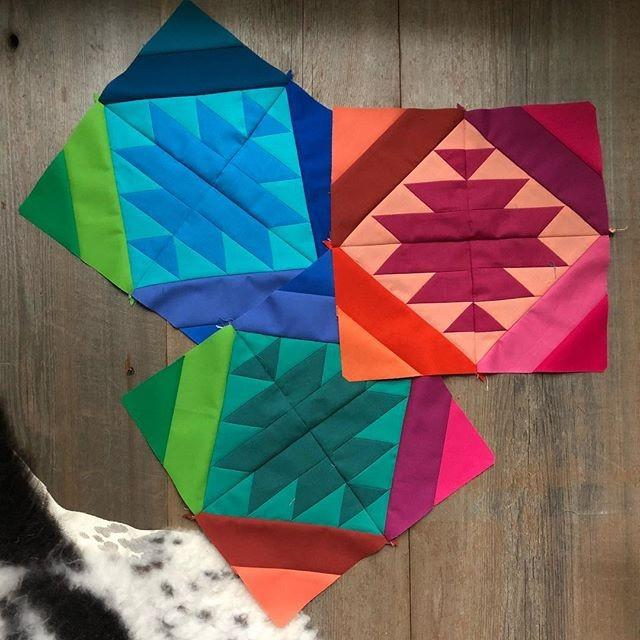 The black and white HSTs make a traditional Ohio Star pattern. I gave it a modern makeover with paper-pieced triangles in the centers.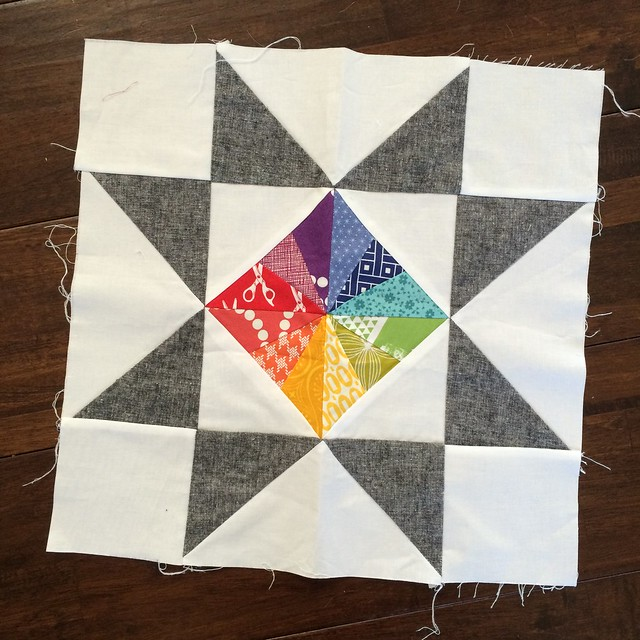 MAGIC MINI MODERN TRIANGLE QUILT
The Magic Mini quilt is a great example of how modern triangles are used with half square triangles blocks.
Can you spot the modern HST halves?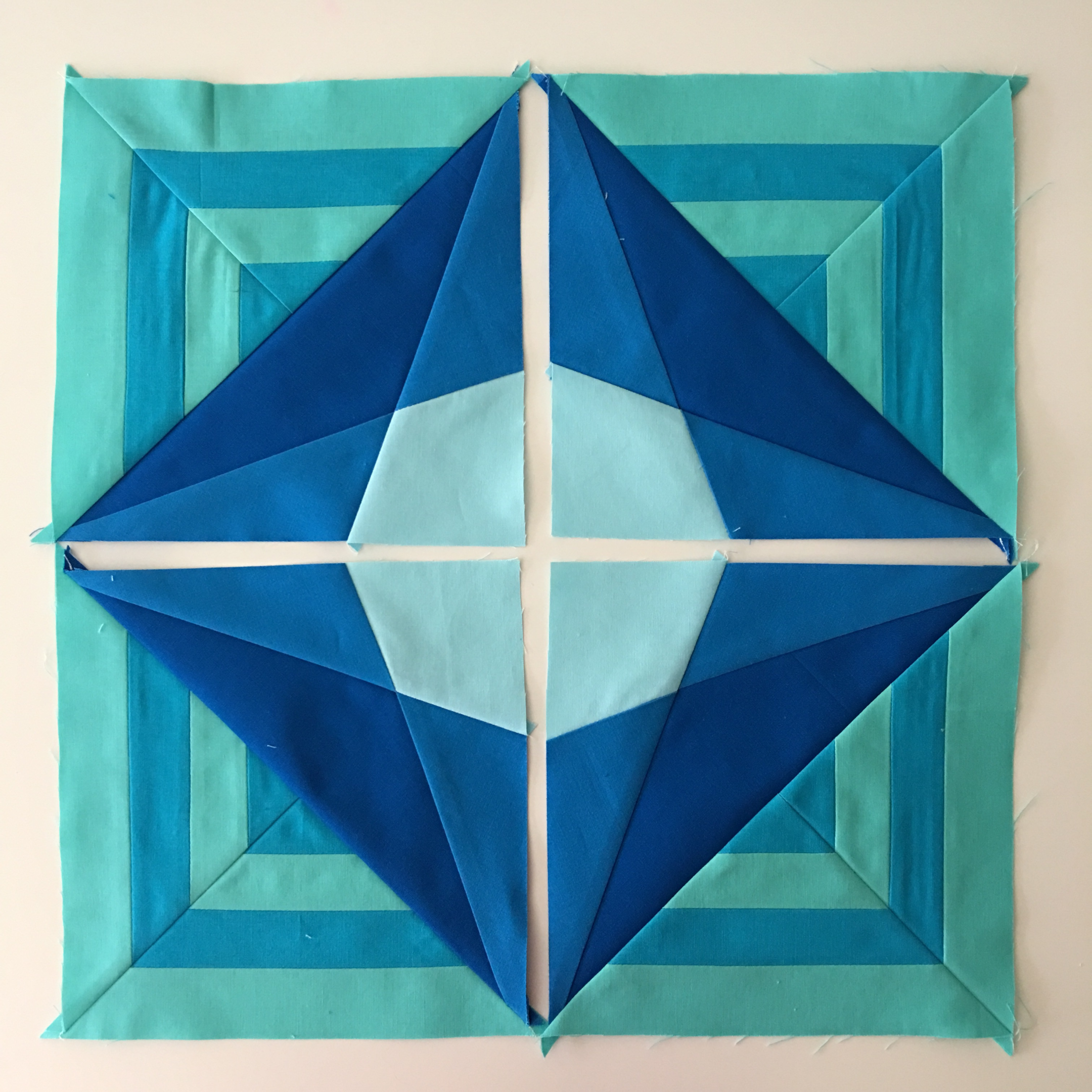 Here's the final quilt: It may look difficult, but it's just triangles! No Y-Seams, no set-in seams. Happy, happy quilting!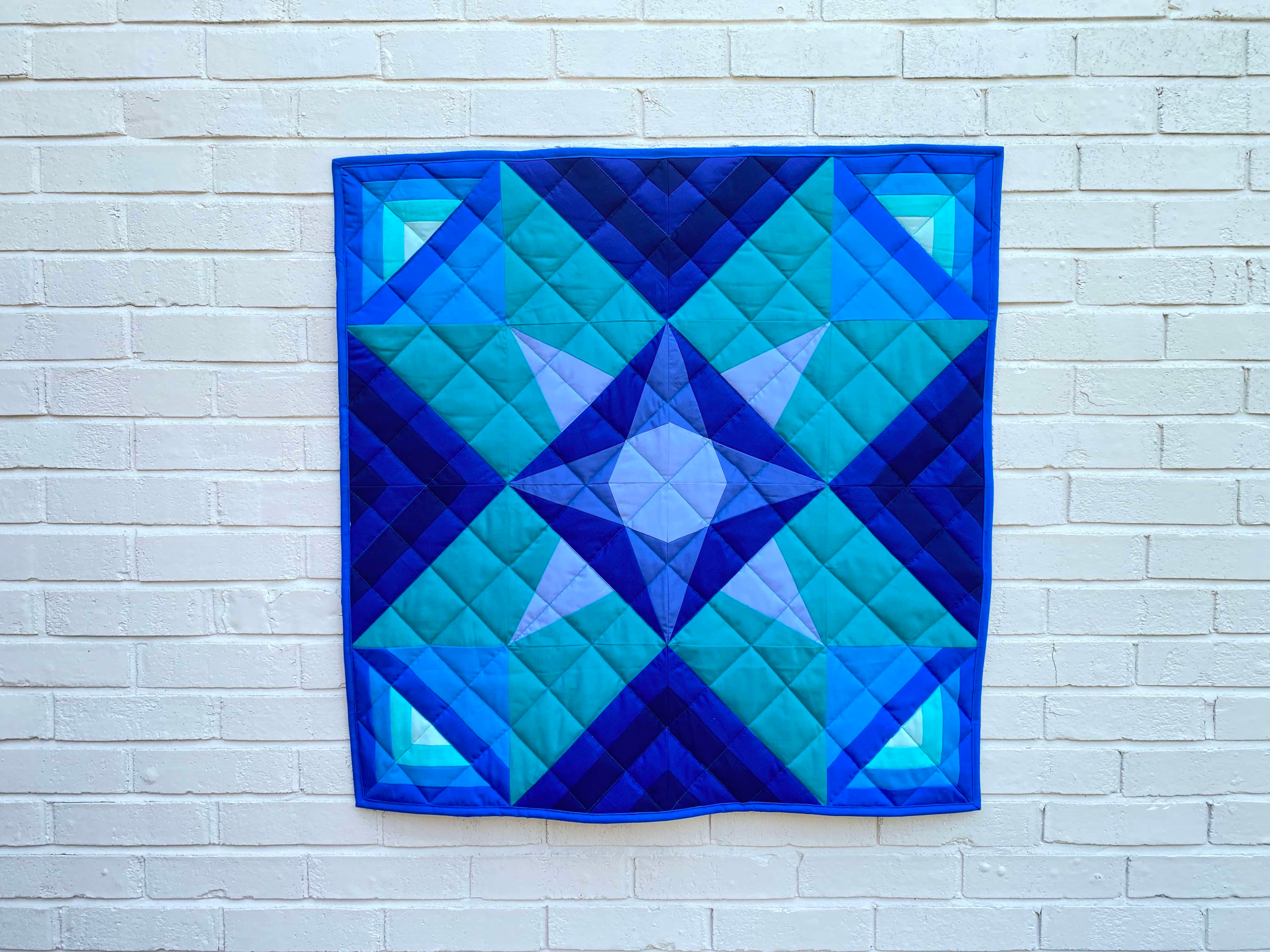 Below, look closely and you'll see the squares in the grid layout for the Stargazer BOM quilt pattern – I "borrowed" the large center square to design Magic Mini.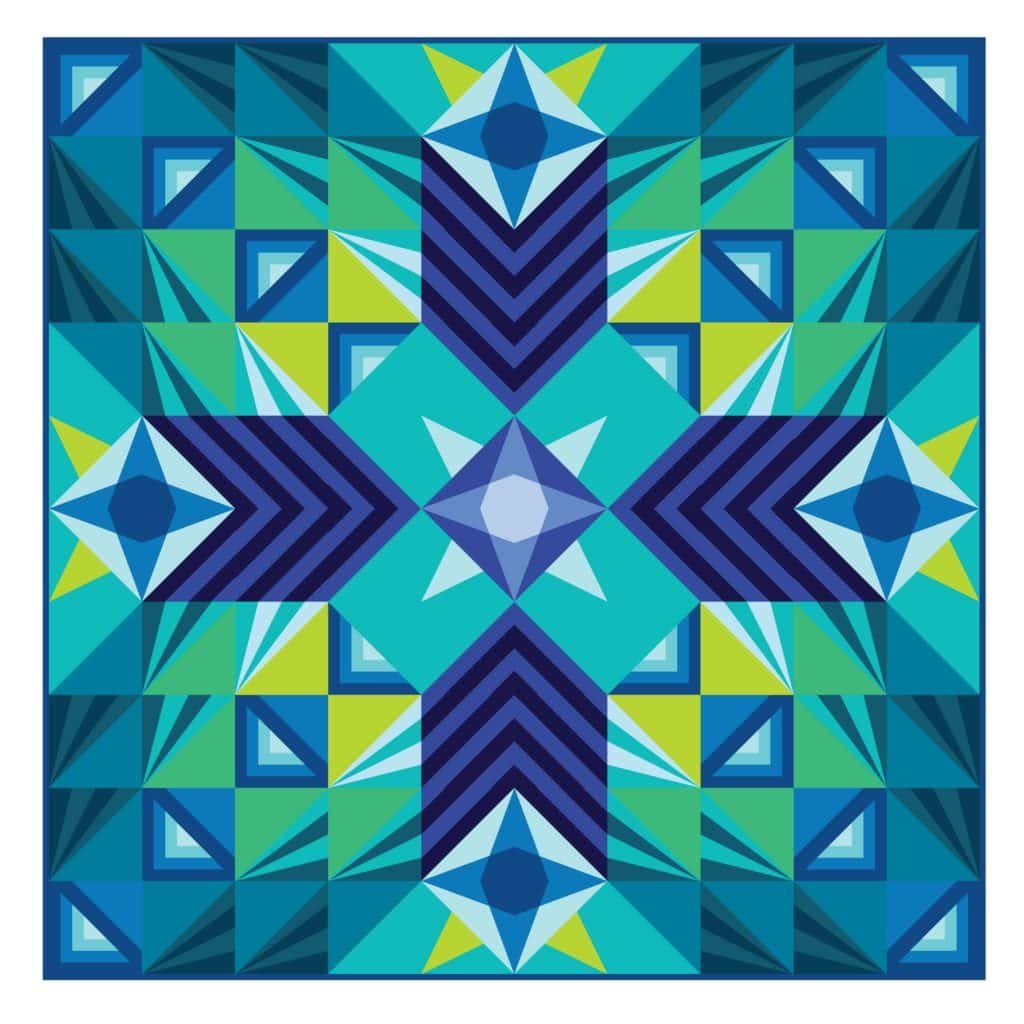 MINIMAL TRIANGLES QUILT
I'm a super fan of a simple, modern HST quilt pattern, too. I made Angelos Mini from Kristi Schroeder's book, Southwest Modern.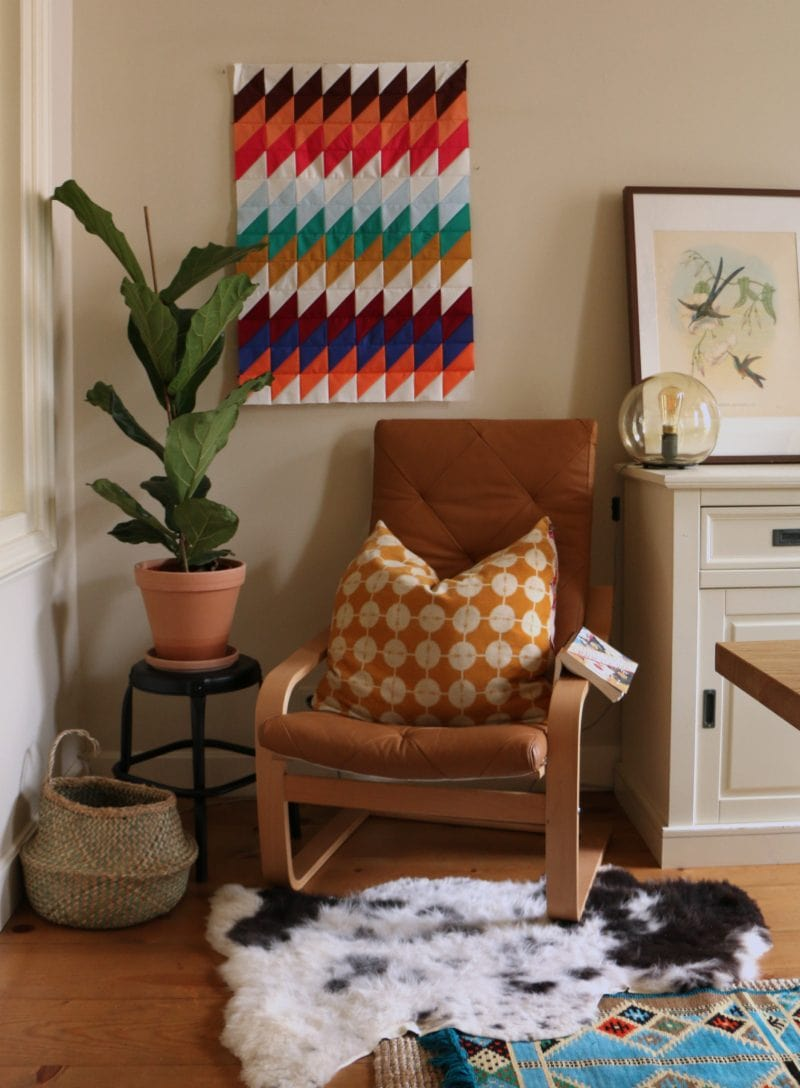 Do those look like squares? Nope!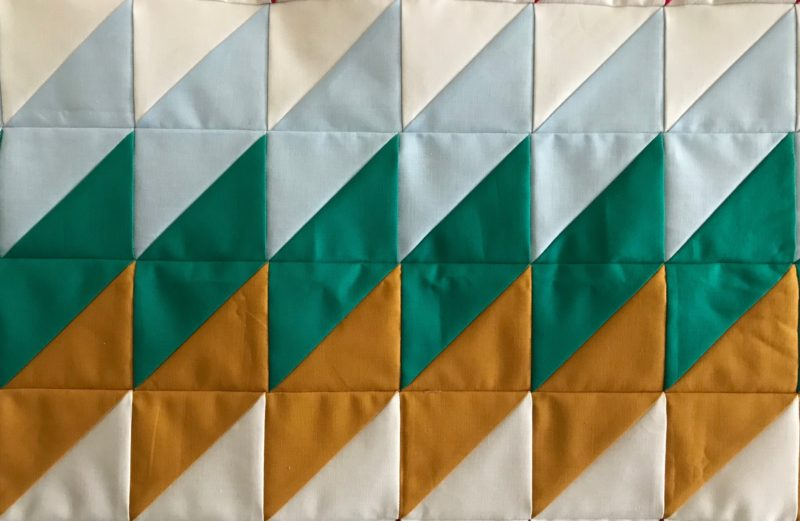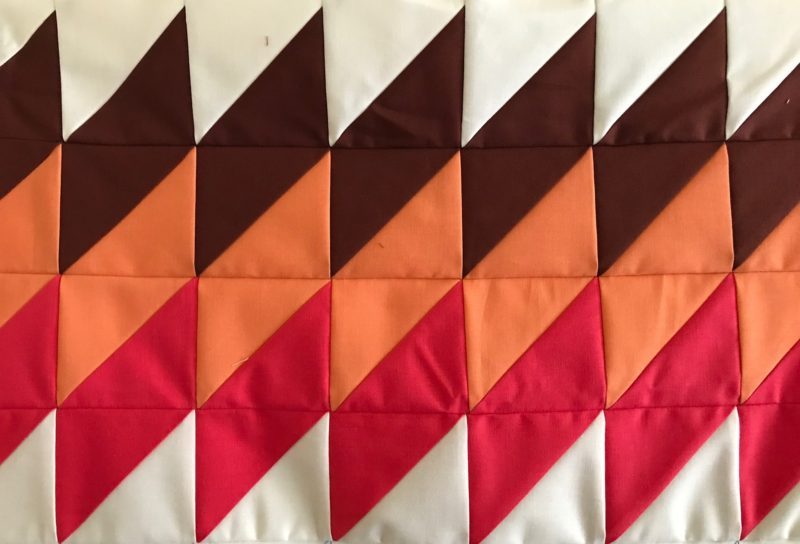 Isn't this a beautiful quilt pattern? Kristi's genius is using HST blocks in original ways with bold shapes and vibrant colors. The quilt top looked amazing even without the quilting! The "zig without the zag" is a popular modern layout.
One block can do all that!
Trim less…or GO trimless
I love to design quilt patterns with triangles. There's no turning back on quilt patterns like these. Onward!
The verdict: I needed to learn how to trim less or go trimless with a half square triangle.
I found some very good tools and techniques to make a half square triangle quilt. I'll share four methods that involve less trimming or no trimming at all (you feel better already, right?)
I created this tutorial because you might dislike (truly hate) trimming, too.
You'll learn how to make a half square triangle quilt quickly, without hating the process and doing it your way.
Would you rather watch instead?
In this video tutorial, I'm doing a quick demo of each method. You can also follow along with instructions below.
MAKING HALF SQUARE TRIANGLE BLOCKS
There are about a dozen ways to make half square triangle blocks. Choosing to create them with one method versus another depends on how many HSTs you need for the quilt top pattern and which tools you prefer.
I've made a lot of half square triangle quilt patterns in different ways.
My Hello Houston quilt uses fabric scraps to create contrast in one of my square triangle quilt patterns.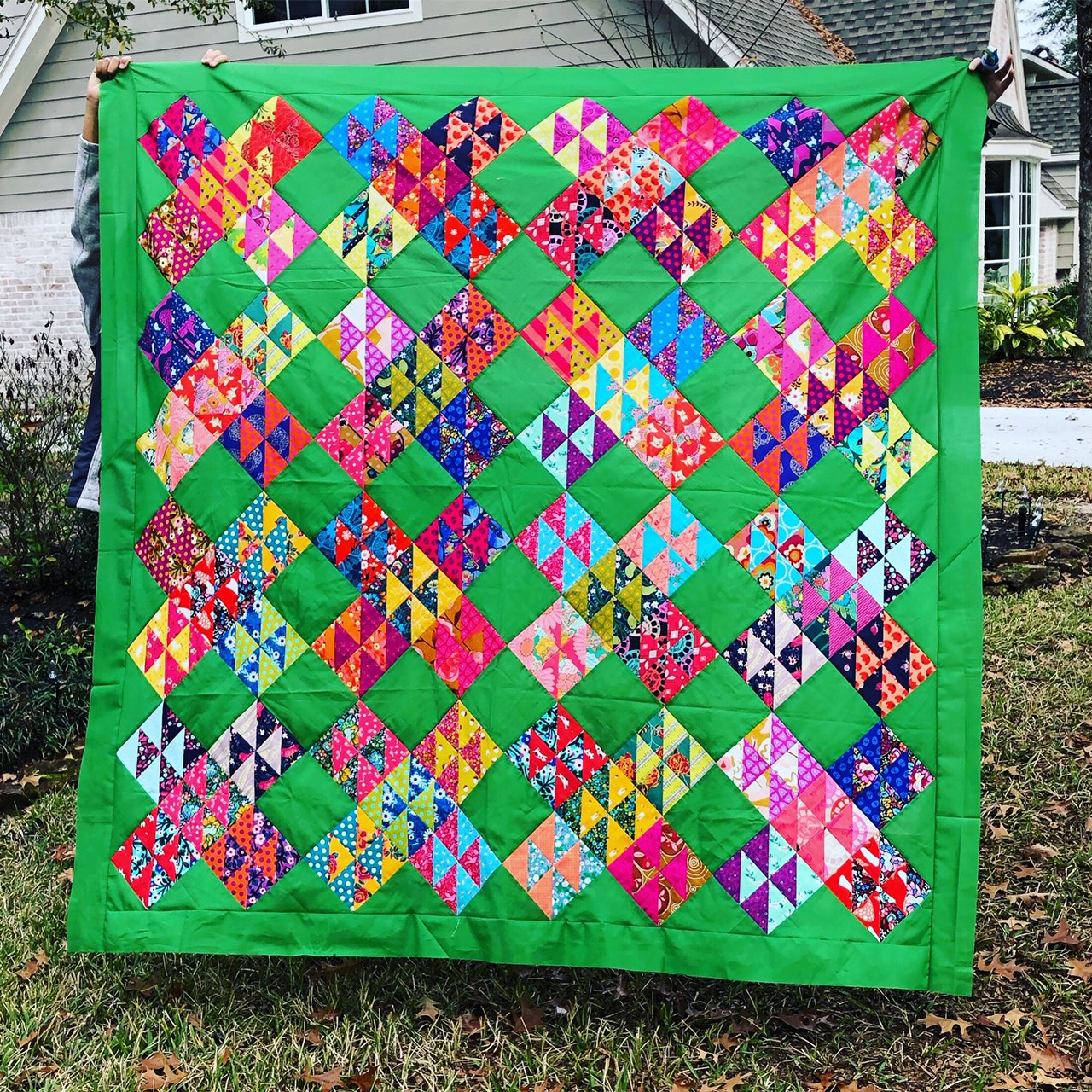 The finished size of the blocks depends on the getting the math right. HST charts give you the right dimensions so skip the math – download my free HST Sizes Chart below.
How to make half square triangles
The "Quick" (???) Method
Let's review the quick method first.
This is how many quilters learn to make a half square triangle. The "quick" starts with two squares and ends with lots of trimming.
Start with Two Squares
A charm pack with 5-inch squares is a fun way to bust out HSTs.
You will create two half square triangles from every two pieces of fabric sewn together. Select two fabric starting squares. Place them right sides together, lining all of the sides up nice and tidy.
Draw
Next, draw a diagonal line from one corner to the opposite corner (solid line in the diagram). Use a water soluble marker or fabric marker. The line will be cut so the marking won't show.
Stitch
Then your next step is to stitch a 1/4 inch seam from the marked line, along each side it. The dashed lines are the stitching lines below.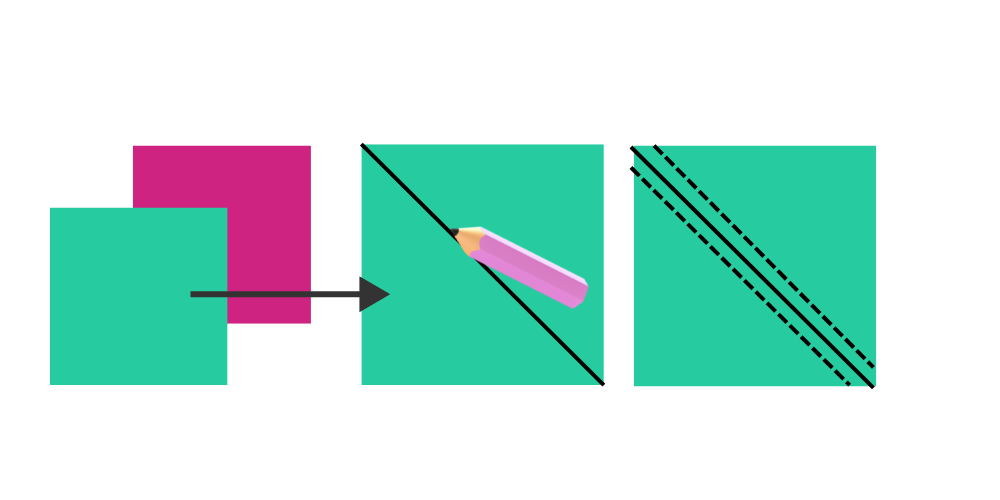 Cut
Cut on the solid marked line. Now you have two half square triangles.Ta-da!
Press
Press the seams open or to one side (usually to the darker fabric side) depending on the quilt pattern directions.
Trim and Square Up
When you sew on the stitching line, you're sewing on the bias, which might make the half square triangle warp and slightly larger. A entire half square triangle quilt could curve along the edges.
Trim the half square triangles down to the same size.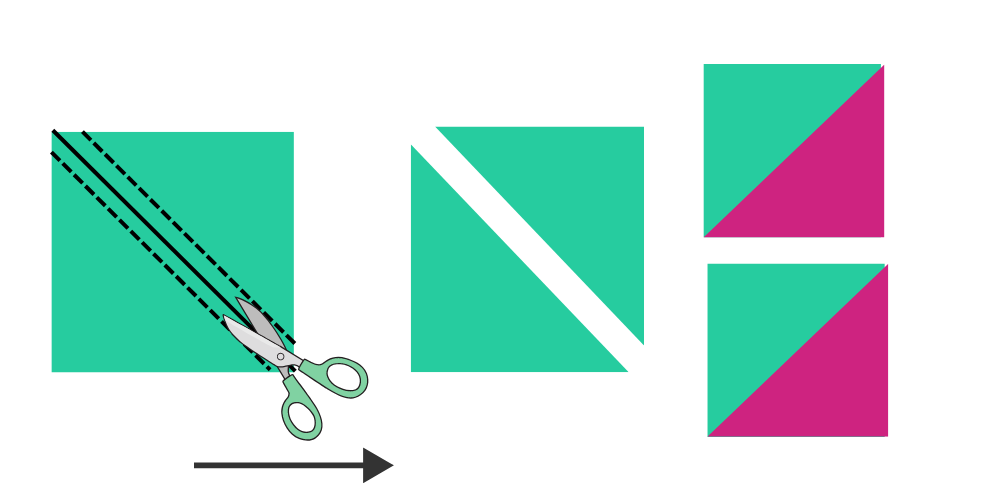 Squaring up the quilt blocks
Next, I trim all the blocks using a square ruler to the unfinished size indicated on the quilt patterns.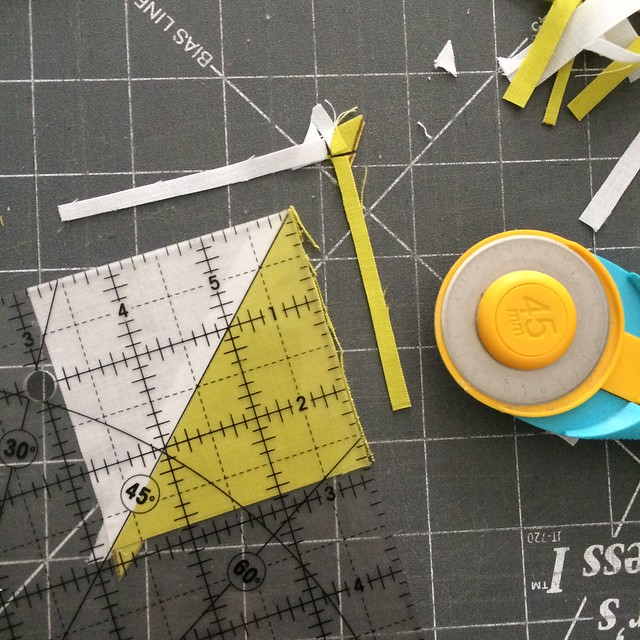 Unfinished and finished block sizes
The unfinished square block size is measured after two blocks are stitched and cut BEFORE it is sewn to other blocks. The finished HST size is the size after sewn into the quilt top.
So if the quilt pattern uses a 6 ½- inch half square triangle, the finished size will be 6 inches when sewn together with other blocks.
This is an important step: every half square triangle needs to be the same size if the pattern indicates it.
A half square triangle can look really square AND NOT BE SQUARE. Ask me how I know this. Always check the unfinished size required in your quilt patterns and then trim!
Now you have two beautiful unfinished half square triangle blocks.
THE 4 BEST WAYS TO MAKE HSTS
I've found four different ways that work best for making half square triangles. And these go beyond the "quick" half square triangle method. They really shortcut the process of trimming.
BLOC LOC RULERS
Bloc Loc (affiliate link) rulers are a nifty tool that makes trimming easier and more streamlined. You still have to trim (sigh) but you'll coast through faster.
Each Bloc Loc has a diagonal line groove along the center that you butt up to the diagonal seam in the HST unit. The no-fuss ruler does the tedious work for you.
No second guessing if you've gotten it lined up – it quickly locks in place and hold the fabrics while you rotary cut. Watch the quilt blocks pile up.
A Bloc Loc ruler is a fantastic tool to invest in for your next half square triangle quilt. Making the same block many times over is the sweet spot in HST quilt patterns. Doing that faster is even sweeter.
If you love to sit and veg out while you're trimming, you're gonna love this tool.
This tool is in my top three picks but…isn't my favorite. Because I still have to trim. If I need to make just a handful of half square triangles, I use the Bloc Loc.
Pros: Streamlines and speeds up the HST trimming process.
Cons: You still have to trim.
Cost: From $15-$90 depending on the size
DIE CUTTING MACHINE
My second HST method is tied for first place in my own poll (hehe). A die cutting machine is one of my favorite ways to pop out a half square triangle quilt. I've used AccuQuilt and Sizzix (affiliate link) and have been happy with with the results from each machine.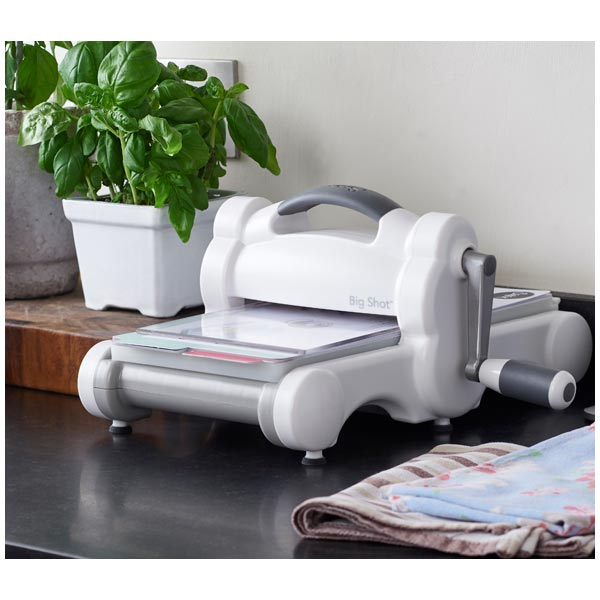 Sizzix Big Shot die cutting machine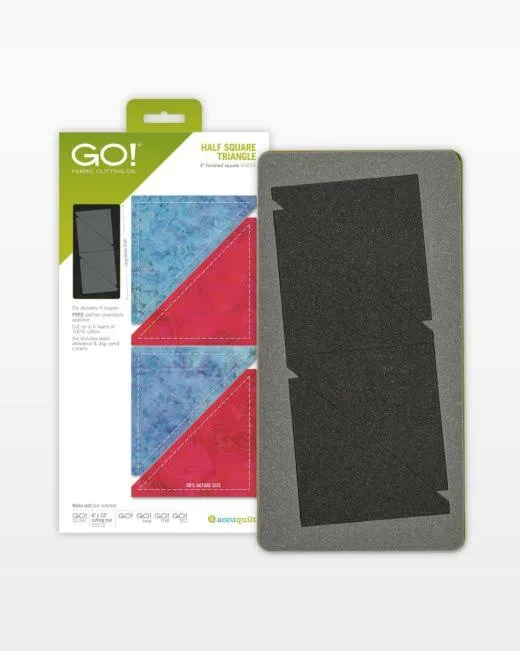 Accuquilt dies for half square triangles cutting machine
A die cutter is a time cutter because it cuts and trims the HSTs before you sew them. It makes HST blocks quickly – all you do is sew two triangles to join all the squares together.
I love using a die cutter because it basically pre-trims the HSTs. The downside of using a die cutter is that you end up with fabric waste.
Here's what a half square triangle die cutter looks like and the cut, sewn and pressed triangles.
Instead of stitching diagonally on a pair of squares, you start with trimmed triangles. They pop out of the machine in the desired size.
Like a starting square HST block, chain piecing is the way to go, go, go. Place right sides together and sew a quarter-inch seam line on the longest edges of the block. The notches line up the seam perfectly.
Beware of stretching the triangle's bias edges when stitching the seam – handle carefully.
See how the corners are pre-trimmed? No dog ears. Press the HST seams open or toward the dark side of fabric. Once the HST unit is pressed, you have a perfect square. Without trimming. None.
Pros: Trimless! Pain-free wrists! Save time!
Cons: Fabric Waste
Cost: Most expensive: Dies start at $35 and up; Accuquilt cutters start at $129.
The Perfect HST's Paper Templates
I love this third HST method for making blocks from paper templates called Perfect HSTs. Lee Heinrich, Freshly Pieced, created an ingenious way to paper piece HST quilt blocks.
Even better, it's a resource in your digital pattern library. It comes in a range of sizes and I print as many copies as needed.
Perfect HSTs includes instructions on each sheet. I found it super simple with a little practice. Basically, layer the fabric right sides together and then pin the paper to the fabric. Stitch along the outside and on the two diagonal lines inside each square.
Perfect HSTs are great for quilt patterns that needs a few quilt blocks or hundreds of quilt blocks.
4 Reasons to Use Perfect HST's
I don't have to strive for accuracy – the seam allowances and stitching lines are already marked.
The stitching line and seam allowance for the diagonal lines are easy to see and sew.
Not quite autopilot quilting but close enough for me. PERFECT for binge watching!
The presser foot slides over the paper without pulling the fabric on the bias edges.
HST quilt patterns are within reach now, amiright?!
After you've stitched along all the stitching lines, cut along the cutting lines, remove the papers and then press.
And you get…ta-da! Perfect HSTs! No trimming!
I should note here that I sewed my sample triangles incorrectly. See how I sewed a right side to a wrong side? (sad trombone).
Pros: No trimming. No fabric waste.
Cons: Paper piecing (and removing all those papers) unless you use my Freezer Paper Piecing technique.
Cost: Most affordable – starting at $10.
Thangles Templates
Thangles are very easy to use, too. Similar to Perfect HSTs, they are a paper template. The drawback is that they aren't reusable, so you'll spend a chunk of time removing the paper when you've finished sewing.
On the pro side, you can make hundreds of half square triangles in a half day. You never have to cut triangles or use 7/8″ math, or square up every piece by measuring and trimming.
When I made the Ocean Waves two-color quilt, I longed for shortcuts Thank goodness I tried Thangles – I made over 400 HSTs in a few hours for the Ocean Wave half square triangle quilt. I love seeing this finished quilt – I was so happy to finish it early!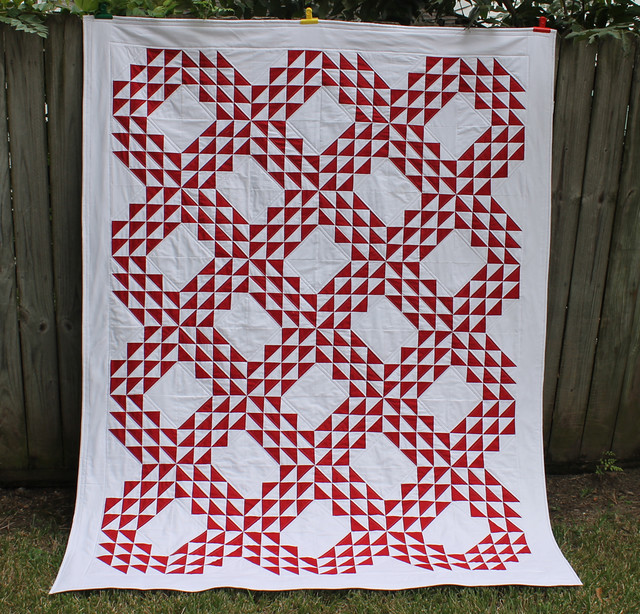 Pros: No trimming. Or cutting out fabric squares. No math or difficult bias edges (they are cut apart on the grain of the fabric – ingenious!) Affordable papers come in finished block sizes from 2 to 6 inches in separate packages that make hundreds of blocks.
Cons: Removing lots of papers takes time. Not a reusable resource – use once.
Cost: Affordable – starting at $6.99
FREEZER PAPER PIECING WINS TOP SPOT IN MY POLL
Surprise! Here's HST method #5. I know I said there were four best methods. Bonus?!
So right now, you might be thinking, "Hey wait a minute, Becca…don't you hate paper piecing? Why are YOU paper piecing?"
I polled myself.
Giving it some thought, I realized that my dislike for half square triangles and trimming half square triangles is greater than my dislike for paper piecing.
What can I say? I'm a big bag of contradictions! Ha!
And yes, I use the Freezer Paper Piecing method when I use the Perfect HSTs. Here's what the templates look like on freezer paper. And for those of you in the Freezer Paper Piecing Masterclass, the demo is in Module Two.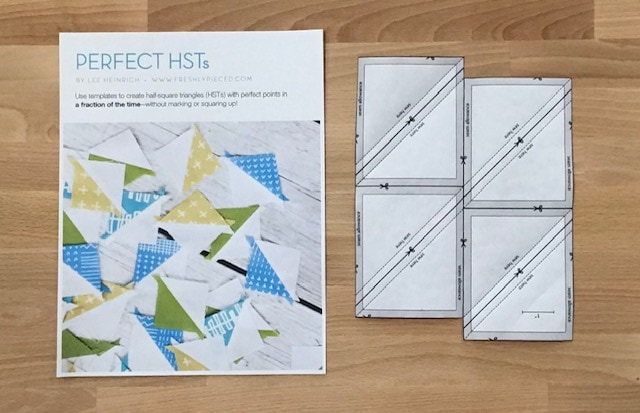 MODERN TRIANGLES – MY FAVORITEST METHOD
I mentioned earlier that I create modern twists on HSTs – they're in my Modern Triangle Quilts book.
They are my favorite HST blocks and half square triangle quilts. Mixing them up and making half square triangle quilts is so much fun!
Truth and tell: I have to trim them. There, I said it. All because I use the freezer paper piecing method for my modern triangle blocks. Sometimes it's worth taking time to trim. See? I'm a big bag of contradictions AGAIN.
Meet one of my HST units from one of my Make Modern Triangles BOM programs, Rainbow Triangles.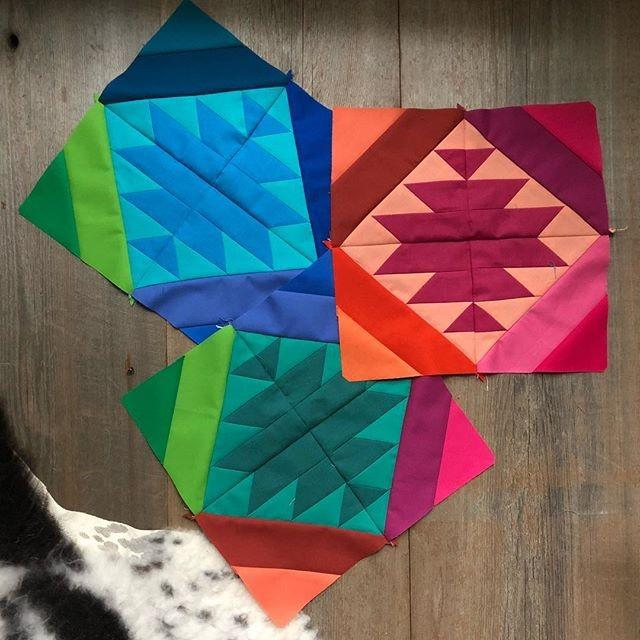 Here is the finished modern quilt pattern…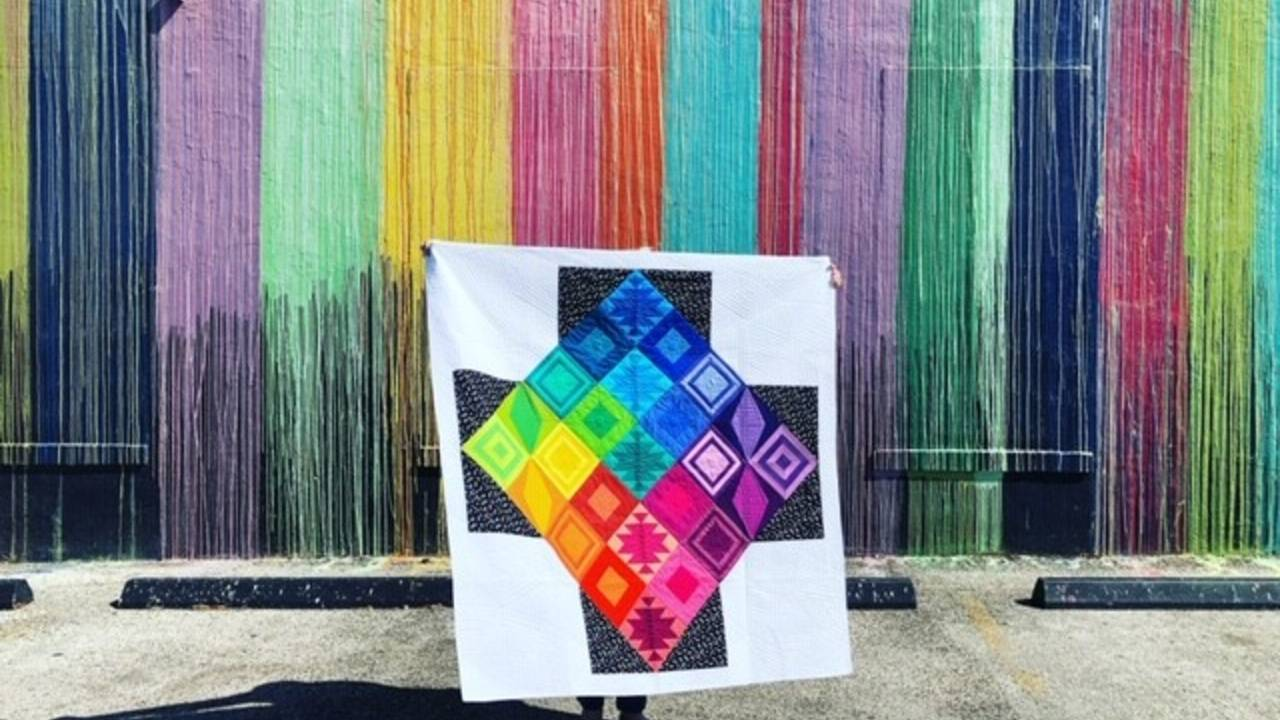 WHEN TO USE EACH METHOD?
I'll use each of these techniques depending on how many half square triangles I need. If I'm making a ton, I will do a die cutter or the Perfect HSTs templates.
I really love to use the die cutter, but sometimes I don't have fabric to waste.
If I'm making a small amount, maybe between 20-50 HSTs, I'll use the Bloc Loc Ruler.
Be sure to download my HST Size chart here to skip the tricky math questions and see the fabric requirements for each size and quantity, especially when switching out fabrics.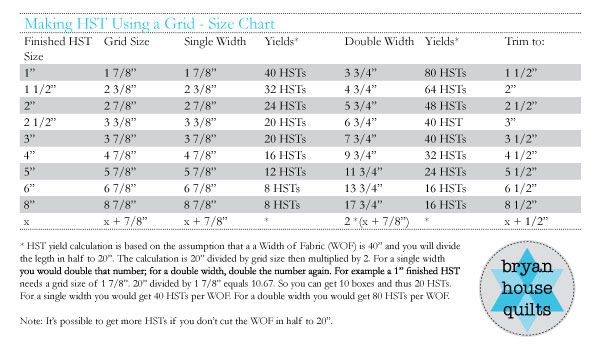 WHAT ARE YOUR THOUGHTS ON HSTS?
Whether you love or hate half square triangles, they are here to stay and have taken hold in modern quilt patterns. When I realized I could combine modern triangles – usually foundation-pieced triangles – with a regular triangle – my modern triangle quilt designs got a fancy upgrade.
Do you use shortcuts for making HSTs?
Have you made a half square triangle quilt?
Maybe you enjoy trimming? Already love HST blocks?
Have a favorite HST pattern?
Let me know your thoughts in the Comments section!
FREE CLASS AND FREE PATTERN
Try a modern triangle class for free and get a free quilt pattern – the Scrappy Whirligig. She's mighty cute!
Use this LINK to get started.
MORE RESOURCES
Freezer Paper Piecing Masterclass – Magic Mini Quilt
MODERN TRIANGLE QUILT GALLERY
Modern half square triangle quilt patterns: Lucy in the Sky
Lucy in the Sky quilt features black and white half square triangles forming an Ohio Star pattern around a center rainbow block. I used foundation piecing to form the colorful center half square triangle.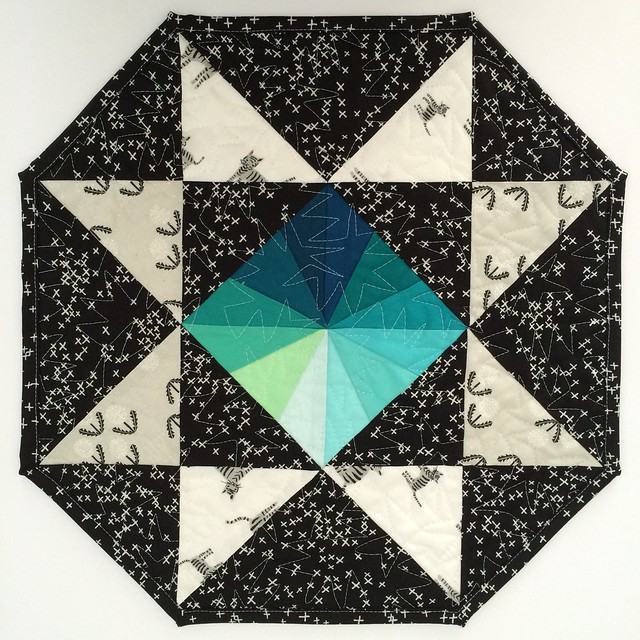 Instead of changing the layout, I changed the center color palette to rainbow, which made choosing fabrics E-Z!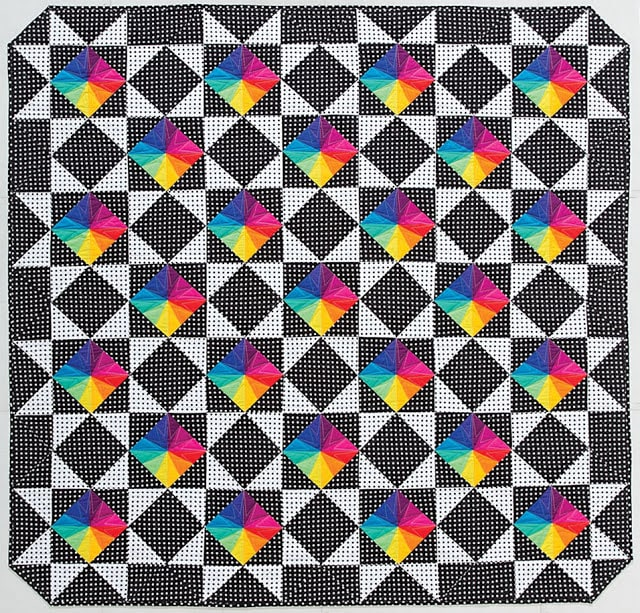 A bold design and easy squares to sew together. You could even use scrap fabrics for the centers.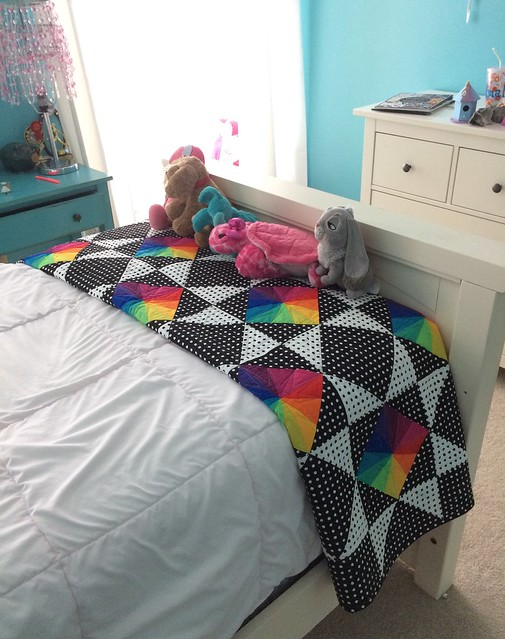 Modern half square triangle quilt patterns: Alpine
By playing with four repeating blocks made of four modern triangles, I created a sampler effect with a focal point center block.
I think it looks way more complicated than it was. 'How did she do that?' they might ask.
Modern half square triangle quilt patterns: Sparkler BOM
The final quilt in the gallery is Sparkler BOM in four color patterns. Color gradations worked well in the finished quilt to blend the galaxy of stars with a few standout sparklers.
Ta-da!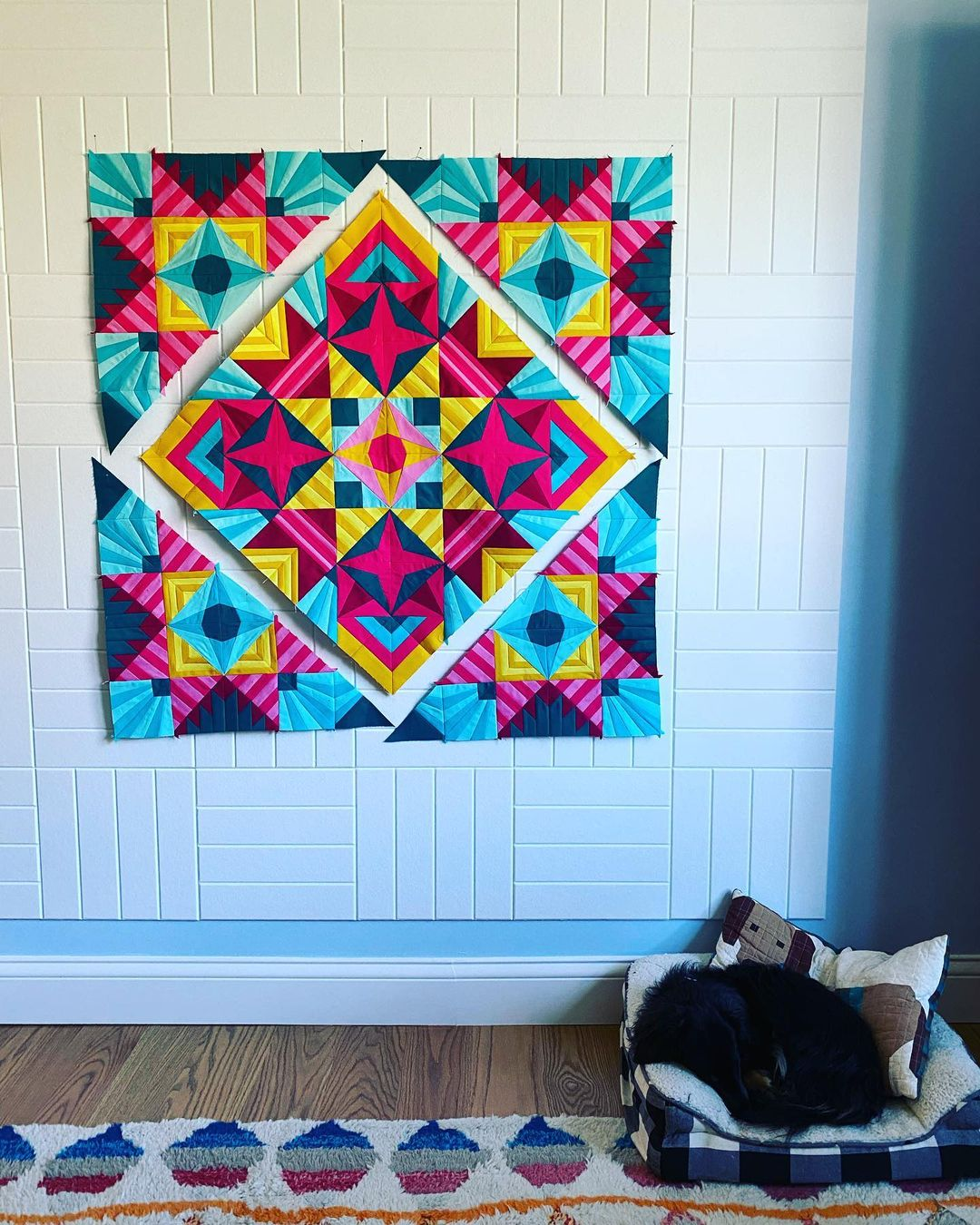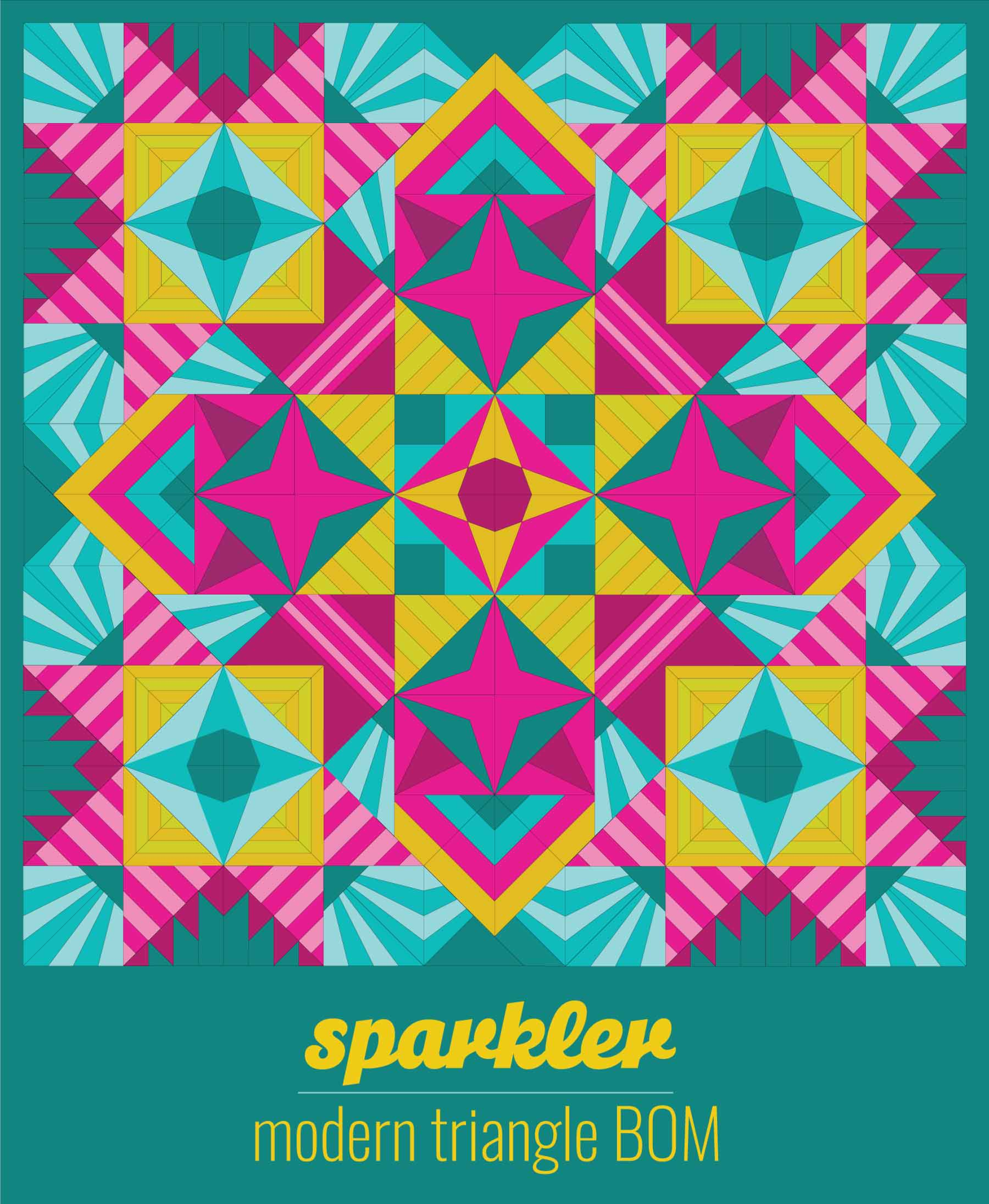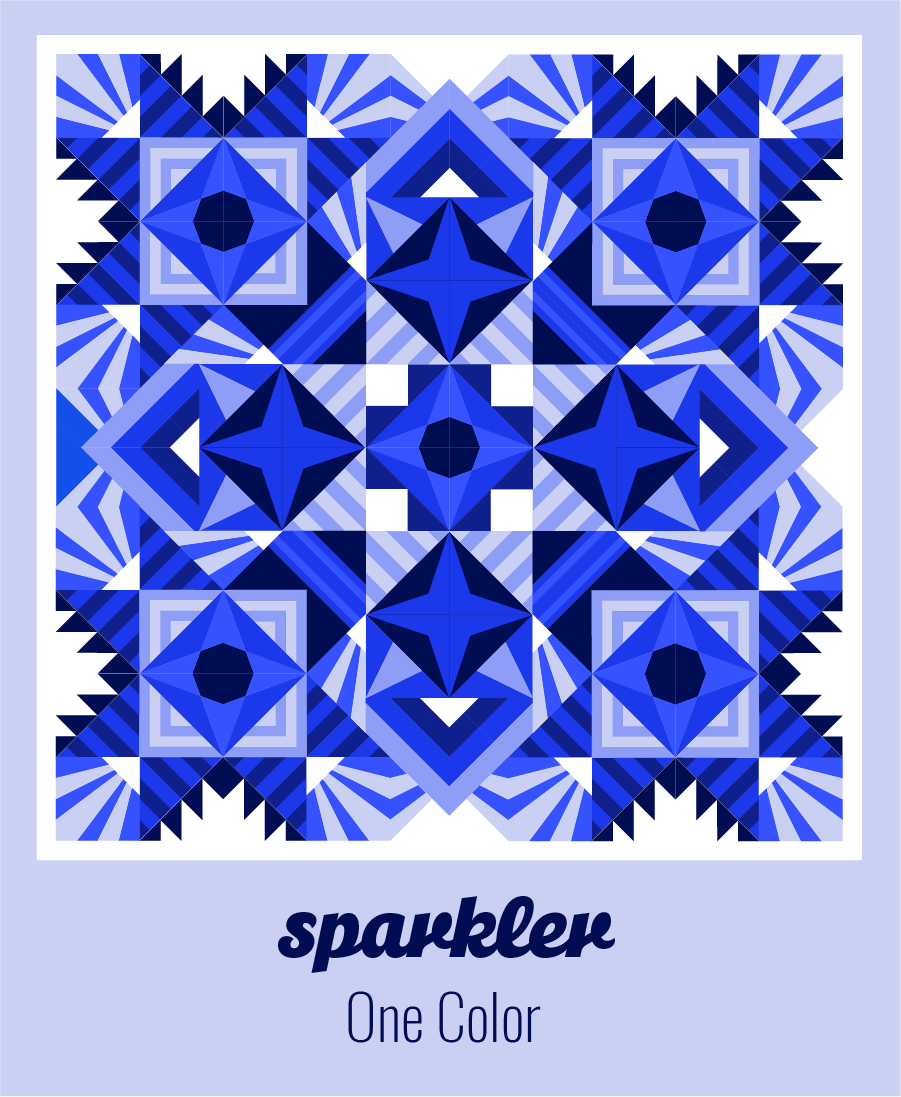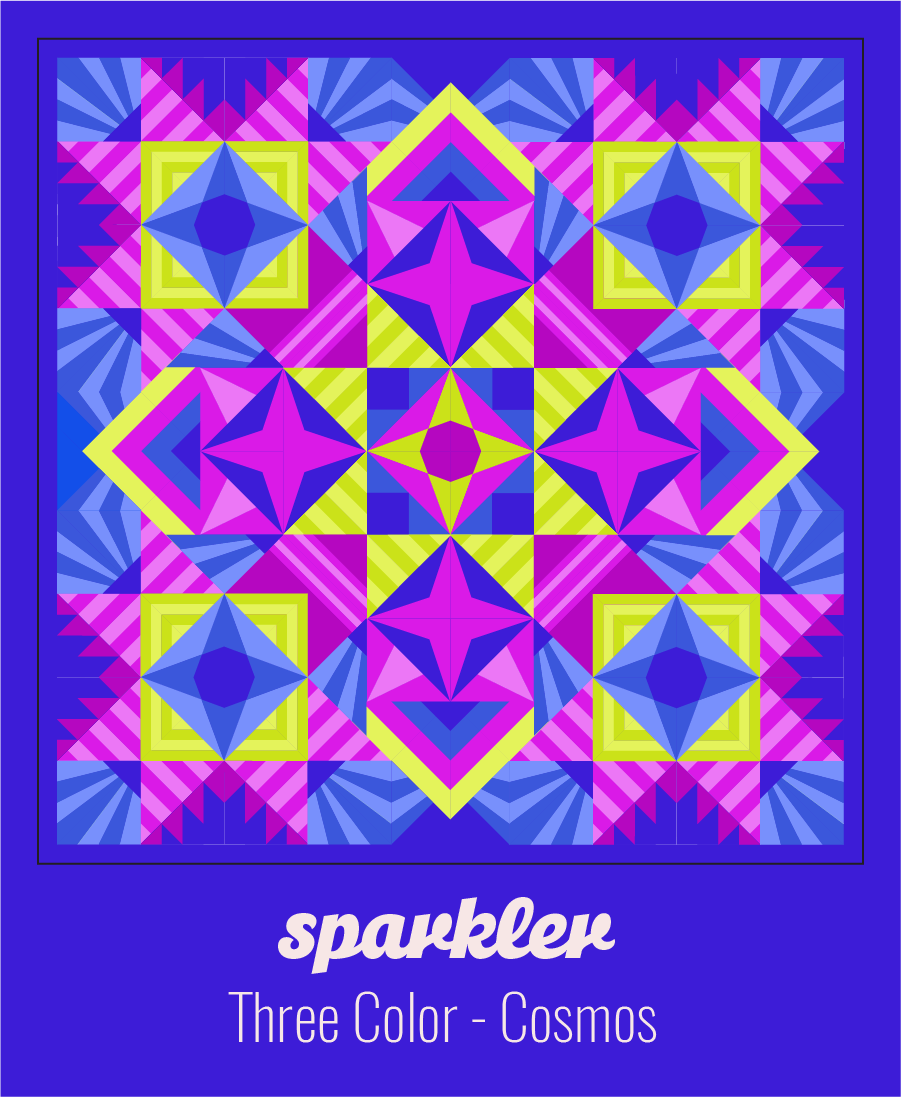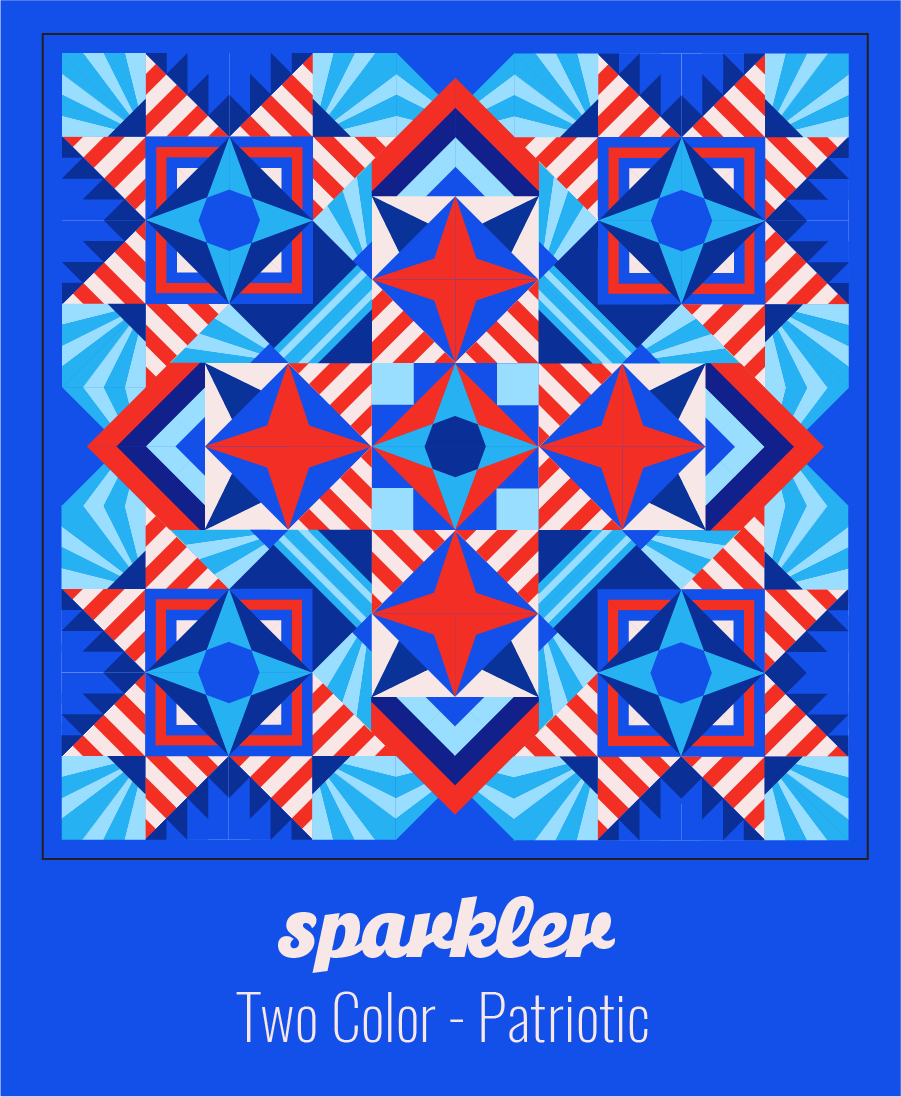 Modern half square triangle quilt patterns: Stargazer BOM
Watch the HST block morph with unique color combinations in this half square triangle quilt. HSTs are fantastic design elements when combined with modern triangles and beautiful fabric!
Quilting inside the triangles is fun – the triangles are small and manageable for free motion quilting and ruler quilting.