This Saturday I'm teaching a live, virtual quilt workshop over Zoom and I thought I'd give you a behind the scenes look at how my virtual workshops work!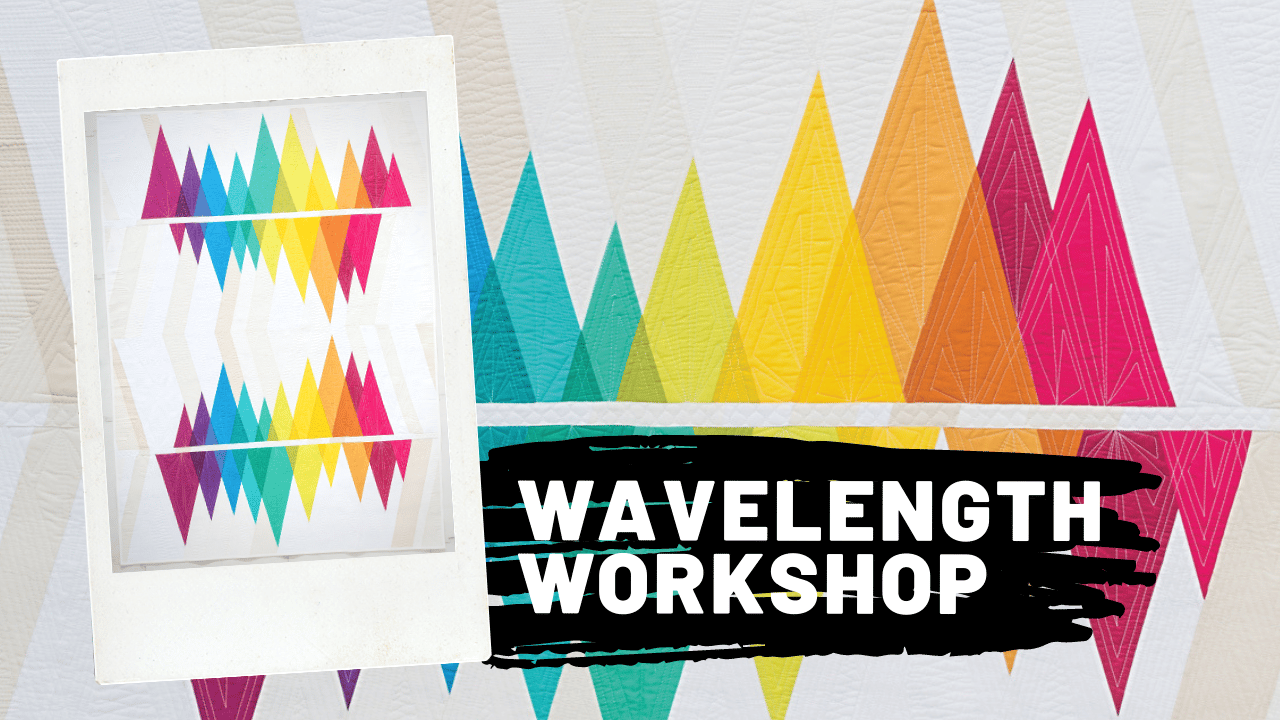 Live virtual workshops summed up by a candy…
? My live workshops are kinda like "Now and Later" candy. ?
I've put a lot of thought into your ?enjoyment?of my virtual workshops. My goal is for you to have an enjoyable experience in the here and now. Then get everything you need to create the complete project, later.
I don't want anyone to feel stressed about having to keep up, that's the worst! That's why I make the polished replays and recordings available.
Enjoy the live virtual quilt workshop experience ?now? and create the project at your own pace later with the complete, on-demand workshop.
How long have you been teaching live?
Actually, I started teaching virtually in 2017…. waaaay back before Covid! At first I was nervous! But I was surprised to discover how much I love teaching virtually!
I know this year has been incredibly rough, but personally it's been a silver lining to watch other teachers and quilters discover just how great virtual teaching and learning virtually can be!
What happens before the workshop?
This is what happens once you register:
The system will prompt you to create a password.
Then you'll be taken to the confirmation page.
You'll check your inbox to find the confirmation email with links to a workshop prep google doc with the digital copy of Modern Rainbow Quilts.
Reminder emails will be sent in the days leading up to the event with the Zoom link.
On the day of the event you'll be able to join the Zoom meeting 15 minutes before we start.
What happens if something goes wrong?
Look sometimes… ssssstuff happens. Even in the phsycial world sssstuffff happens. Someday, if we meet in person I can tell you some horror stories of ssssstuff happening at my in person events. Boy howdy!
Anyways, we give ourselves grace for when things go wrong. And? If sssssstuff happens, we'll come up with a Plan B. (I always have several backup plans! Don't you worry!)
I always take care of my students!
What happens after the workshop is over?
After the live virtual quilt workshop is over, I'll send the raw footage to my video editor. She will clean up and split the video into more polished videos with segments.
Once I have the finished videos, I'll upload the videos into a software called Searchie, which will create the Closed Captions and searcheable videos.
Finally, I'll send the polished recordings to workshop participants!
All in all, this will take about 2 weeks time from live experience to finished on-demand videos. Not counting all the prep work, of course!
Ummmm… what is Searchie?
I kinda love this new software! It's one of my "robot secretaries" that helps me run my business and be present as a great teacher!
There's so much that Searchie can do, I'm just barely scratching the surface. Basically, it is this really cool new app that creates searchable videos via transcripts.
Aside from creating closed captions, I also use Searchie to help me write my blog posts. I create an outline for a Facebook live, do the Facebook live, grab the transcript from Searchie, and "write" the blog from the transcript. It's pretty great! Such a huge help!
If you're a content creator, like me, and want to streamline your content creation or get more from your content, check out Searchie here.
Other questions?
So, that's a peak behind the scenes of how a live virtual quilt workshop works! What other questions can I answer for you?
I'm going live on Facebook today (Wednesday at 1pm Central) to discuss the background options for Wavelength. And I'll be happy to answer your questions!
Click here for the Facebook live link.
Want to save a spot for Saturday's workshop?