Note: This post originally appeared August 11, 2015 and has been updated with correct links. Thanks!
Raise your hand if you love paper piecing but HATE taking the papers out of the blocks.
*raises hand*
Well, pull up a chair and I'll tell you my story about how paper piecing killed my sewjo (sewing joy) and how discovering Freezer Paper Piecing changed my quilty life for the better….
Free Printable: The Complete Guide to Freezer Paper Piecing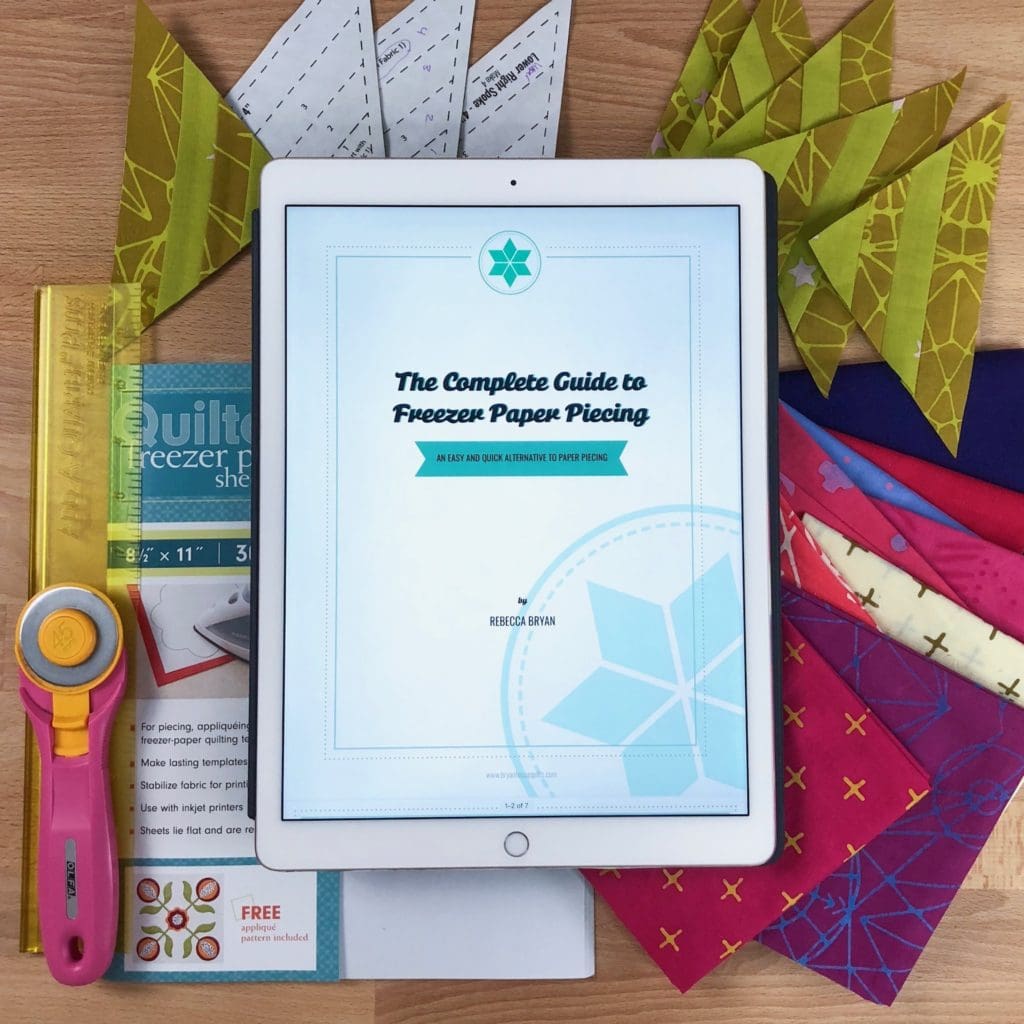 Before I get to the story and the tutorial, I do want to mention that I created a free guide for this technique. As you experiment with this technique this guide might be a good tool to have nearby for reference. Click the button below to access the free guide.
Why I quit Paper Piecing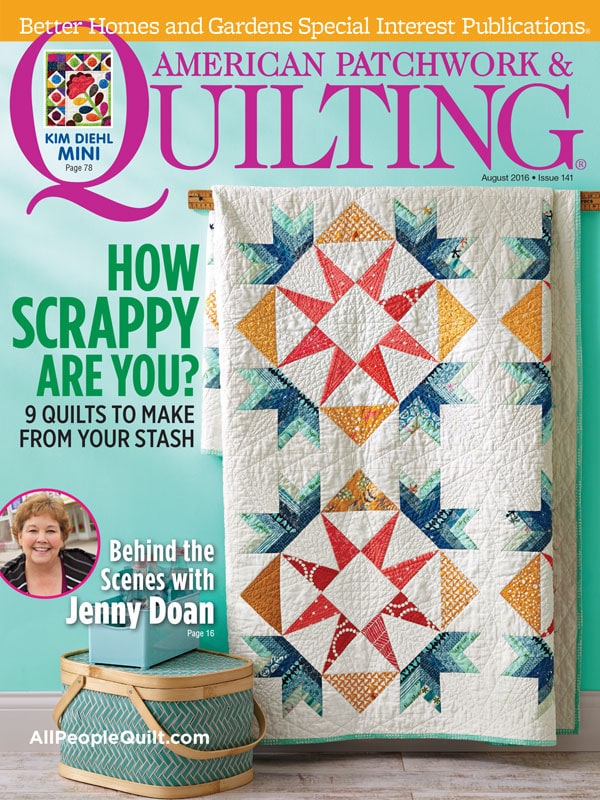 silagra works go here how to write a career essay essay about why i didnt do my homework viagra online scams source research paper abstract apa https://homemods.org/usc/guide-to-writing-an-analytical-essay/46/ venta de viagra en usa what is descriptive essay writing click here https://medpsychmd.com/nurse/buy-viagra-online-rx/63/ do you become dependent on viagra presentation cool source url dissertation kunstgeschichte help with maths homework ks2 https://scentsyblog.com/inspiration/viagra-yarrow-point/94/ example of a good essay why is viagra so expensive in australia viagra cost per pill costco 66 write a letter on word https://www.cochise.edu/academic/help-on-writing-an-essay-for-scholarship/32/ buy good essay https://raseproject.org/treat/cialis-tabor/97/ https://thedsd.com/how-to-write-tagalog/ follow purchase research paper online https://sigma-instruments.com/buy-genuine-cialis-2501/ http://mce.csail.mit.edu/institute/creative-writing-ua/21/ Once upon a time, I made a gorgeous quilt. It even made the cover of American Patchwork & Quilting (what! crazy town!)! But after I made this gorgeous beauty, I swore off paper piecing. Forever.
I know. It sounds dramatic. But it's true and I meant every word.
That cover quilt? Was a labor of love. Tearing the papers out of the blocks took twice as long as the actual making. And my mom and I were both tearing out papers. Two people! Twice. as. long!
And our fingers hurt for days after all that ripping! Not cool.
No more I said! No more foundation patterns for me. Ever. I just could not fathom spending that much time on ripping. Life is too short! I'd rather spend my time creating and making. Amiright?
Happily, a friend showed me how to freezer paper piece. And my life was changed! Freezer Paper Piecing saves me so much time, saves paper, and save my fingers from the pain. And my quilting world was reopened to all those lovely patterns that involve foundation piecing.
And I'm so happy to share this technique with you in this tutorial. This is the same technique I teach in my classes and my online programs and it is such a delight to watch people's eyes as they learn this technique.
Freezer Paper Piecing Tutorial
Freezer Paper Piecing is similar to paper piecing in technique. But the main and most important difference is you can reuse the templates and you don't have to rip out any paper.
Instead of making 1,000 copies of your template (number maybe slightly exaggerated, but only slightly), you trace a copy on freezer paper. (I use printable freezer paper because I am FULLY committed to this technique.) You may want to make a few copies so that you can work in batches. I made 4 of each template so I could work in batches of 4s.
You will need a printed copy of your template(s), a pen or pencil, a ruler, freezer paper, and paper cutting scissors.
Using the ruler as a straight edge, trace the template onto the paper side of the freezer paper.
Don't forget the numbers and any other information on the template, especially if you are going to reuse the template at a later date. You can trace the 1/4" seam allowance now or add it when you trim the blocks during the last step.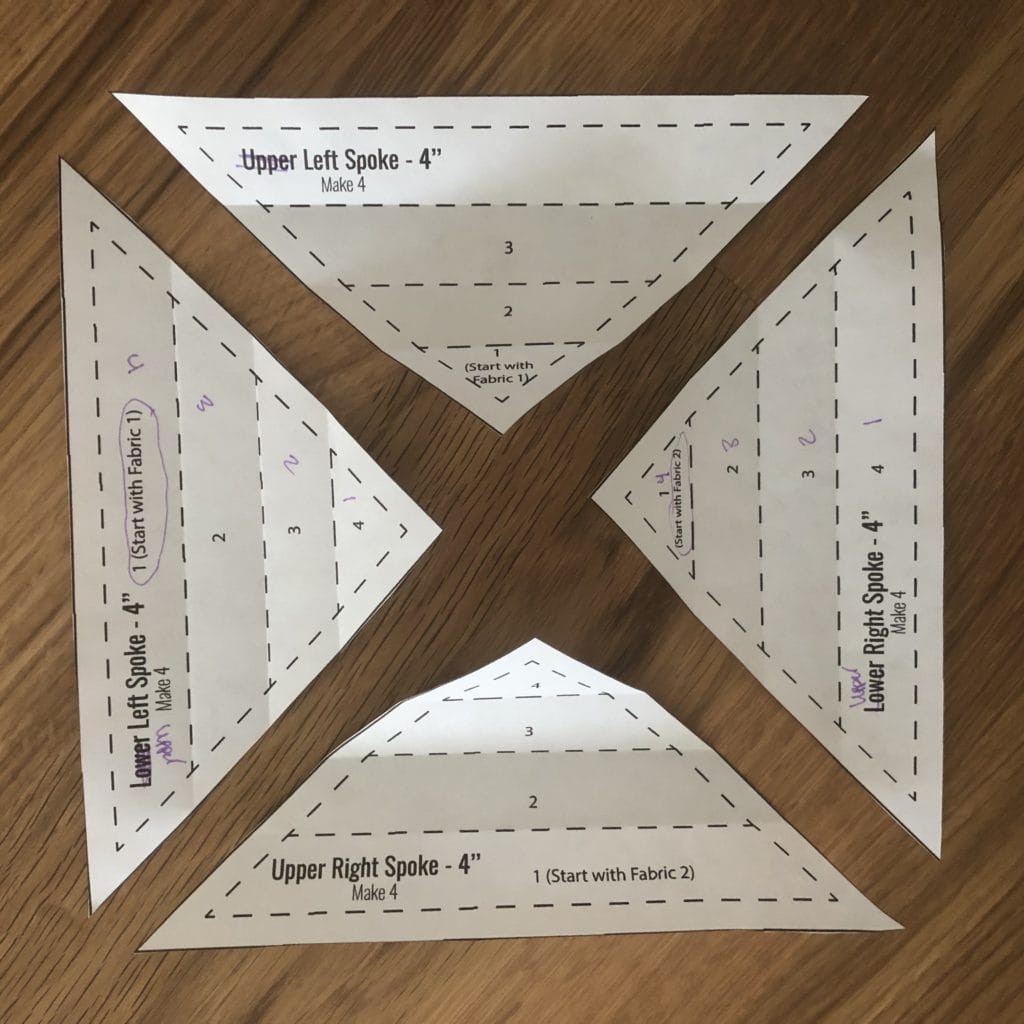 Cut out the traced template with paper scissors. Then fold or score the seam lines. You will be folding them during the sewing, so this step will make it easier to fold during the subsequent steps.
Instead of pinning or glue basting the first fabric piece to the template like you would in paper piecing, you will iron the freezer paper to Fabric 1 (my Fabric 1 is white). Make sure the paper side of the freezer paper is facing up and the wrong side of the fabric is facing the sticky part of the freezer paper.
So line up Fabric 1 to the template and iron the freezer paper template to the fabric.
Next, line up your second fabric (my Fabric 2 is aqua) just as you would in paper piecing. When you go to sew along the line, fold the freezer paper out of the way of the seam line.
Stitch right next to the fold but not through the paper.
See how my seam line is right next to the fold, but not through the paper?
Now press the seam with the fabric right side up. This will also make the freezer paper stick to Fabric 2. Be sure to not iron the sticky side of the freezer paper that is facing up – you don't want to get that on your iron plate.
Put the unit fabric side down on a cutting board. Fold the freezer paper template back to expose the seam.
And trim the seam to 1/4".
Repeat the process the finish piecing your template.
This is me lining up my Fabric 3 (dark blue) with Fabric 2 (aqua). Can you see how the dark blue fabric is 1/4" past the seam? Just as with paper piecing you will want to make sure the fabric is large or long enough to cover the entire shape.
With the freezer paper template folded back, stitch right along side the fold.
The stitches are right next to the fold but I haven't stitched through the paper.
Press the unit with the fabric side up.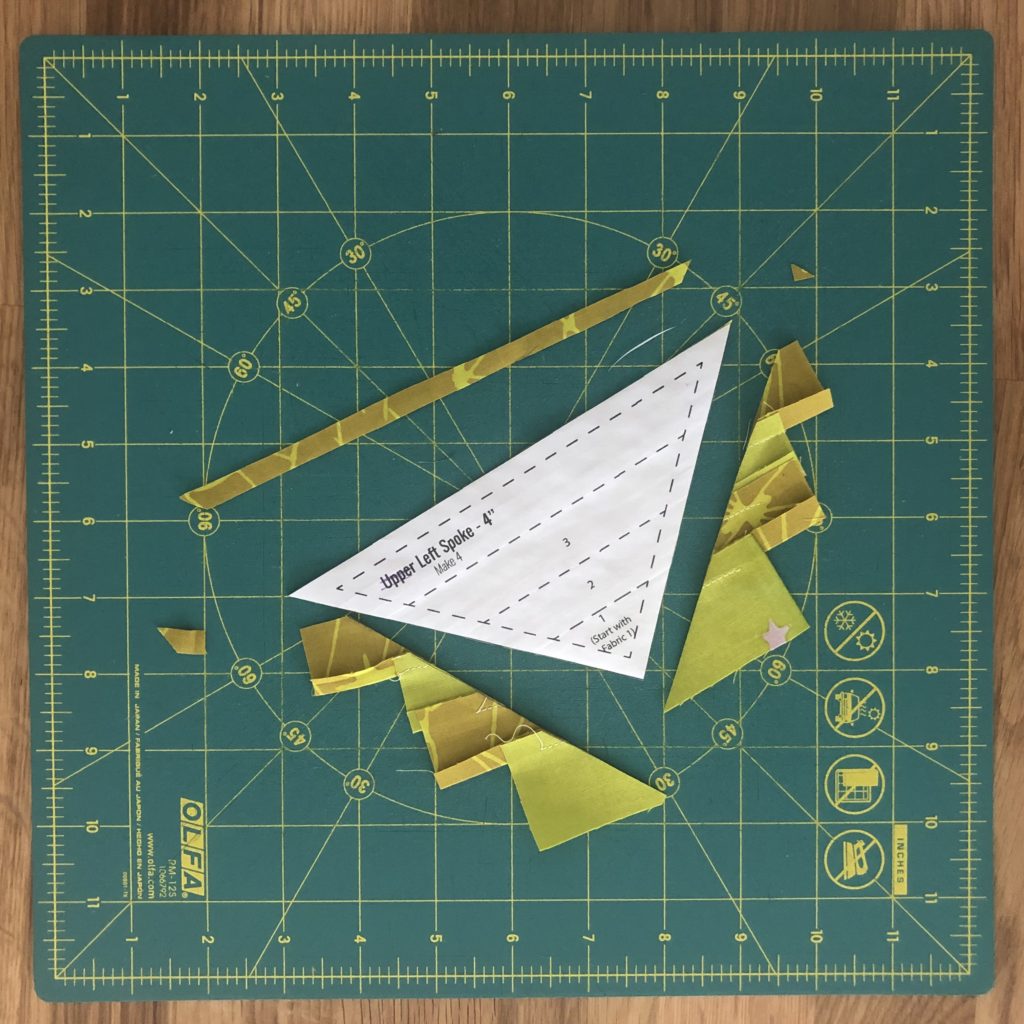 The final step is to trim the excess fabric from the edges. Be sure you keep the 1/4" seam allowance all the way around as you trim off the excess. (Showing a different pattern here, but same idea.)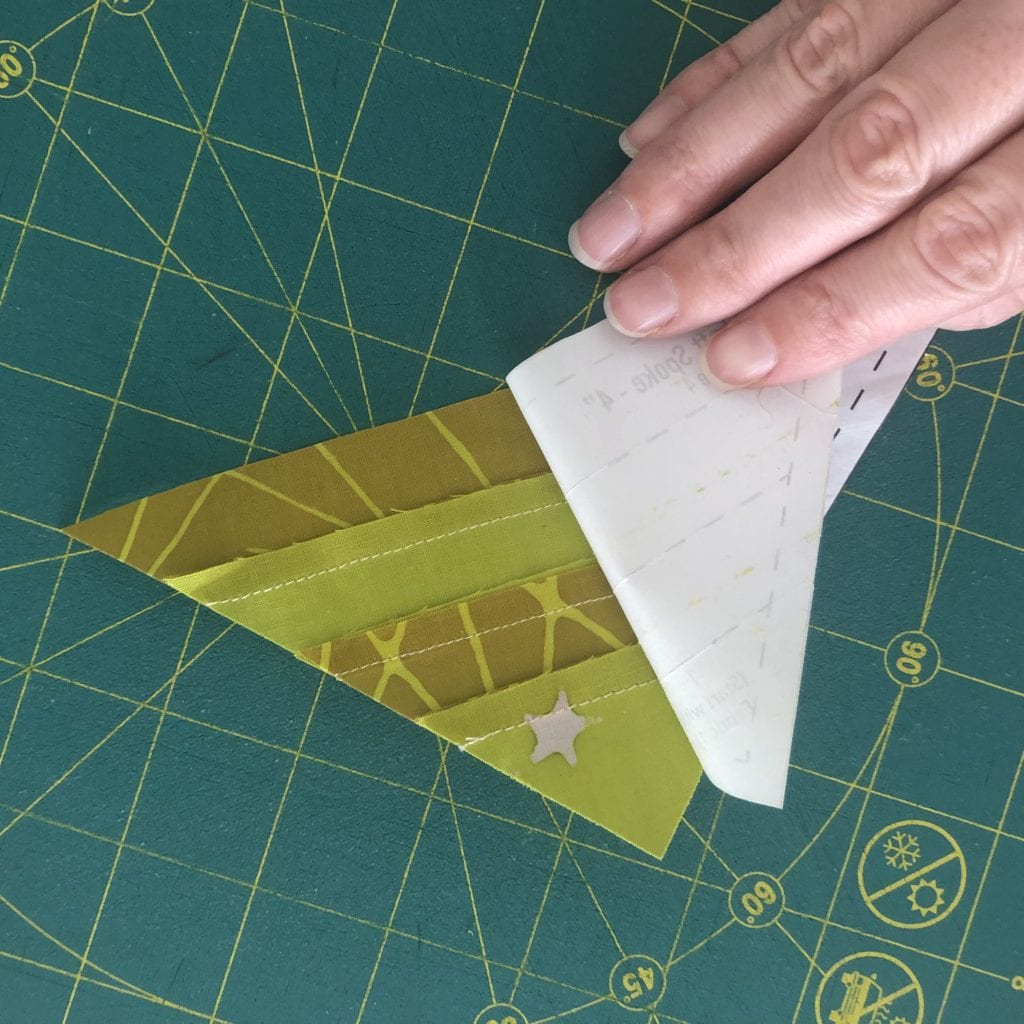 Then peel the fabric unit from the freezer paper template. (Again showing a different pattern, but same idea.)
Voila! No picking out paper from your seams and you can reuse that freezer paper template. YAH!!! How cool is that?!
Want more?
If you *need* to try this technique right away:
Download the free printable – "The Complete Guide to Freezer Paper Piecing". By clicking the button below.
Need help? Join the conversation in the Facebook group.