Hello and welcome!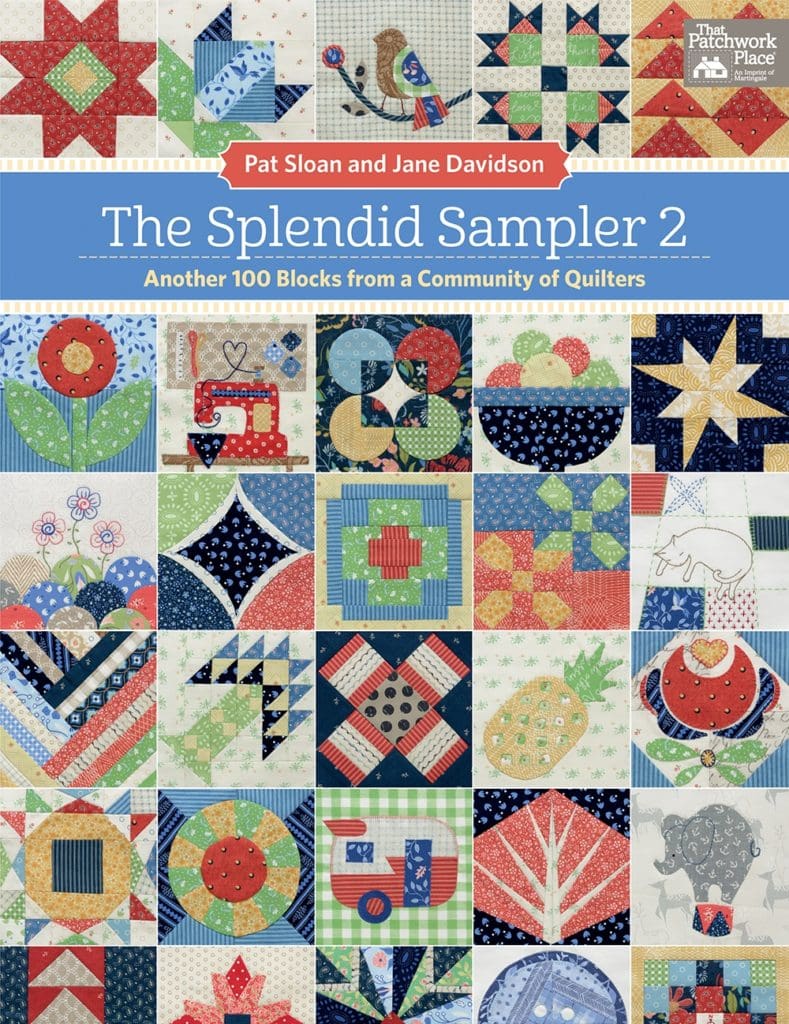 I am SO pleased to be a part of the Splendid Sampler 2 Designer Group. The Splendid Sampler is a wildly popular sampler and community sewing event hosted by non other than Pat Sloan and Jane Davidson.
The original Splendid Sampler was such fun, Pat and Jane decided to do it again. And lucky me, I get to be a part of it.
If you are new here, let me introduce myself. I'm a textile artist, teacher, and artist. I love working with color and helping my students learn to play with color. My favorite types of quilts are classics and improv designs – anything with a repeating shape motif. I'm an American expat living in The Hague, Netherlands with my family (husband, 4 kids, and Bruce Wayne the Wiener Dog) for the next few years. We hail (hale?) from Houston and St. Louis.
Ok, enough about me, back to the Splendid Sampler! The book doesn't ship until October, but instead of waiting for the sewing to begin, Pat and Jane decided to release 20 blocks ahead of time. And these first 20 blocks are free! Woot Woot!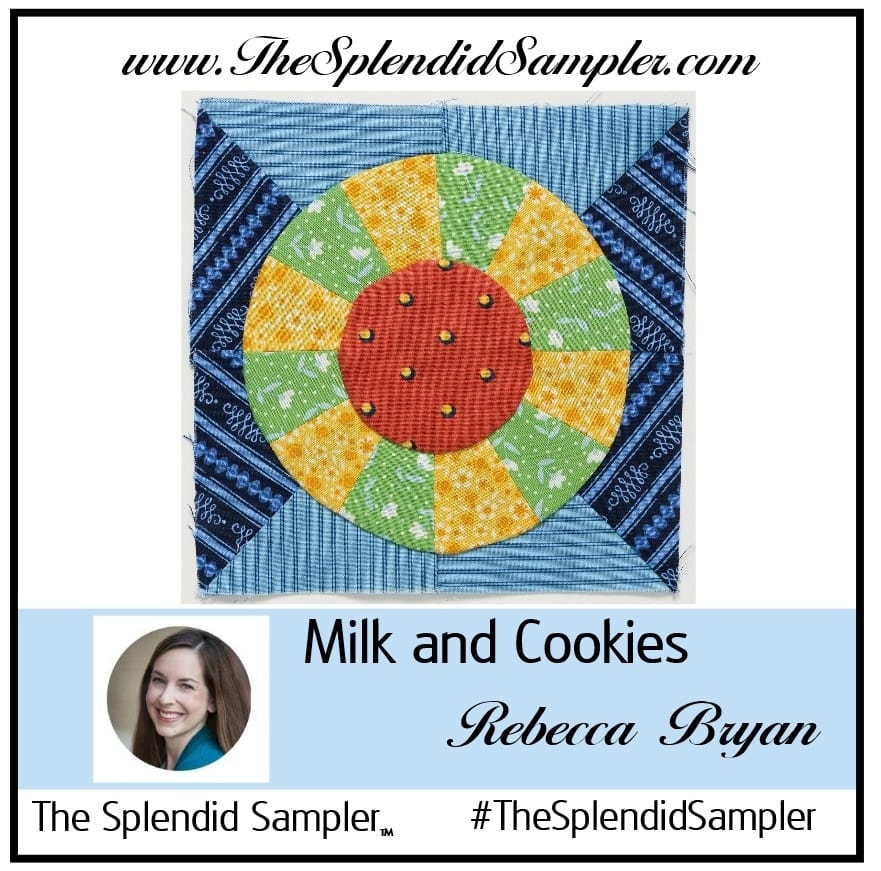 May I present my block? This is Milk and Cookies, inspired by my favorite treat and least favorite drink! Hey now, I like milk … in my coffee! Ha!
Head here for the free download of my Milk and Cookies block.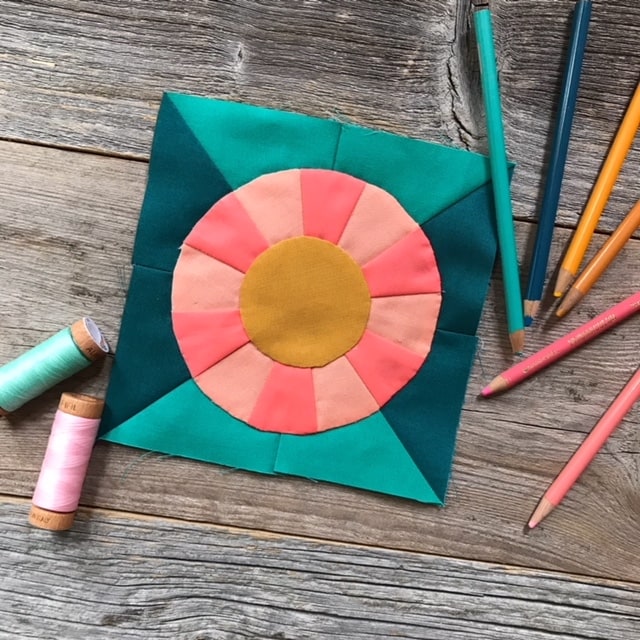 And here's my block I made up in a solid version.
Each block in the Splendid Sampler series finishes at 6" square. My block combines Half Square Triangles, wedge piecing, and appliqué.
Ok, ya'll out there that swear they aren't the appliquéing type… Let me be the first to tell you… SAME! Appliqué was on my "I will never" list, but you know what they say. Never say never! It's true!
Anyhoo, there are just some shapes that are easier to appliqué than to piece. But, let me just tell you I am a complete beginner! My stitches aren't perfect and my lines aren't perfect. I assume I'll get better with practice? Ha!
I hope you'll give appliqué a try with me.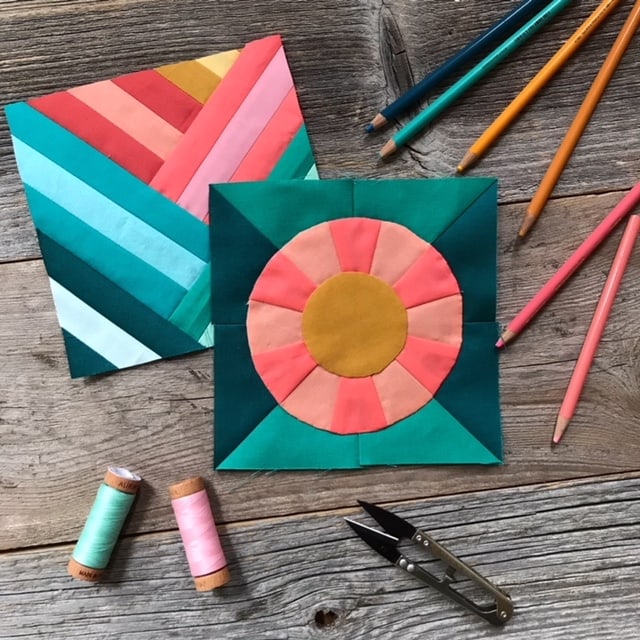 Here's all my blocks so far… Block 1 and Block 2. I'm using a really dreamy blue green, coral, and mustard palette. I love these colors! If you'd like to follow along with me, follow me on Instagram.
Important Dates
June 14th – Sew Along started with one block released each Thursday.
November 1st – the 20th block is given out.
December 6th – We start sewing from the book with blocks announced on Thursdays. You'll need to purchase the book to continue the sewing fun.
May 2nd is the planned end date. So it's a full year of sew along fun!
Head over here for complete details of the Splendid Sampler 2 Sew Along.
Where to get the book:
Pre-Order the Splendid Sampler 2 and Order the original Splendid Sampler on Amazon:
Or ask at your Local Quilt Shop.
How to Participate:
You too can sew along. Every week, a new block will be released on the Splendid Sampler website. You can sew along and add your block to the linky party.
Give us all your Appliqué Tips!
So, please please tell me and everyone else, all you appliqué pros out there, what are your top tips for appliqué? Next time I might try this trick from Sarah Fielke.