Hey guys!
After the fun and success of last year's quilt along, I thought it'd be fun to do another one! This summer's quilt along, which starts 4 weeks from today, features my Feathered Star pattern.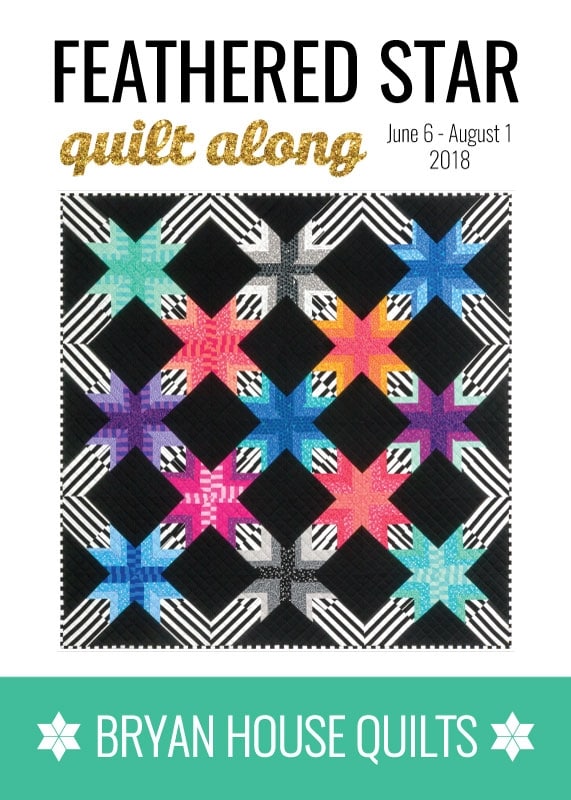 My Feathered Star pattern is one of my favorite quilt patterns because of the opportunity it affords to play with color and pattern. So, as part of the quilt along I'll show you some fun ways you can play with color and pattern.
The quilt along officially starts in 4 weeks on June 6th! RSVP now to stay up to date!
How to follow along
You have a few options to follow along:
Sign up for the weekly Quilt Along emails by clicking the RSVP button.
Follow along on Instagram using the hashtag #BHQfeatheredstarQAL.
Every week, on Wednesday, I'll be posting a quilt along blog post on my website.
Schedule of Events
Week 1 – June 6: Introduction and Planning
Week 3 – June 20: Piece and Cut Strip Sets
Week 4 – June 27: Piece Blocks
(Mid QAL Break – Happy 4th of July!)
Week 5 – July 11: Piece Border Units
Week 6 – July 18: Assemble Quilt Tops
Week 8 – August 1: Quilt Parade Link Up Party
Closing Post – September 6
Supplies Needed
The Feathered Star quilt pattern…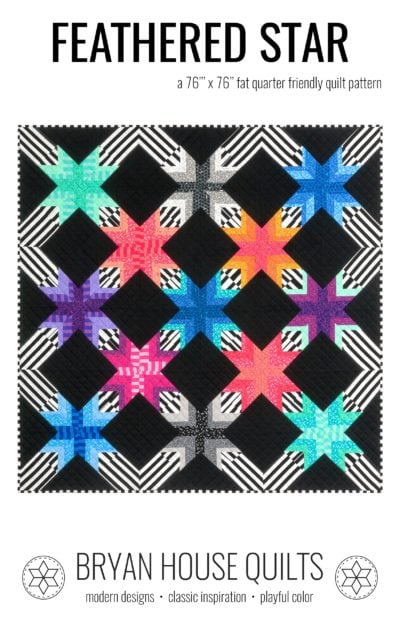 You'll also need:
Materials
21 Fat Quarters for stars (You can also use 1/4 yard cuts.)
1 3/4 yards black-and-white stripe fabric
3 yards black fabric for background
5 yards backing
84" x 84" batting
5/8 yard black-and-white stripe fabric for binding
Optional: Quilter's Template Plastic.
Fabric Choice
During Week 1, I'll get into more details as far as fabric choices and requirements. If you want to start thinking about color and fabrics now, you might want to know that each star uses 3 fabrics. Generally you'll need 21 Fat Quarters to make the 15 stars, but you can also use 1/4 yard cuts. (To rephrase, they don't need to be Fat Quarters.)
As far as design choices, there are a few options I can think of now. One option you can do is to group 3 values of the same color (light, medium, and dark) for each star. Another option would be to go entirely scrappy. And a third option might be to choose a main fabric with a couple of accent colors. Ah, I'm getting ahead of myself!
Where to find Fabric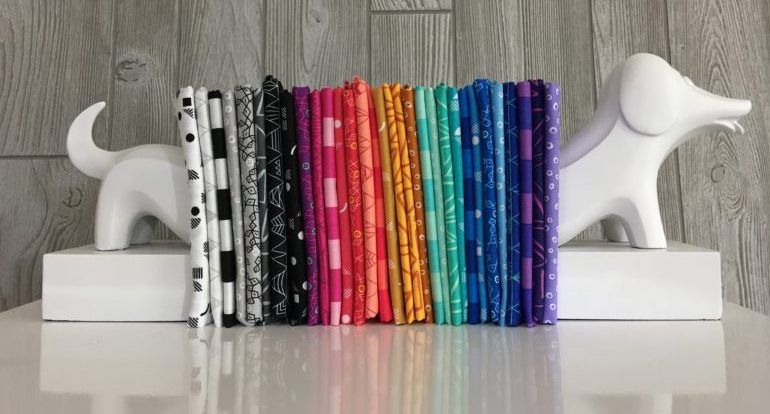 If you need fabric by the quarter yard, I like to shop at Stash Fabrics. (Stash Fabrics is sponsoring this quilt along and offering a prize!
If you want to make the Feathered Star quilt using Panache, you can check Stash Fabrics for fat quarter bundles. Or I still have (mostly) complete fat quarter bundles in my shop. Stash also has a bit of my Panache Stripe left, so hurry! It's hard to find!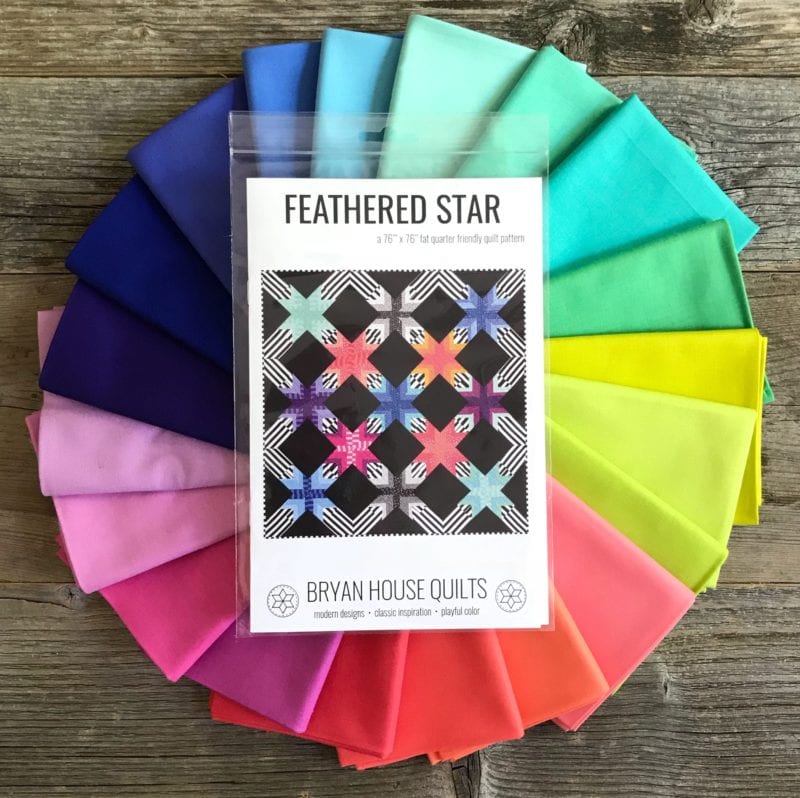 I thiiiiiink I'm going to remake mine using Tula Pink's solids. I've been wanting to play with those vibrant colors! (By the way, Stash Fabrics also has a few Tula Pink Solids bundles left.) I'm not sure what fabric I'm going to use for the stripe fabric yet… Hmmmmm!
Prizes!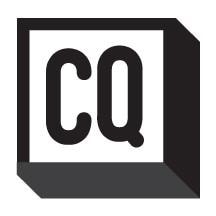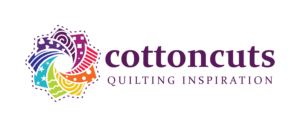 Oh boy oh boy! This summer I've partnered with some wonderful sponsors to offer weekly prizes! Here's a teaser of a few of our sponsors!
How to be eligible for prizes:
This quilt along will take place on Instagram using the hashtag #BHQfeatheredstarQAL. To be eligible for the prizes you'll need to post pictures on instagram, and your account will need to be made public. Otherwise we won't be able to see your wonderful work! You'll need to add the #BHQfeatheredstarQAL to your photo either in the description or as a comment on your photo.
Don't forget to RSVP!
I've put together a specific mailing list for those of you interested in the Feathered Star Quilt Along. If you want to have the quilt along emails delivered right to your email inbox, please RSVP and I'll put you on the list.
That's all for now! See you June 6th! Woot Woot!