Welcome to Week 4 of the Modern Triangle Medallion Quilt Along! This week we are making another 32 triangles, 16 of Triangle Block 18, 8 of Triangle Block 4, and 16* of Triangle Block 8 from Modern Triangle Quilts.
Note*, if your Triangle Block 8's for Week 5 are the same as Week 4, you may want to work ahead by making 16 Triangle Block 8's as I did. The instructions below assume the Block 8's are the same in Week 5 as in Week 4.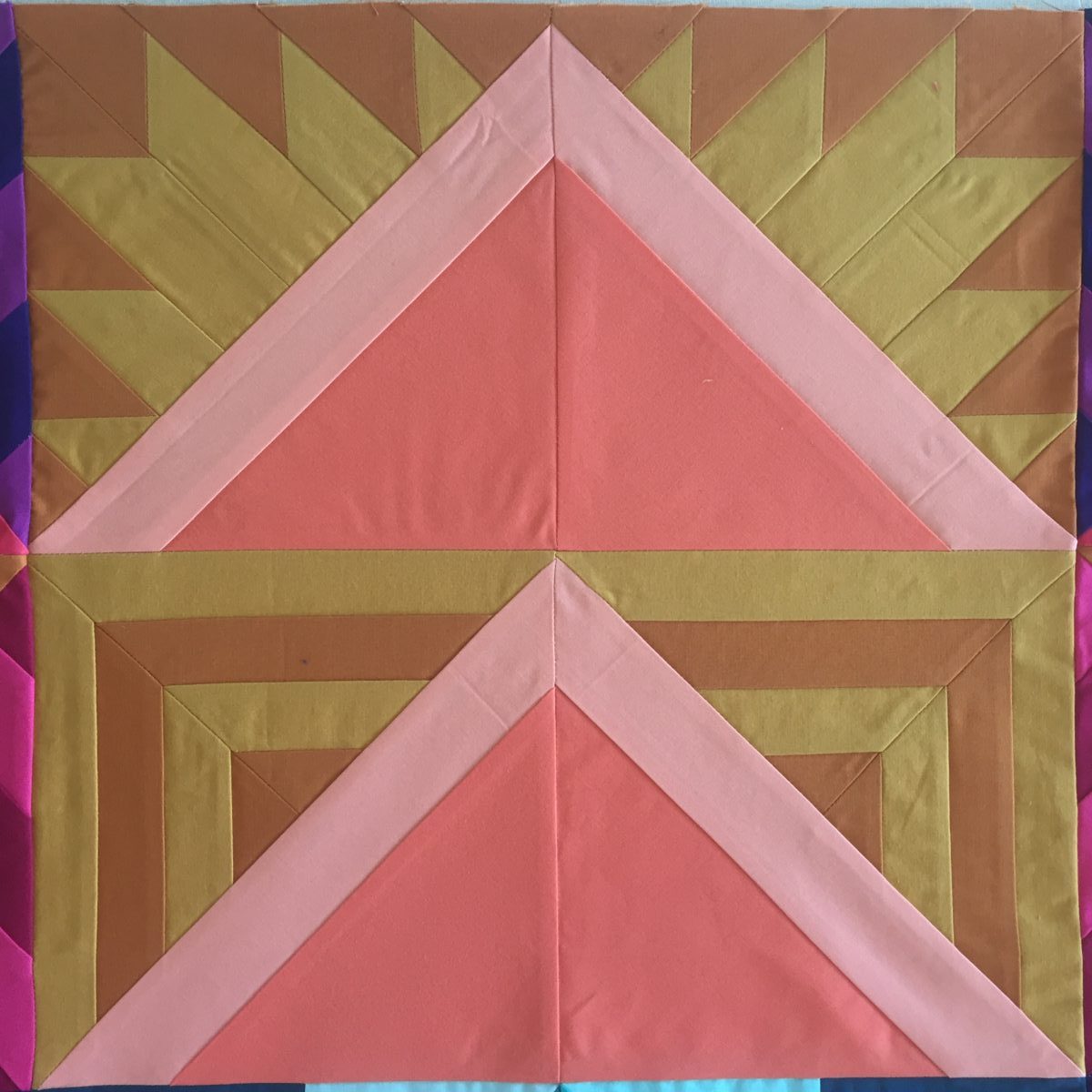 Remember you are always free to set your own pace. I know I am blazing through the quilt along, but rest assured these posts will remain up on my website for the foreseeable future. And, If you do want keep up, I will have some prizes to hand out at the end in September. Woot woot!
If you're new to our quilt along, take a few moments to go back to the Introduction Post where you'll find all the pertinent information about the Modern Triangle Medallion Quilt Along. You'll also be able to get the introduction printables, which have coloring pages and planning sheets. People have found them to be very helpful. So I don't want you to miss out!
Heads up! I have a modified instructions in the Bonus Printables, which you can access below or in the BHQ Resource Library. So you most certainly want to download that bonus before you prep your materials this week. I found the modification to be really, really helpful in my own piecing.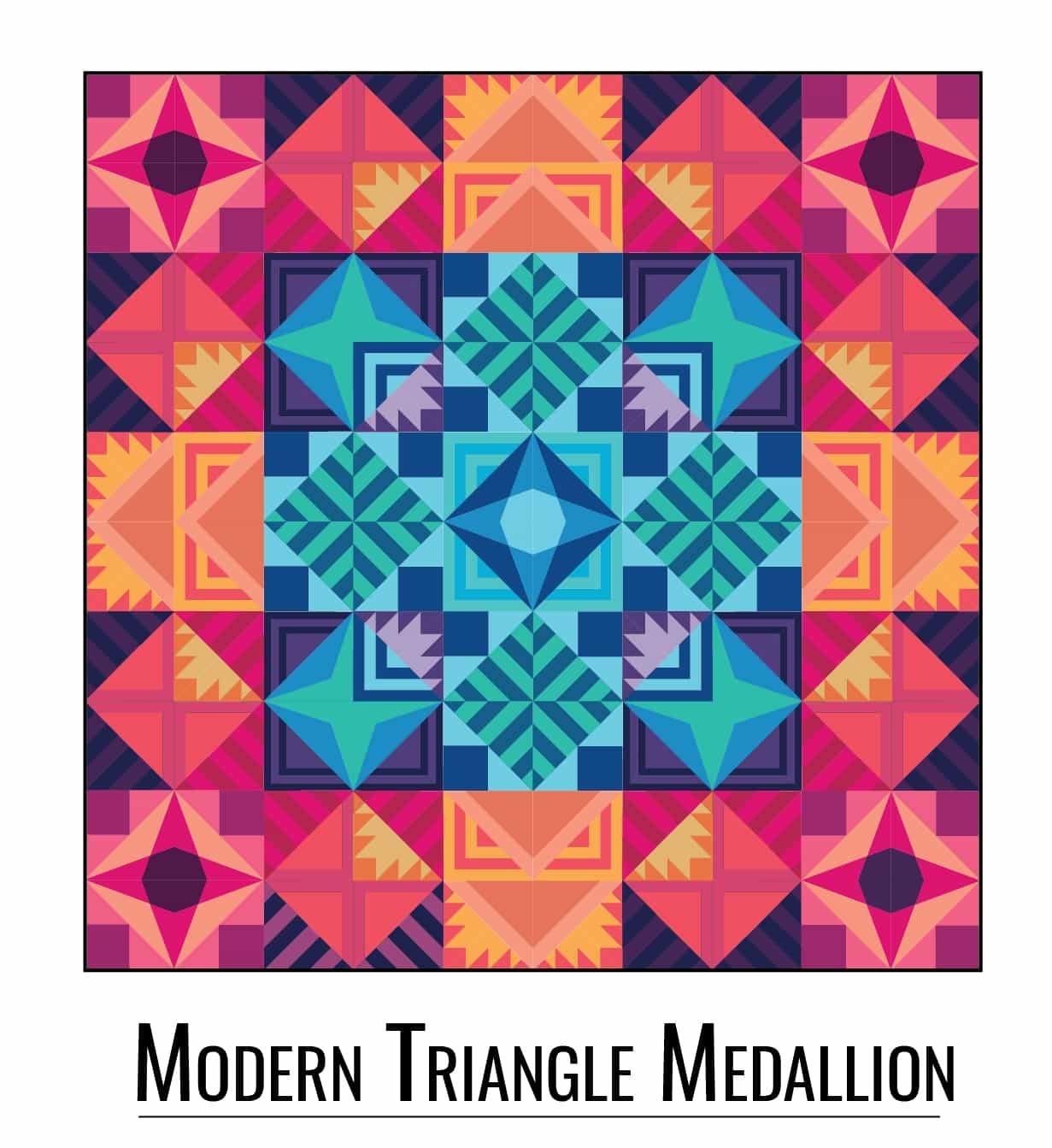 Okey doky, let's jump right into Week 4…
Materials
Orange (Kona Nectarine): 2/3 yard
Peach (Kona Creamsicle): 1/2 yard
Mustard (Kona Yarrow): 1/2 yard
Burnt Orange (Kona Cedar): 1/2 yard
Make Triangles
All triangle blocks patterns are from Modern Triangle Quilts.
16 of Triangle Block 18 (page 71) (Remember I have a modified foundation, access it below!)
8 of Triangle Block 4 (page 64)
16* of Triangle Block 8 (page 68) Set 8 aside for next week, Week 5.
PS! Don't forget to check out my paperless paper piecing tutorial. Total game changer!
Block Assembly
Once you have the Triangle Blocks made, it's time to sew them together into square blocks.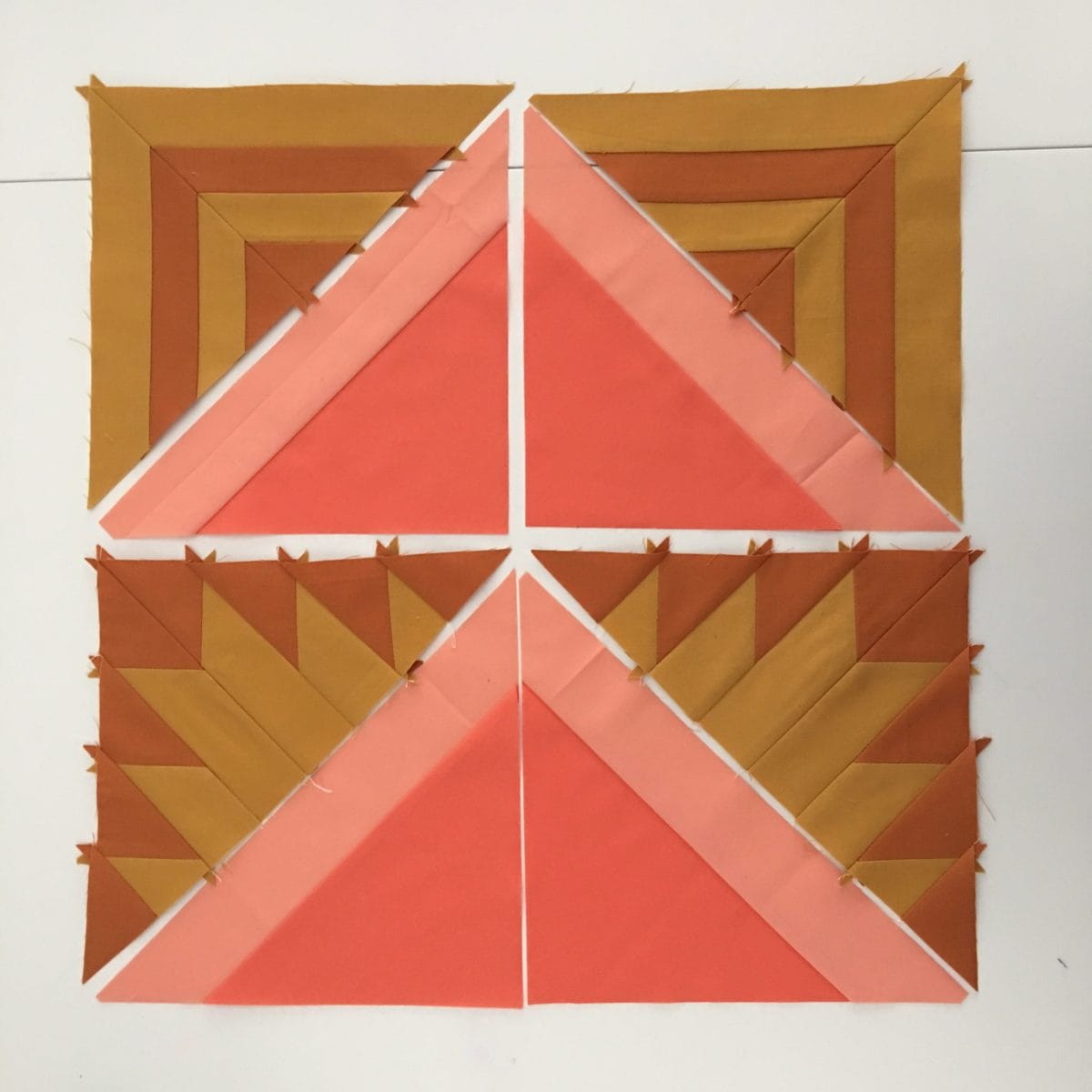 First, lay out the triangles blocks according to the picture above. The four Triangle Block 18's should be in the bottom center (like they are Flying Geese blocks). Two Triangle Block 8's should be in the background of the bottom flying goose and two Triangle Block 4's should be in the background of the upper flying goose.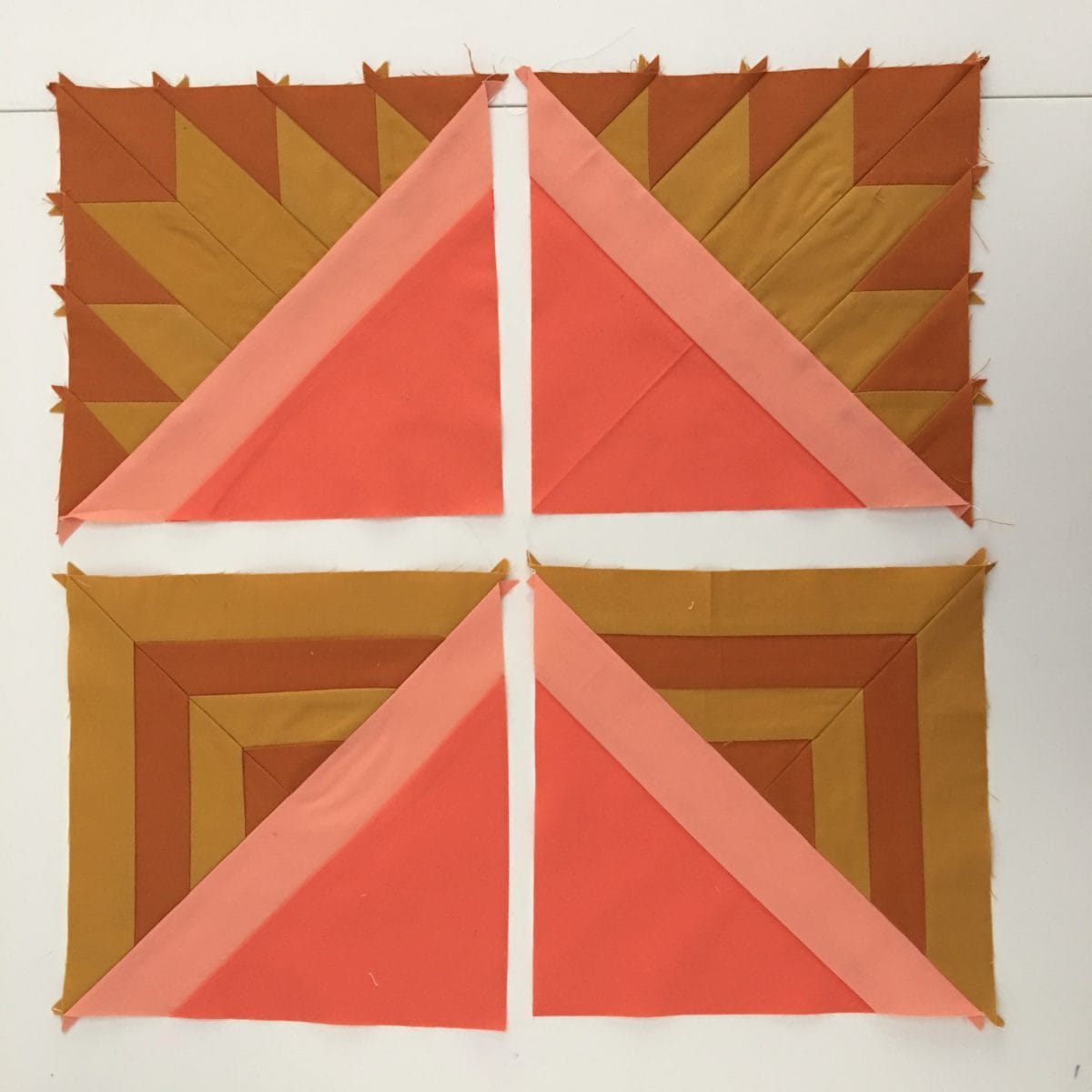 Next, you will sew Block 16 and Block 8 into square pairs and Block 18 and Block 4 into square pairs, or Half Square Triangles, as shown in the picture above. Press the seams open.
Sew the units into rows. Press the seams to one side.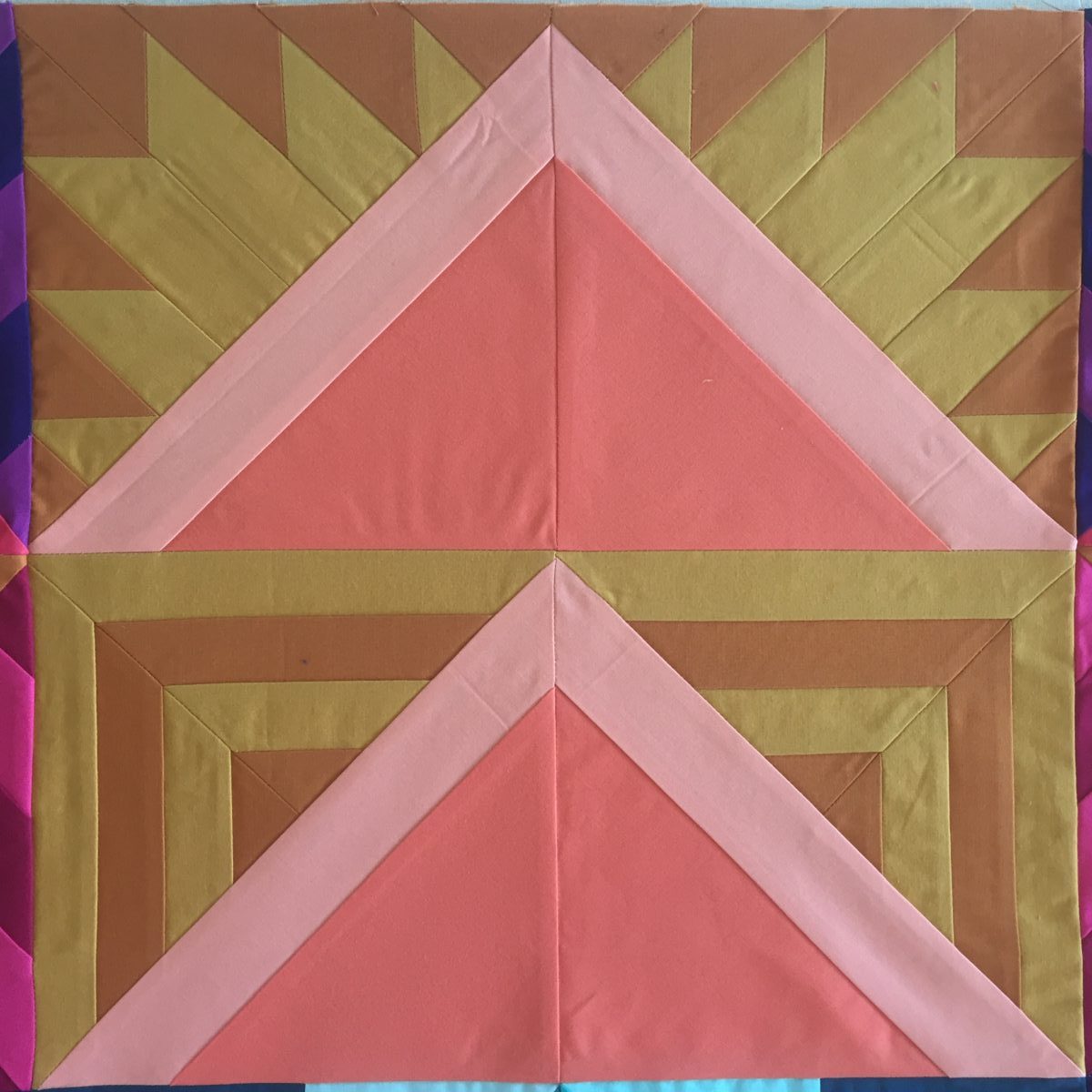 Piece the rows together to finish the square block. Press the seams as desired. Make 4 of these Week 4 blocks.
Social Media Sharing and Playing
Instagram: Remember to use this hashtag #MTMquiltalong on Instagram. Due to changes in the Instagram algorithm, I'm more likely to see your post if you tag me @bryanhousequilts. Commenting with the @bryanhousequilts or #MTMquiltalong doesn't guarantee that I'll see it. (Why Instagram! Why you gotta be changin' all the time!?) But if you tag me, I should be able to see your post!
Facebook: Join my newish Facebook group to share your in progress pictures with the group.
Show your work: This week we have photos shared by @naehtante_quilts and @saltlakequiltsandfibers over on Instagram and Beth Woods over in the Quilting with Bryan House Quilts Facebook group. As you can see, there are some AMAZING quilts in progress. Thanks for sharing your work with us ladies. 🙂
Share your progress and any finished blocks, we'd love to see!
Bonus Printables
All the templates, patterns, instructions, etc can be found in Modern Triangle Quilts. The instructions were written to cut and make 1 of each block. I'm offering adapted cutting instructions and some adapted piecing instructions to my Newsletter Subscribers and quilt shop owners as a bonus.
Subscriber family you will find the bonus resources for the quilt along here in the BHQ Resource Library. Or click here and receive the "Week 4" printable delivered directly to your inbox.
Ready to join in? Subscribe here and receive the "Week 4" printables delivered directly to your inbox. Browse the BHQ Resource Library for the rest of the printables.
What's Next?
Week 4 is in the books! I'll be back next Wednesday with the next block, "Week 5". Yah!