Hi there!
One of the first sewing books I ever owned slash borrowed from my mom, was a sort of sewing manual/ DIY guide for decorating one's home. I don't remember the name, but I do remember it was from the 80's. Despite the pink illustrations, it held gold within its pages. The book was a manual for making custom things (pillows and drapes, etc) for your home. This book got me through my first 2 homes before it was lost in a move.
Which is why I'm so excited for Erin Schlosser's new book, Sew Home (buy it directly from Erin or from Amazon). Erin's book is equally as valuable a reference and also happens to be chock full of beautiful pictures of fabric and projects of course. Most importantly, Erin writes with the authority of a professional Interior Designer and Sewist. (I did not realize pillow corners were supposed to be shaped. *guiltily gazes at throw pillows*)
Ha! My point is, you can tackle the projects in the book confident Erin is guiding you through the steps necessary to accomplish a professional, custom finish. The techniques shared in this book are top notch!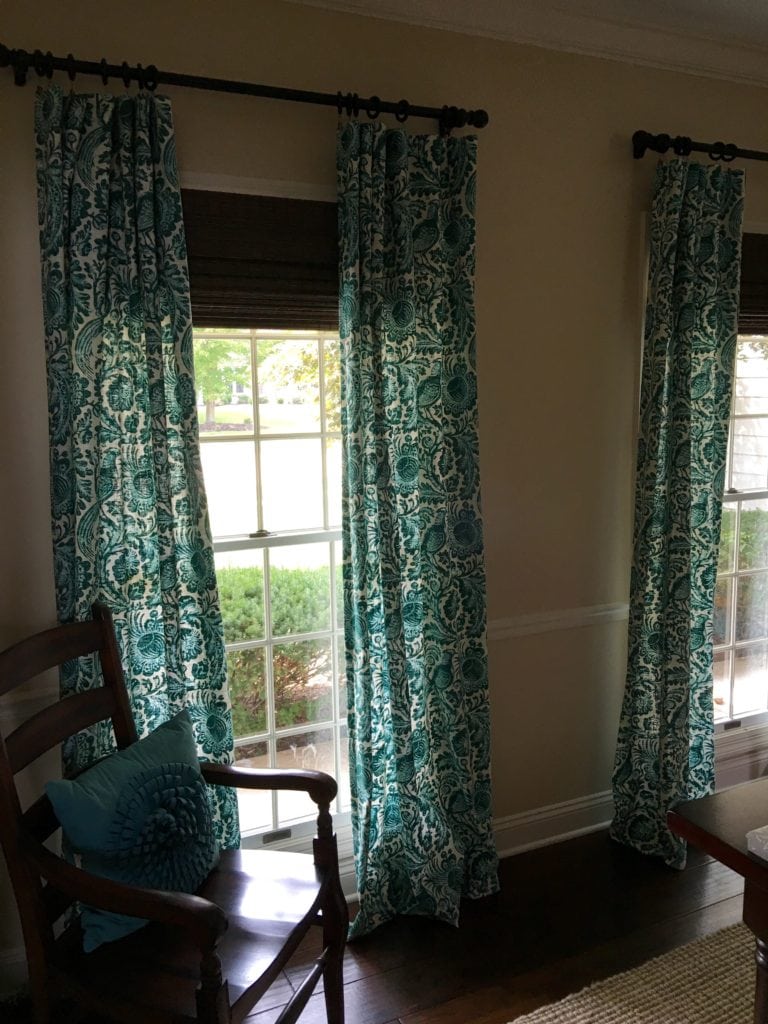 Sew Home includes projects ranging from DIY rugs to table linens and fabric baskets, just to name a few. And of course, the book has numerous curtain patterns and techniques. A couple of months ago, my mom and I made these curtains for my dining room and a few people asked for resources. They wanted to know where they could go to learn how to make drapes. Well, yah! Erin's book shows you how.
Including my favorite drape technique…. a blind hem, which sounds so fancy and so hard. But you'll love how easy it is and how elegant it looks. I bet you can hardly see the wee bits of thread on my drape. It's about an inch from the fold, and you might could see it in the deep turquoise part of the fabric. This is such a great technique, thanks for including it Erin!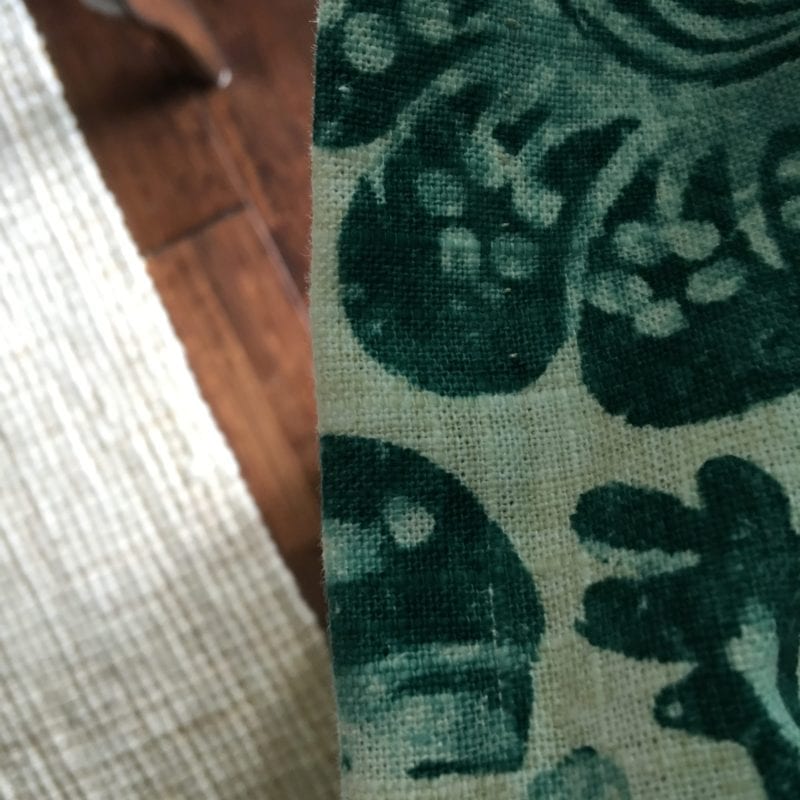 My next home DIY big project I'd like to tackle are custom cushions for 3 (three!) window beds in my daughters' rooms. I wasn't sure how to exactly do it. But Sew Home has the perfect project, the Gusseted Cushion with Lap Zipper. Using Erin's book, I know I'll be able to actually do it and have it turn out well.
Sew Home is a wonderful resource for home dec sewing. It's a perfect gift for the gal (or guy!) with a penchant for DIY and new digs – a new apartment or dorm or a neewwww home (read in a Bob Barker voice, thought I don't recall him giving away a new home….). If you're interested, you can buy it directly from Erin or from Amazon.
Now, there are some other lovely lovely bloggers who have made projects from or reviewed Sew Home. Why don't you check them out? The blog tour schedule and links are below.
Tuesday, September 20 – C&T Publishing & Joanna at Kustom Kwilts and Designs
Wednesday, September 21 – Sew 4 Home & Jen Carlton Bailly
Thursday, September 22 – Brenda at Just A Bit Frayed/Pink Castle Fabrics & Nicole at Modern Handcraft
Friday, September 23 – Janome Sewing Machines & Cristy at Purple Daisies Quilting
Monday, September 26 – Windham Fabrics & Rebecca at Bryan House Quilts
Tuesday, September 27 – Generation Q Magazine, Karen Lewis Textiles & Latifah Saafir Studios
Wednesday, September 28 – Dear Stella Fabrics & Mandy at Mandalei Quilts
Thursday, September 29 – Erin at Schlosser Designs
And how about a giveaway? C&T publishing is giving away 1 copy of Sew Home to one of my readers! Yah! Please note any US based winner will receive a hard copy while an international winner would receive the e-book version. 
For one entry, leave a comment sharing what DIY home project you have on your "to do" list.
My followers, via newsletter, Bloglovin', Instagram, etc., are welcome to a second entry by leaving a second comment. The blog tour ends on Thursday. The giveaway will be open through Sunday, then I'll choose a winner and update this post on Monday.
Good luck!