Hi there!
Whenever I consider buying a pattern, I always scour the internet for reviews before I invest my time, fabric, and money. Well to get ready for her
Sew South retreat
, my friend
Jennifer
of
Ellison Lane
is hosting the
Crafty Traveler Blog Hop
which features a series of pattern reviews for handmade totes and bags. What a clever idea!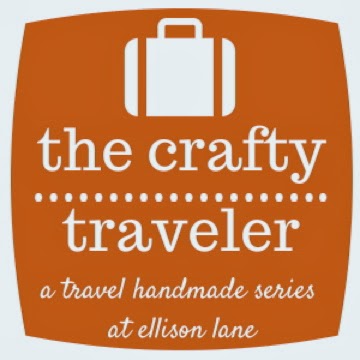 Several fantastic reviews of this bag pattern are already out there. In fact before I started my bag I consulted
Holly's
,
Alexandra's
, and
Sew to Speak's
. To be perfectly honest I had COMPLETE bag envy of
Kristy's
version at Quilt Con last February. So I had to make one for myself.
I wanted a big, slouchy bag, mostly to shove a bunch of snacks and kid stuff in and take the kids to the park. Which is great, but when traveling this bag doubles as a purse and carryon. It looks good with a bunch of stuff in it or only slightly stuffed. The side straps allow you to adjust the shape depending how much stuff is stuffed into the bag.
So pack it up, run through the airport to catch your plane stroll elegantly through the airport, beverage in hand, with your awesome handmade bag. Arrive at your luxurious hotel room, unpack some things, cinch the side straps tighter, fix your make-up and head out for dinner.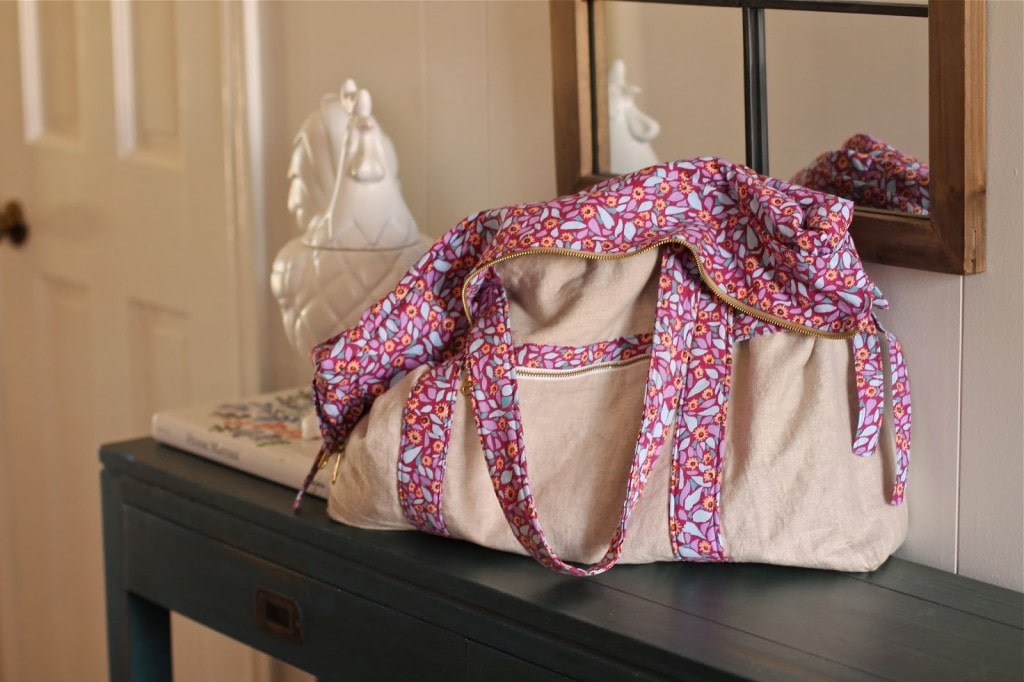 The slouchy version kinda loses its shape when laid down…
I used linen blends for my fabric choices, which are more sturdy than quilting cotton. (My fabric choices were Essex Linen in Flax and Anna Maria Horner Field Study Linen.) To make a slouchy version, I used Shape Flex interfacing (SF101) only on the outer panels and pockets.
If you do make a slouchy version it's very important that the bottom isn't slouchy. You want a firm bottom! (That's what he said!) Otherwise, when you put stuff in the bag, it will completely lose it's shape under the weight of The Stuff. 2 or 3 layers of Peltex fused together should do it. These layers will go at the bottom of the bag in between the outer panels and lining.
The pattern was fairly easy to follow and the bag is not terribly difficult to make. Compared to the
Weekender Bag
I made, this bag was a breeze. But I would say that prior experience reading a pattern and making a bag helps tremendously.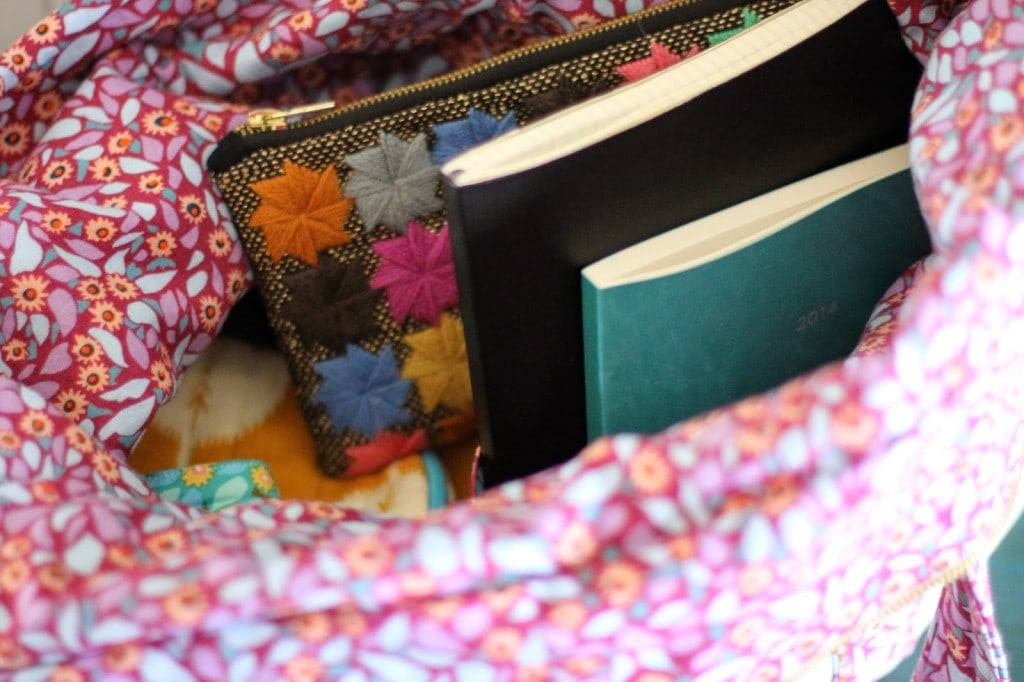 This inside holds a bunch.
Modifications and Difficulties:
The one modification I made was to the top zipper panel. I love the idea of a top zip but I shortened it quite a bit as Holly did. And here is where I did struggle.
In preparing the top zippered extension panel, you are supposed to mark the fabric somewhere. My pattern pieces did not have the markings – or I had cut them off. I'm pretty sure I didn't cut them off, but on the other hand I couldn't check the trash. In any case I had to wing it. I'm not sure what I did is right, but
Jennifer
had a similar problem and offers a solution.
Some thoughts:
– I made version B of the pattern.
– The pattern allows for lots of pockets! The outside pockets are perfect for car keys and cell phones. The inside pockets are great too. But with the slouchy version, the pockets are slouchy too. If I made it again, I might add a zippered pocket. Somehow.
– I love the look of the bag with the extension zippered panels turned out. But with this slouchy version, at least, this look doesn't really work. The handles get in the way and turn the panels back in. It's possible with added sturdiness the bag could keep that shape.
– I omitted the magnetic clasp. I wish I hadn't.
– Hardware for this bag is a focal point so get what you want. It doesn't have to be expensive, but don't settle.
– Where suggested, do grade your seams. Grading, or trimming the seam allowances to different lengths, reduces bulk. See this
tutorial
for more info.
– It is widely reported that the fabric requirements are overstated. I had quite a bit of fabric leftover, which I'm ok with. More for fun projects!
– If this size is too big you can always make the smaller version. Check out
Jacey's
and
Kristy's
. It's nice to have such a versatile bag pattern.
Contest
The rest the Crafty Traveler Blog Hop is running from Feb 3- March 12. You can
#1: Free Spirit Fabric, Crafty Traveler Tote supplies and Dritz rotary cutter.
#2: Box of 50 Coats Threads
#3: Pellon Prize Pack (Interfacing & Batting)
To enter to win simply link up your project at
ellisonlane.com
on March 6. Please link from a new blog post but your project can be anything you've made to travel handmade within the last 6 months. You may also link from Flickr or Threadbias.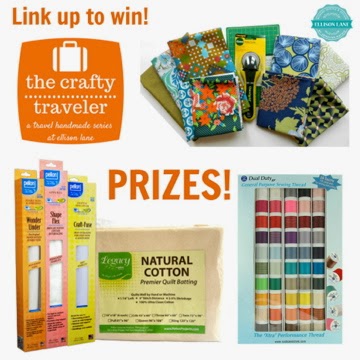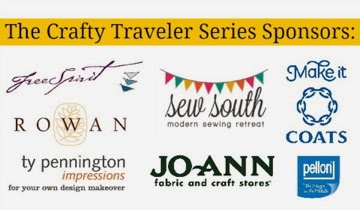 Visit the other stops on the blog hop:
3/13: Winner's announced!

I think the next handmade travel item I'll make will be some zippy pouches. What will you be making next?
Thanks so much Jennifer for arranging this blog hop!