I'm so pleased to show you my first quilt finish of 2013.
So prepare yourselves; there are a lot of pictures!
I have always loved rainbows. And this quilt packs a rainbow punch.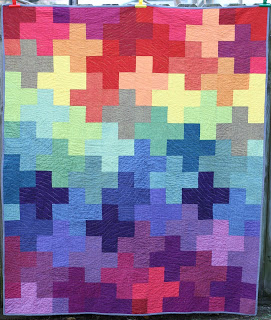 Rainbow Plus, finished!
On the back I added a rainbow strip. The gray is Kona Coal. You can really see the quilting on the back. I quilted with echoed waves throughout, changing the scale and the direction of the waves randomly. The back was quilted with coal thread.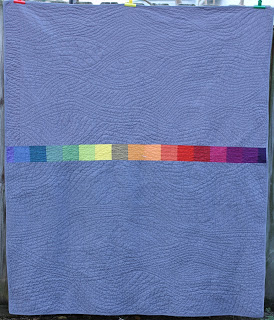 Rainbow Plus, back
The front quilting uses 5 different variegated threads. Here I wanted the quilting to echo the rainbow fabrics. But I didn't want to be committed to matching the threads exactly. So, the threads move in color as the fabrics move: from red to orange to yellow to green to blue and finally to purple.
The picture below exemplifies what I mean.
In the yellow plus especially, you can see how the thread isn't yellow but it is green in the lower half. In the upper half of the yellow plus, the thread moves to orange.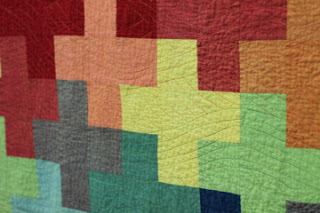 Quilting detail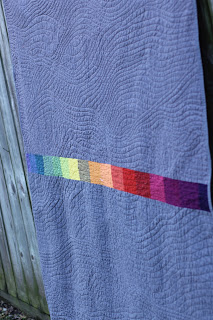 More back detail
The quilt lives happily on the back of my couch.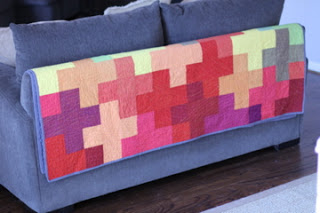 Today's an orange – pink day! Momma is happy.
It is much like a mood ring as I can switch which colors
I want showing just by folding it differently.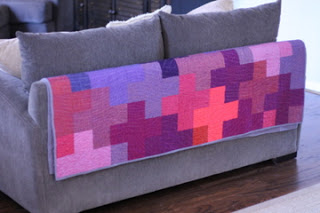 Today's a purple blue day! Momma is still happy, just more pensive.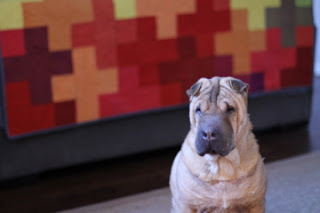 Maddie dog photo bombing like she owns the place.
A few more compulsory quilt shots.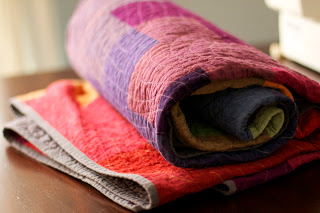 Quilt roll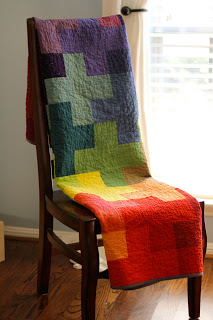 Quilt chair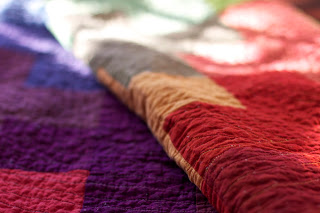 Sunshine on a quilt makes me content
Thank you for stopping by! Have a great weekend!