Today, I am happy to share with you the latest addition to my sewing room. Introducing my Rainbow Dresden pin cushion.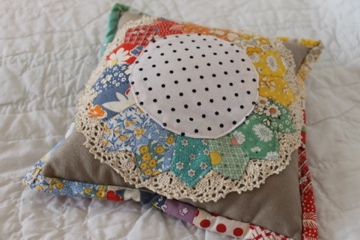 Rainbow Dresden Pin Cushion
Sorry but I'm a little bit tickled about my new sewing toy.
You may even have seen me carting it around with me earlier this week. 🙂
(Because I'm a bit of a dork!)
While at market, I saw a plethora of yummy pin cushions.
And right then and there I knew I had to make at least one pin cushion if not fifteen. But which to make first… the Dresden plate? The retro RV? The owl? The Matryoshka doll?
So many fabulous choices!
Starting out this was my plan: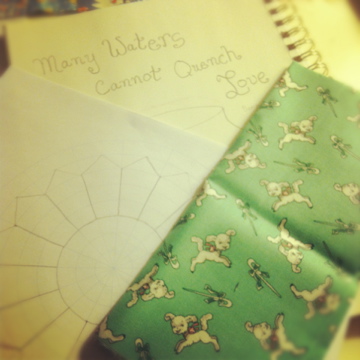 I intended to embroider the center circle with one of my favorite Bible verses.
(Many waters cannot quench love. Song of Solomon 8:7)
I had left over scrappy binding from
this quil
t that I wanted to use.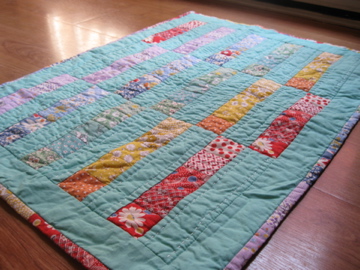 So I pulled more of the same fabrics.
I cut my blade templates and my fabric bits to paper piece (EPP) together
during my Thanksgiving travels.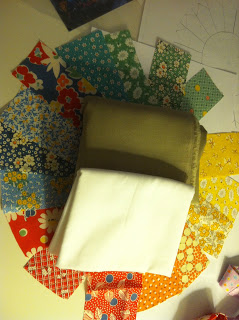 I had some lace trim that I wanted to use so I pinned it and the assembled Dresden plate atop my Essex linen (Putty). Then I top stitched around the edges of the Dresden plate.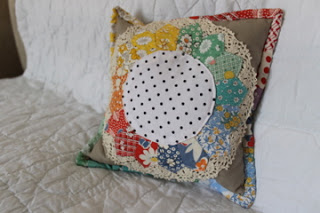 So obviously, my center circle is not embroidered. The embroidered circles (yes, plural there were three I sewed up and promptly rejected!) just did not work. Unfortunately.
Fortunately I had some adorable polka dots. My favorite.
On the back, I used one of my favorite fabrics.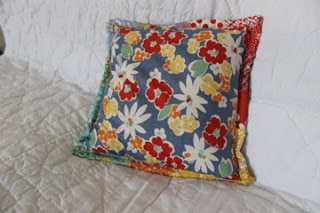 She's stuffed with walnut shells and she is rather large at 7 by 7 inches.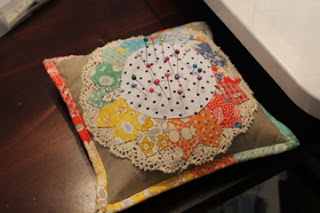 And here she is in pin-ny action.
Have a great weekend!