This week finds me checking many things off of my to do list.
In wanting to get my house ready (ish) for the holidays, tackling projects in our new-old house comprises much of my list. (I realize I've promised you house pictures. Here are some!)
When we were moving my father in law gave me some good advice: tackle one room at a time. He was talking about packing but I think the same applies to my situation: decorating.
So, I started with my foyer. There is still a fair amount to tackle: refinishing staircase railing (before Christmas garlands? maybe?), new front door, and more trim painting.
It's nothing earth shattering. These are small things.
But it is funny how little things make me feel at home.
Here's a before: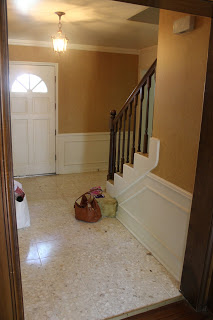 Before: icky tile and icky wallpaper, everything is dingy from tobacco smoke.
Not pictured: Nicotine smell. Ick to the ick.
After new floors, removing wall paper, new light fixture, and new paint, and painting most of the trim. The door frames still need to be painted.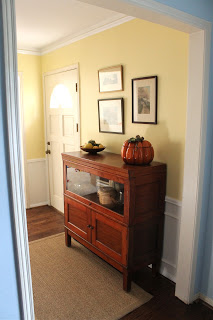 View from dining sewing room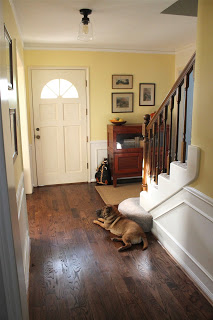 That's Maddie our shar-pie doggie
And after taking a year off due to hurling attributable to pregnancy (keepin' it real ya'll), some decorating for fall. I LOVE fall.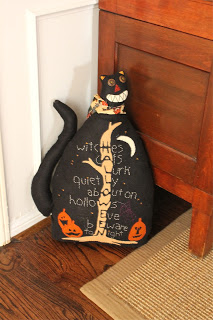 Here's a felt kitty I made a few years ago. Can you tell I forgot to add the seam allowances to his wee head.
HAHA! I think it adds. Un gato loco!

We finally have a fireplace! It still reeks of nicotine, but only when you get close.
To be cleaned!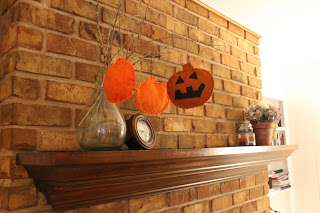 The pumpkins I made with the leftover felt scraps from my gato loco.
Oh and in anticipation of my upcoming self-imposed "Pillow Pallooza" (wanna play?) I've been getting scrappy with Sarah Fielke. Here's a peek: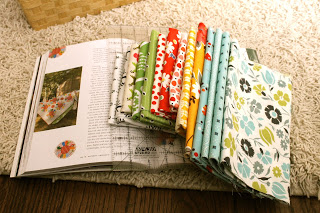 It feels good to be home ya'll!
Next up, dining sewing room!