This week should be a great week (God willing!). My birthday is this week, I get to go to Quilt Market (yippiee!) and
Quilty meetups
. I ordered a boatload of fabric courtesy of my momma for my b-day (thanksmomIloveyou!).
And, I'm starting off the week on a good foot, with some finishes.
After a few big finishes, I've been dabbling in the small. I love small! I'm sure you know why. 🙂
First, a finish for a guild birthday present. Anna just started working in downtown Houston and has posted a few times on Facebook about being inspired by the buildings during her commute. I thought a covered graphing composition book to record her inspiration was in order!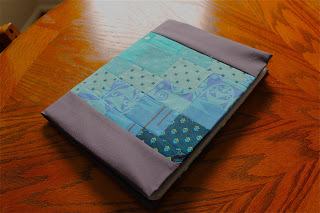 Anna
, seems to be an improv type of girl. I hope it met her tastes. 🙂 I used
Stitched in Color's tutorial
. If I were to make another I may add top stitching along the top and bottom. I think. Otherwise, the tutorial was great. Now, I need one!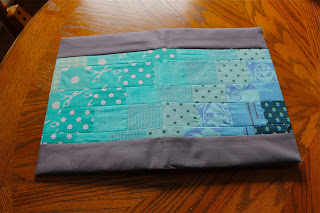 The next finish was a challenge from the HMQG. The challenge was to make a modern mini using the logo colors as a starting point.
The colors were hugely challenging for me. But others came up with some beautiful minis.
Here is mine.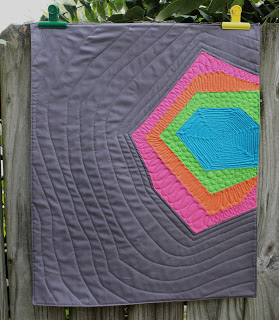 Geode
Oh, it's modern all right.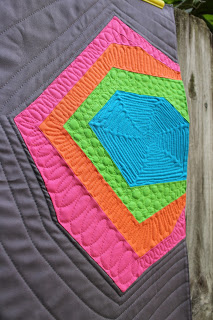 Using matching thread, I was able to experiment with new to me FMQ techniques. I ran out of charcoal thread, so I wasn't able to quilt as densely the charcoal. I would prefer denser quilting around the geode.
I love this pattern (does one call such thing a pattern?) and I may try it with different colors soon.
I'm linking up with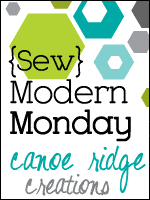 I'm off to see what others have come up with.
Thanks for visiting and have a great week!
I will! 🙂