This year I am happily participating in Amy's, from Amy's Creative Side, online quilt festival.
My entry is my "A Vintage Christmas" quilt. Blogged previously here.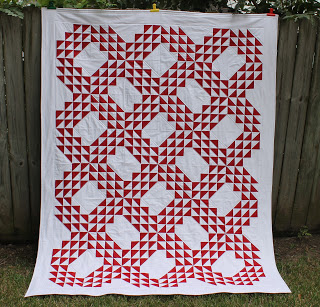 A Vintage Christmas, 68″ by 88″, 12 Ocean Waves blocks
Before there was pinterest, there was me, clipping out photos from magazines. One of my clipped photos was of two cute golden retriever puppy dogs drowsily draped over one another on a bed decorated for Christmas. And under the wee pups was a crisp red and white quilt.
I clipped the picture and saved it in my pile, otherwise known as a quilty bucket list.
Years later, a friend mentioned she was looking for a Christmas blanket or quilt to use for her Christmas photography sessions. I was thrilled to be able to have an excuse to make this quilt.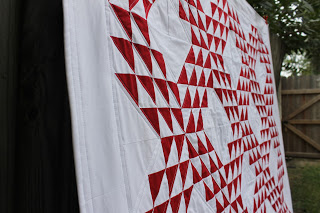 Fabric: Rich Red and White, both are Kona Cottons
I kept the quilting cuddly, simply echoing the squares created by the HSTs.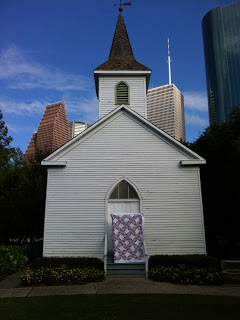 Here she is next to an old church in downtown Houston,
a perfect backdrop for a traditional yet modern quilt.
Quilt stats:
Finished Quilt Measurements: 68 inches by 88 inches
Special techniques: none really, but 480 HSTs (oy!)
Quilted by: me (Becca Bryan)
Best Category: Two Color Quilt, Bed Quilt
Thank you for visiting!
I'm off to peruse the "gallery".