I have a finish to show ya'll today! It feels like forever since I've finished a quilt. Not that I'm complaining, but lately I feel like I've been starting projects left and right (more on that Wednesday).
This quilt is for a baby boy, who is the son of a very dear friend. A very dear friend who wishes we would move closer. Like 900 miles closer. Unfortunately, such a move doesn't seem to be in God's plans. 🙁 Thankfully, we do still see each other for girl talk twice a year. 🙂 🙂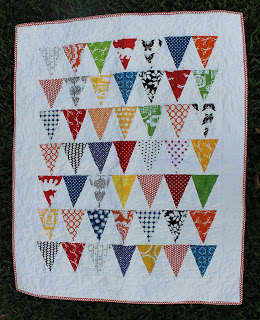 Quilt: A boy named Sue
(I don't know why, but Johnny Cash's song kept running through my head while making this quilt…)
A simple design pennant design, using some of my favorite colorful prints, made for a (relatively) easy project that came together fairly quickly. The quilt measures on the small side, 30(ish) inches by 40(ish) inches. A perfect, super snuggly, blankie.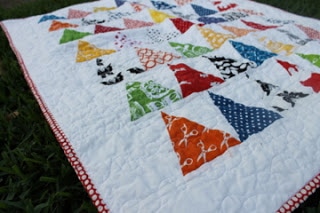 I tried a new FMQ design, loose loops. I thought the quilting looked like a happy breeze running through the pennants. And the loose quilting makes it super soft and floppy (I likes the floppy).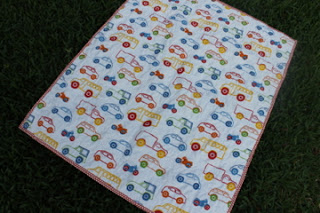 And of course, the bestest part according to my baby boy (cars! trucks! mine!) is the back print.
*Sigh*
Can't wait to give it to her!
***
Edited to add… I'm linking to Quilt Story's Fabric Tuesday. This Linky party looks like a fun way to share! Check it!