It's a rainy, gloomy Monday here today. I was going to run a few errands today, but I'm a weinie and just wanted to go home instead. So here we are. I needed batting to baste a quilt, but it looks like I'm going to have to piece a few odd sized batting remnants together. It's cheaper anyways, right?
Let's see… you want to see what fabric stashing looks like for me? If I don't have a specific project in mind for a fabric, my modus operandi has been to buy tone on tone fabrics or solids. Like these. I need more green and yellow in my general stash. These colors seem to be lacking in my stash and are more challenging for me to work with, further complicating my green and yellow stash deprivation.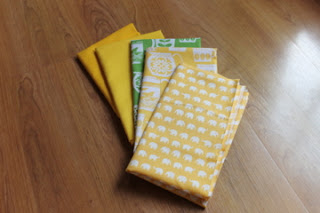 Free Spirit Solid in Yellow and Saffron, Put a Lid on It in Green and Yellow, Tiny Elephants in Lemon Yellow
Of course, now I want the prints in all the other colors. But I'm trying to show restraint. And now I want to make a quilt entirely with greens and yellows, but that would mean buying more fabric. And again, I'm trying to show restraint. 🙂
Now, want to see fabric hoarding? That's when I love a fabric and have to have it but don't have a specific purpose for it yet. Now, I only consider it a problem when it just lingers in my stash hoard because I love it so much I'm afraid to use it. 🙂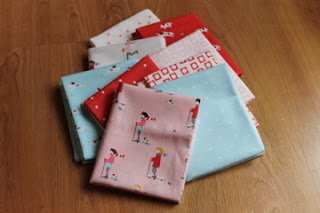 A few of my favorites from Sherbet Pips
In any case it was lovely to get those packages in the mail last week.
Now off to patch some batting together and baste and quilt a quilt. Hopefully I can get it done this week? Too optimistic? Maybe. I have that problem too.
But if I finish, I can start a new project!