This week I finished my blue star quilt. I can't think of a better name for this quilt. Well I can, but all the names are over romanticized and I know that when it comes down to it, the quilt will be referred to as "the blue star quilt." (Will you please hand me the blue star quilt? I'm cold…)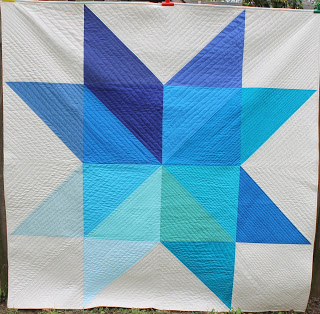 Blue Star quilt, 70 inches by 70 inches, 15 different blue solids, white is Kona Bone
The quilt was inspired by other large, one block quilts I've seen. I wanted to pick a different block than I'd seen to be different. After researching and sketching I finally came back to just a simple star. It was truly my favorite. Simple and basic. So I used Jeni's, of In Color Order,
tutorial
.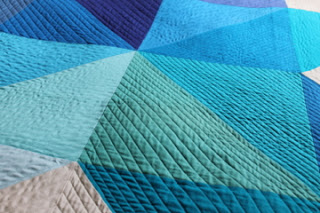 detail of quilting
I used wobbly straight line quilting. Each color has its own, matching blue thread. The back is quilted with cream colored thread. The quilting reminds me of a Japanese Rock Garden. Though my lines are not perfect by any means. Never have I quilted a quilt more densely, and surprisingly I really like the effect.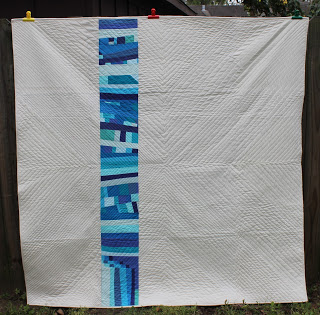 The back
I really enjoyed making the blue strip on the back. Really enjoyed it. It reminds me of tidal pools or the sky meeting the ocean in the Caribbean. (See? Over romanticized!)
I'll be submitting this quilt as my February finish for the 12 Finishes in '12 Challenge over
here
. You should submit a finish too!