Wow, it feels so great to actually finish a quilt. Not just a top, but a whole quilt. It has been a while since I'd last finished a quilt. Maybe since Christmas? At least a quilt that could actually keep you warm. There's been little ones and quilt tops and blocks in the interim.
I was trying to think of why I haven't been able to finish a quilt in so long. Was it the new baby? Could be. Was it the adjusting to life with three kids? Could be. Then I remembered I built my oldest daughter a dollhouse. That's why! (Among other reasons!)
In any case, I have endeavored to actually finish a quilt before I started a new project. And I did. Kind of. Right after finishing, I started a new project that I will share later.
But without further ado, here's your quilt mom! (She's lives in St. Louis, boo!)
I meant to finish it and give it to her for Christmas last year. But that didn't happen. She's been patiently waiting for it.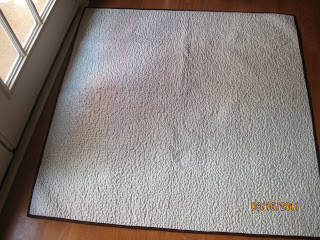 Back of quilt, plain Jane
My mom has been quilting for 20ish years (more or less? I think I'm already in trouble!). And she taught me how to quilt. Her mother quilted and she has shared her girlhood memories of sitting under her mother's guild's quilts as they hand quilted on the table sized loom. My mom likes to say that I am a fourth generation quilter. (How cool is that?!)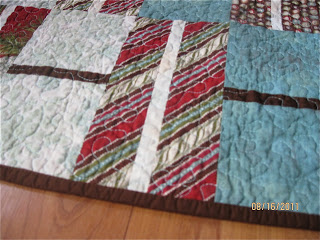 Close up of the quilting. I stippled it with a frosty blue top thread and white bobbin thread
Despite constantly being around quilting, my mom says that this quilt I made is the first quilt anyone's ever made for her. Hard to believe, but I guess she's been the one making all her quilty goodness.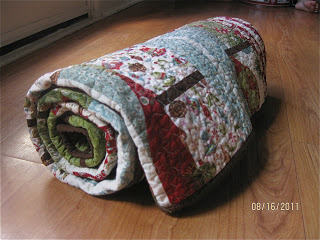 All rolled up waiting for you to snuggle with. Fabric is Fruitcake by Basic Grey
I think she deserves a nice quilt, and I am happy to give it to her. Had I known this was to be the first quilt someone's made for her, I would have made one sooner!
Was it worth the wait mom?
Love ya!