Wow, it's been a couple of weeks!
See what you might not know about me, but may have figured out by now, is that I tend to set big project ideas and then not meet them. Or at least have to scramble accomplish them.
Take this quilt, a project idea among many others. At least this project was finished!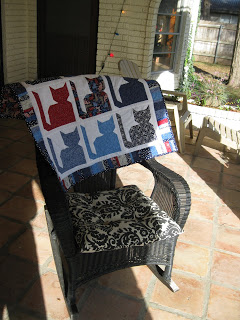 It was a present for a certain Memaw for Christmas. A certain gal who likes cats. I found this block and thought of her. I choose several blues and a couple of red fabrics, made 9 blocks and added a scrappy border using all 9 fabrics.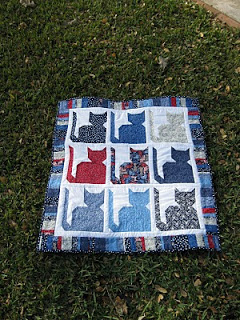 Sadly, you can't tell from the pictures but in the blocks set on the diagonal I quilted "meow" several times into the cat body. The other four blocks were quilted with random patterns, but I wish I had discovered this blog about free hand quilting before then. On the border I quilted a couple of "purr"s and "Meowy Christmas Memaw" and "2009". And on the corners I quilted mice. It was really cute.
Here's the back. I loved this cat fabric in blue, red, white, and cream. Cute!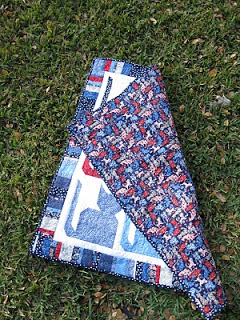 So that's where I've been. 🙂