Hi everyone, I've been sharing glimpses of my Candy Corn Quilt on Instagram and teases on my blog for weeks now. Today I'm showing you the finish AND the tutorial with you all. Yah!
Because October is my favorite.
🙂
Materials:
3 1/2 Yards assorted Halloween Fabrics (I'm using Spellbound by Cotton and Steel)
2 1/2 Yards black fabric
1/2 Yards for binding
4 Yards for backing
Sizzix Materials:
Bigz Pro 2 1/2" strip cutting die
Big Shot Pro Machine
Bigz Pro 6 1/2" Right and Isosceles Triangle die
First you are going to start by cutting 2 1/2" strips by Width of Fabric (WOF) or selvage to selvage from the halloween fabrics. I sent my fabric through my Big Shot Pro Sizzix machine using my 2 1/2" strip cutting die to easily cut my strips. Cut a minimum of 39 strips. This will make 13 strip sets. Since I recommend cutting more than the minimum for this quilt, let's say cut 45 strips to make 15 strip sets.
To cut the background triangles, first cut a minimum of 13 WOF 6 1/2" from the black background fabric. Let's say cut 15 widths. These extra strips will account for any imperfections in the die cutting that may occur.
Next, using the Halloween fabric you are going to sew the 2 1/2" strips into groups of 3. For my strips I tried to keep the colors going from light to dark to mimic a candy corn. But this is your quilt; you do what you love. But, be sure to keep that seam allowance a very scant 1/4". Muy importante.
(The triangle die we will be using is 6 1/2" wide so we want to ensure our strip sets are also going to be 6 1/2" wide. Hence the scant 1/4" seam.)
To finish off the strip sets, press the seams open or to one side. Do whichever you prefer. The strips sets will be 6 1/2" x WOF. Make at least 13 strip sets. I recommend making more strip sets to account for any potential cutting mistakes in the next step.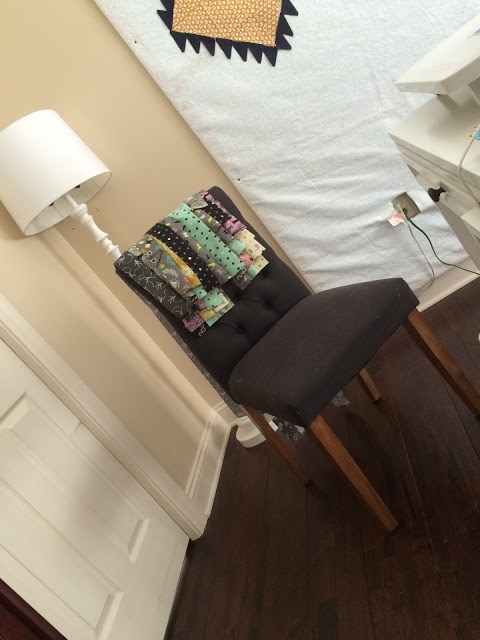 Super fancy organization system for strip sets.
(Sometimes I lose focus on keeping my seam allowances that scant 1/4", ahem)
Now, to maximize the number of candy corn triangles cut from each strip set, you are going to fold the strip set accordion style over the triangle die. Adjust the folded fabric accordingly and then do a final check to make sure the strip set is still lined up with the triangle point.
Then carefully remove the extra fabric on the sides. You may need to use scissors to cut them apart.
Then unfold that extra fabric and realign it on the die cutter and cut more triangles from the excess.
And send the Sizzix sandwich through again.
From each strip set I was able to cut 9 triangles. (The picture shows 10 triangles, but realistically it ends up being 9.)
After cutting the candy corn triangles and background triangles, all in all you should have 114 candy corn triangles and 114 background triangles.
Ok, now for the sewing!!!
Because we are working with irregular shapes, you will want to line up the match points. (Match points are where the seam line will intersect.) So with right sides together align the match points and pin as needed. Sew the pairs together. Make 108 pairs. Press seams open.
So, sew 12 rows each with 9 pairs of triangles. Then press seams open.
Now we are going to sew the rows into pairs of rows. Get two rows and line up the points and get your pins ready (yah!).
With right sides together align and pin the rows together. Then sew the row together. Sew the 12 rows into 6 pairs of rows. Press seams open.
Continue sewing assembling the quilt top by sewing the pairs of rows together. Press the seams open.
To finish the quilt you can opt to keep the angle sides or you can square up the quilt top. I decided to square up my quilt top this time.
Quilt and bind using your favorite method and enjoy!
Thank you!!