For a few months now I've been working on a dolly dress up quilt for my youngest baby daughter. These dolly dress up blocks are printed; I haven't appliqued them! They are from two panels from Holly Holderman's Dolly Dress Up line. For more details on my previous blocks visit here and here.
I'm happy to say I've finished gussying up my dolly dress up blocks. In reality I've just chosen to omit 4 blocks, but more on that in a minute.
The last two dollies received pockets stuffed with wee hankies. My grandmother made me a quilt with dollies with pockets. So these pockets were extra fun to make.

Here's a close up. I added some chain stitching on the red cardigan. The pockets are appliqued (needle turned if you're curious), but then I thought it better to secure it with a top stitch. The quilt is planned for my baby girl and I anticipate it getting loved. And washed. A bunch.
Here's the second block with pockets. Poppet pockets?! Squueee!

Here's a detail of this poppet's pockets. Again with the double applique.
The emboidered broach on this one is meant to mimic the flowers in the dress. You can kind of see one in the above picture towards the bottom right.
I'm stopping with these eight dolly blocks because I'm sticking in my recent comfort zone of red, blue and pink.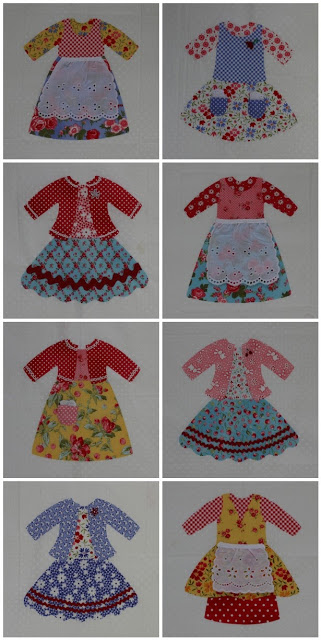 1. Block 1, 2. Block 2, 3. Block 3, 4. Block 4, 5. Block 5, 6. Block 6, 7. Blog 7, 8. Block 8
Which means there are now four lonely left over blocks. Does anyone want these orphans? One already has an apron.
If anyone would like them let me know in the comments. I'll mail them to whomever wants them (caveats: U.S. only, if there are several people interested, I'll pick a recipient by Friday.).
I'll be linking up to WIP Wednesday and Sew Cute Tuesday. Thanks for visiting!