Hi there and welcome to my entry for Amy's Blogger's Quilt Festival. Amy has cleverly timed this online quilt festival to coincide with Fall and Spring Quilt market. So as we drool over all the pictures and social media coming out of quilt market, we can at least "attend" this festival.
Today I'm delighted to share with you one of my favorite quilts I've ever made, my Rainbow Plus Quilt. In fact this rainbow beauty kept me snug whilst I napped on the couch just now.
(Sunday naps are my fav!) And you may also notice, I used this quilt for my blog header. I love it so.
The quilt was made from shot cottons. These are
Oakshott
cottons. Each fabric is made using a different color warp and weft to give the fabric a unique depth of color. In fact the color of the fabric changed color depending on which way you looked at it. When I received my bundles of Oakshott Cottons, the colors were so glorious. I wanted to make sure the quilt I made captured to colors completely. Once I decided on the pattern to use, I remember patiently laying (and re-laying) out each square until I found the arrangement that made the colors glow.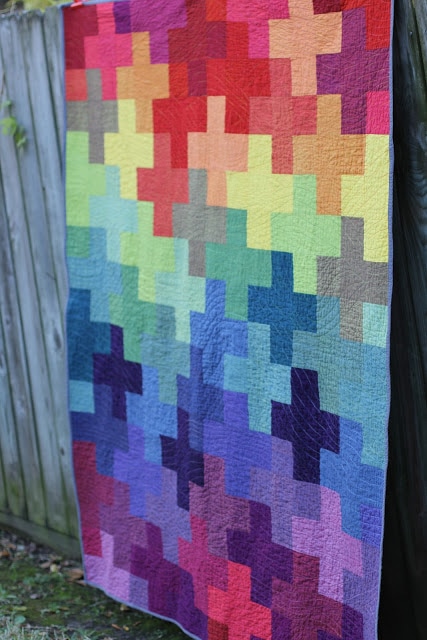 On the top of the quilt, I used 5 different variegated threads. Here I wanted the quilting to echo the rainbow fabrics. But I didn't want to be committed to matching the threads exactly. So, the threads move in color as the fabrics move: from red to orange to yellow to green to blue and finally to purple.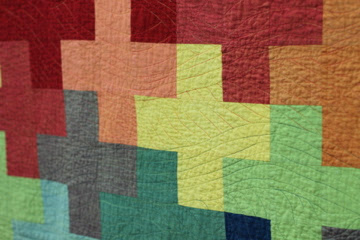 Quilting detail
The picture above shows what I mean.
In the yellow plus especially, you can see how the thread isn't yellow but it is green in the lower half. In the upper half of the yellow plus, the thread moves to orange.
I quilted it using organic wandering wavy lines. You can really see the quilting from the back of the quilt. Janice at
Better Off Thread
found inspiration from
my quilting
and quilted a few of her quilts like this and wrote up a fabulous
tutorial
. Janice has dubbed it "
Ultra-Wavy Quilting
".
rainbow + sunshine = love!
Stats
Fabric: Oakshott cottons
Quilted: Becca Bryan (me!) Ultra – Wavy Quilting
Size: Throw, 76″ by 64″
Completed: January 2013
Thanks for stopping by!
(Vote for me!)
🙂