Ok, I promises. This is my last post about market.
Things have been quiet around here mostly because I bought into the
Weekender craze
and am trying to make one before holiday travels. (The countdown is on!)
Here's my weekender progress.
I LOVE it so far, and why yes my fingers do hurt.
I *think* I finally figured out how to use Instagram. So follow me over there so we chat more! I am bryanhouse on Instagram.
I've also been finishing up decorating my dining/sewing area and I hope to be able to share pictures with you soon. I love how my house is starting to feel like my home, ya know?
Ok, so what you really want to know about is the giveaway I mentioned in the title.
'Tis true. I have a wee something for one of my readers.
While at market I was able to obtain swag, buy some things and win prizes from the HMQG meetup. Exhibits A and B: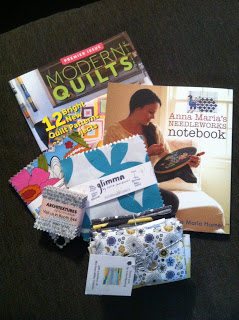 These are all phone pics because I couldn't wait any longer
to open up the packaged fabric and pet them.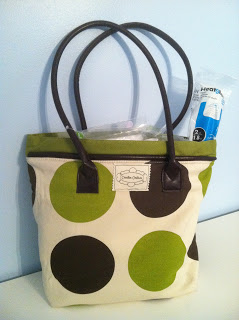 Won: a bag full of Thermoweb products,
which is awesome because I use that stuff all the time!
So, I thought I would share. Because basically you all are so cool and I love getting to know you all through blogging. I'm so thankful to all of you who read and comment in my little space.
Here's the "prize pack":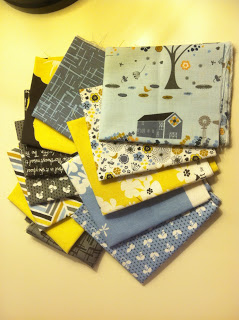 For you? 8″ by 10″ (ish) pieces of each of these fabrics from Madrona Road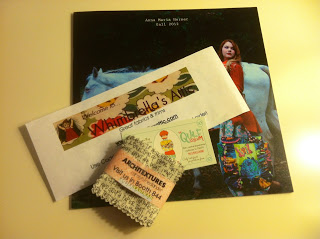 For you?
Included are: 1) An Anna Maria booklet with a needlework pattern from her new book, 2) a mini charm pack of Architextures, 3) a $10 gift certificate from the Quilt Asylum (expires at the end of December), 4) a coupon to one of my guild mate's etsy shop, Whimbrella's Attic, and 5) 8″ by 10″ (ish, ya'll, ish) cuts of each of the Madrona Road fabrics I received, which is the fabric featured in the MQG's Winter 2012 Challenge.
So, in the spirit of Thanksgiving, there are no strings attached to win. To enter, leave one comment. I will close the comments sometime on Monday, November 19th. The winner will be randomly picked and announced sometime on Wednesday. I will send out the package the following Monday, the 26th.
And again thank you for reading my blog!
***Entries closed.***