2012 is off to a fantastic start. I'm feeling well and less tired. I feel relatively organized even though life isn't perfect and not all the Christmas decorations are put up. I just love a tree with lights. It's so cozy.
I finished this mini-quilt in 2011 and finally disciplined myself to quilt it. The hold up was in how to quilt it; I knew I wanted to quilt it by machine and by hand. I wasn't sure how I wanted to machine quilt it. After the ideas marinated for a while, it finally dawned on me. Then I was able to finish it.
Purple and Orange Solids, cross hatch machine quilting,
hand quilting around the edges with perle,
Black heath binding, 16″ by 22″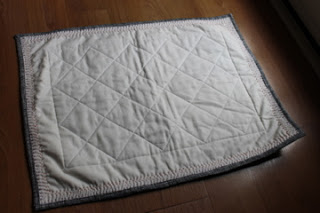 The back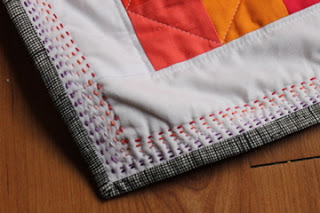 Close-up of hand quilting, I heart Perle so much
Purples and Oranges mosaic, a photo by bryanhousequilts on Flickr.
Now, this baby has joined the other mini-quilts as baby doll quilts for my wee dollies' dollies.